Breadboxes were popular back in the day when people actually made their bread almost exclusively at home. But with the easy access of commercially made bread in those snappy plastic bags they've kind of become a thing of the past. That's why they're showing up on the shelves of thrift stores with a nice price tag attached to them.
Let's give those little guys a new lease on life shall we! Today I'm going to show you how to make a station for all your hair styling tools. No more messy counter tops and knotted cords. This tutorial can also be used to make a charging station for all those electronic devices floating around your home office.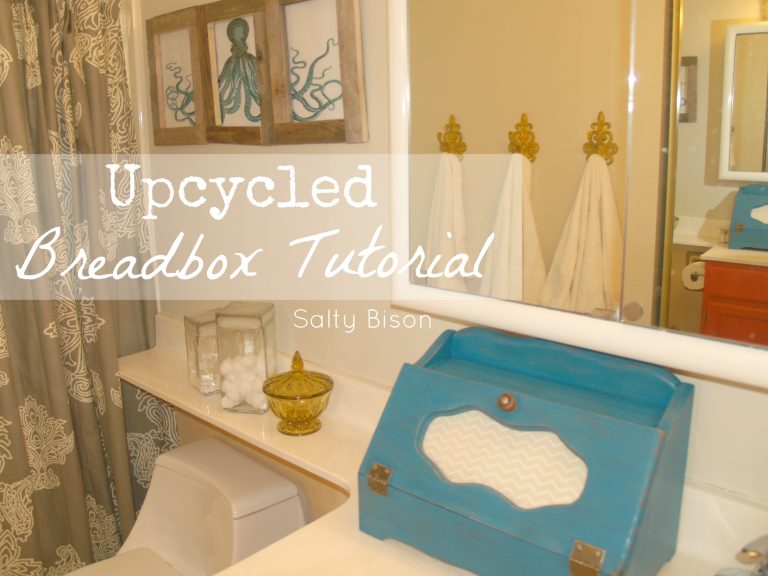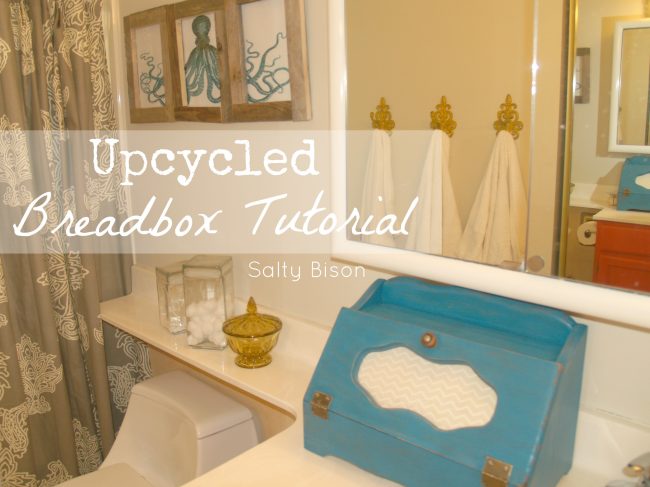 So here's what we started out with. It was greasy and full of crumbs, a penny, a color crayon and what looked like a squished spider…yummy.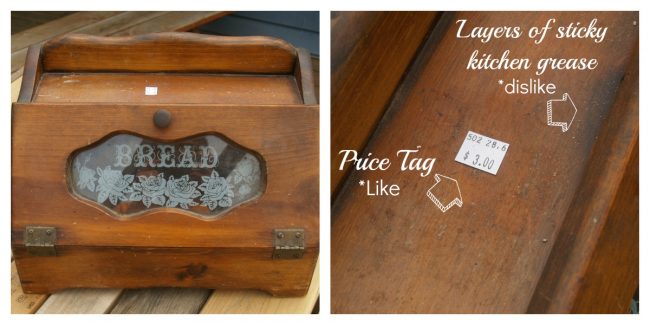 When you find a breadbox you like make sure it's easy to manipulate. The staples holding in the glass and screw holding the knob on this breadbox made it easy to change out. I've found some that were built tighter than a battle ship and weren't made to be taken apart.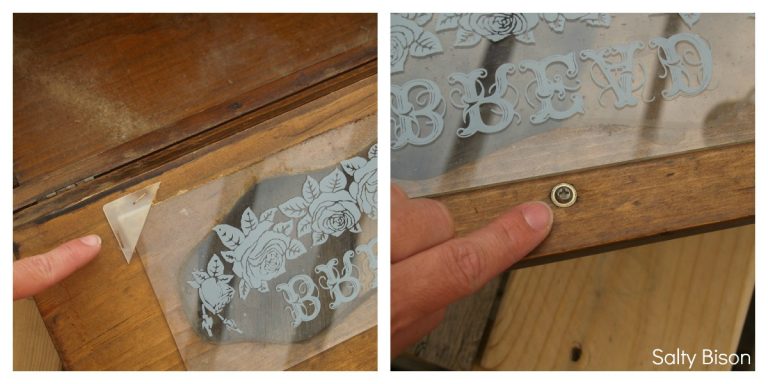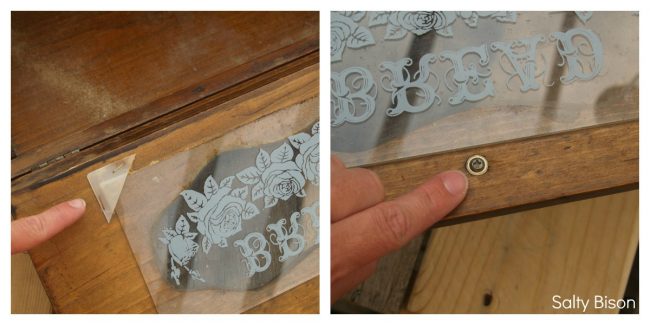 I outlined the glass with a pencil so it would be easier to match it up when I went to put it back on again. Then I pulled the staples up using needle nose pliers. There was a nice film of goobers awaiting me on the glass.

Next I used this funky looking drill bit to cut a hole big enough for the power strip plugin to feed through, we'll be adding that in later. Try to place the hole in one of the bottom corners of the box.

Then I gave the entire box a good sanding, inside and out, because there was a lot of caked on kitchen grease. Then I painted it one of my new favorite colors, Benjamin Moore's Jade Garden. I like things that look like they have a little bit of history behind them so I sanded it a bit afterwards as well.

I was able to scrape the wording and roses off of the glass using a razor blade. Then I gave it a good cleaning, attached some cute chevron patterned paper using clear tape and attached it back on with some small tack nails I had. I would have simply used my stapler but it was out of staples. That's how most of my projects go…for reals. And who wants to wake a napping toddler to run to the hardware store?
FYI: The paper is easy to remove so when I get sick of this pattern I'll probably trade it out for something new.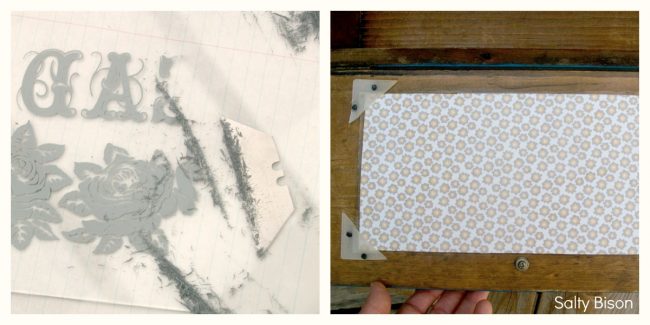 Instead of spending money on a new knob I decided to dress up the existing one by simply tapping an upholstery nail directly into the middle of it. Plus I like the natural look of the wood. It accents the wood peaking out from the sanded corners of the box.

I fed the power strip plugin through the large hole I drilled and then zip-tied the power strip itself to the base of the box by drilling two small holes on either side of the strip. This makes it really secure and keeps it from pulling out when you're blow drying your hair.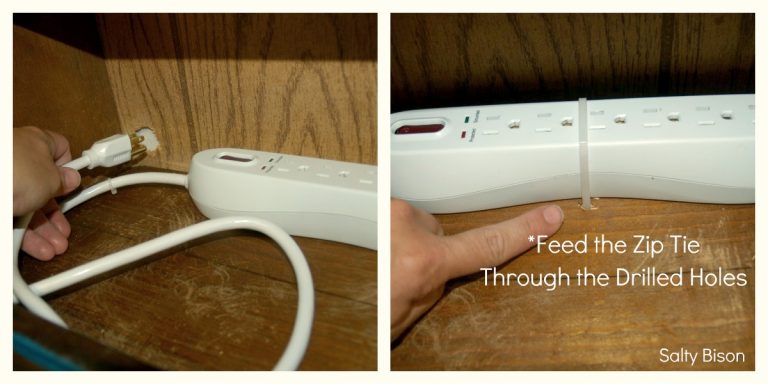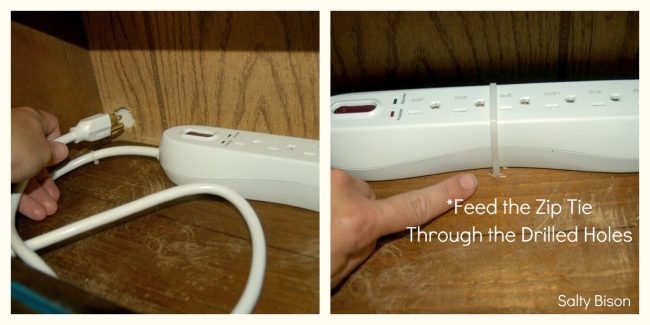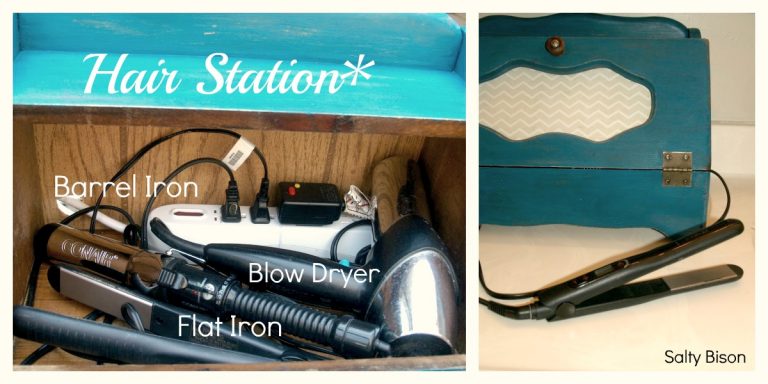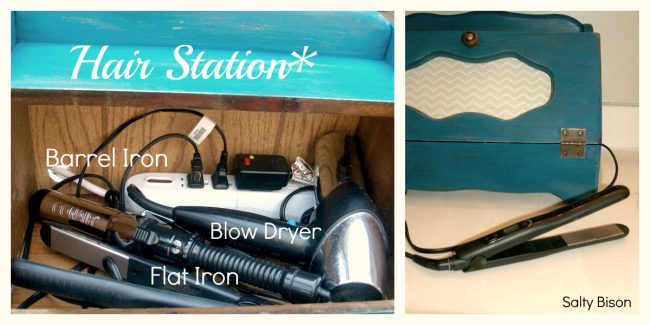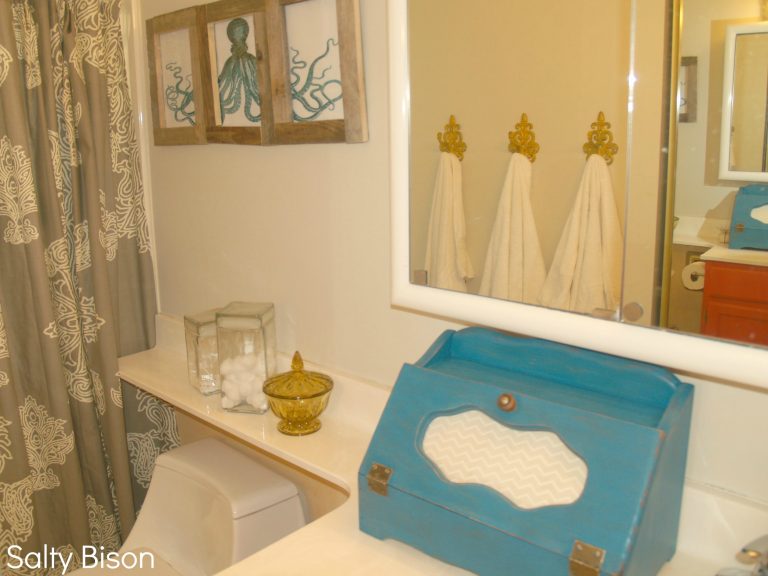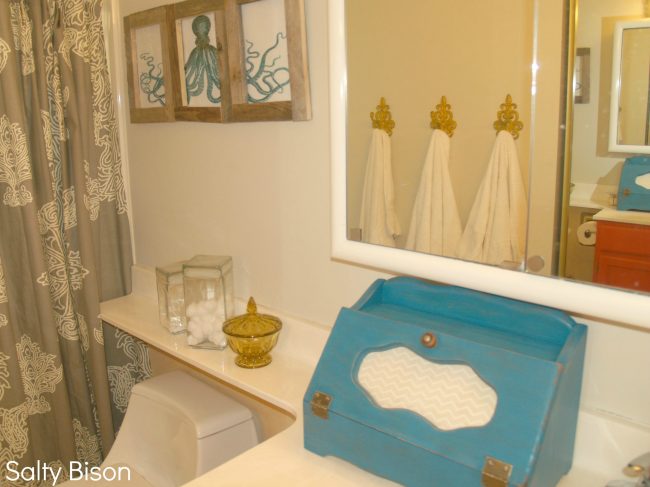 The cool thing about something like this is that it's really versatile. If you're not in need of a place to put hair styling tools you can use it just as easily as a charging station for all your electronic devices in your home office.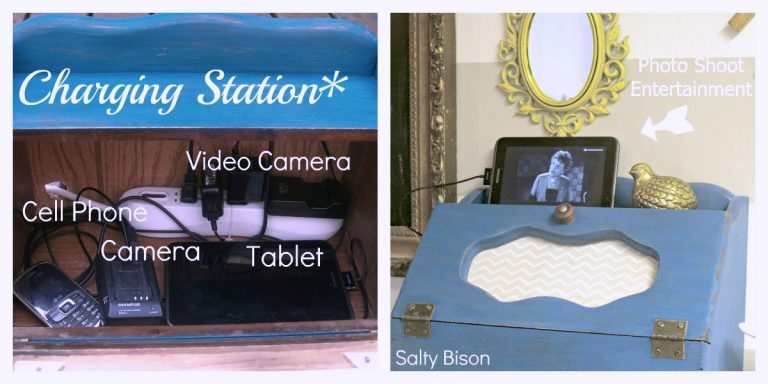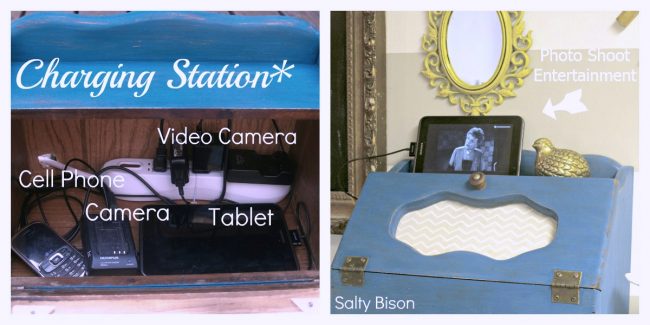 Oh and I had to watch a movie while doing all of this of course. The photo shoot entertainment was "Arsenic and Old Lace". Classic.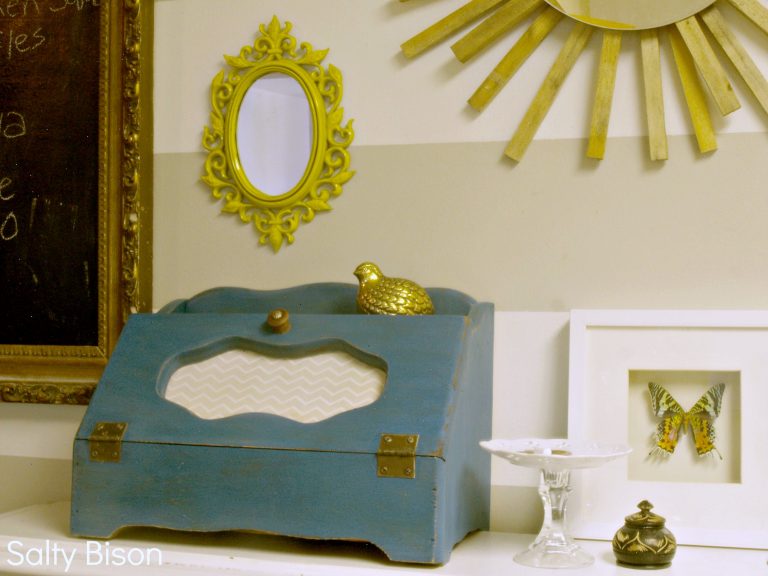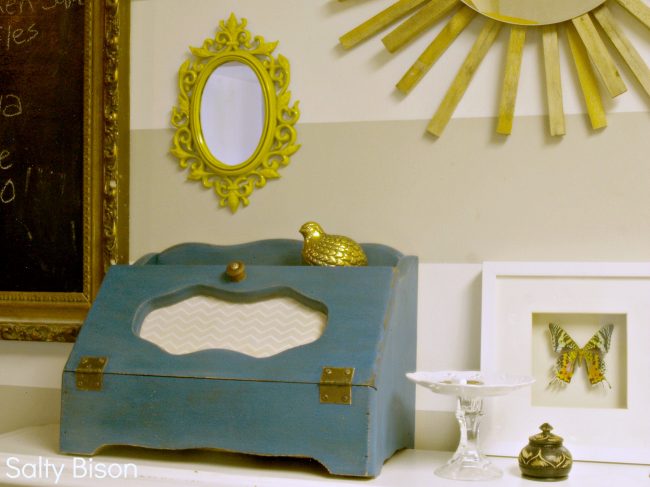 So either in the bathroom or the home office a breadbox can be utilized for any of your needs. Here's a couple other ideas for those castaway bread boxes…
I have a box on my dryer in the laundry room holding all our mismatched socks, in hopes that one day they will find their mate.
My mother-in-law turned her bread box into a parking garage for the grand kids' matchbox cars.
Use it to hold little girls hair bows, flowers and headbands. I know ours are puking all over our bathroom storage cabinet.
I also have a bread box in my garage holding special small tools.
Use it as a bread box…genius I know.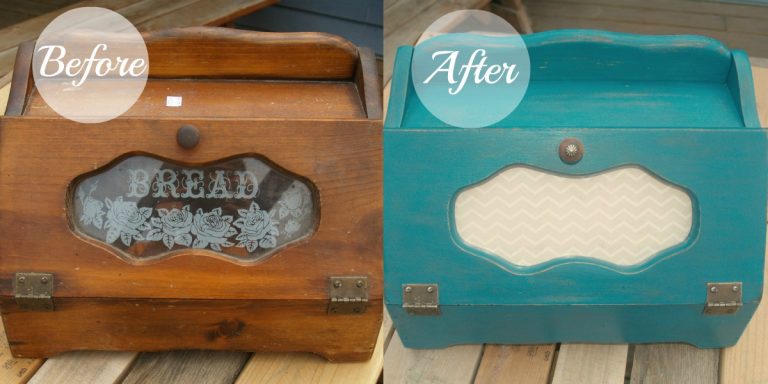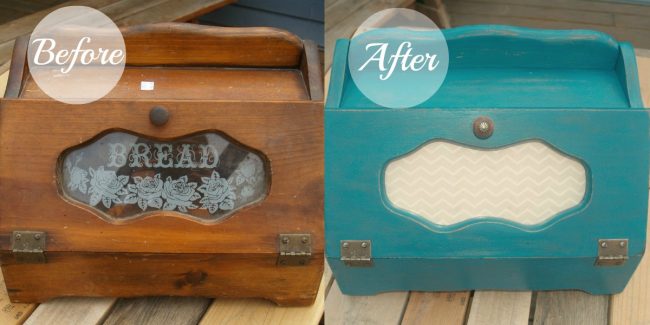 Well that's all folks. Hope you liked this first installment of upcycled goodness from us at Salty Bison!  We're eager to find our next neglected item and give it a makeover for you!