With the start of the new year I've had a lot of people visiting 30days to get organized.  Ha!! If you guys met me in person you'd think I was the most unorganized person ever.  (Just ask my family)  But I love designing things to help with organization.  Binders are so much fun to create.  And it makes me ridiculously happy to see pictures of people using and loving them.  I've had more and more requests for mini binders and am finally getting around to mini versions of everything.  Today it's the Updated Family Binder, Mini Edition.
This is just like the big version, only small.  So if you have the bigger version, don't feel like you need to download.  The request for minis have been to add to safes in people's homes, stick it in a corner or to carry with them for important appointments.  Makes sense to me!  This would also be good for when grandparents are in town watching kids while parents go on vacation (also a recent request).   I have had people mention the security risk.  If you are concerned about having everything in one spot, feel free to put it in a safe.  I like the convenience of having everything together but understand that other people might not feel comfortable with that.  Like everything I post, take what works for you and your family and run with it.
Wondering where you can get supplies for the mini binder?   Here are some of the products I used:
Affiliate links are used below.  
This would be awesome to add to the mini budget binder and holiday binder.  You can have a super duper organized binder.  Check out how I put the mini budget binder together to get a better idea of how to put yours together.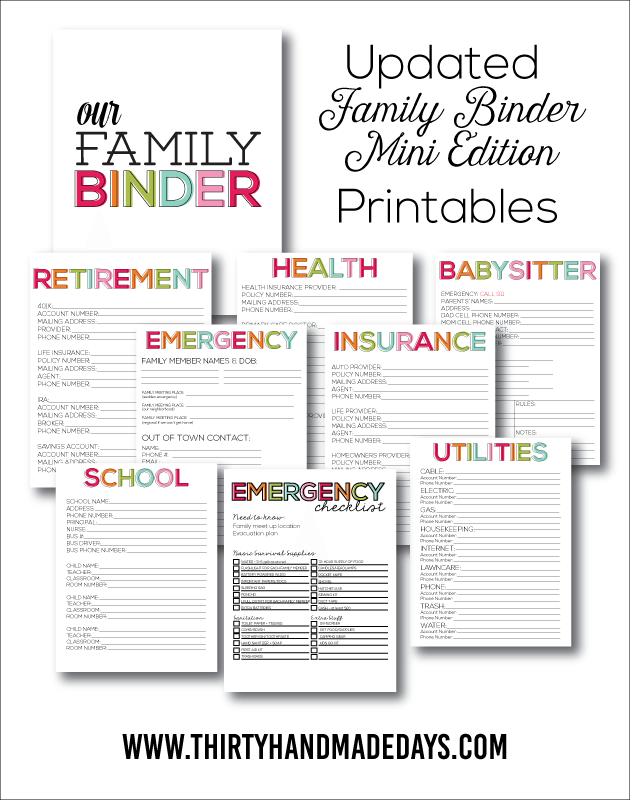 Download this Updated Family Binder, Mini Edition.  For personal use only.  Thanks!
Make sure to check out all of my binders: