Valentine's Day is one of my favorite holidays (have I mentioned that yet?).  I've had so much fun coming up with new ideas to share with you here! Today I get to share an idea and give away a basket full of things for the perfect date. Woohooooo!
28 awesome bloggers have put together Valentine's Day baskets filled with everything you will need for fun, romantic night! No more stressing over what to do or scrambling at the last minute to pull together a memorable evening.
Valentine's Day is 100% planned for the lucky recipients of these twenty-eight baskets!
We are all giving away a unique themed date night basket valued at over $100 each.
Here's a peak at all 28 giveaway baskets:

To join in on the fun:
Scroll down further in this post to get a more detailed description of what I'm giving away.
Enter my giveaway at the very bottom of the post.
Click on each of the links below & enter ALL of their giveaways!

Here's what mine looks like: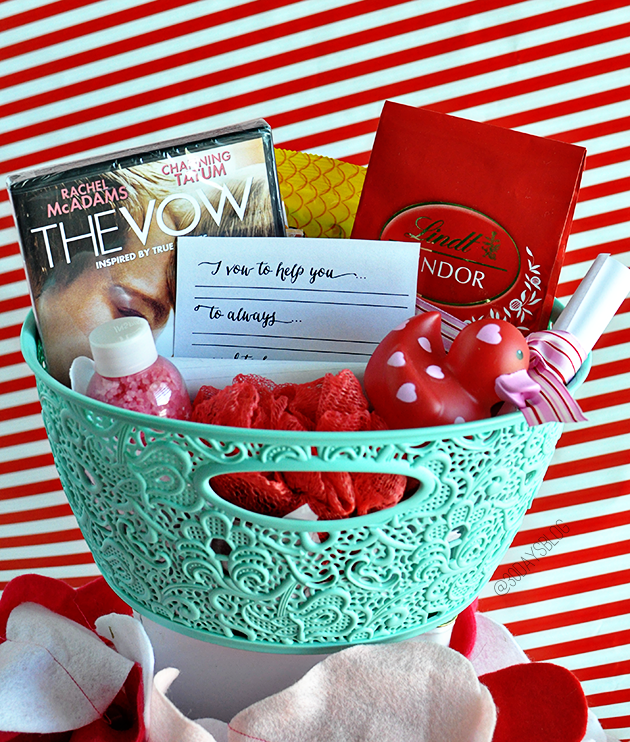 Click on each link to view each site, and enter to win their "Valentine's Date Night" basket. If you receive an error message, click to the blog's home page.
1. The Dating Divas 2. Bombshell Bling 3. Thirty Handmade Days 4. All Things Thrifty 5. Nobiggie 6. A Little Tipsy 7. The Crafting Chicks 8. Capturing Joy with Kristen Duke 9. Skip To My Lou 10. Snap 11. Fun Cheap Or Free 12. Positively Spendid 13. My Sister's Suitcase 14. The 36th Avenue 15. Smitten By 16. The Idea Room 17. 4 Men 1 Lady 18. Girl Loves Glam 19. The Diva Dish 20. Entirely Eventful Day 21. Tatertots & Jello 22. Just A Girl 23. Dollar Store Crafts 24. The SITS Girls 25. Lolly Jane 26. Design Dazzle 27. My Insanity 28. Not Just A Housewife

I'm beyond excited to share a fun Valentine's date idea from the Dating Divas.  Because it involves my favorite guy.  Channing Tatum.  You thought I was going to say Josh didn't you?  Ha! Had you fooled.
I'm not a new Channing fan.  My love goes back to his Step Up days.  I went with some of my good friends to see it on the big screen and the rest is history.  I still claim that movie as one of my favorites.  (go ahead and judge me)  Given the option to share an idea with you, it seemed like the clear choice had to be The Vows date.  Josh scored MAJOR brownie points by taking me to see it in the theater for an early Valentine's date.  My other favorite movie is the Notebook.  I love Rachel McAdams too.  Having both of them in one movie was fabulous.  Needless to say, this one was quickly added to the list of favorites.  I'm not always that girly and predictable but when it comes to movies, I'll take chick flicks any day of the week.  Ok let's get going on with this date shall we?
The Dating Divas shared their idea for writing their own vows because they didn't get to share vows at their wedding.  Josh and I didn't either so I think this is a fantastic idea.
I created another version of the printable shared over there: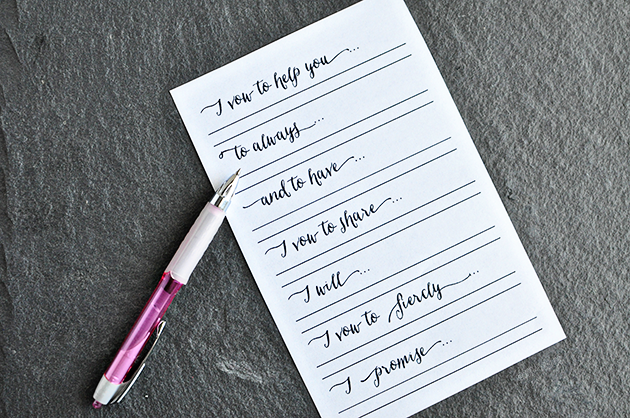 I can't wait to have Josh put his thoughts down.  He looks and acts like a big, tough guy but really he's a big teddy bear.  He's got everyone (but me) fooled.  He's really romantic and sensitive when he wants to be.  And that's what got me hook line and sinker.  Sixteen years ago on Valentine's Day  he spoiled the heck out of me and then told me he loved me.  You see a cute picture of him from our first Valentine's day.  We like to celebrate special days in a big way- see how I spoiled him on our anniversary a few years ago: Anniversary on the Hour.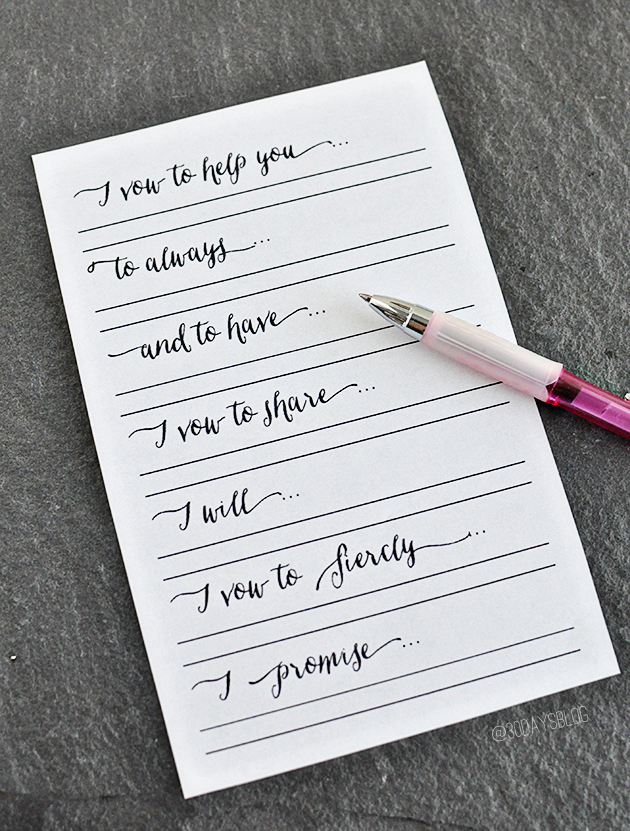 Download a copy of your own printable vows.  For personal use only.  Thanks!
Ok….. onto the basket!  This basket contains everything you'd want to have your own "Vow" date at home.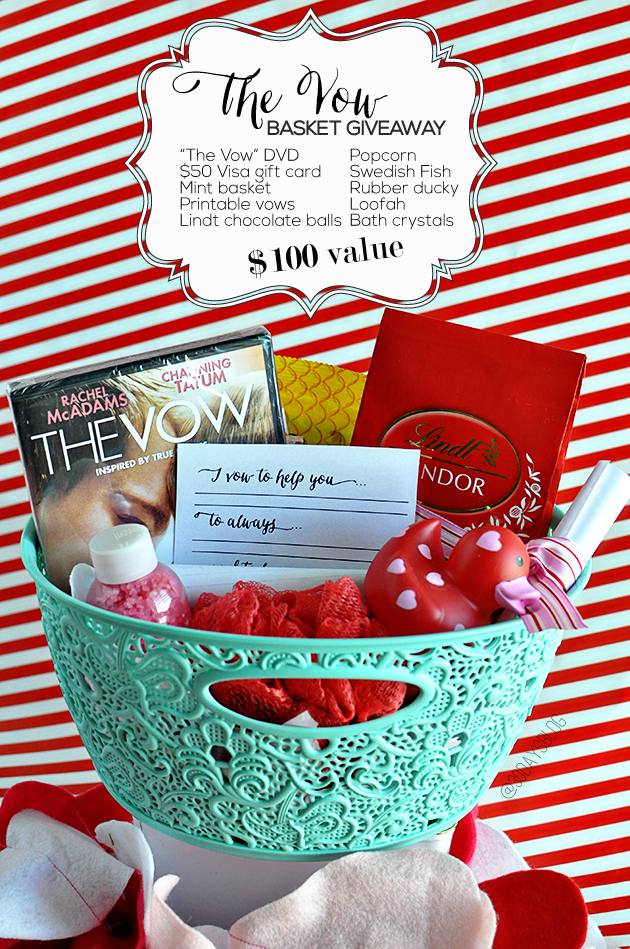 $50 Visa gift card to use on dinner, a little something special to wear, or whatever you like!
"The Vow" DVD
Candies- Swedish Fish, Lindt Chocolates + more
Popcorn
Rubber Ducky, loofah, bath crystals and bath goodies
Adorable mint basket
Are you dying over the Target mint green basket as much as I am?  I don't really want to give it away.  Dang.

With everything in the basket you can: go to dinner (or order take out, have something delivered, you get the idea), cuddle up and watch The Vow with some treats and then take a nice warm bath.  It's my ideal way to spend Valentine's Day.

This giveaway is only open to U.S. residents. It ends on January 24th. All 28 bloggers will individually email the winner of their V-Day Date Night basket as soon as the giveaway is over. Winners will need to respond within 24 hours or another winner will be chosen. Once I hear back, the winner of the basket will be in the widget above.