I recently shared a post from Monica Swanson on Facebook called What to Expect When Your Son Starts Puberty.  It's part of an awesome series that she is doing about parenting pre-teen and teen boys.  I loved that post as she is straight forward, gives great info and doesn't make you squirm (too much).  I wanted to share my version of that post for girls.  Truth: I'm a little nervous about this post but I am also excited to broach the subject.  So… bear with me.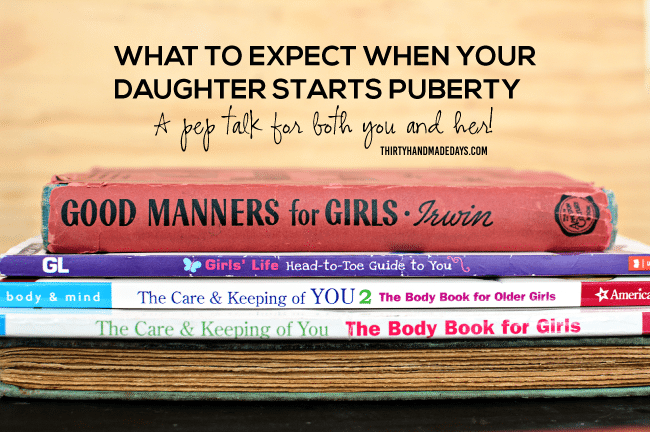 First and foremost let me say that I am not an expert on this topic. What makes me knowledgeable in it is that a) I am a woman so I went through it and b) I have a 13 year old daughter.  I know that we still have years of experiences with her so I bet I'll have a lot more to say in about five years.   There is a high volume of women who read this blog so I'm sure you are aware of most of what I will say.  You probably will shake your head yes throughout this post.  Consider this a reminder of things to discuss, look out for and go over with your daughter.   If nothing else, this is a pep talk to let you know YOU CAN DO THIS and you will survive.
Ok… let's do this.
How to parent a daughter going through puberty:
Run away.  
Kidding!  Sorta.  Just like everything else, each child is so uniquely different.  What would be appropriate for one, would not for another.  So before I dive into it, I want to remind you of a few key things.
Be in tune with what your child needs. 
Be open to talking a lot or talking a little.  Some kids will want to ask 291038930239203902 questions.   And some will not ask a single thing.  It's a personality thing.  Trying to force a more reserved child to talk could end up doing more harm than good.  Just like trying to shut down a kid who has 390239030 questions.  Approach each child differently, the most appropriate way for them.
Let them lead conversations.  
While you can be the one to bring up the conversation(s), let them be the one to guide it.  You don't have to lay it all out there in one conversation (although with some kids, that might be the best thing).  There is a lot to talk about but use your parent gut to know when to pump the brakes or when to shut it down completely for the day.
Let them know that you are ALWAYS there and that they can ask ANYTHING.
This puberty stuff is rough. Most people don't really wants to discuss it.  If your daughter knows that she can ask you anything she wants, she will go to you for answers instead of talking to friends or finding stuff online.  And I'd waaaaay rather be the one to give the info than to find out elsewhere.  While talking with friends will be helpful for her, you should be the one to supply the facts for her.
Start the conversation early.
I know it can be super scary but all this puberty talk is important.  Don't wait until she starts her period to talk about it – discuss what will happen before so she is not freaked the heck out.  Girls are starting younger and younger so while you might think you have years and years before talking about it, you actually probably do not.
Don't take it too personally.
I've had some really good talks and then some talks that didn't go well.  As I will talk about in a second, mood swings are a part of this whole puberty thing.  On a good day my daughter will tell me that she appreciated our talk.  On a bad day she will say "NOT AGAIN!" And if the subject is brought up amongst friends, they might all roll their eyes and make jokes about it, but I know that they listen.
When I was growing up we didn't talk about this kind of stuff.  I found out bits and pieces from friends or from trial and error.  It was just sort of a different time and since I was the first child, I was the guinea pig.  Love you Mom! I really really do!  Because of that, it's been important for me to have really open conversations with my daughter and talk about things often.  As much as she will say "Ok Mom! I got it, I got it,"  I hope that someday she'll look back and appreciate the openness.  We've had a few very personal experiences (not be shared here) that have made it clear that she trusts me and that she knows that she can ask me anything and confide in me.  While I screw up a lot, I hope that I've done a few things right with this.
I know that there are some things that will be very different for everyone but there are also some things that are pretty much guaranteed too.  So much like Monica I want to approach this with guarantees and then possibilities.
These things WILL happen:
MOOD SWINGS
It took me a little bit to realize that the wide swings in mood with my daughter were not in fact personal, they are part of her hormonal changes.  Every once in awhile I still have to remind myself of this.  She sometimes catches herself and doesn't know why she is upset or snap over something silly.   I want to be empathetic but also let her know that it's not okay to be disrespectful and/or rude.
HAIR GROWTH
Part of puberty is hair growth- underarm hair and pubic hair will start and thicken over time.
While boys will have to deal with shaving their faces, girls will have other hurdles to overcome with shaving.  I remember begging my mom to let me shave and then regretting it once I started (you were right Mom!).  But by the time girls enter junior high or middle school it starts to become a social thing.  Most girls will shave their legs and when necessary, under their arms.  Part of your job is to walk them through this – preventing those knick marks from happening all down their legs.  You might want to have a discussion about shaving the bathing suit line as well.   This is obviously a personal thing but I'd rather be open about it then have my daughter go searching online for information.
BREAST DEVELOPMENT
Often this is one of the first signs of puberty.  Girls will start developing breast buds sometime between the age of 8 and 13 usually.  The area will become tender or sore – that is normal.  It is also normal for breasts to grow at different rates.  Make sure to tell your daughter this so that they aren't concerned!
Please, pretty please, have your girls wear a bra when they start developing.  I took ballet with a girl who had large breasts at an early age and she didn't wear a bra.  I see girls all the time who don't wear one when they should be.   I know it can be weird to go bra shopping if your daughter is 8.  But if it's necessary, just do it!  There are TONS of options out there now for girls.  You can find cute bras, sporty ones, pretty ones, etc.  At Target, Walmart, Kohls, pretty much everywhere.  You can also take them to a store where they can be measured and help them pick out an extra pretty one.
MENSTRUATION
I still feel weird talking about this even though I'm on the downhill swing towards 40 years old… but it's the biggest part of becoming a woman.  There are lots of ways to approach this subject and I could do several posts on this one.  How you talk to your daughter about this will greatly affect how she feels about it in general.  So no pressure.  Ha!  But seriously – this isn't the time to be shy with her.  If you don't give her the information, she will find out it another way.  Or maybe even start her period without knowing what is happening to her.  I've heard so many stories about girls thinking they were dying or got a cut because they really had no idea of what was going on.
Girls are starting their periods younger and younger.  I was 14 years old and the last of my friends.  I so wanted to be a part of that club.  What was I thinking?  Within this topic you'll need to discuss the scientific aspects and also how to take care of yourself.  This brings up the subject of what types of products to use.  There could be a whole other post about this one as well.  Back in the day it used to be that most girls did not use tampons.  There was some stigma associated with that.  I know some people still feel that way.  Today it is much more acceptable.  This isn't a place of judgement – that's a decision you and your daughter should make.  But I would definitely walk and talk her through how to use all types of products.  This can prevent embarrassing and painful experiences.   Make sure to have products on hand for your daughter.  Have her carry a cute little pouch in her backpack or when traveling, just in case.   Breathe – you can get through it!
BODY ODOR
Wouldn't it be nice if girls always stayed sweet and never got sweaty and stinky?  Yeah, I'd love that.  But it's part of growing up.  They will have body odor.  And teaching them to add deodorant to a part of their every day routine is one of the least scary topics on this list.  Just make sure that you find one that works well for your daughter – different brands react differently.  If she is applying it but still having body odor, try a different type.
These things MIGHT happen:
ACNE
Acne doesn't happen to everyone but it can be a really hard thing for your daughter to deal with.  It has somewhat to do with genetic make up but there are things you can teach your daughter to do to help prevent blemishes.  Eating right, drinking lots of water and getting plenty of sleep definitely are things to keep in mind.  If she does all these things and it's still an issue, meeting with a dermatologist would be the next step.
PMS
I put this in the might category but it's pretty much guaranteed, it will just look very different for each girl.  One will have major PMS symptoms and others it won't be a big deal.  PMS is often joked about but it's a real thing.  Symptoms can range from anger and irritability (hard to distinguish between mood swings), to cramps to sore breasts, to different types of food cravings.  It's usually between a week to two before her period begins.
Things that have been helpful for us:
(affiliates included)


The Care and Keeping of You
This was recommended by several friends years ago and it is the best book that I've seen on this topic.  It's got it all in there and my daughter liked it.  There is a follow up book for older girls that is great too – The Care and Keeping of You 2.   I can't say enough good about this one.
There are now all kinds of products for tweens and teens that never existed when I was that age.  It is awesome! They are cute and sweet.  Here are some of the things that we prefer:
Tween Ultra Thin Combo Pack
Always Totally Teen Always Radiant Infinity Pads
Degree Girl, Just Dance
Teen Spirit Deodorant
Ok, that's all I've got today.  My face is still sorta red and I'm going to hit publish and run away.  Hopefully you found this post encouraging.  Please leave me a comment to let me know of tips on how to survive puberty with a girl.
If you liked this post, you might find these helpful as well: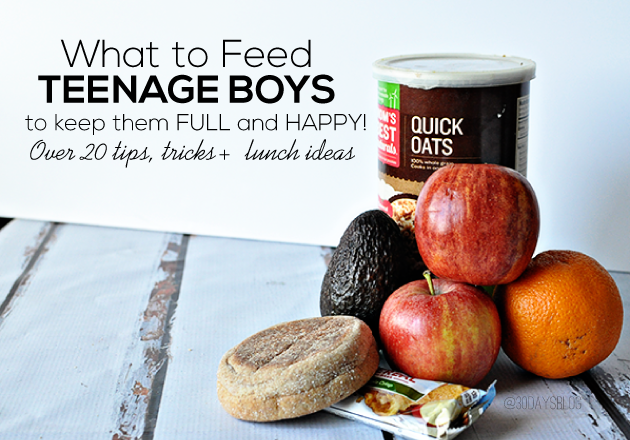 What to feed teenage boys (and girls) to keep them full and happy!