I have a confession.  Ready?  I'm not a clean and organized person.  Oh…I've mentioned that before?  It has been a goal of mine for about fifteen years now to get on top of my game.  But I have struggled all this time because my brain doesn't automatically work that way.  It just doesn't.  As much as I love to pin on my Project Organization board (it's a good one!), those projects just don't happen on their own.  This summer I finally put a plan into place to change my habits.
Did you see my binders? Checking binders off my list marked the start of something.  And a new idea was born- why not share my organizing plans, one post at a time?  It will be called "When pigs fly" – get it?  Because pigs must be flying somewhere for me to finally be tackling this and I liked the play on words.  In this series you'll see first hand how someone with a creative, right brained mind tries to tackle stereotypical left brained ideas. Wish me luck? 

If you follow me on Instagram, you might have seen that we cleaned out our pantry recently.  WHAT A JOB.  You'd literally think pigs lived in my house based on the before picture.  It was clear that an intervention needed to happen.  I'm going to share the before only if you promise not to judge.  Deal?  Ok….here it is: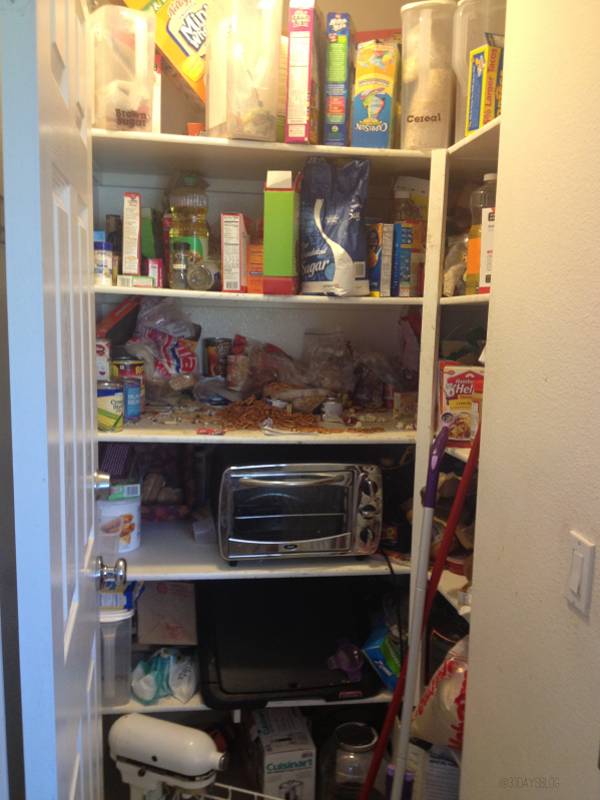 Yuck. Yuck. Yuck.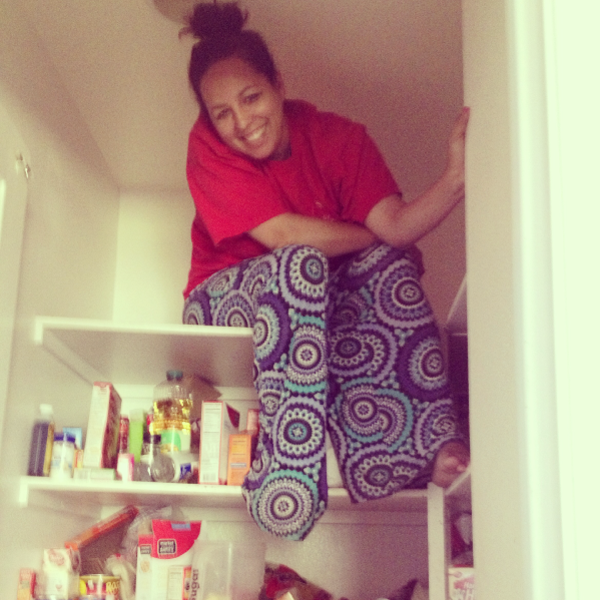 Me in all my Saturday morning glory cleaning out the pantry, taken by my 7 year old.
But here is the after: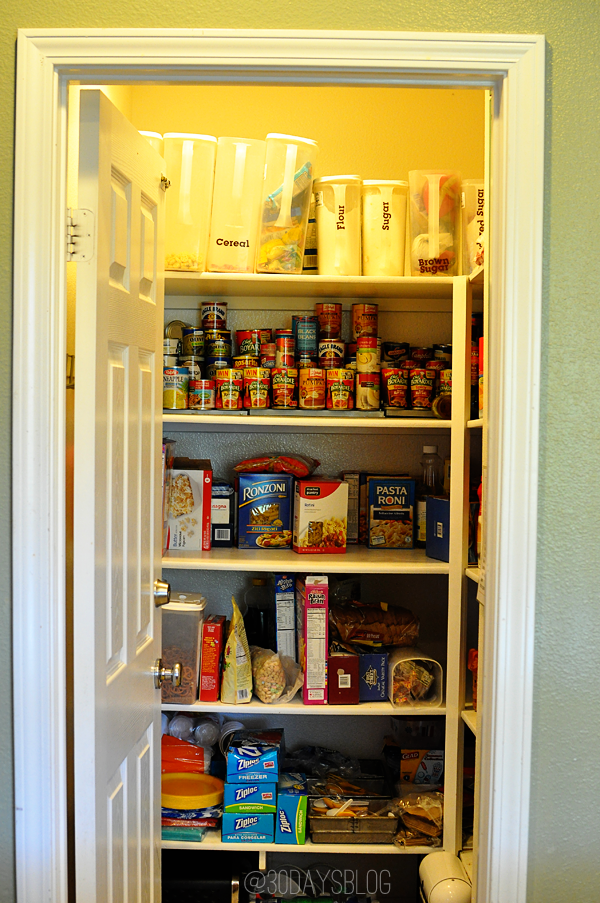 (kitchen lighting is tough!)
So here are my thoughts on how to clean up your pantry…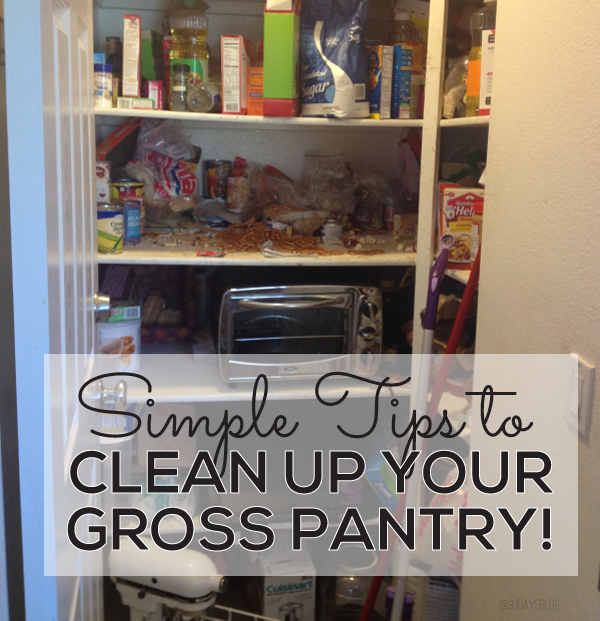 Take it all out.  There's no point in trying to really organize if you don't have a clean slate.  It's a huge pain, but in the end it's worth it.
While it's all out, check labels to make sure you don't have old expired food.  Yuck.
Purge. Purge. Purge.  This can be hard to do but there's no point in having food in your pantry that just takes up shelf space.  If you feel bad throwing things away, make a pile to take a food pantry or homeless shelter.  You can get rid of things you don't need/won't use and help people in the process- win/win.
If you're able, invest in a few organizational products- I got the food containers that I LOVE at Ross.  They have awesome lids that are pourable and seal really well.  They cost anywhere from $3.99 – $7.99 and were worth every penny to me.  A long time ago I made vinyl stickers to add to those containers.  It makes finding things so much easier.  Ross can be unpredictable but you can always find containers at the Container Store or Bed, Bath and Beyond.  But those stores are more costly and can add up fast.  We got can risers at Bed, Bath and Beyond and they make finding our cans so much easier.
Scout your house for baskets and buckets.  These are great for things like packets (sauces, dressings, etc).
Group like things together- this seems obvious but before we did our overhaul there were things evvvvverrrrywhere.  It makes finding things in the pantry so.much.harder.
Make a snack zone.  I found a basket that I assigned to a space for kids snacks.  They know that they can grab granola bars, crackers, chips, etc from that basket.  It makes it so much easier in the morning when they are making lunches or after school when they need a little snack.  They now know exactly where to go.
Edited to add: According to "Mique's DH" in the comments, Josh would like me to acknowledge his help in the pantry.  He says he did it ALL and I beg to differ but he definitely needs some recognition for spearheading this project.  He repainted the cabinet shelves and was the one who pushed to get this job done.  I was for sure not on my list of things to do.  So thank you Joshie for your help in getting this done!
Every pantry is so different so you have to do what works best for you and your family.  Our pantry is a walk in and has the perfect wall to hang some new additions: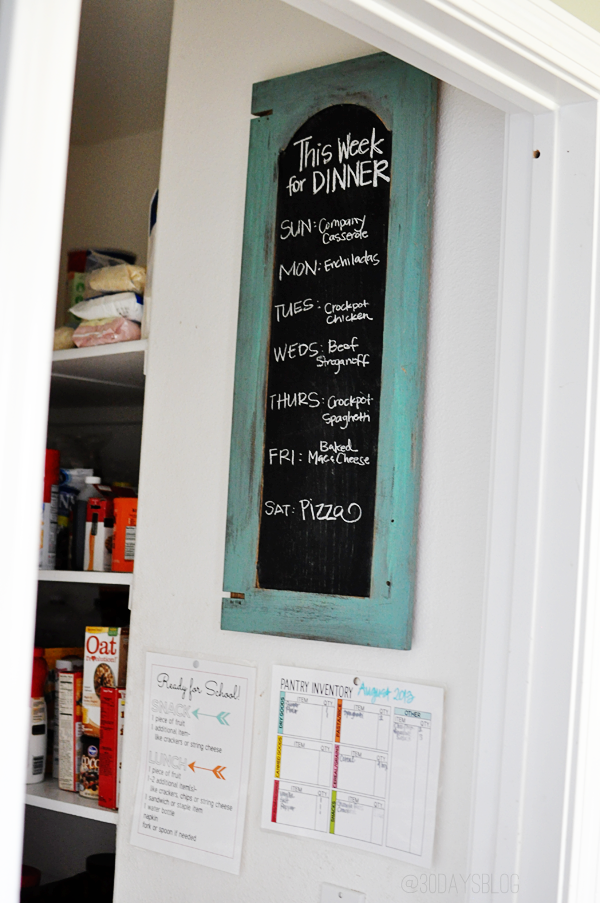 Isn't that chalkboard awesome?  A Queen Bee Market vendor,
Grace for Grace
, made it and I've used it for several different things.  I love that it now hangs in the pantry and I see it throughout the day.  I sharpened some chalk with a pencil sharpener and added our menu for the week.  No more "Mom what's for dinner?" every night!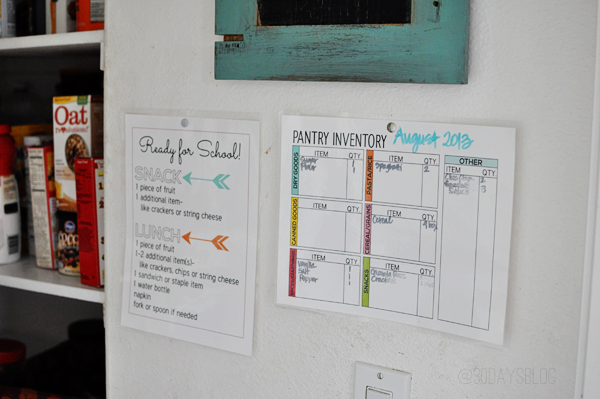 I also created some new printables to help keep our family on track.  One is for the kids- a reminder of what needs to go in their lunches.  I'm trying to be better about having them be more responsible and this is just one more little way that they can do that.  Ideally they would make their lunch the night before, but let's be real…sometimes they are scrambling on the way out the door to put their lunches together.
The other printable is to know what exactly is in your pantry – a pantry inventory.  This is another thing that will take awhile to do the first time around.  But once it's done, it will only take a few minutes here and there of upkeep.  I printed mine, laminated it and used dry erase markers.  This should help with grocery store shopping to know exactly what is needed for your weekly trip.
Next up—– make ahead and freezer meals with your new found ingredients from your pantry.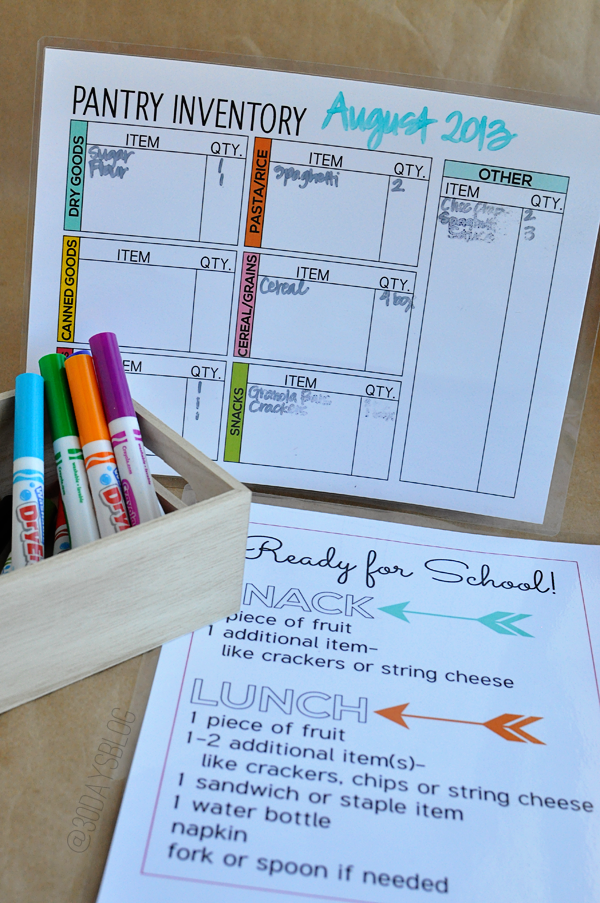 Download Ready for School Sheet and Pantry Inventory.  For personal use only.
In starting this series I wanted to let you know of some of my favorite organizational blogs and posts that have inspired me.  These ladies actually *enjoy* organizing and it comes naturally to them. 
Imagine that.
Organizing Made Fun

I'm An Organizing Junkie
Clean Mama
Ask Anna
Organize & Decorate Everything
A Bowl Full of Lemons
I Heart Organizing
I'd love to know what kinds of things you struggle with or ideas you'd like to see me cover.  Leave me a comment and let me know!