This post is in partnership with CliqStudios.  I'm thrilled to work with a brand that I 1 million percent believe in.  Some affiliate links are included below. 
It's been in the works for months and I'm excited to finally show you my finished kitchen.  I am so pleased with how our white kitchen remodel turned out in the end.  Take a little tour with me in our new space.  I'll share the product information below so that you know where we got everything from.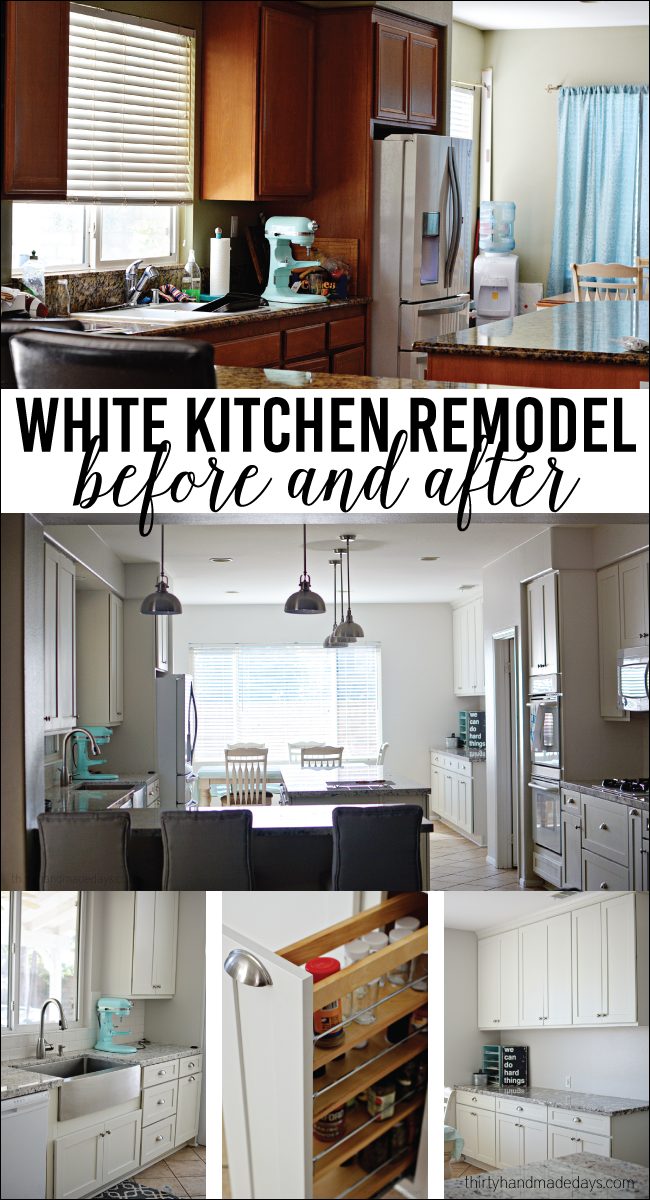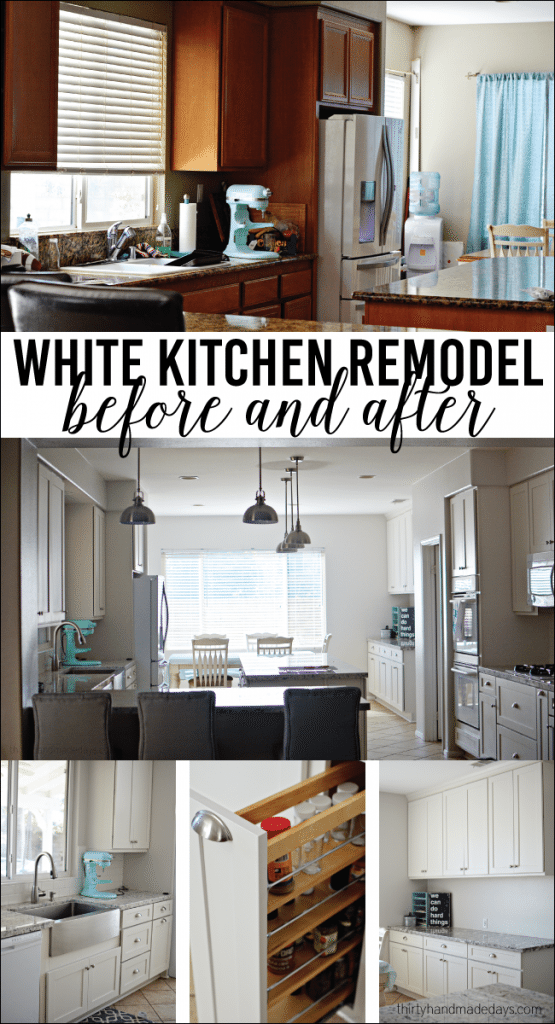 Let me remind you of what our kitchen looked like before: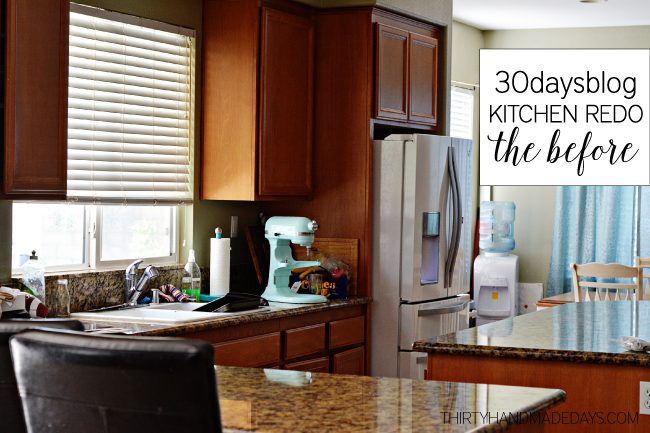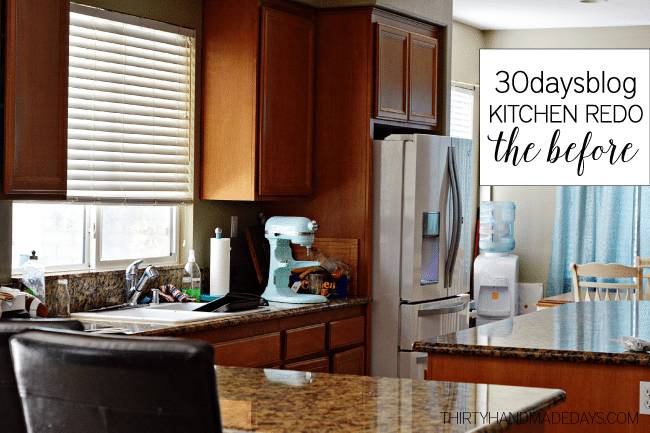 And here is the after: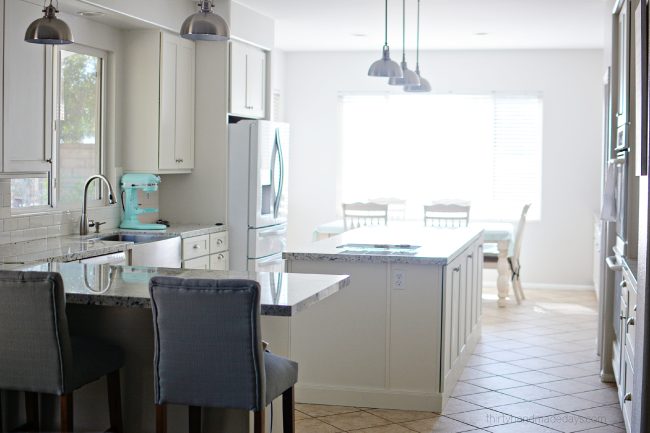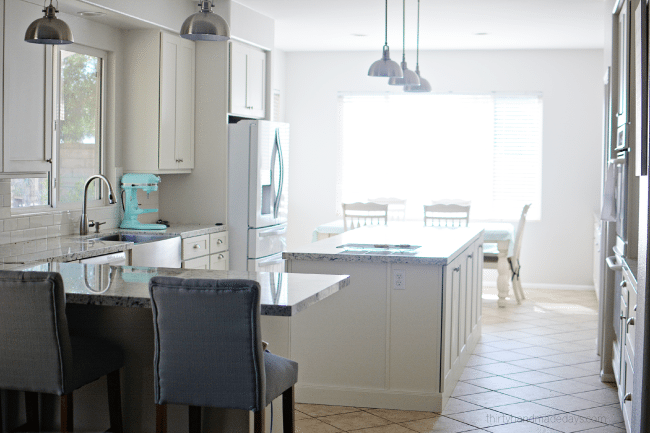 I walk down the stairs just to look at the space because it makes me so happy.  The amount of light and brightness now in there is incredible.  (also makes it tricky to photograph properly)   Before I walk through the whole I thing I want to make sure you know you know who to go to if you are looking for cabinetry of any kind – CliqStudios.  They'll send you a sample, give an estimate and get the process going.


Some of the things I love about CliqStudios- they are high quality cabinets.  The soft close is life changing – no more slamming kitchen cabinets! They look beautiful and clean easily.  I like the layout that we decided on with our designer.  I couldn't be happier with the cabinets.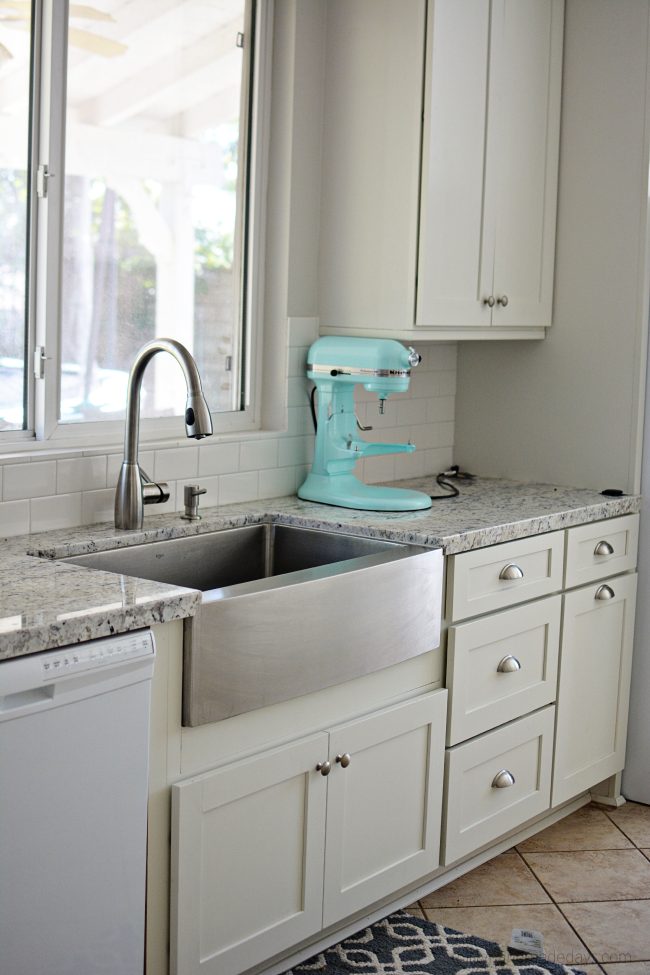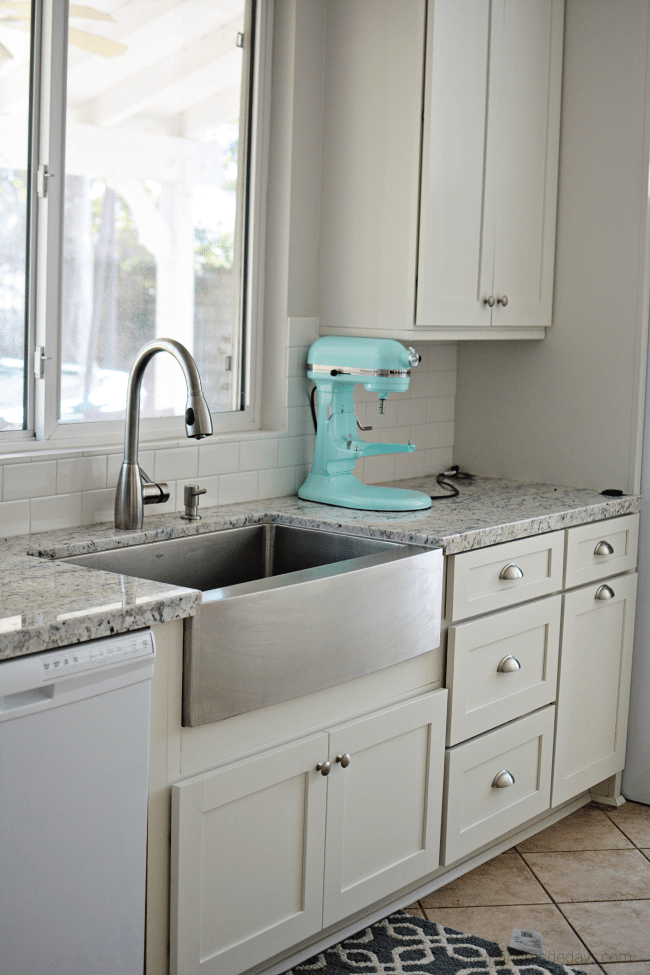 As mentioned in my last kitchen post, I knew all along that I wanted a farmhouse sink.  I wanted plain white but Josh really wanted stainless steel.  We compromised with a stainless farmhouse sink.  It's really nice but it does show stuff right away.   I chose a 33″ Kraus undermount apron front sink and I love the quality of it.  I got a matching Kraus faucet and soap dispenser.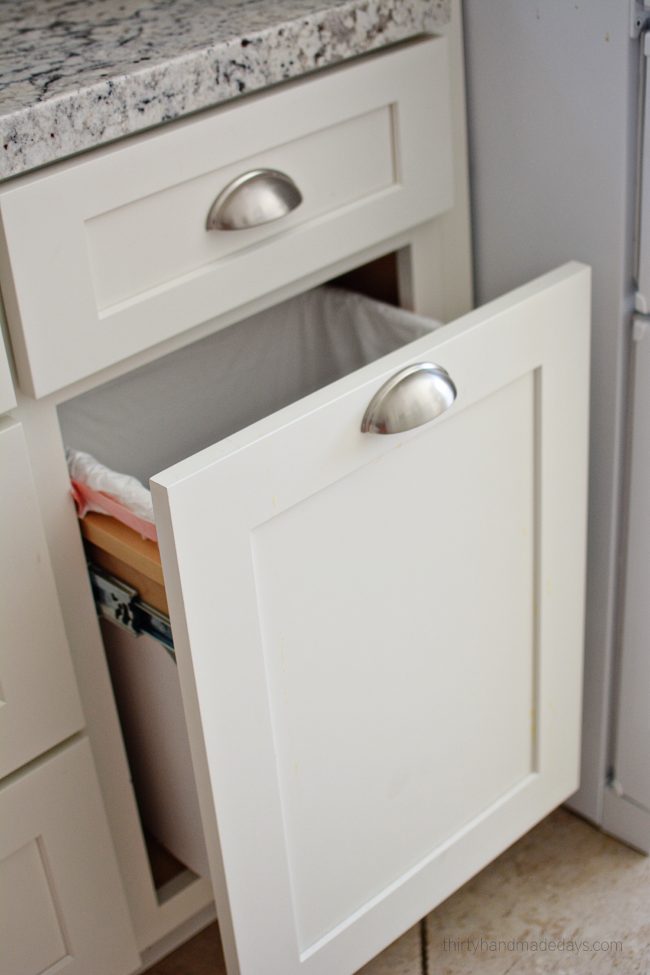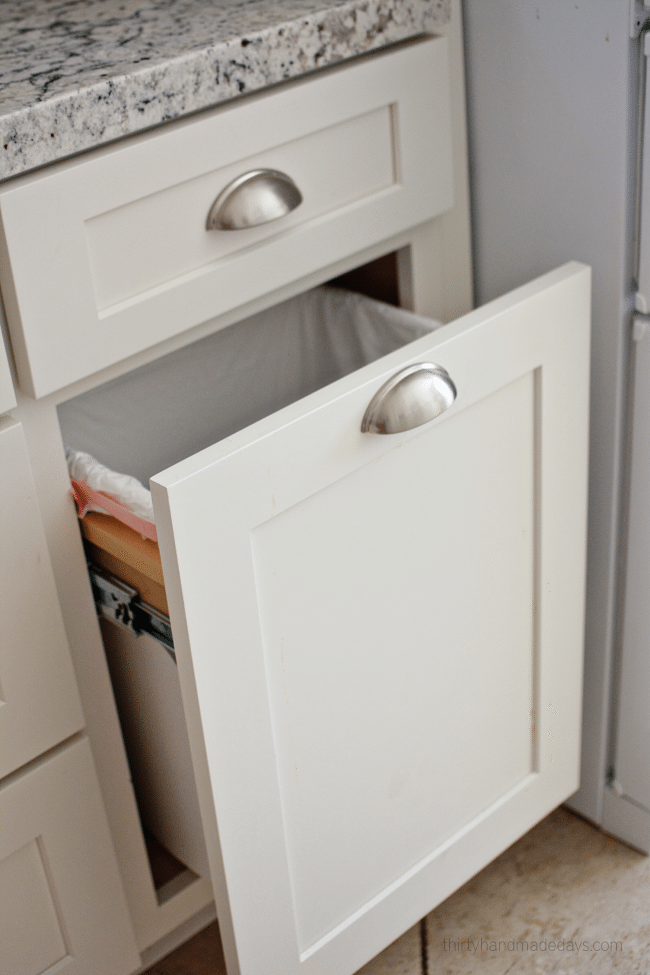 Having a trash can cabinet was high on my priority because we've always had a nightmare with regular trash bins.  We have a dog that gets into the trash all the time.  Yuck! This new cabinet has 2 spots for trash/recycling.  It's next to our fridge and by the sink, the perfect spot.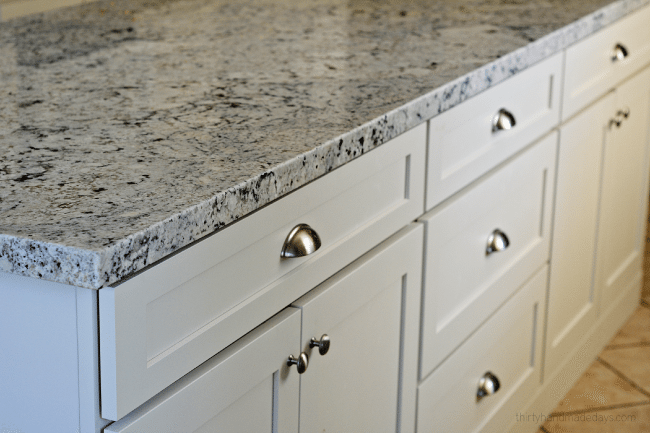 One of the most stressful decisions to make was what type of counter to get.  In my dream of dreams I would've loved to get marble but after researching and talking to a lot of people, that seemed really unreasonable in the kitchen and with kids.  I searched high and low for granite that would go well with the overall feel and look marble like.  I finally decided on "white ice" granite.  We had rounded, bull nose edges with our last granite that I didn't like at all and knew that I wanted a more modern look so ours is now squared off.  I made 2 trips to the granite yard and seriously had nightmares about the granite (SO expensive!).  But as it went in, I was SO relieved.  I love love love it.
I also had a hard time picking out the drawer and cabinet pulls.  Both Josh and I agreed on the cup pulls as the main pulls but we disagreed on pulls or knobs for the others.  I wanted knobs, he wanted pulls.  Guess you know who won that argument!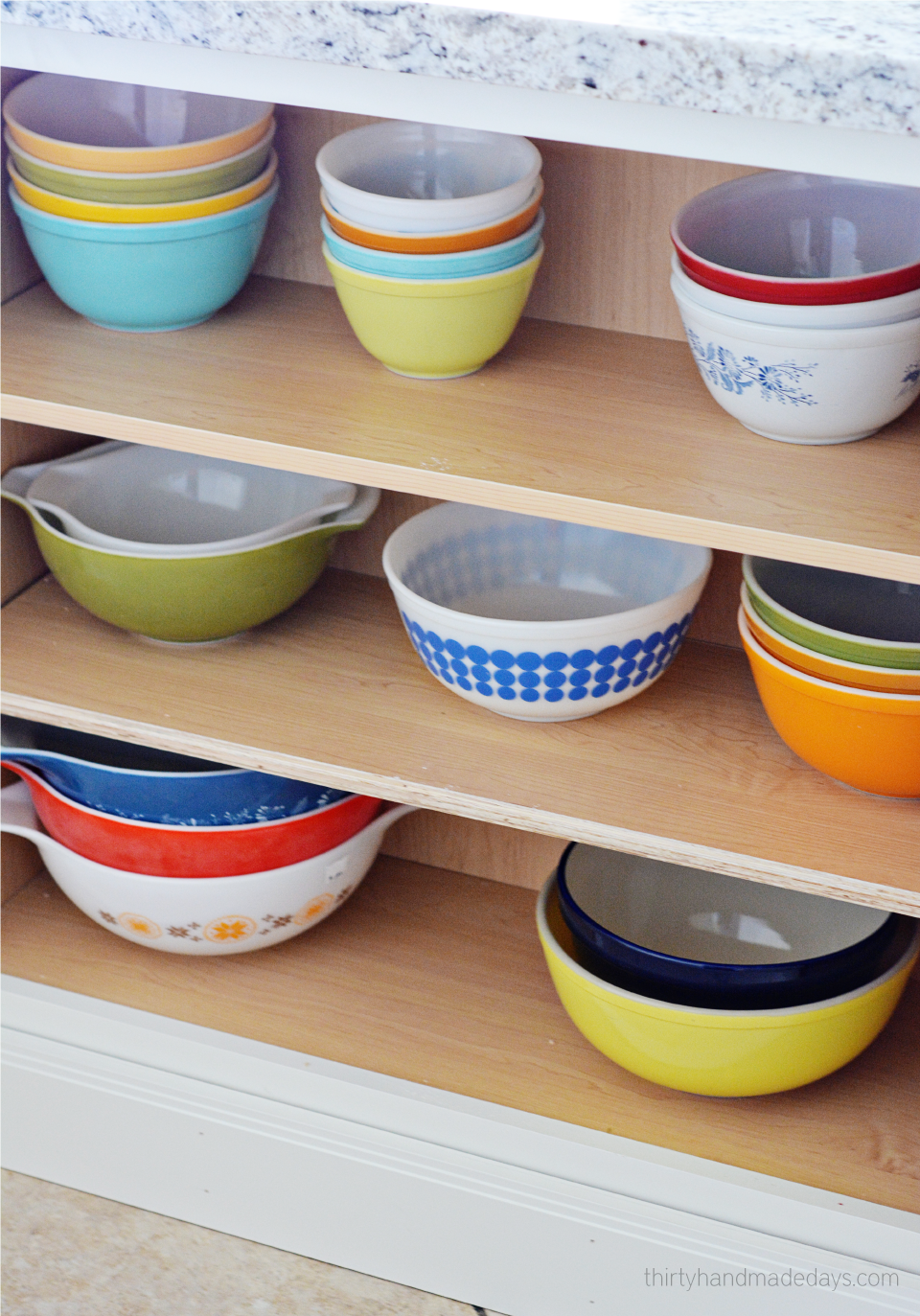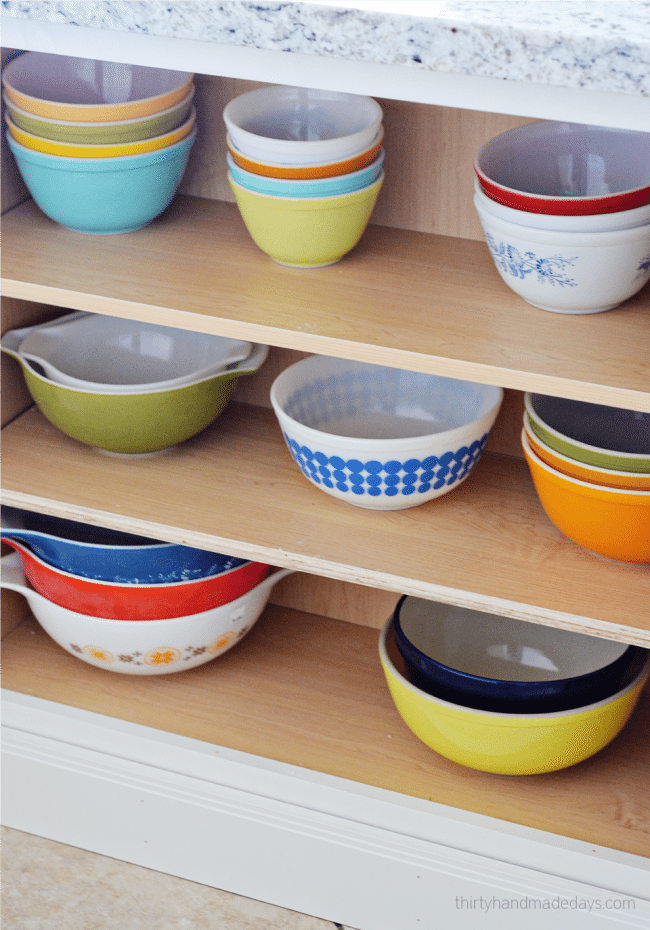 Before our island was one big cabinet and we practically had to crawl in to reach to the very back.  It now has front cabinets and back cabinets.  On one side I have utensils, appliances and measuring spoons.  On the other I have baking dishes and 2 whole cabinets of Pyrex.  It's my dream! While I don't have them on display with glass or anything, they are super accessible and I can actually use them every day.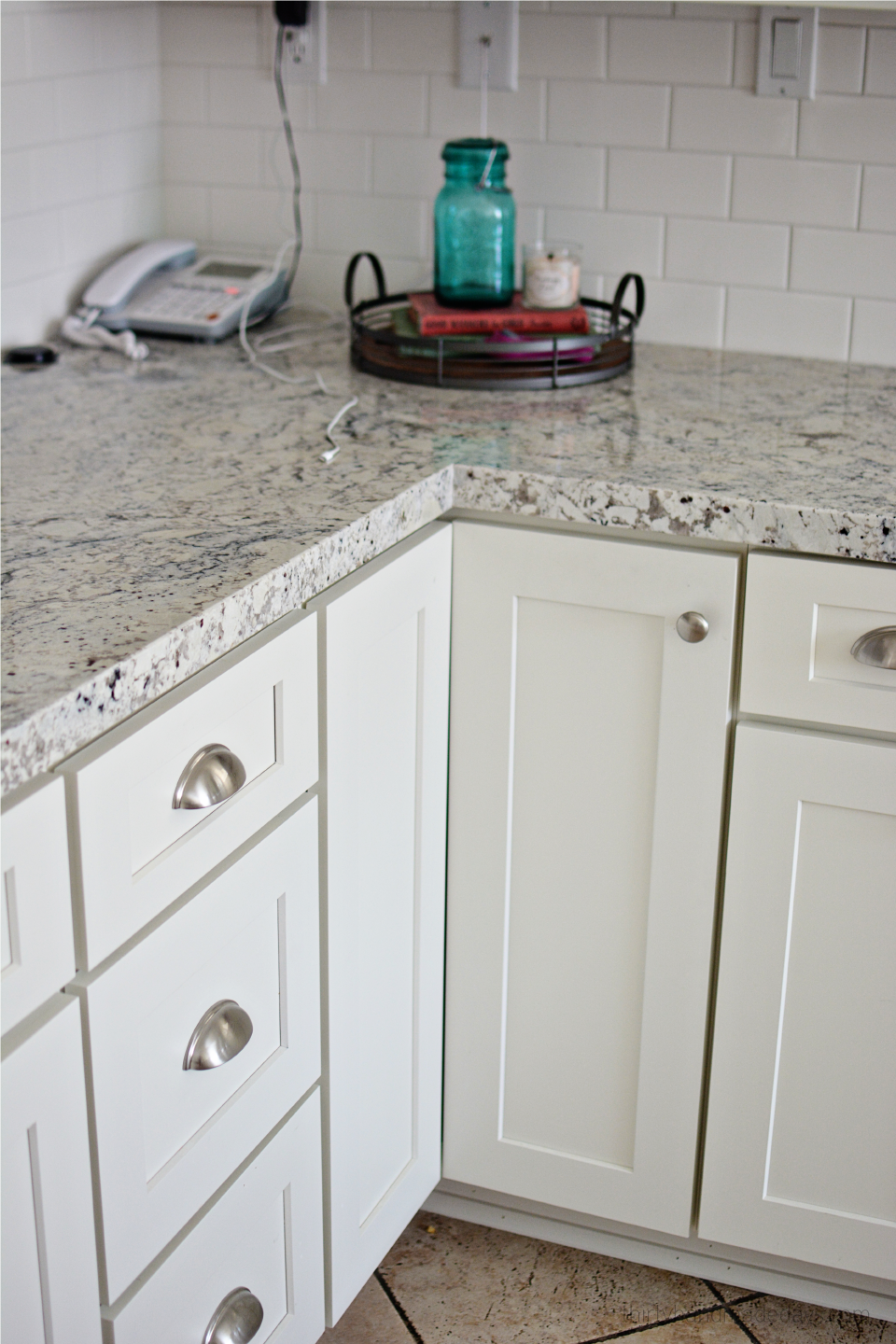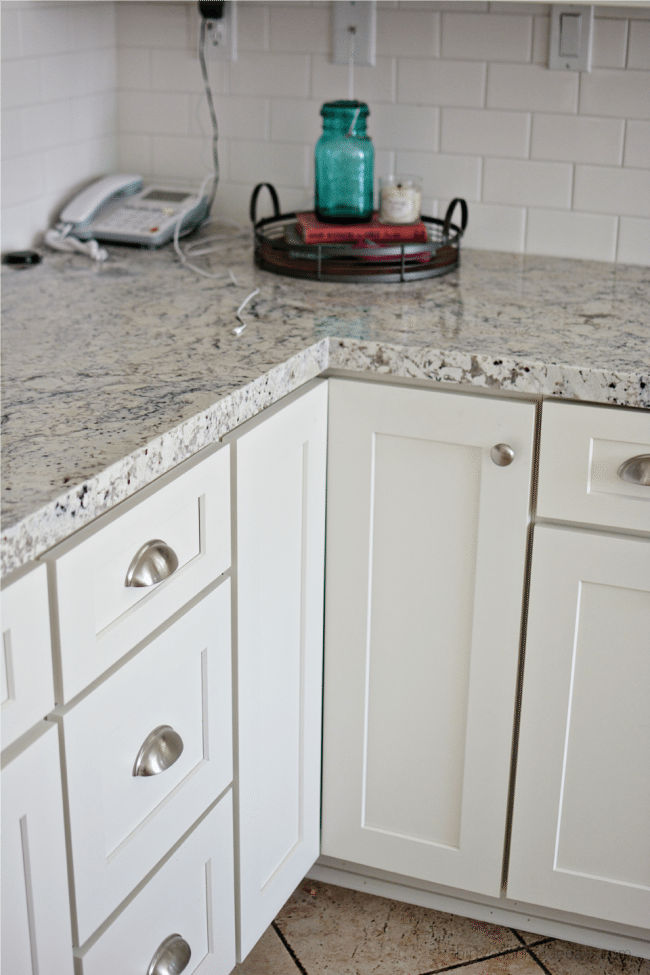 We have an awkward corner space that was previously wasted space – aka another junk spot for things to go and die.  I discussed this with our designer and we decided on a Lazy Susan for that space.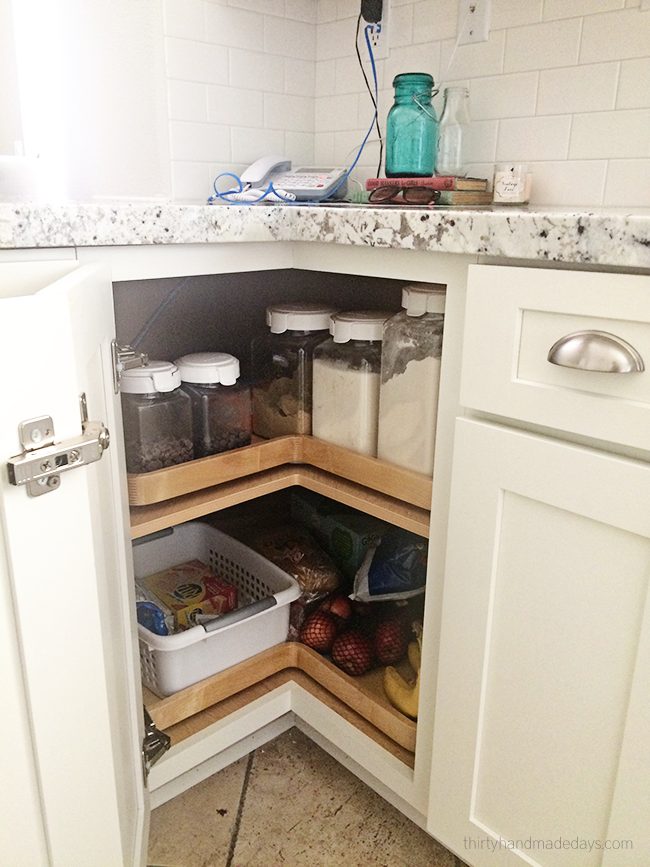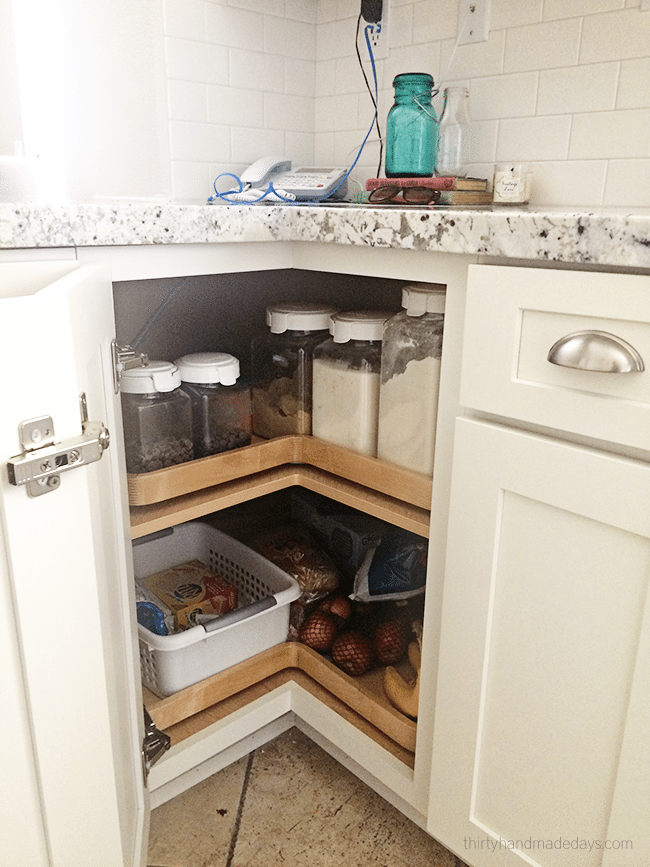 I wasn't sure what I'd put in there but knew it needed some containers.  I brought them home and Drew asked if it could be his cabinet to put "his" cookie ingredients in.  (He has taken over for chocolate chip cookie making these days – love it!)  Why not?  I put snacks on the bottom lazy susan for kids to choose after school.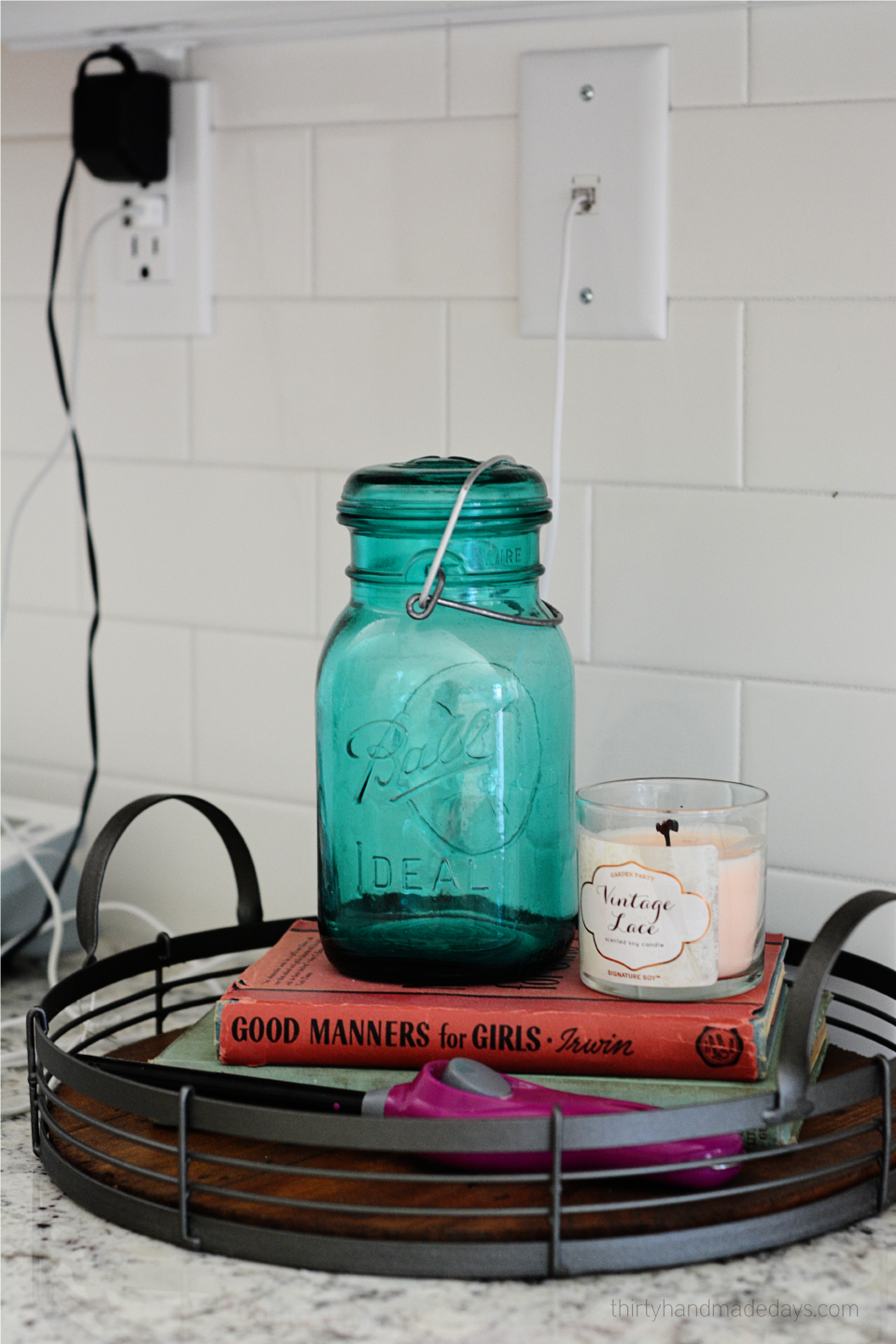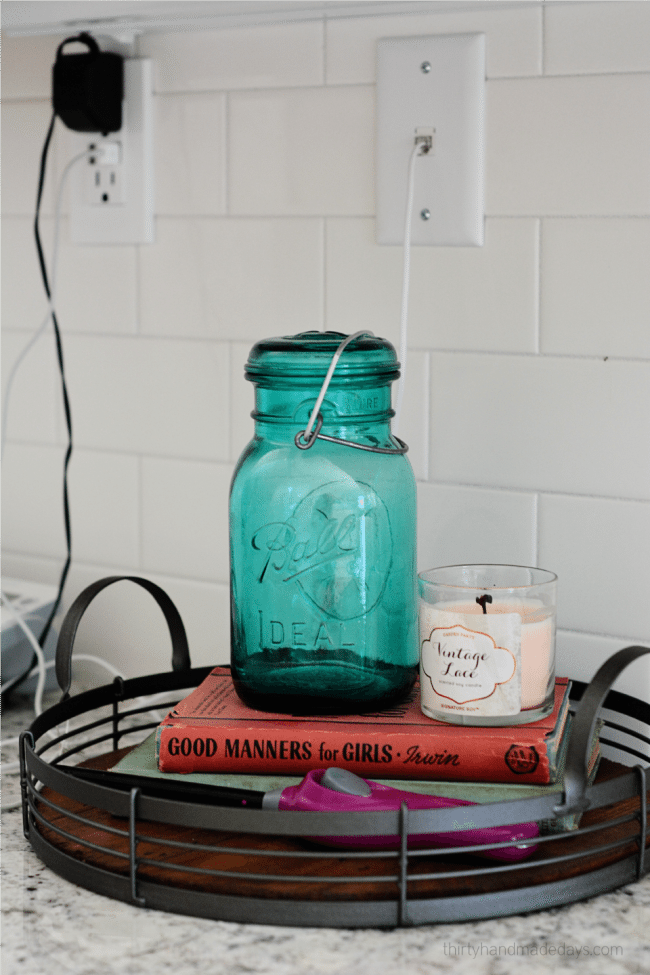 I have seen people putting in USB outlets in their homes and knew that I wanted to do that in our kitchen.  It is the heart of our home and not having to find the boxes to charge things is so awesome!  One of them is near our phone and the other in the desk area of the kitchen.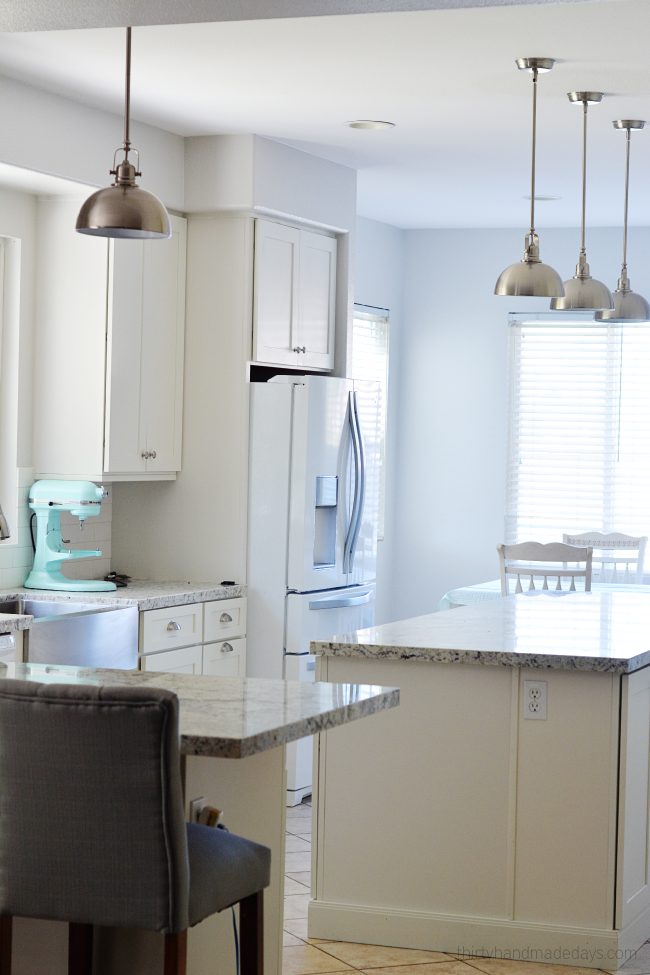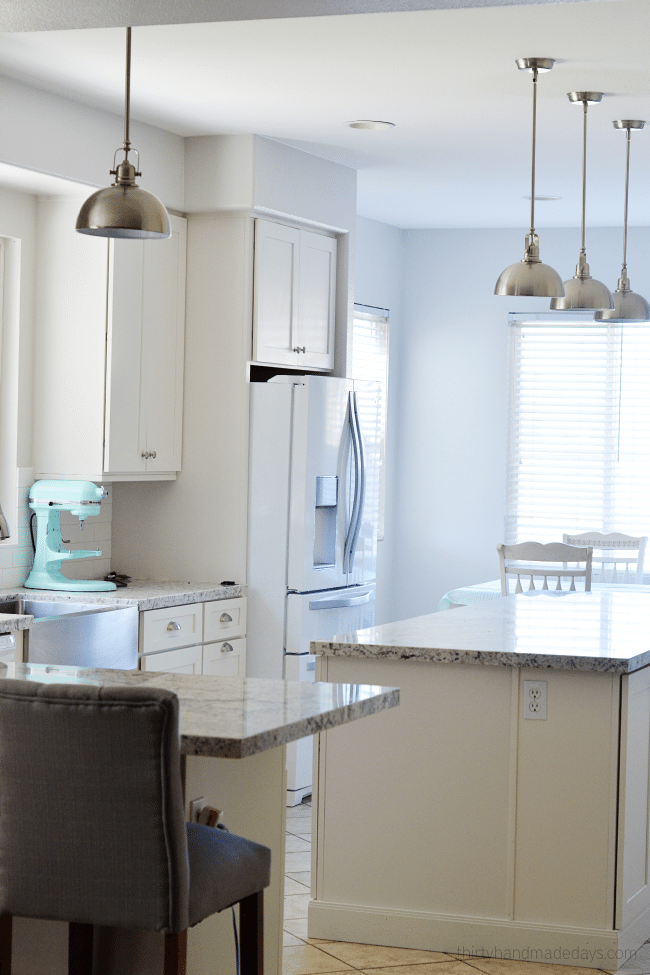 We have recessed lighting in the kitchen but wanted to add something more to the space so we went with overhead pendant lights.  I searched high and low for a good compromise (do you see a theme with this post? Josh and I have different styles – it makes it tough!).  I like the ones we ended up with.  I am also planning on a chandelier for over the kitchen table.  I'd like to get a new kitchen table that isn't so country-ish.  But for now it'll have to do.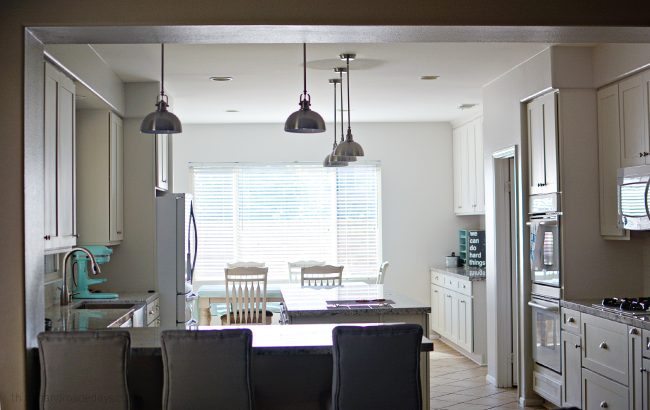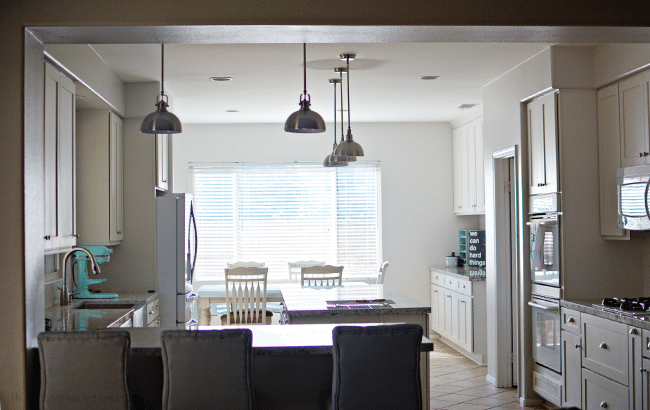 If you're thinking about a remodel,  grab this free e-book from CliqStudios to make sure you are making a good investment: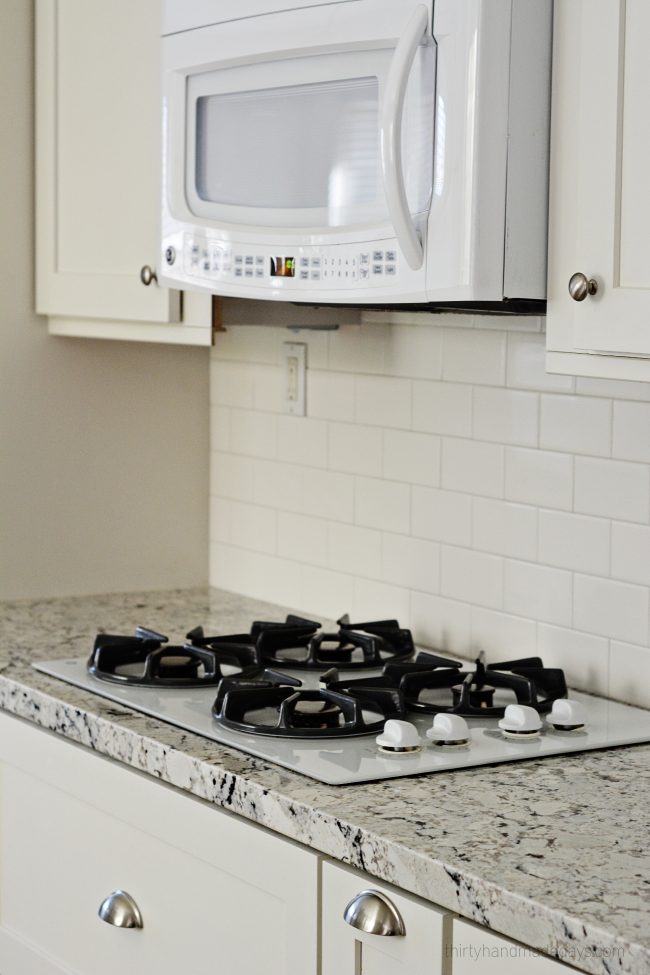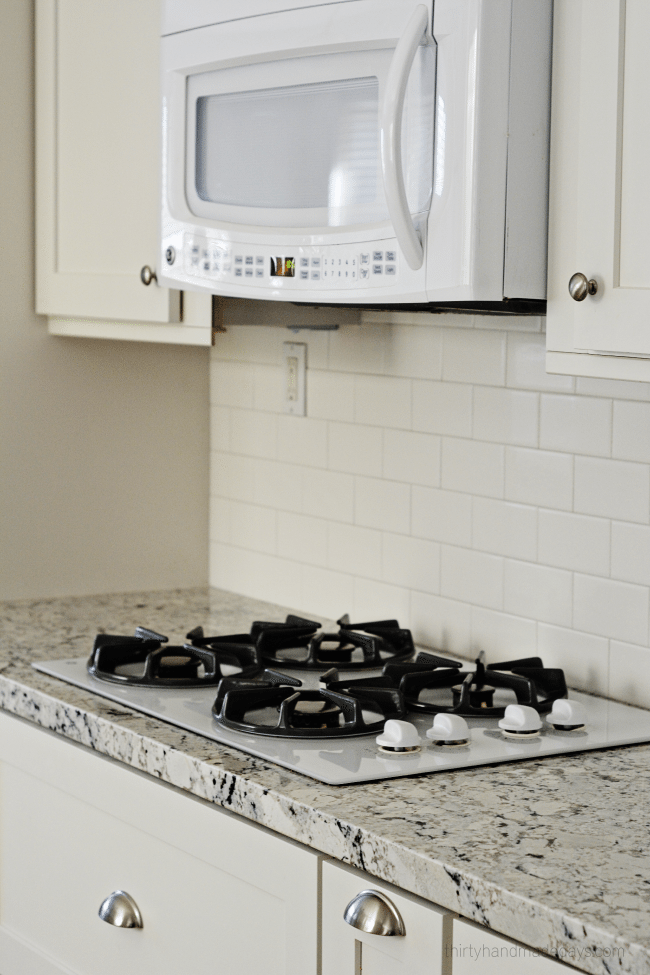 I love the look of subway tiles and am so happy with our white subway tile.  Previously there was granite carried up into the backsplash and it just made everything so much darker.  I didn't like it at all but it's perfect now!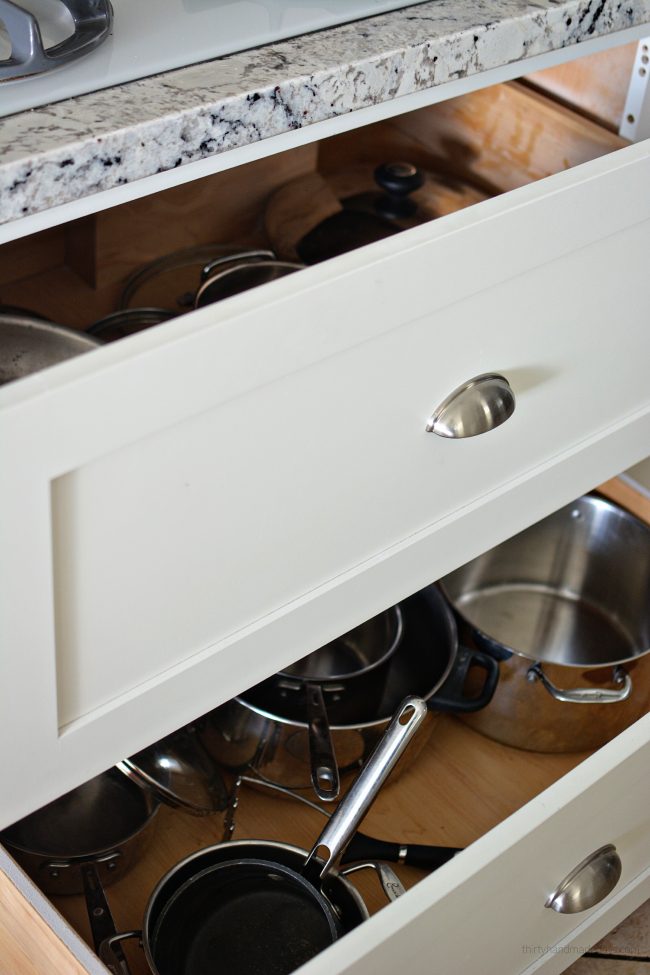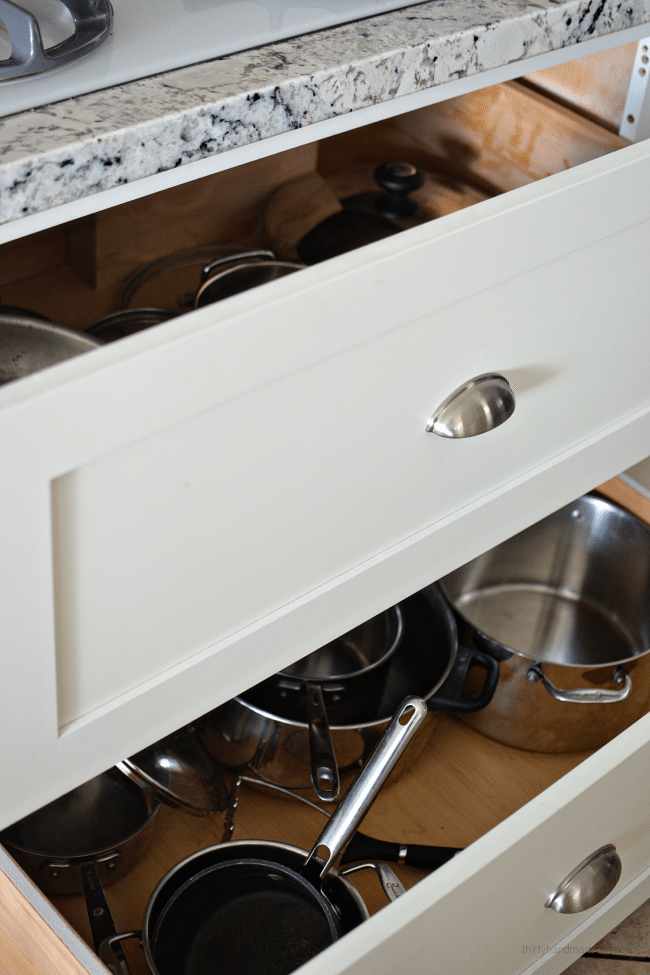 Two other spots that I really wanted to make happen were deep drawers for pots and pans and a spice rack cabinet.  In our previous kitchen we just had regular cabinets to put pots and pans in and I'd be digging around in there to find the right one.  Now the drawers are so convenient and easy to see where everything is.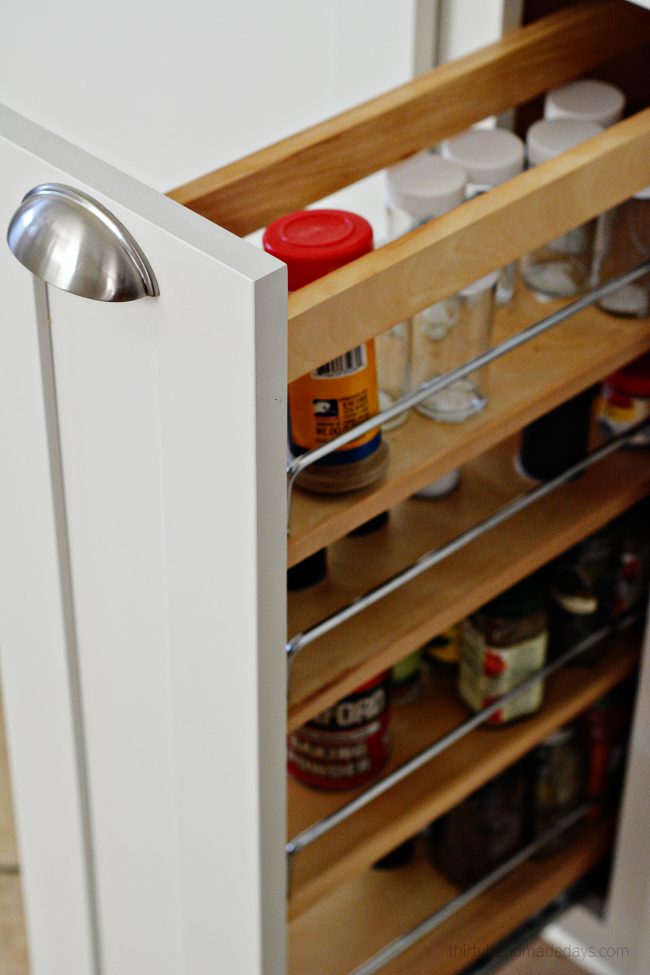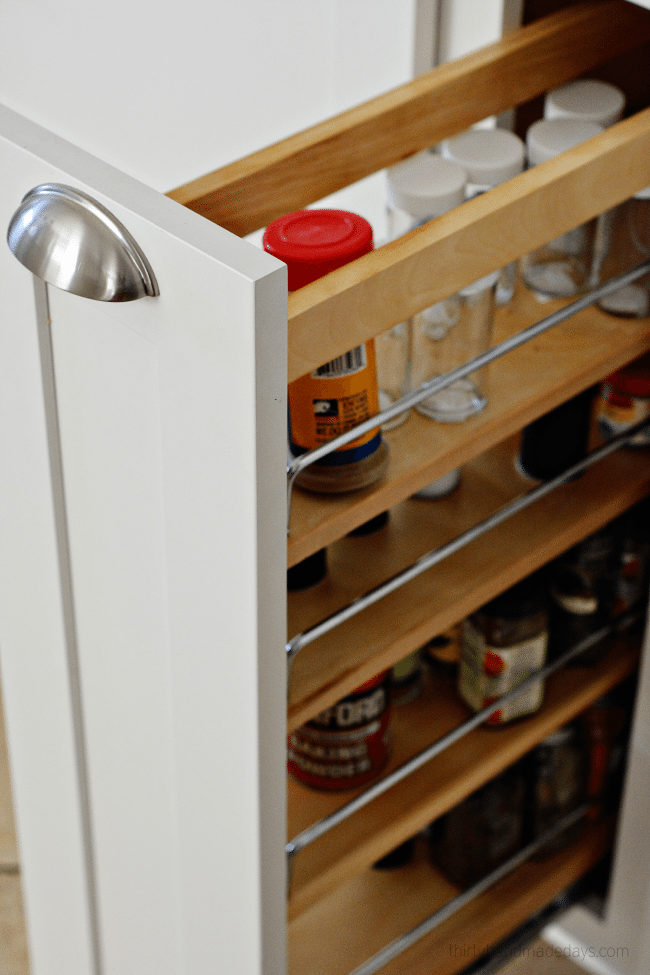 The spice rack slider needs some better organization but it's so cool.  I love that it's right where I'm cooking so I can easily add in more spices.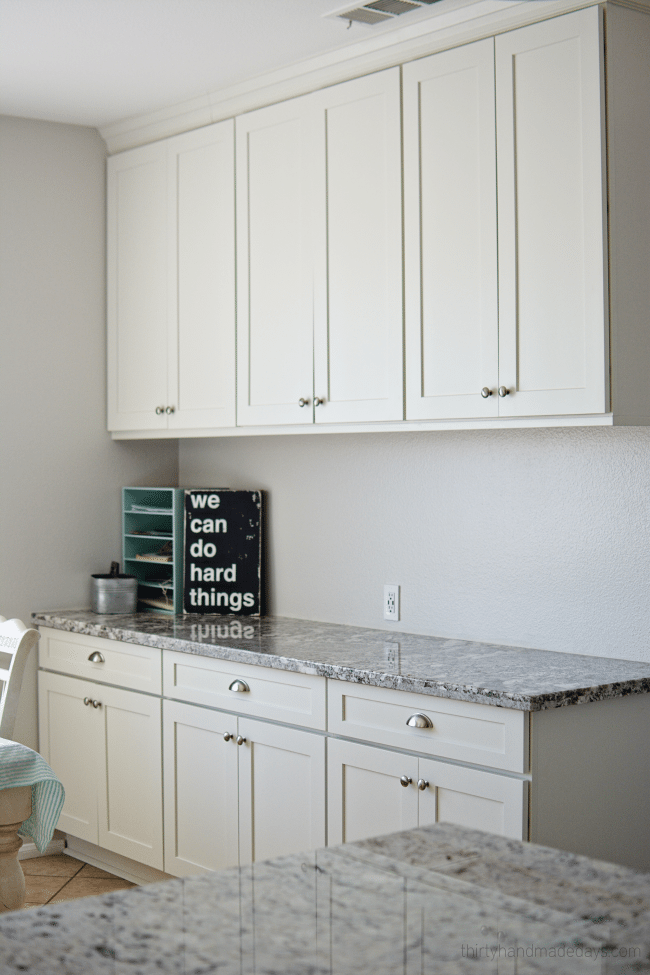 This area before was our "desk."  Another spot just collect piles of things.  The desk was never used and it was kind of wasted space.  I have been in other homes similar to ours that had upper cabinets and knew that I wanted that for ours.  We had storage before but now we have MAJOR storage.  There are only a few things in each cabinet because there is so much room.   Our contractor did a nice thick crown molding from CliqStudios to finish off the look.  The sign is from my dear friend Kristi at Barn Owl Primitives.  It reminds me that we can do hard things!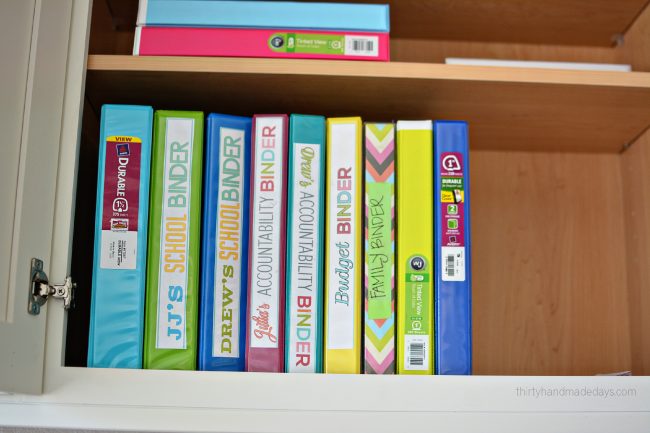 I quickly added some of my binders to one of the uppers.  They fit perfectly in the spot.  Now I just need to add the spines to a few of those. ;)
Full Product List:

White Dayton Shaker Style Cabinets, CliqStudios
Kraus 33″ Farmhouse Sink
Kraus Faucet
Kraus Soap Dispenser
3 inch white subway tiles
Brushed Nickel Pendant Lights
Satin Nickel Cup Pulls
Satin Nickel Knobs
USB outlet
We Can Do Hard Things Sign, Barn Owl Primitives
Note: in doing this total kitchen overhaul we decided not to get new appliances.  We got a new fridge because our old one was broken and gross but had we redone all of them it would've increased the price significantly.  They all function well and it would've only been to change the face of the appliances. It just wasn't worth it to Josh or me.  We also didn't redo our flooring.  Because of the layout of our house, if we wanted to redo the kitchen flooring, we would've had to redo most of the flooring downstairs and it was also not in the budget (hello $10-$15,000).
You made it all the way through this long picture/text heavy post – yay! So… what do you think?
This post is part of a series sponsored by CliqStudios.