Make a simple Goldfish Mix with your favorite ingredients! Get the kids in the kitchen cooking with you.
This post is in partnership with Pepperidge Farm. I am beyond thrilled to work with a company I absolutely love and believe in!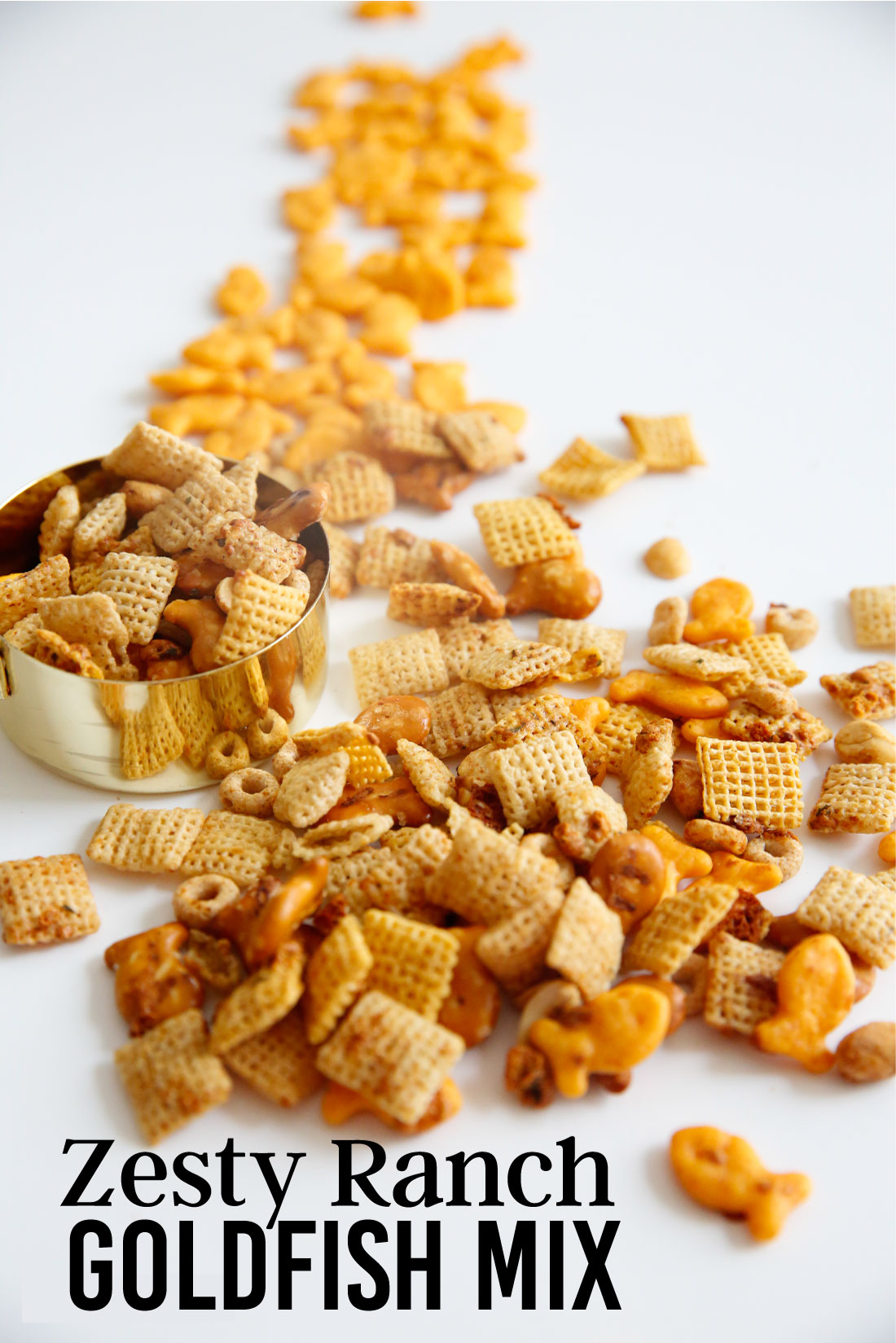 Many years ago I decided that I needed to spend time in the kitchen with my kids so that they could learn the basics of cooking and baking. It's gotten more difficult as my kids have become more and more busy. They are always going here, there and everywhere. Now we have a few challenges – to get them to where they need to be and to keep them well fed. Anyone feel me on this one?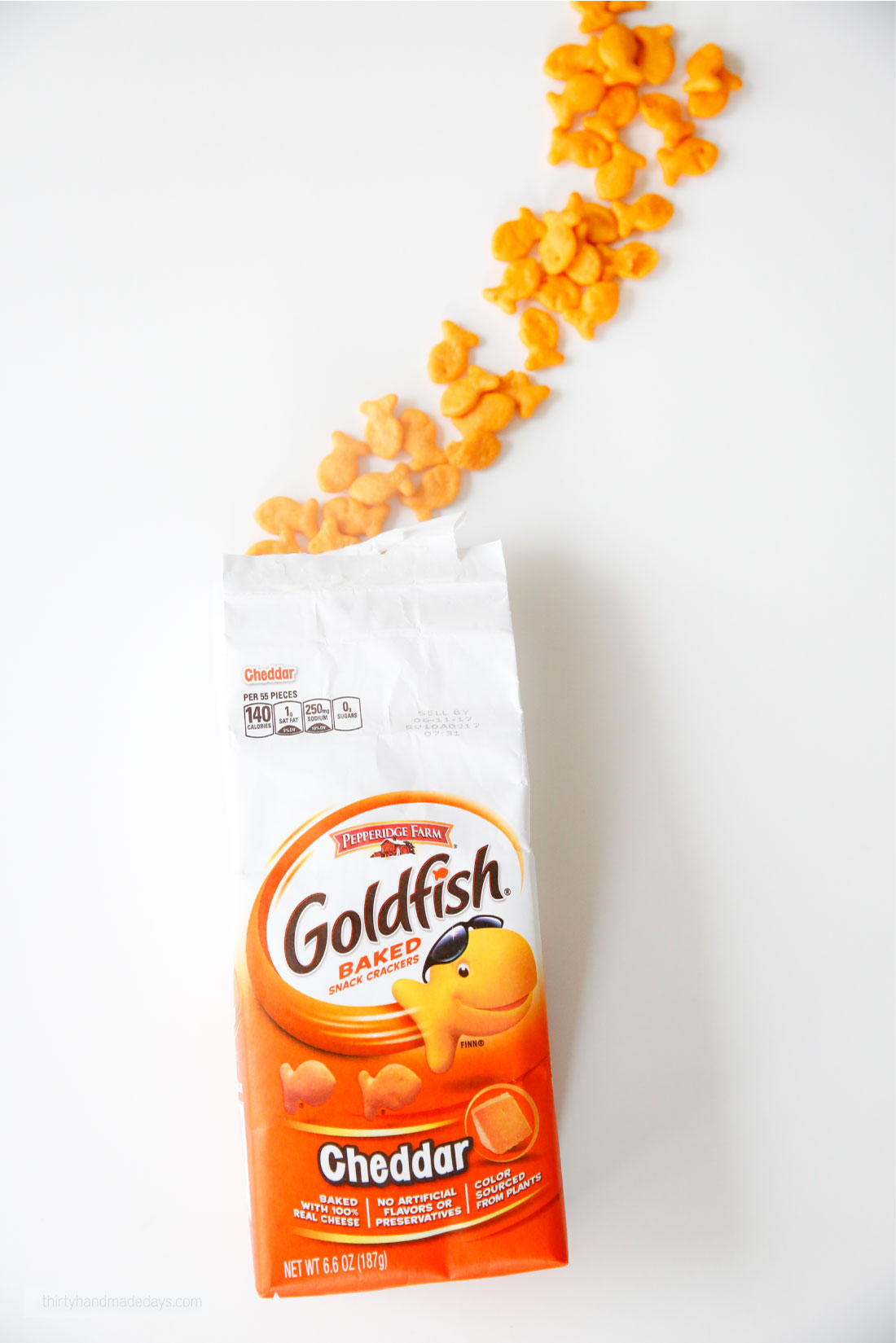 Here's the thing – our family LOOOOOVES Goldfish. We buy them in the huge box all of the time. My oldest (who is now 17..Crazy!) would live on straight Goldfish and maybe some pizza here and there. We've tried all of the different types but he especially loves the traditional cheddar flavor.
We also love trail mixes, snack mixes and anything that is portable for all those busy activities we have going on. So Drew and I got busy in the kitchen to combine some of our favorites for this Zesty Ranch Goldfish Mix.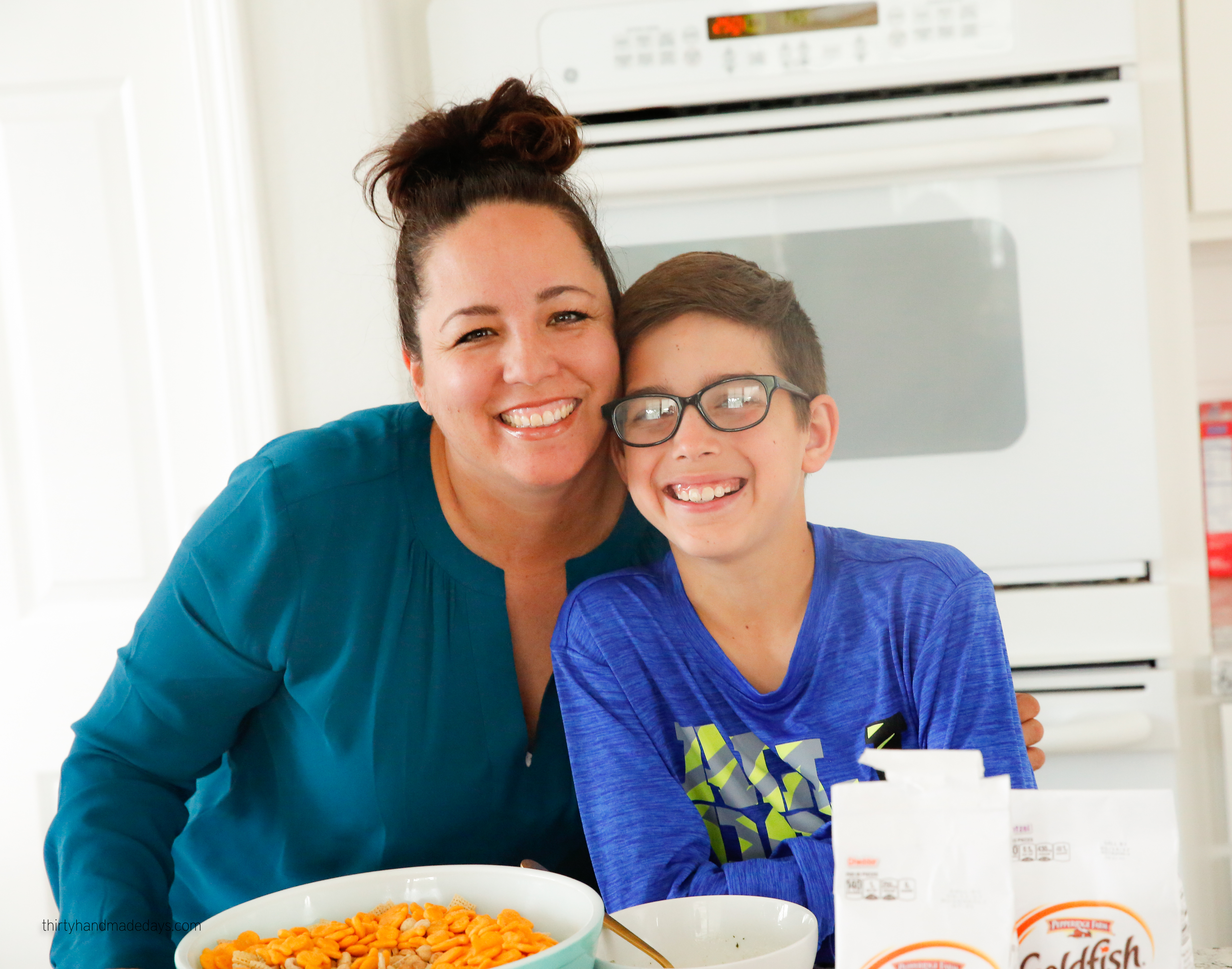 He is my trusty helper and really is a kid who thrives on quality time. That seems to be his love language. It doesn't really matter what we're doing as long as we're together, he's happy. Why not have fun in the kitchen, make a treat and build more confidence all at the same time?
To make this mix here's what you need: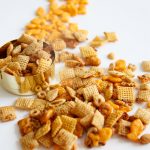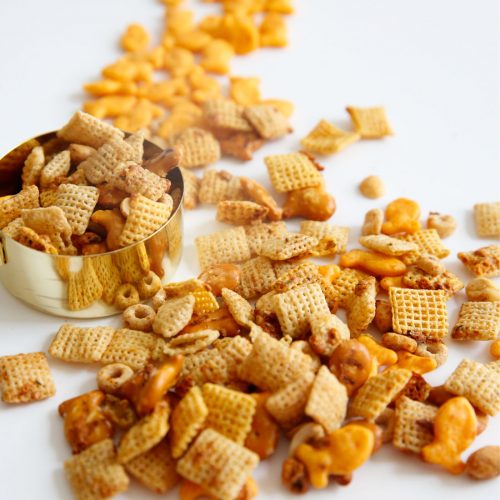 Print Recipe
Zesty Ranch Goldfish Mix
Make this simple but tasty Zesty Ranch Goldfish Mix with your kids - win/win!
Ingredients
4

c

Rice Chex Cereal

4

c

Corn Chex Cereal

2

c

Goldfish Crackers

1

c

Goldfish Pretzels

1

c

Cheerios

1

c

shelled peanuts

(optional)

¼

c

butter

melted

1

oz

Hidden Valley Ranch Dressing

(approx 3 tbsp)

1

tsp

Worcestershire sauce
Instructions
Preheat oven to 250 degrees.

Line baking sheet with parchment paper and set aside.

In a large bowl, combine the cereals, crackers, pretzels and peanuts.

Melt butter in microwave and add Ranch dressing mix plus Worcestershire sauce.

Pour about half over the cereal mixture.

Use a wooden spoon to mix.

Pour remaining butter mix over cereal mix.

Spread evenly over baking sheet(s) (depending on the size of your baking sheet).

Cook for 1 hour, stirring every 15 minutes until moisture is gone.

Let cook and bag to store and eat.
Nutrition
Calories:
256
kcal
|
Carbohydrates:
32
g
|
Protein:
6
g
|
Fat:
12
g
|
Saturated Fat:
3
g
|
Polyunsaturated Fat:
0
g
|
Monounsaturated Fat:
0
g
|
Trans Fat:
0
g
|
Cholesterol:
10
mg
|
Sodium:
545
mg
|
Potassium:
173
mg
|
Fiber:
2
g
|
Sugar:
2
g
|
Vitamin A:
13.5
%
|
Vitamin C:
6.7
%
|
Calcium:
9.8
%
|
Iron:
43.1
%
The awesome thing about this is that you can put your favorites into the mix. If you like other types of nuts, add those in. If you have a nut allergy in your home, leave them out. If you'd rather keep it to just nuts and Goldfish – go for it! We like the crunch of cereals and the taste of the Goldfish so that's how we ended up with this mix.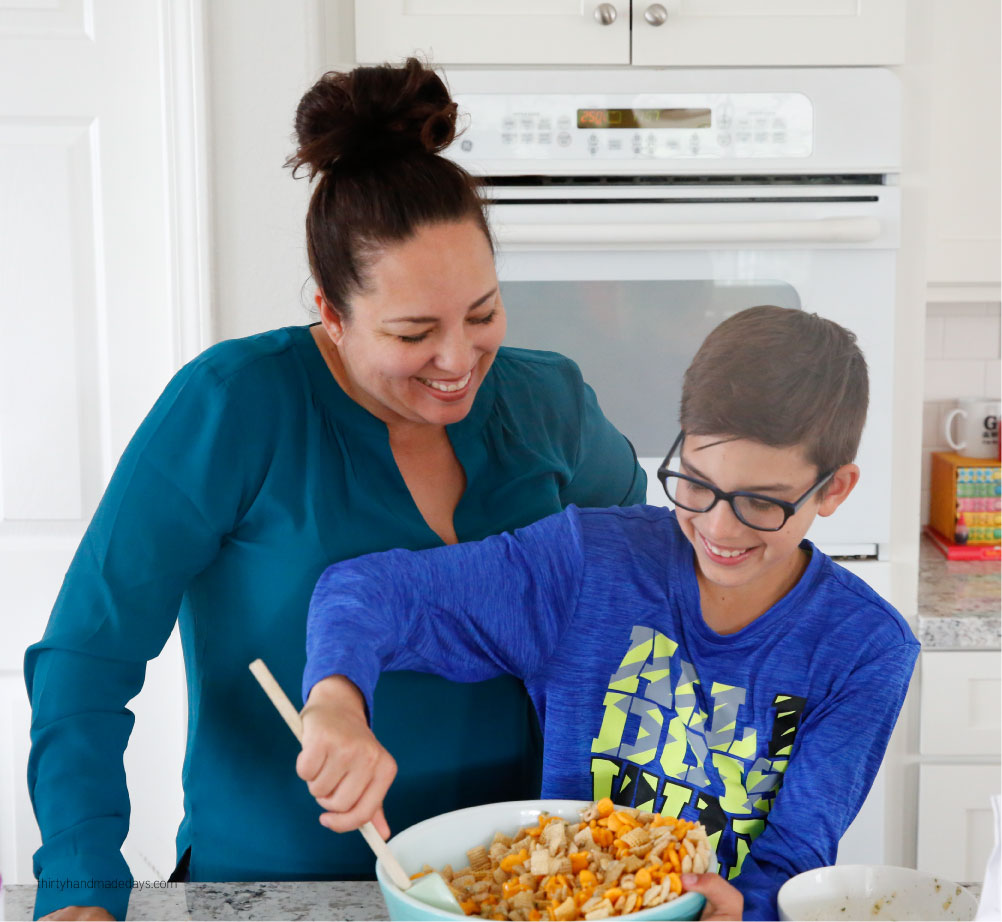 I had Drew help measure, mix and spread the ingredients on the baking sheet.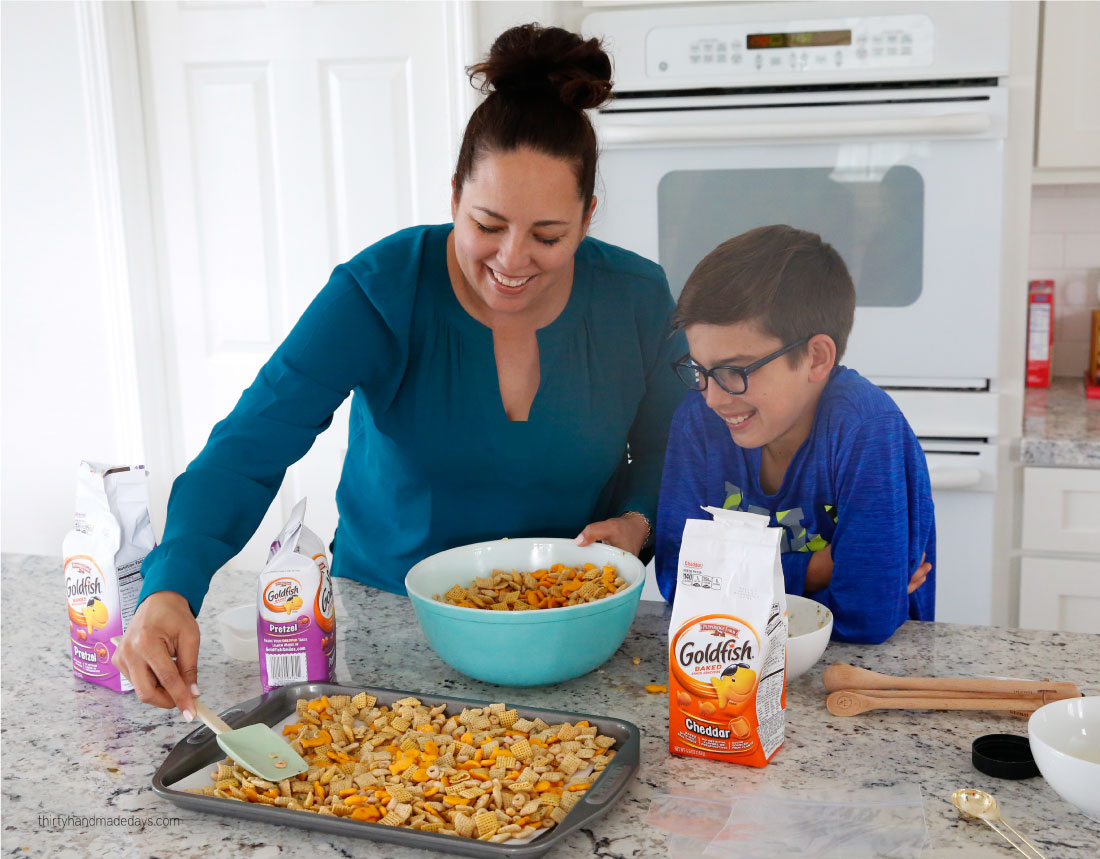 It takes an hour in the oven to have all the moisture seep into the mix. But it's worth it.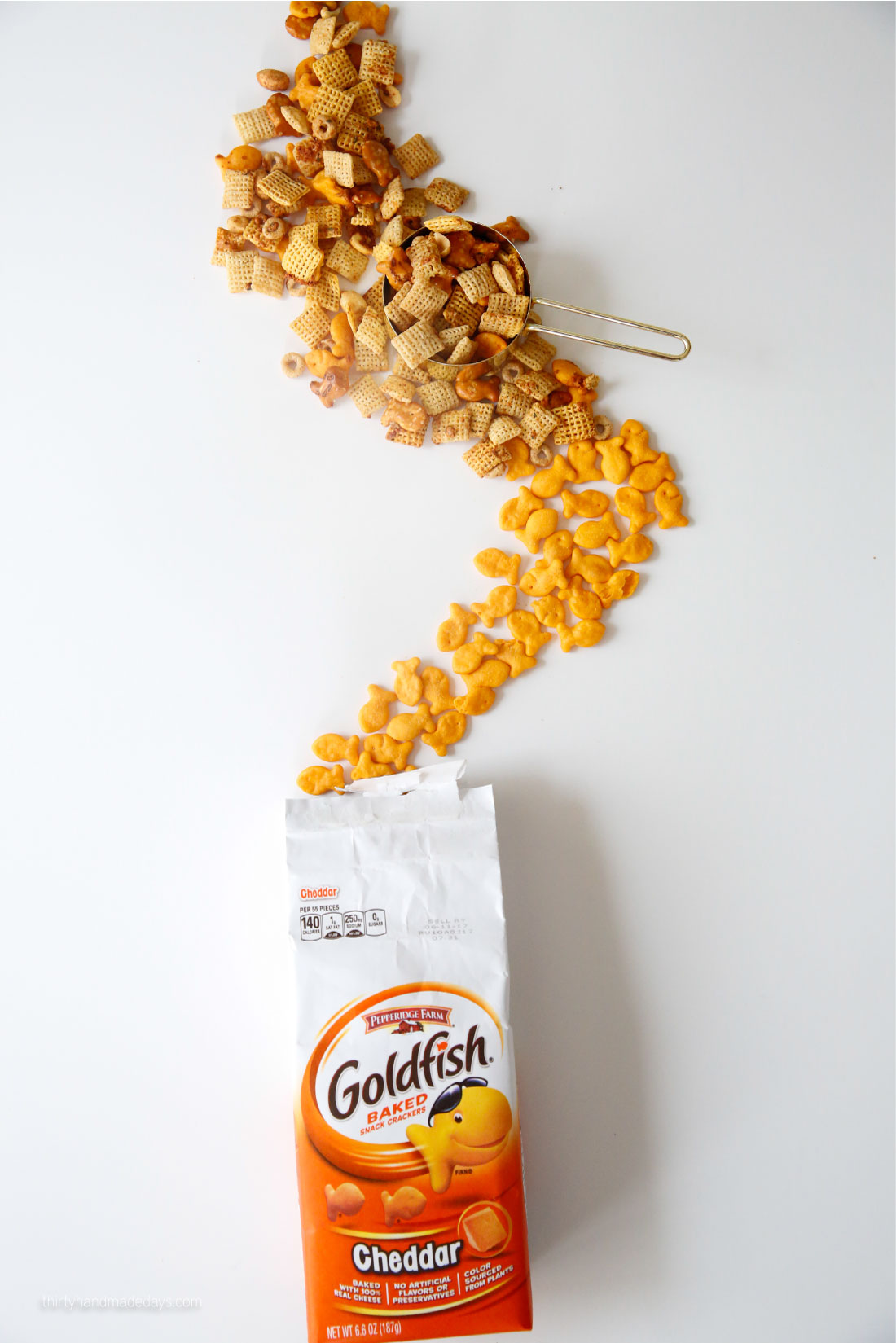 There are a few different ways to bag this mix up. The biggest thing is to make sure that you put it in an airtight container of some sort. You can use plastic cups, baggies, snack cups, etc. It will last up to two weeks.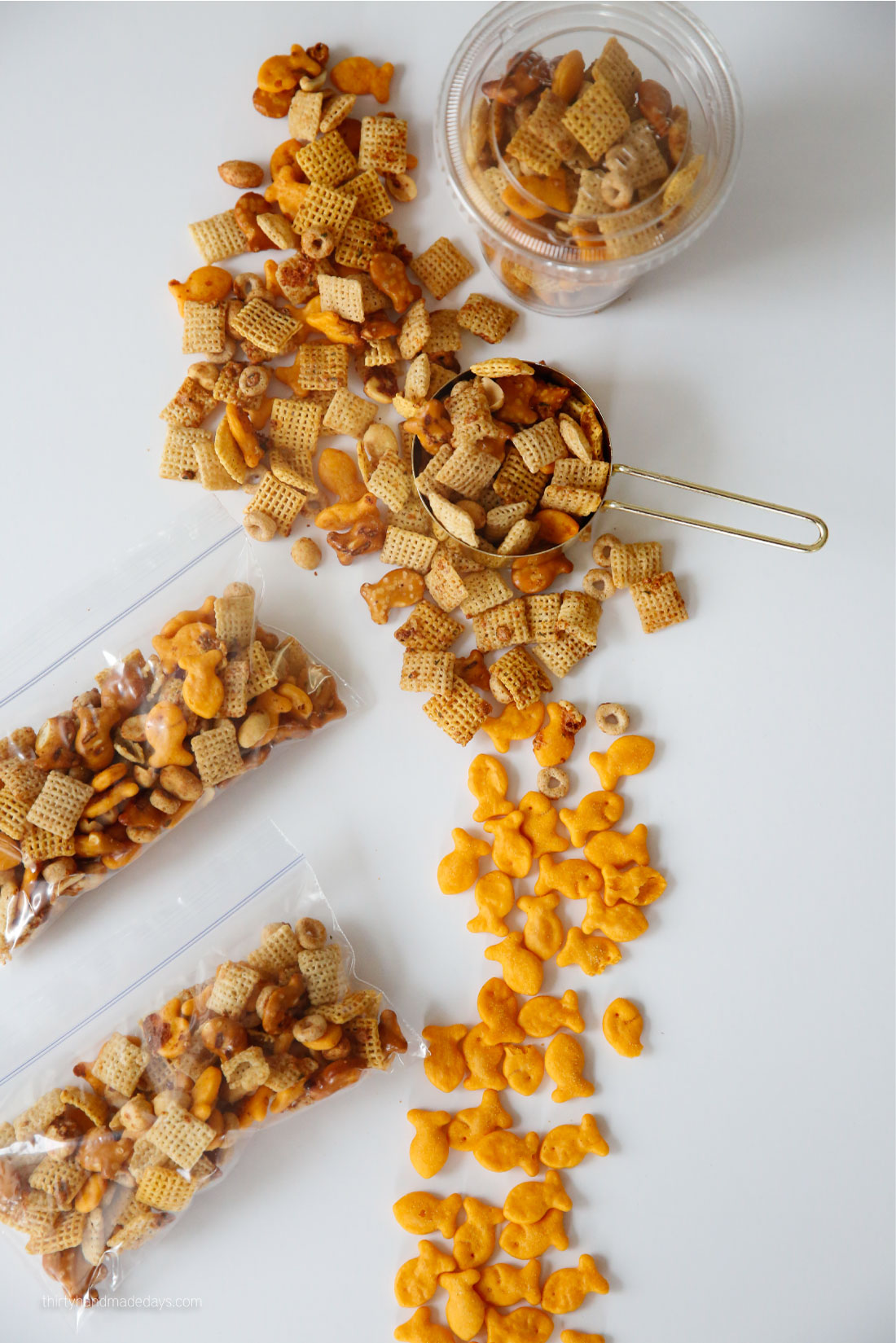 Enjoy!
What would you add to your Goldfish Mix?