While summer is a great time to spend time in nature, travel, and be active, there are also ample opportunities to spend downtime getting truly absorbed in a great book – or a whole pile of books! Here is a list of books for teen boys: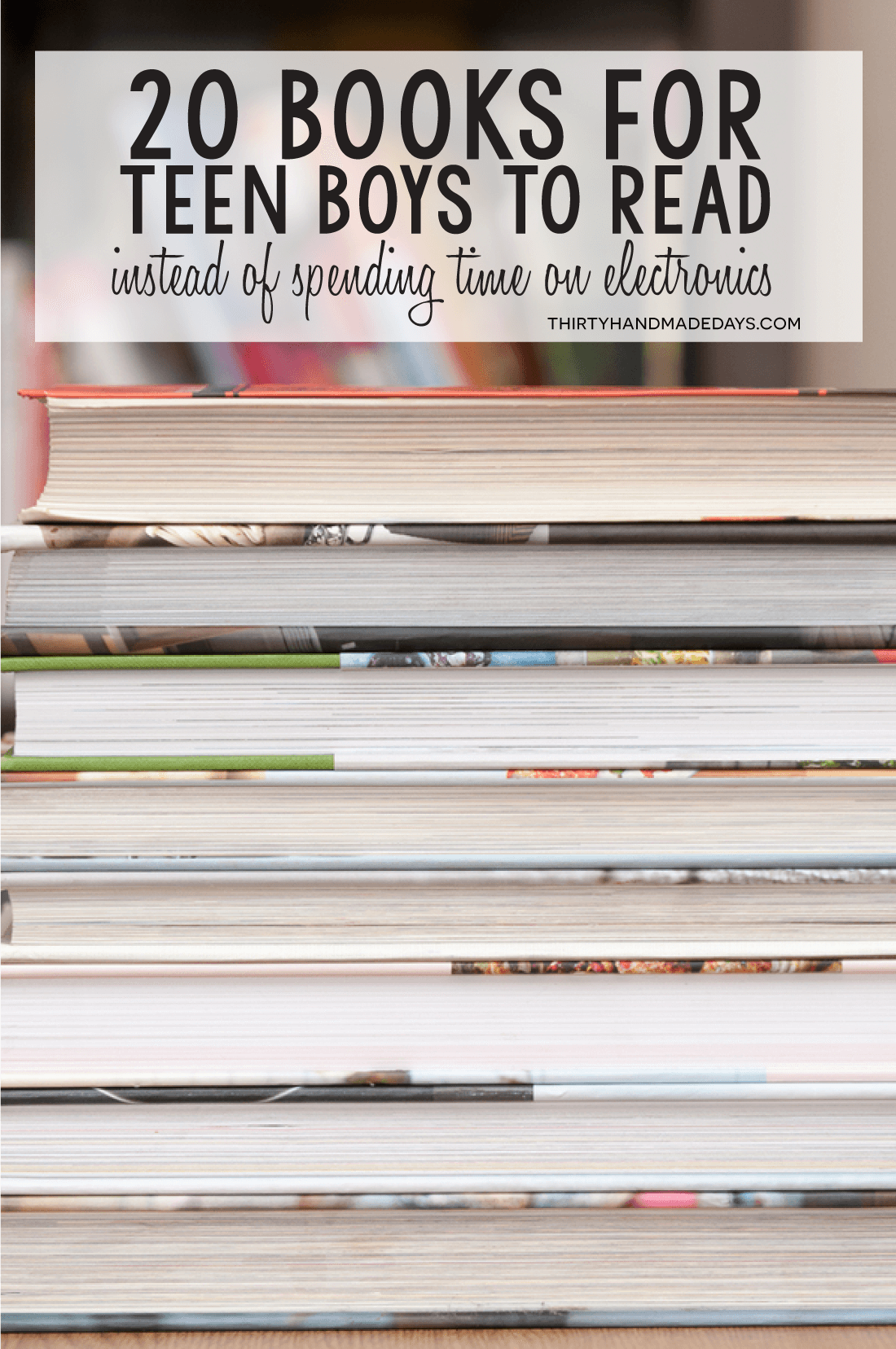 According to young adult literature expert Jill Ratzan, "Reading over the summer has been shown to reduce 'summer slide,' the term educators use to refer to the skills and knowledge that students lose over long summer breaks." Education experts seem to agree that offering plenty of opportunities to read for pleasure – no book reports or quizzes! – is one of the most effective ways to combat this educational setback. It's no big secret that reading something because you want to is much more appealing than reading something because you have to.
Check out Activities for Teens
Books for Teen Boys
This collection of books for teen boys has exciting novels, thought-provoking classics, and inspiring personal development titles to offer a well-rounded starting point for teen boys to begin their reading journey.
Affiliate links are included below.
The Mindful Teen: Powerful Skills to Help You Handle Stress One Moment at a Time

by Dzung X. Vo – This book encourages teens to practice mindfulness to deal with stressful situations. Written by a pediatrician specializing in teen and adolescent medicine, the methods will help teens cope with everything from school pressures to dating woes.

The Teen's Guide to World Domination: Advice on Life, Liberty, and the Pursuit of Awesomeness

by Josh Shipp – In this guide for teens, Josh Ship presents seven "villains" that teens must overcome to be the hero of their lives. "Ghosts" play bad memories and past mistakes, "Ninjas" play insincere friends, and so on.

Dogsong

by Gary Paulsen – Russel, an Eskimo teen, longs for the old ways and seeks answers from the village shaman, who helps him prepare to find those answers on his own. Driven by a powerful dream and desire for understanding, Russel takes the shaman's dogs on a long, life-changing journey.

The Chronicles of Narnia

by C.S Lewis – This timeless series has long enchanted readers of all ages. The 7 entertaining, intertwined tales are fun to revisit over the years.

Holes

by Louis Sachar – Stanley Yelnats is sent to Camp Green Lake after being falsely accused of a crime. One freaky coincidence after another exposes questionable motives by the camp authorities.

Lord of the Rings Trilogy

by J.R.R. Tolkien – In this imaginative classic tale, Frodo Baggins teaches us to give all we've got to the journey before us – even when it looks different than we ever could have imagined.

That Was Then, This is Now

by S.E. Hinton – The author of teen classic

The Outsiders

captures the teen experience again in this novel exploring loyalty and life choices. Often painfully real, this book forces teens to analyze their own friendships and how life-altering they can be.

The Harry Potter Series

by J.K. Rowling – Harry Potter and his best friends find adventure at every turn as they can't help but work to overcome darkness. An inspiring example of leadership and friendship, this series has something for everyone.

The 7 Habits of Highly Effective Teens

by Sean Covey – Recently updated for the digital age, this manual shares timeless strategies for setting and achieving goals. Highlighting personal responsibility and positive relationships, it's a must read for teens and anyone who works with them.

The 6 Most Important Decisions You'll Ever Make: A Guide for Teens

by Sean Covey- In a follow up to

The 7 Habits of Highly Effective Teens,

Covey shows teens how to make smart choices when it comes to 6 crucial turning points during these years.

The Manual to Manhood: How to Cook the Perfect Steak, Change a Tire, Impress a Girl & 97 Other Skills You Need to Survive

by Jonathan Catherman – This fun book outlines 100 highly practical skills that young men should know. As a summer read, it's a perfect bet for increasing self-confidence by leaps and bounds!

All American Boys

by Jason Reynolds and Brendan Kiely – Two authors work together to tell this compelling story exploring race, politics, and friendship. This book is an important piece for our times – sure to foster meaningful discussions around these complex issues.

The Maze Runner Series

by James Dashner – This sci-fi thriller begins with Thomas: he wakes up with no memories other than his name, surrounded by other boys in the same predicament. He's left with an instruction: "Remember. Survive. Run."

The Hunger Games Trilogy

by Suzanne Collins – The enthralling trilogy presents a dystopic world where the lower classes are recruited as players in a life-or-death annual battle – the Hunger Games. Is it time for another revolution?

The Divergent Series

by Veronica Roth – Coming of age in this society means being genetically tested and placed into an "optimized" career path. What about those who fail the test completely? A choice must be made – and one girl's decision throws this "perfect" society into upheaval.

Challenger Deep

by Neal Shusterman – This challenging read is described as a powerful and captivating novel about mental illness. Follow Caden's story as he tells it: torn between two worlds – his high school life and his mind-made journey to the Challenger Deep.

Peak

by Roland Smith – 14 year old Peak is a "climbing addict" – it runs in this family. Follow his risky ascent of Everest amidst complex family dynamics.

Orbiting Jupiter

by Gary D. Schmidt – 13 year old father Joseph searches for his baby daughter Jupiter after spending time in a juvenile detention center. The adults around him both help and hinder the troubled teen in this beautiful story about family and sacrifice.

The Giver

by Lois Lowry – In a utopian world 12-year-old Jonas is chosen to be the community's Receiver of Memories. An old man known as the Giver guides Jonas as he learns the truth about his world and struggles against the weight of its hypocrisy.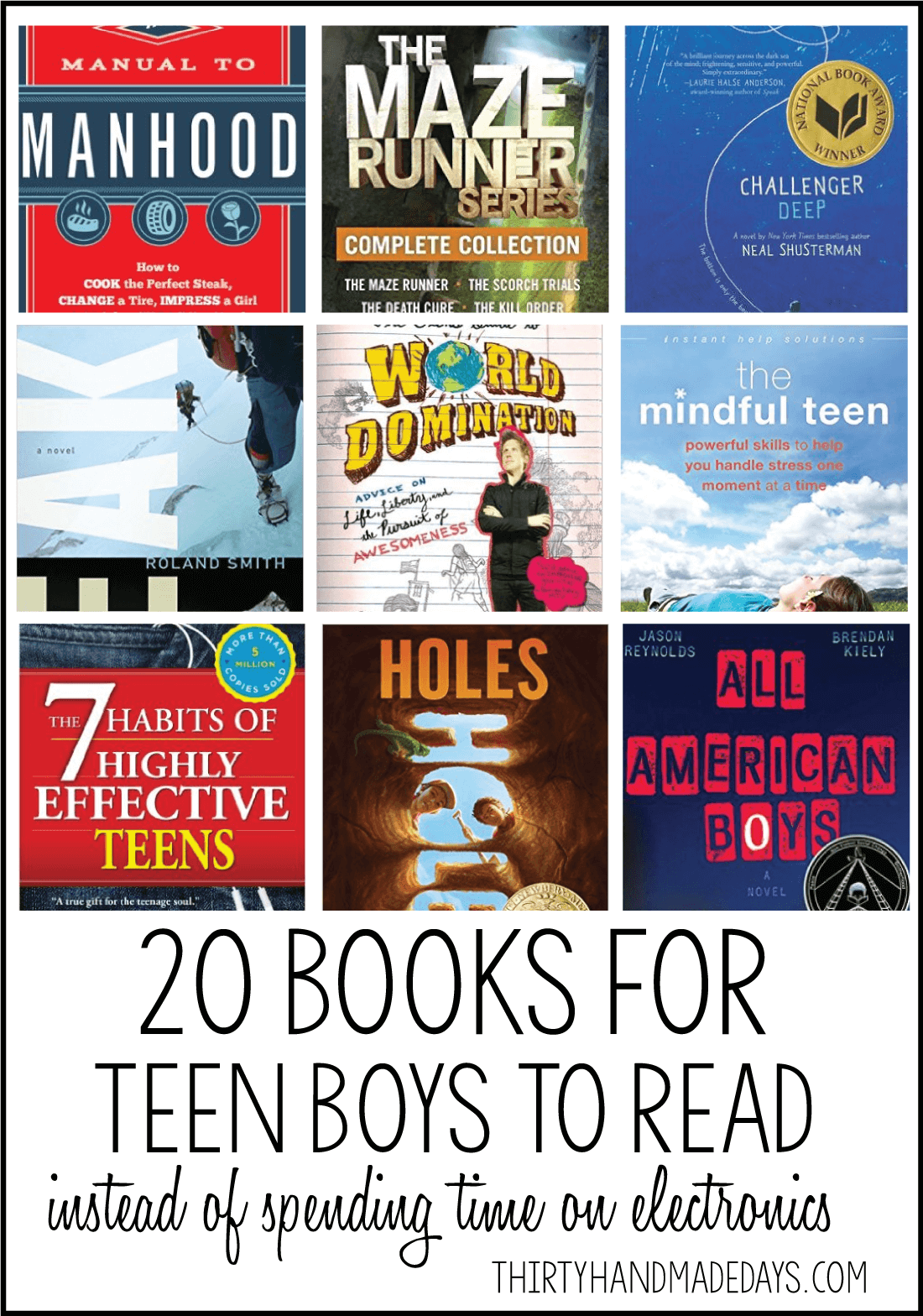 What books would you add to this list?
Other Reading Posts
If reading is your type of thing, you'll enjoy these posts: