Looking for the best deals for the holidays? I've got just the thing – use my Black Friday Sales Cheat Sheet to grab them this year!

Black Friday Sales
Black Friday shopping has become a tradition for a lot of people. They go together as a family, fight the crowds and come home with a lot of their Christmas shopping complete. I haven't battled the crowds for a long time but wanted to see what was out there this year. So I put together a Black Friday sales cheat sheet to figure out the very best prices. Check out the specifics for each store and then download the printable below.
Other Gift Giving Ideas –
If you're looking for other gift ideas, you will like these posts too:
Target Black Friday
Target is one of my favorite places to shop. It is craaaaazy on Black Friday, but for good reason. The deals are great! Some of the pricing on the cheat sheet takes into account the gift cards that you receive for purchasing items. There are a lot of gift cards for electronics at Target. A couple of years ago we got 2 iPhones for the price of one at Target. It was awesome! The deals are worth it, you just need to read the fine print.
Deals Go Online at: Thursday, November 28th, 12:01am
**Red Card Holders and Circle Members will have early access to even more deals.
Store Hours: Thursday, November 28th at 5:00pm (same as last year). It will close at 1am on Friday before re-opening at 7am.
Things to be on the lookout for:
Not as many deals here as there were last year (in comparison to the other stores).
TVs
Bike
Pajamas for the family – they are between $8 and $15.
FREE SHIPPING: Target is also offering free 2 day shipping for all orders and no minimum order!! It's available from now until December 22nd. If you'd rather avoid the crowds, you can shop from home and not pay any shipping… but you might not get as good of deals as if you went in the store.
Walmart Black Friday
While Walmart has some great iPhone deals, it requires activation in order to get gift cards.
Deals Go Online at: Wednesday, November 27th at 10pm.
They have some Pre- Black Friday sales going on now.
Store Hours: Thursday, November 28th at 6:00pm
NOTE: To get free shipping with Walmart there is a $35 minimum!
Things to be on the lookout for:
Although not all are listed on the cheat sheet, here are some of the things that Walmart will have the best deals on –
They win for Apple deals this year – having the best price for Apple Watch and Airpods!
Also have the best deals on:
Keurig
Instant Pot
40″ TV
Best Buy Black Friday
I've seen people camp out in front of Best Buy for days leading up to Black Friday. I don't know that there is anything that I would ever camp out for, there are some other discounts worth shopping for!
Deals Go Online at: Thursday, November 28th at 12:01 am
Best Buy is currently doing Pre- Black Friday Deals.
Store Hours: Thursday, November 28th at 5pm until 1am. Then re-open at 8am on Friday.
Things to be on the lookout for:
I was surprised at home many things Best Buy had the lowest price on. Here are some to keep an eye out for –
iPod Pro
Air Fryer (this one totally caught me off guard!)
Kohl's Black Friday
Kohl's has some of the best deals for sure but can be a little bit more complicated. The pricing on my cheat sheet takes into account a 15% off coupon from their Black Friday ad. You can also use the code cheerful online if you'd rather do that. You also get $15 in Kohl's cash for spending $50. In the past I haven't gotten into Kohl's much because it's not as straight forward as shopping at other stores.
Deals Go Online at: Monday, November 25th at 1:01am EST
Store Hours: Thursday, November 28th at 5pm.
Notes: All door busters are available online starting 11/22 at 1:01 AM EST.
Things to be on the lookout for:
They have TONS of good pricing but like I mentioned, it can be tricky.
FitBits
Nintendo Switch
Arcade 1UP
KitchenAid
For this cheat sheet, I found the best deals and highlighted them in yellow to make it easy to see. There are some stores that are good in electronics, while others are good in kitchen appliances. Target and Best Buy have the most Black Friday deals at their stores. But they are usually the craziest!!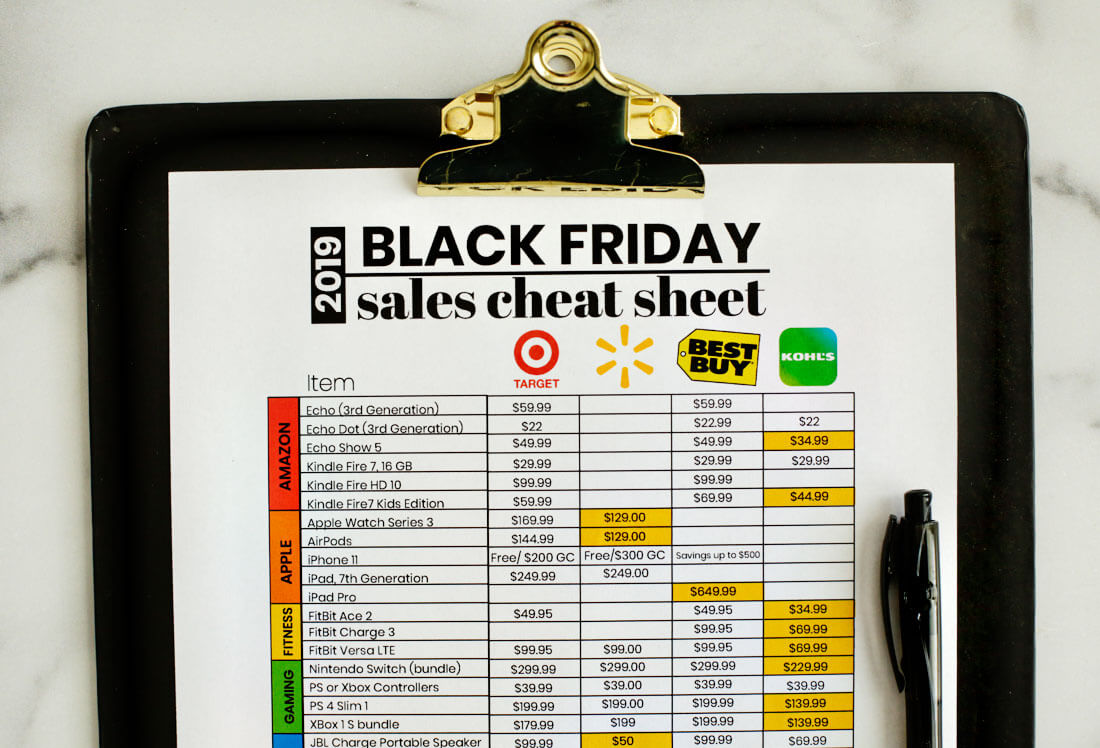 Download this printable Black Friday Sales Cheat Sheet. For personal use only.