Every year it's a huge struggle for what to get the teachers we love so much. I went straight to the source for teacher gifts this year!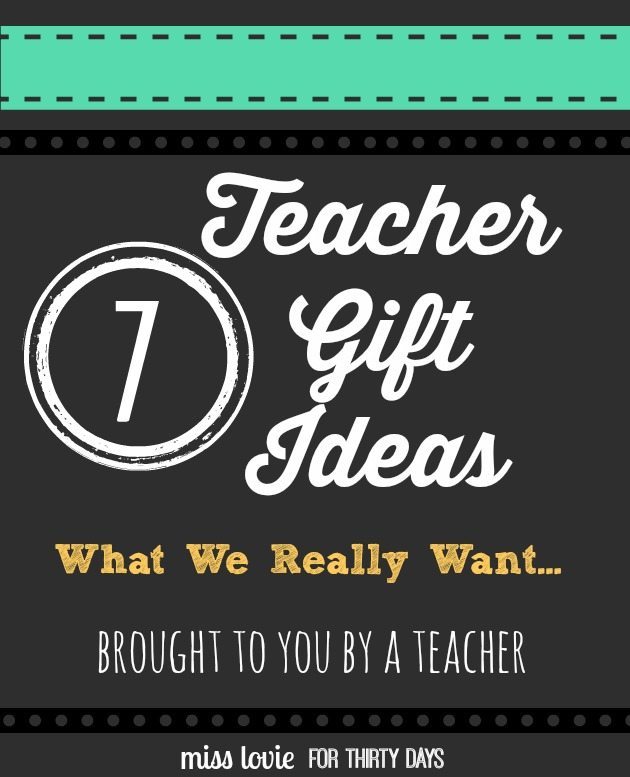 I'm Allie from Miss Lovie and I have a different kind of post for you today – a master list of ideas for what teachers really want. I know this list to be accurate because most of my time is given to teaching kindergarten! I have gotten some amazing gifts in the past and I've also gotten gifts that just- well- add to my already cluttered classroom/home.
If you like these teacher gift ideas, you'll like these too:
Teacher Gift Ideas
Don't get me wrong- I have loved EVERY gift. I have kids that bring me trinkets from their home because they just wanted to or it was all they could afford. I proudly display them on my desk all year-no matter how little value it actually has. Teachers are (most of the time ) caring, nurturing, accepting, and kind people so whatever gift you give will not go unnoticed or unappreciated. BUT- some gifts are better than others. You see LOTS of blog posts about gift ideas for teachers, but I think a question that gift-givers so often ask themselves is, "What do they really want?" I thought I'd give you a run-down of what to teachers really want — and what they really don't want, too.
Best Teacher Gifts
I did quickly poll my teacher friends at work so this is not just one teacher's opinion, it is the opinion of many teachers. While I teach elementary, I'm sure most of these gifts would be perfect for any teacher across grade levels.
When you think of most teachers (not all), we know these things: they are not millionaires, they spend a lot of time at school/doing school things so they don't have a lot of extra time or go to great lengths to do things for themselves, they love the kids they work with above all other parts of their job. Based on those basic ideas about teachers here is a list of…
What Teachers REALLY Want:
#1 Gift Cards
Let's face it: gift cards are a one-size fits all, can't go wrong gift option that works for everyone, teachers included. And we all know teachers are not millionaires so every little bit helps. And I'm being serious when I say it, just a gift card inside a card is AWESOME. Some may feel this is too impersonal, if so, see #2, but I promise, most teachers would jump for joy when they receive a gift card to a place they frequent often.
What kinds of gift cards are best? You could always go the easy route and get a gift card to Target (because everyone loves Target), a book shop, gas card, or parent/teacher store. Or you could go the personal route and get a gift card that you know would be fitting for your child's teacher. If you don't know your child's teacher very well, ask your child. They will most likely know something about the teacher's personal life that could give you a clue about what he/she would absolutely love. Does she always drink coffee? Starbucks/local coffee shop. Does he have a dog and talk about them constantly? Petsmart. Does she knit/sew/paint/craft? JoAnn's/Michael's/Hobby Lobby. If you know what your your child's teacher's favorite restaurant is, get a gift card for there. I love to cook, but I love nights I don't have to cook more because I'm never not tired.
If you still feel like a gift card is too impersonal, wrap it in a special way.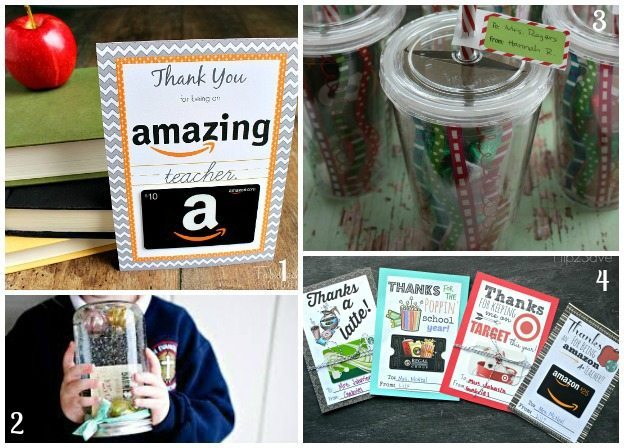 1. These Teacher Appreciation Printables would be perfect for gift card giving by Fabulously Frugal 2. I love how the Creative Mama put made a Mason Jar Snow Globe for her gift card giving! 3. Stretching a Buck Blog's teacher gift with a card and candy in a cup is fun! 4. Here are some more wonderful Teacher Appreciation Printables for Gift Cards by Hip to Save as well.
#2 Small Themed Gift or Gift Basket with Gift Card that Aligns with Teacher's Interests!
Now. Gift baskets and themed gifts are super popular on blogs for teachers and neighbors. These really are great when they are geared toward the teacher's interests! Teachers are people, too. Anything that you purchase/create that you have put thought into based on that teacher's interests will be a great gift.
However, I caution you, if you spend money on a few cutesy items that look adorable in a basket or bag and all match your theme, but they are just cute, not useful or what the teacher would really want, don't do it. My advice? Spend the bulk of whatever budget you have on a gift card and do just a little more to make it cute. I mean, I write a craft blog. I LOVE cute, but as a teacher, I love practical more. If it's cute AND practical, you have the best gift ever.
#3 Anything Kid-Made or a Gift that Comes Directly from the Child
Teachers love their kids and it means a lot to them when the kids take part in showing their appreciation. I have a box of notes and handmade items from kids I go back through every year and reminisce. Some gifts that come to mind are a little hand-painted cardboard box with a jewel on top that sits on my desk, a beaded bracelet that reads "Best Teacher", and an ornament of a puppy in a stocking that is ridiculous, but always goes on my tree. These are so special to me because the child took thought and time to create/shop for these things for me. A hand-made card/piece of art/ any handmade item the child is proud of is something a teacher will always cherish. If you feel like this isn't enough, throw in a gift card!
The gift below I received from an amazing family and student last year.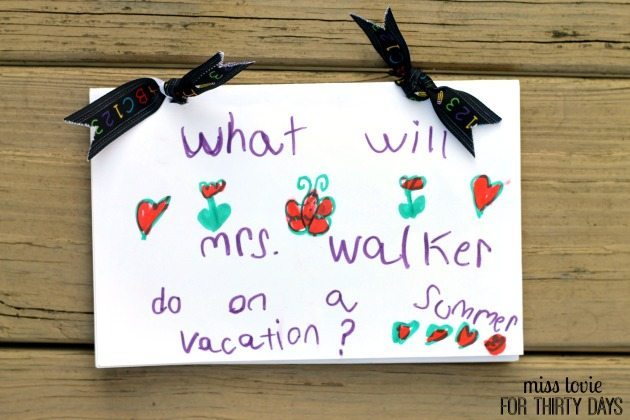 She made me a gift card story book (with Mom's help, of course) with gift cards to all my favorite places!
Titled, "What Will Mrs. Walker Do On A Summer Vacation?", she wrote a sentence, drew a picture and attached a gift card on every page. It really was one of the most thoughtful, sweet, and beautifully-kid made gifts I've ever gotten.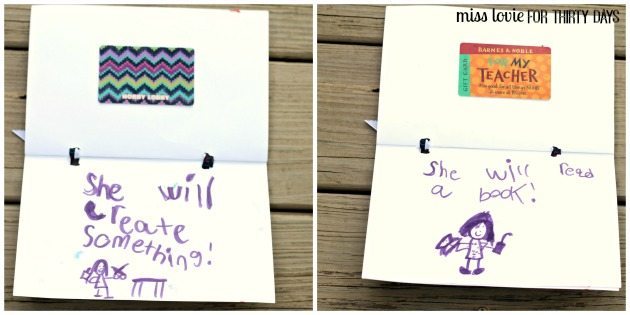 PLUS it had gift cards! Yay! :) This could easily be adapted to fit any time of the year ("What Will Mr./Mrs. __ Do on Winter Break, for example).
#4 Supplies or Books for the Classroom
Going back to the idea that teachers don't have loads of cash, they always can use more supplies for the classroom. I am never sad about receiving extra glue, crayons, pencils, erasers, Clorox wipes, tissues etc. because that means I don't have to spend my money on said items when we (inevitably) run out!
Want a couple ideas on how to make this a cute gift? Check these great ideas!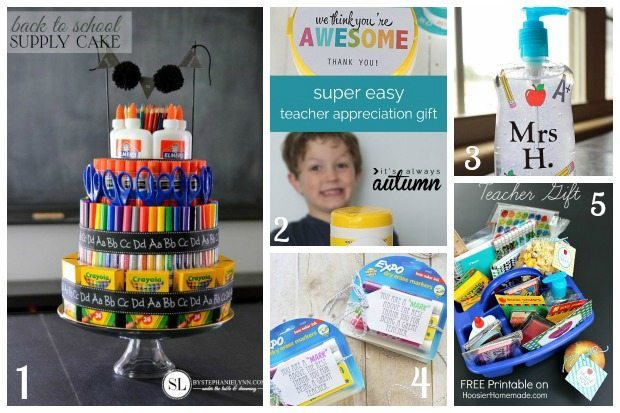 1.Back To School Cake by Under the Table and Dreaming, 2. Sanitizing Wipes Printable by It's Always Autumn 3.Personalized Hand Sanitizer or Soap by That's What Che Said, 4. Dry Erase Marker Printable by The Happy Scraps, 5. School Supplies Caddy with Free Printable by Hoosier Homemade
If your child is in elementary, good books are much appreciated as well. Your local book store is a great resource to discuss quality children's literature and the latest and greatest new releases. Teachers are always in need for new read alouds and even books for the kids to read, too. Not sure what direction to go in? Themed books are great (seasonal, holiday, favorite character books). Even better? Buy the class a book or two and then offer to come in and read them aloud and give the teacher a 15 minute break!
#5 A Heartfelt Note from the Parent/Child
Not every gift has to cost money. In fact, I bet most teachers would be more excited about a note that the parent or child (or both) took the time to write including all the things they love about being in Mrs./Mr. So and So's class. Even better yet, hand a copy of the note to the principal. Job security is always a cool gift. :)
#6 Volunteer Your Time
This is not a concrete gift, but almost nothing is appreciated more! Teachers NEVER have enough time to get everything done. If you know that you could go in once a week/month/quarter for a few hours and just make copies, organize their classroom library, or work with struggling students, then set up a routine scheduled time in advance with the teacher and do it. You have no idea how much that small amount of your time can help an overwhelmed teacher.
If you work and can't get in to help, offer to take things home with you to do. Some teachers use lots of laminated materials and that stuff takes time to cut out and organize. It's easy to do in front of the T.V., though and will be a welcomed weight off the teacher's shoulders when you show up with it magically done and organized!
If you just have the time to take off a day or two and chaperone field trips, but that's it, do it. Every little bit helps. Field Trips are fun, but stressful for teachers, especially if the kids are little. Extra hands to ensure kids stay safe and have fun are always welcome.
#7 Chocolate or Treats
Chocolate. Desserts. Treats. The end. They're just never a bad idea.
Now let's get on to…
What Teachers really DON'T Want
#1 Coffee Mugs
I cannot tell you how many coffee mugs I have received from kids/families. Every year I get a multitude of coffee mugs, which is sweet when you think about it because my kids watch me drink coffee every morning so they know it's something I like, BUT, I have too many. And the only time I use actual coffee mugs is when I'm at home on the weekend. So realistically, I need about 4 basic coffee mugs- not 54. I will think it's cute if it has Cat in the Hat on it or something, but I still don't need it.
#2 Candles, Lotions, Beauty Products
I love candles, but I am pretty picky about the kind of candles I use. Most candles I receive as gifts either get re-gifted or are put in the Good Will box to be given away. I feel the same way about lotions and beauty products. If I receive it as a gift, I will use it because it's there, but there's a good chance you could purchase a scent/kind the teacher can't stand (floral and sweet things for me!) and then it will just sit around forever (and most likely go in the Good Will box, too, eventually).
#3 Apple-Themed Decor or Hand-Made Decorations
Anything that is used for decoration can be a tricky gift unless you really know your child's teacher's personality and personal tastes well. I have never ever loved the apple theme and I don't think I'll be coming around any time soon, so for me, and for many other teachers as well, I assume, this theme is probably a little played out. If you really want to get or make your child's teacher a wreath, piece of art, or some sort of classroom or home decoration, be sure you really know what his/her tastes are.
#4 Jewelry or Accessories
If your child's teacher is female, scarves, lip gloss, nail polish, jewelry, etc. may seem like a great options, especially if your child is a girl and adores shopping for these things as well. While this isn't always a bad idea, it's just not a very safe choice most of the time. You have to really know the teacher's taste and style to be able to make this a great gift idea. I've some accessories that were awesome and I got great use out of them, but I've received way more accessories from students that don't match my style at all and have been placed into the Good Will box.
#5 Gift Baskets That Aren't Useful
Ok, I'm totally not trying to step on anyone's toes here, but just because it's cute, it doesn't mean it is useful. Maybe not all teachers, but most teachers have a lot of stuff. I tend to keep everything because it might be useful in another lesson some day. In other words, I don't have room for a lot of extra STUFF in my life. Brightly colored pencils are cool, but I don't need them when myI probably don't need a hot chocolate themed gift basket, because I already havoe 4 from last year sitting in my cabinet at home. That's just an example. I actually love hot chocolate, but I never seem to use those things!
Again, I must reiterate that whatever gift you give your child's teacher will be appreciated. Any gift that is heartfelt and thoughtful will make him/her happy. However, if you wan to make him/her EXTRA happy, you might want to follow these guidelines.