If you want to use a cash envelope system without the cash.. this one is for you!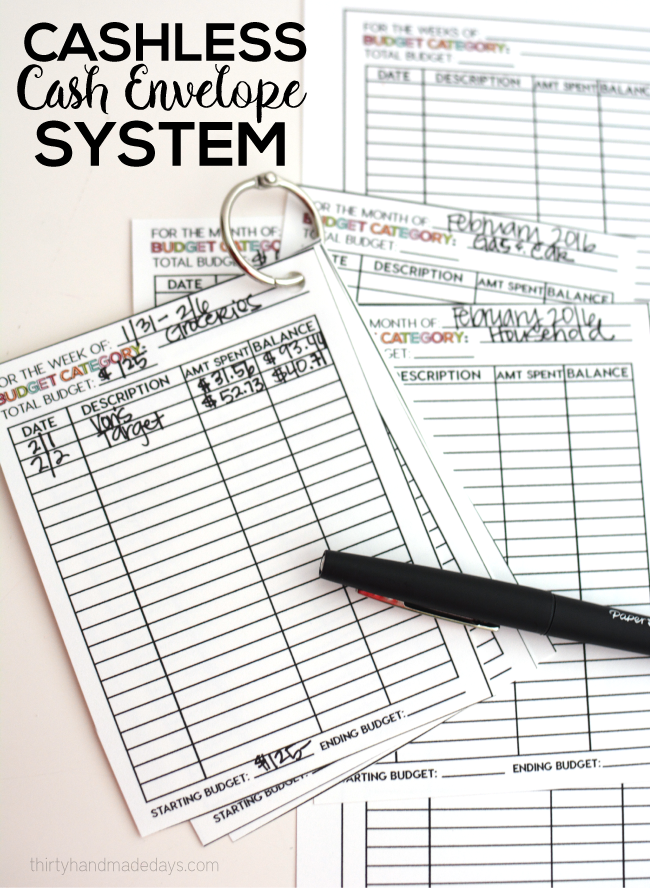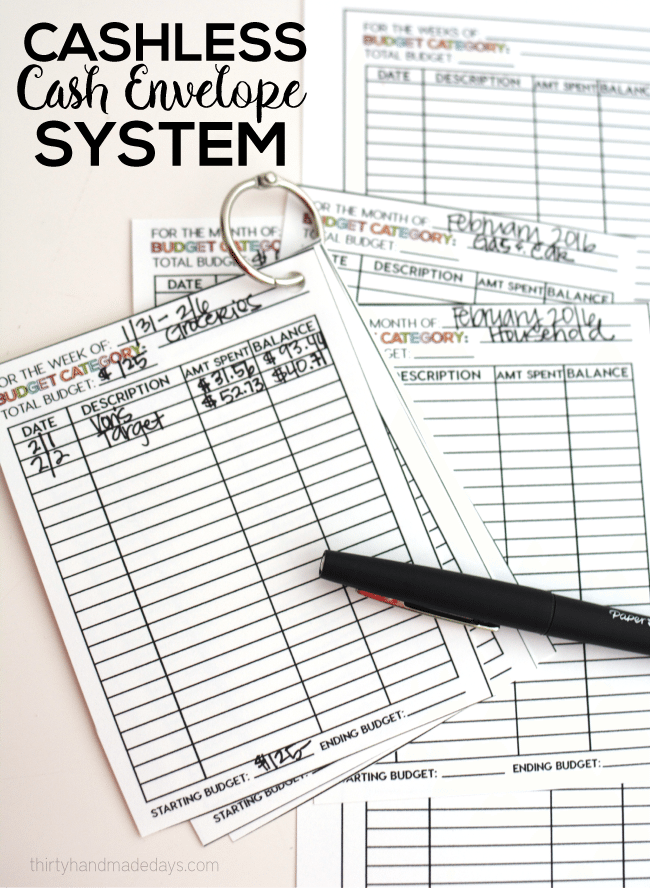 Cash Envelope System
It's time to talk about budgeting again.  Wah wah wah.  One of the things that comes up a lot with those who are hard core budgeters is a cash envelope system.  It's been around for a long time but Dave Ramsey talks a lot about it.    Here's the thing – it's a good idea but Josh and I aren't good with cash.  Cash freaks me out.  I'm always afraid of losing it.  But the principle of it is awesome.  So I came up with something that is cashless but the same sort of principle.
This idea is somewhat like balancing a checkbook.  Remember those?  I know it's been awhile since I actually balanced one.  And the truth is I wasn't great at that either.  Ooops.  Have no fear though – by making simple little notecards to bring with you or hang on your fridge, you will be held much more accountable.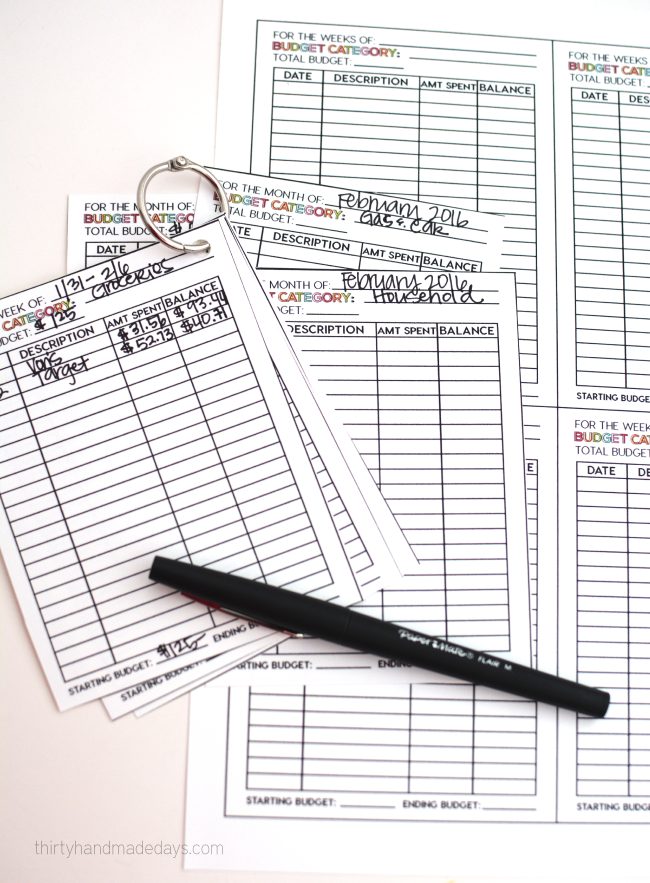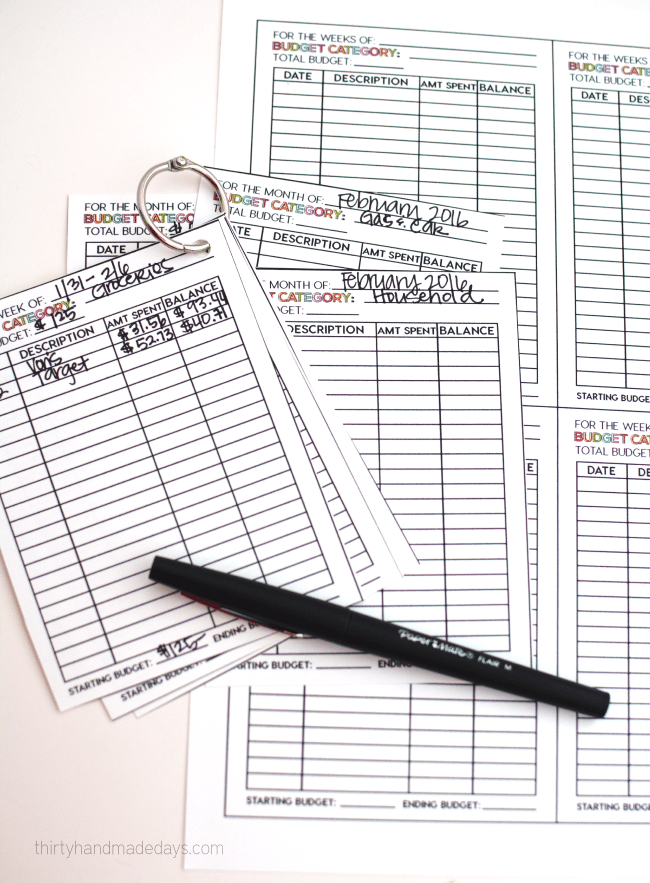 I made three different versions – one for the week, one for weekS and one for the month.  I know people do their budgeting differently and by making different versions, you can download whichever one suits you best.
The only thing you need is cardstock to print on and a ring to put the cards on if you want (not 100% necessary though).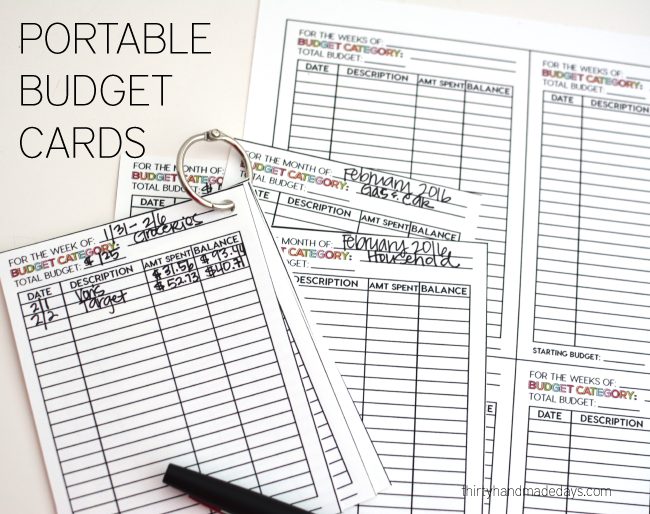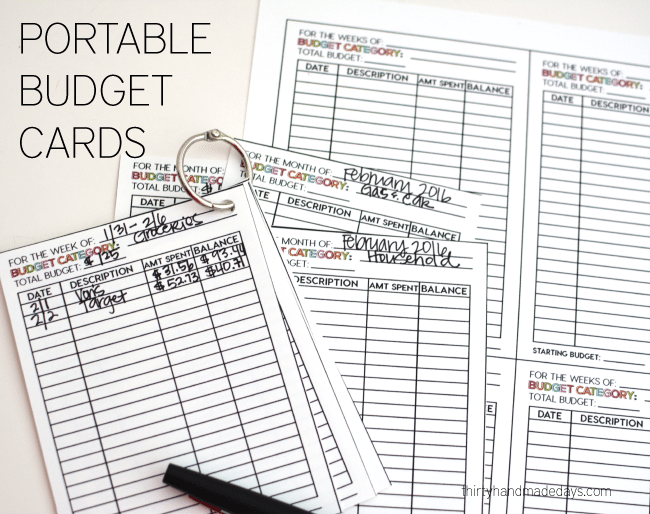 Download the cards below, cut them out and fill in each card with a category that you've previously discussed.  For example: groceries, household items, gas/car, misc, etc.  Write the week/month and the total budget.  If you choose to put these on a ring just go ahead and hole punch them on the corner and attach together.  Carry them in your purse to fill in while you're out.  Or you could also keep your receipts and fill it in later.
Use your credit or debit card until you hit your budget for that category and then that's it!  If you have money left over at the end of the time period, put it towards another expense or savings.  If you have leftover for consecutive time periods, you might want to redo your budget and allocate the funds for another category.  And that's it!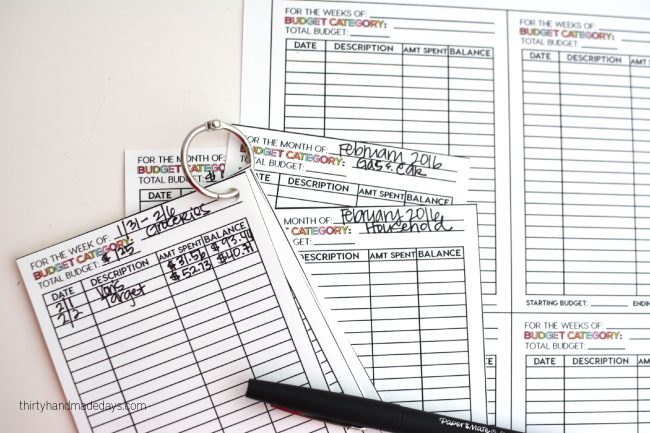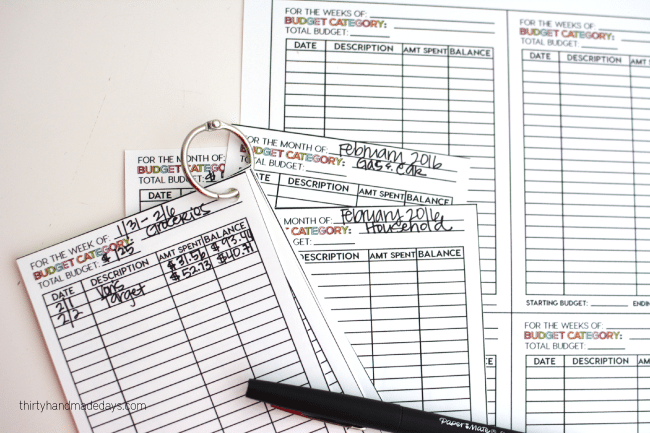 There are three different options to download: for the month of, for the week of, for the weeks of. As always, for personal use and 30days subscribers only.  Thank you!  These are not to be printed and resold under any circumstances.  Copyright © Thirty Handmade Days.  
Note: This download is a PDF- it is not editable.  In order to download, you need to have a program like Adobe Reader (free).   Thank you for your understanding.  Please refer to my Printable FAQ's.

Other Budget Posts
If you love this easy cash envelope system, you're going to love these other budget posts. Please click each link below to find the information: