I tend to purchase chicken in bulk and am always searching for new ways to prepare it. I know that the possibilities are endless, but sometimes, I get stuck on ideas and go hunting online for inspiration.  That's how I ended up on these ultra delicious chicken pasta recipes!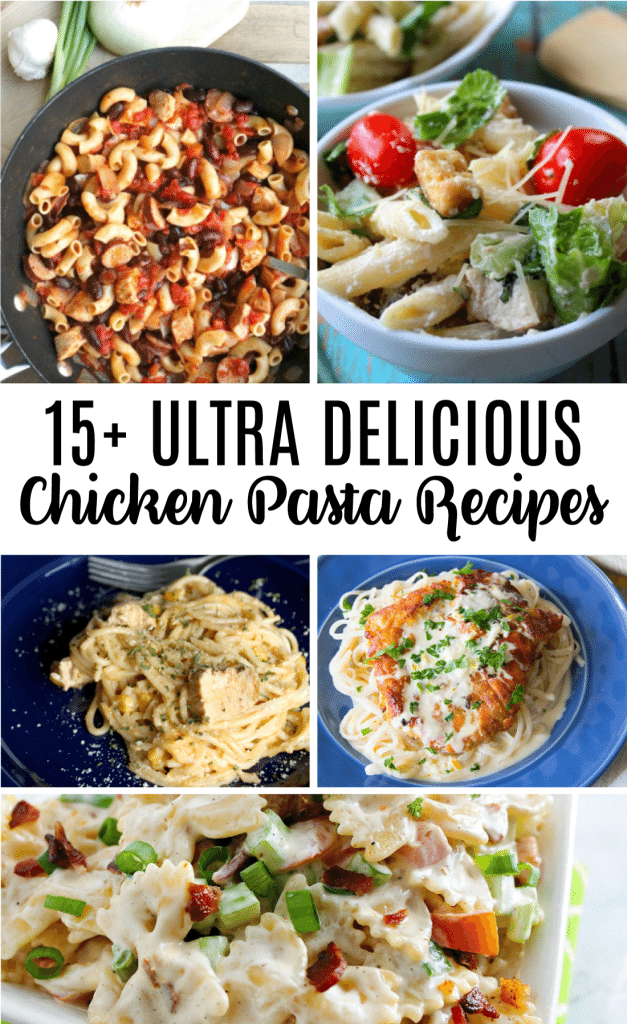 Pasta and chicken are one of my favorite meal combinations. Heftier meats like sausage and ground beef are traditionally used as pasta companions, but I think that chicken offers a lighter taste and is better with certain sauces.
I found some great recipes involving chicken and pasta. It's always so inspiring to see how others combine these two ingredients and how they end up putting together such wonderful dishes.
Bruschetta Chicken Pasta | wannabite.com
Rosemary Chicken Pasta
One Pot Chicken and Sausage Chili Pasta | honeyandlime.com
Creamy Chicken Caesar Pasta Salad | centsablemomma.com
Pepper Jack Mac and Cheese | twokidsandacoupon.com
Tomato and Chicken Pasta
Creamy Garlic Pasta with Chicken and Bacon | maryellenscookingcreations.com
Chicken Bacon Ranch Pasta Salad | inspiringsavings.com
One Pot Chicken and Broccoli Pasta
Chicken Bruschetta Pasta | myheavenlyrecipes.com
Ceesy Chicken Spaghetti | myheavenlyrecipes.com
Crock Pot Chicken Fajita Pasta | myheavenlyrecipes.com
Creamy Pesto Chicken Pasta | thefoodieandthefix.com
Creamy Lemon Chicken Rice Noodles | saygraceblog.com
Chicken Spaghetti | beautythroughimperfection.com
Chicken Enchilada Penne Pasta | whoneedsacape.com
Broccoli Pamesan Macaroni | thriftyjinxy.com
Chicken Pasta Florentine | thriftyjinxy.com