Have I mentioned we like pumpkin recipes in my house? Maybe once or twice?  I decided to experiment a little bit and add pumpkin to rice crispy treats.  It was really simple but definitely gave a kick to the normal version. 
Just pick up pumpkin pie spice and caramel syrup in addition to rice crispy treat ingredients on your next grocery trip and you have instant fall treats.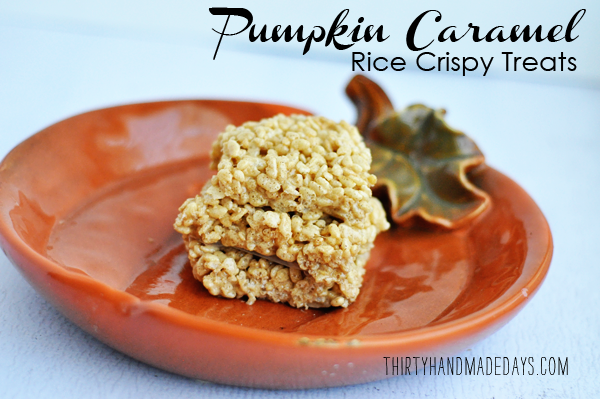 My family was more than happy to taste test this variation.  They all gave it a thumbs up.  Josh said you can definitely taste the pumpkin spice and I have to agree.  If you want them to be less "spicy" you could use less.  I loved the caramel added to them.  But then again, I love caramel added to anything.
Pumpkin Caramel Rice Crispy Treats
Pumpkin Caramel Rice Crispy Treats - perfect treat for the fall!
Author:
Mique from 30days Blog
Ingredients
3 Tbsp. butter
1 pkg regular marshmallows
2½ tsp. pumpkin pie spice
½ c. caramel ice cream syrup
6 c. rice crispy cereal
cooking spray
Instructions
Spray 9x13 pan with cooking spray, set aside.
Melt butter in a large pan over low heat.
Add marshmallows and stir constantly until melted.
Remove from heat.
Add pumpkin pie spice and stir to combine.
Stir in caramel topping.
Add rice crispy cereal. Mix well.
Using buttered spatula press mixture into 9x13 pan.
Cool.
Cut into 2-inch squares.
 Next time I might add a little orange coloring to them so they look a little more fall like.  Or just let people be surprised when they take a bite!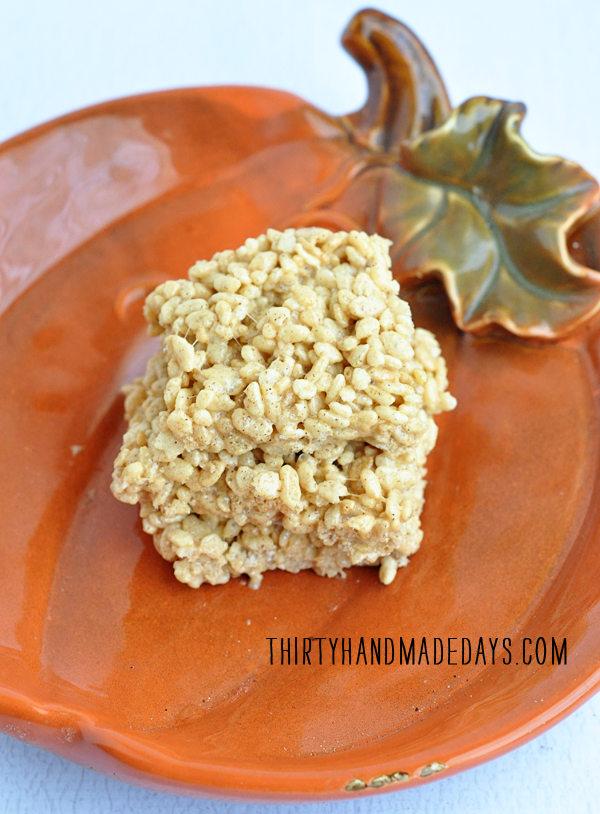 Hmmmm….wonder what else I could add pumpkin to?
I linked up this recipe to eighteen 25.