These Nacho Loaded Potato Skins are the perfect combination of two favorite football watching foods! Sure to be a winner no matter who wins the ball game! One more to add to the savory appetizers.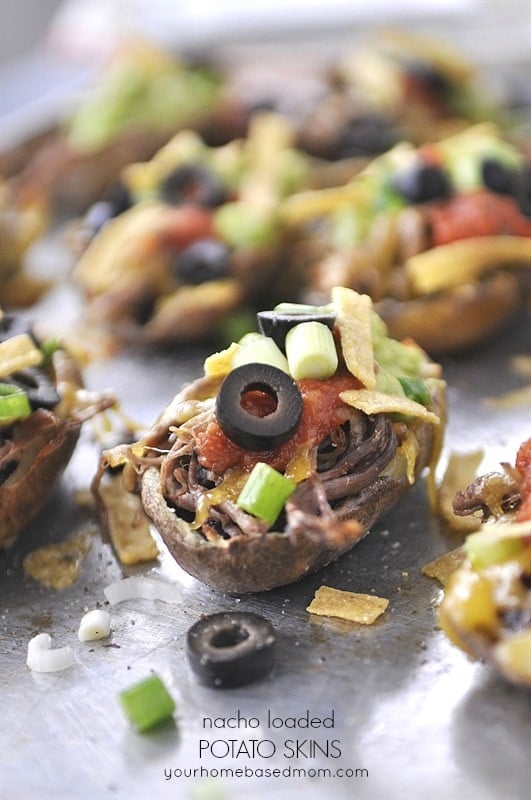 For my sports loving boys (and I have three of them) the second most important thing about a ball game, besides whether their team wins or not, is what there is to eat. My boys like their football watching food.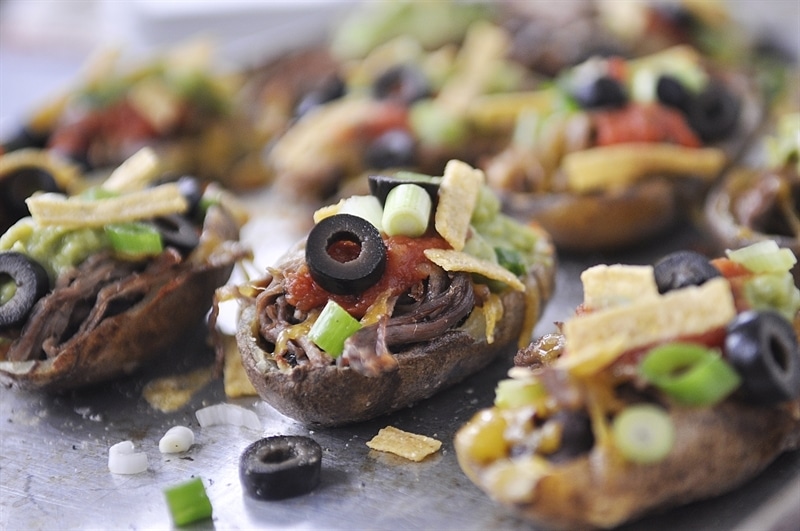 Nachos and Potato Skins are always a hit at our house so I decided to combine the two into one delicious football watching treat. But, if you don't like football (like me), you're still going to love these Nacho Loaded Potato Skins! No football watching required to enjoy a few of these.
I had some leftover shredded beef and black beans in my refrigerator so it made these even easier to make. You can use any leftover meat you might have on hand such as shredded chicken, pork or beef. Refried beans work great but I prefer black beans and this is my favorite black bean recipe. You can always use them straight out of the can too! Some shredded cheese, salsa, guacamole, green onion, black olive and tortilla strips are all great toppers. And of course, you will need some potatoes.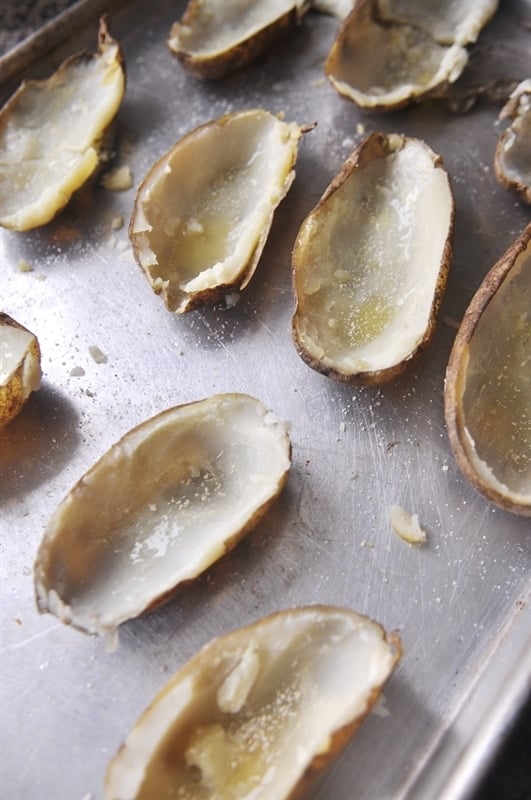 I like to use russett potatoes and wrap them in foil and just bake them in the oven at 400 degrees F until they are cooked through. Let them cool a few minutes so you don't burn yourself and then cut them in half and scoop out the insides. Leave a layer of potato, about 1/4 inch or so. I then brush the inside of the potato with melted butter and give it a sprinkle of garlic salt and bake them, inside side up at 400 degrees F for about 10 minutes.
Then just fill them up! I start with the beans, then the meat and then add the cheese and pop them back in the oven to let the cheese melt for a few minutes.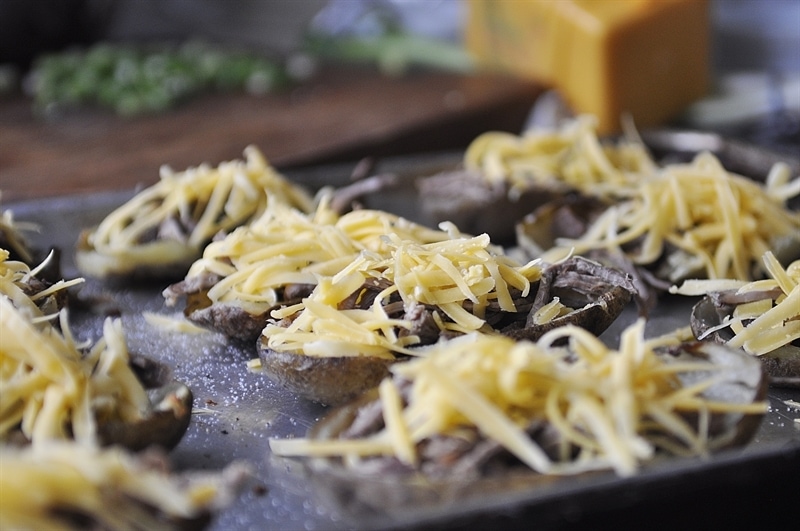 Then add on your other favorite nacho toppings.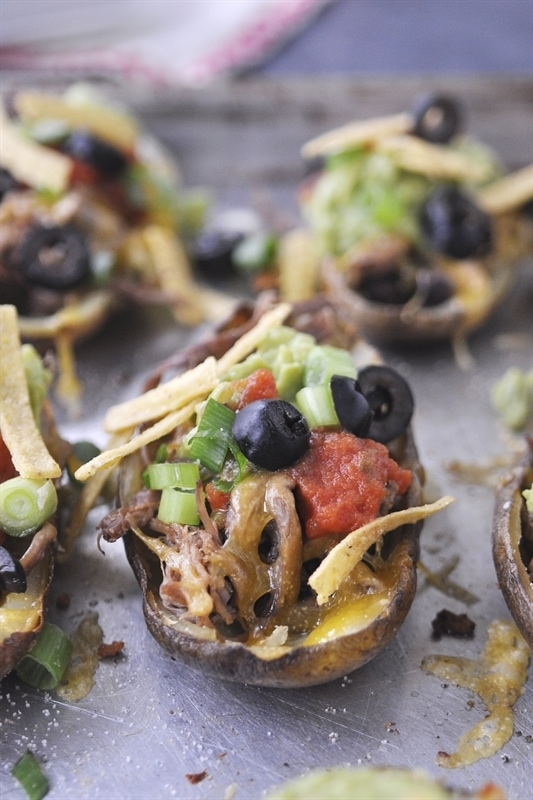 I shared some of these yummy potato skins with the teenage boys next door. Their mom texted and told me they would be perfect for the Super Bowl. I couldn't agree more!
But please, don't just make these babies once a year for the big game day. Enjoy them year round! Dress them up, dress them down, dress them however you like them!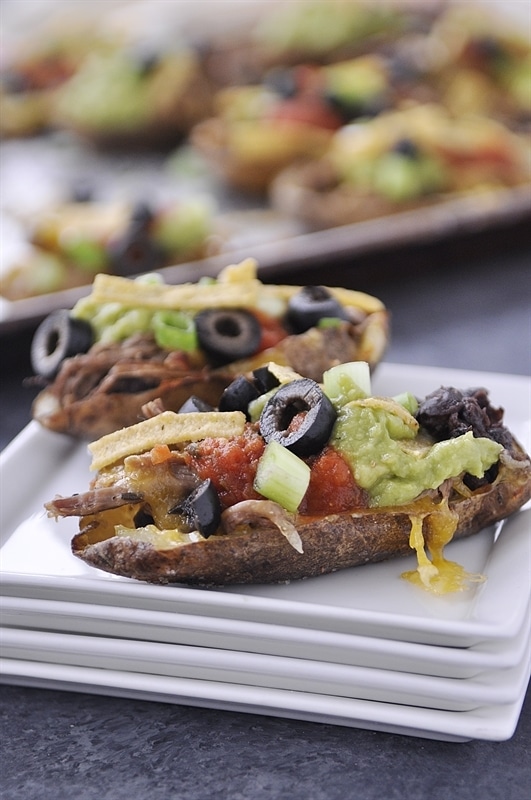 Some of our other favorite game day foods include: Nacho Grilled Cheese – Roasted Garlic Artichoke Dip – Nacho Bar
Nacho Loaded Potato Skins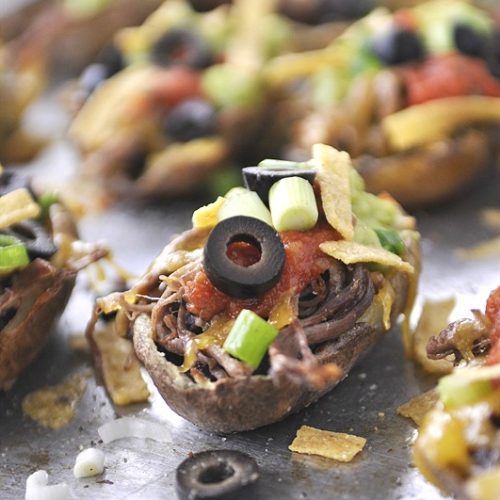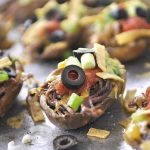 Print Recipe
Nacho Loaded Potato Skins
These Nacho Loaded Potato Skins are the perfect combination of two favorite football watching foods!
Ingredients
Russet Potatoes

melted butter

garlic salt

black beans or refried beans

shredded meat - pork, beef or chicken

cheddar cheese

grated

salsa

guacamole

green onion

chopped

black olives

sliced

tortilla strips
Instructions
Prick potatoes with a fork and cover in foil.

Bake in a 400 degree F oven until potatoes are soft and cooked through.

Allow potatoes to cool until they are cool enough to handle.

Cut in half lengthwise.

With a spoon scoop out the inside leaving a ¼ inch of potato.

Brush insides of potato with melted butter and sprinkle with garlic salt.

Bake for 10 minutes in 400 degree oven.

Fill potatoes with beans, meat and cheese.

Put back in oven until cheese is melted.

Sprinkle with remaining toppings.
Notes
Serving size and nutrition info will vary based on amount prepared.