I am a statistic. Sad but true. It's the new year and here I am talking about getting healthy and—- budgeting. I created accountability binders for my kids months ago but it's time that Josh and I had a little more accountability. I decided enough was enough and got to work. If you follow me on Instagram you may recently have seen a picture of my Friday night date…. the Ultimate Budget Binder.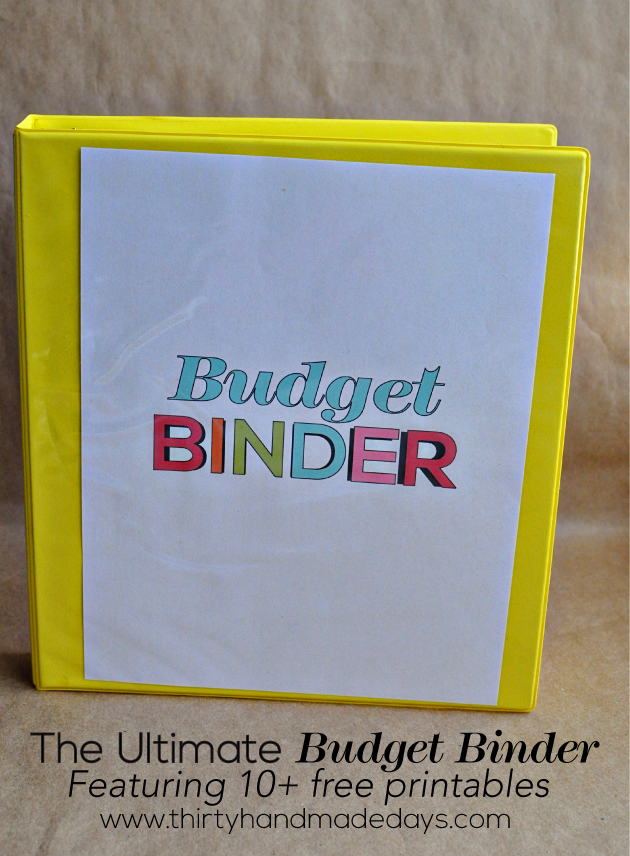 Disclaimer: I am not a budgeting expert. I created this binder to really get my act together. I'm hoping that we can learn and grow together. I'm open to any and all (constructive) ideas. Now that that's out of the way……
—>> I recently updated this Printable Budget Binder. If you'd like to get the current one, get more information here.
Josh and I, as most couples do, came into our marriage with our own ways of spending money. One of us likes to spend on big ticket items, while the other shops shops shops to find the best deal but buys lots of little things that add up. Neither of us were horrible with money then but we definitely could've buckled way down. I wish we had. Hindsight is 20/20 though, right?
Here we are early twenty-somethings, engaged and blissfully unaware….
Josh has been in the
collection industry
since he was a teen (his Dad owned a collection agency and he still works in that field). He knows WAY more than the average person about credit, debt, etc. I was a little more naive but TERRIFIED of getting in trouble. Although I don't like to follow the crowd necessarily, breaking rules scares me. The idea of bouncing a check (which used to be the only way to pay bills a million years ago) was horrifying. So I walked the line but never fully embraced a budget. Or we'd try and then one of us would spend and the other would try to nag him into not doing so…and then that one person would get fed up and just start spending again. Hmmmmmph.
We are now at the point of our lives where our kids are a teen/pre-teen and elementary schooler. They are growing up FAST. College, weddings, retirement, etc will be here before we know it. It's crazy to think about that but I know that time will zoom by. Or that's what
they
tell me.
SO- here we are- 15+ years later, trying to whip into shape. Financial shape. Budgeting still scares me. Probably because we've failed before and I don't like starting something that I know I haven't accomplished in the past. Oh well. It just needs to happen. I sat down and started brainstorming the kinds of things I wanted in a budget binder. I came up with over 10 printables. I'll continue to add more as time goes on and I get a feel what works best. Without a doubt, every family is different. So what works for us, might not work for you. I hope you'll be able to gain something from these sheets though.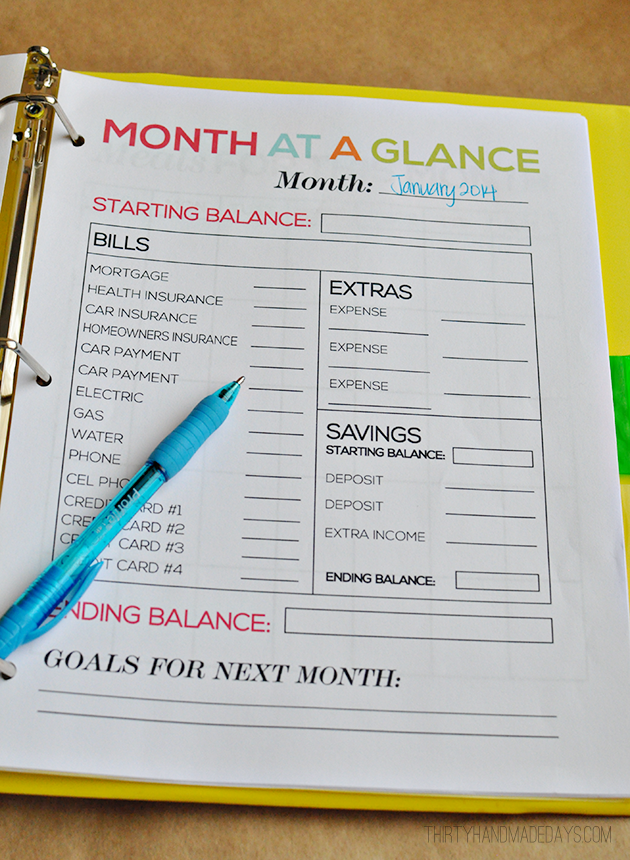 Note: I updated the Month a Glance to include groceries on it. After the picture was taken. The correct one is included in the packet.


—>> I recently updated this Printable Budget Binder. If you'd like to get the current one, get more information here.




Here's how I intend them to work (but feel free to adjust them to your needs):
Budget Binder cover & spines: self explanatory
Weekly Ledger: to record all of your expenses and deposits, like a big checkbook balance but more obvious than that tiny little thing.
You can print 4 for the month.
Monthly Ledger: Similar to the weekly ledger only with a longer time frame.
Note: D/W on both stand for "deposit" and "withdrawl" like in a traditional checkbook ledger.
Savings Information: A place to put all of your savings information to keep track of and watch it increase throughout the year.
Outstanding Debt Information: A place to put all of your outstanding debt to keep track of and watch it decrease throughout the year.
Month at a Glance: I included the version I will use with basic bills in it as well as a blank version. You will fill this out at the beginning of the month and check off the bills and fill in the totals. There's a spot for the starting balance and ending balance. You also have space for extras that you might not traditionally have each month. I included the savings portion as well- to show when you deposit or transfer money into there as well as a starting and ending balance spot. Goals are included so that you can keep moving forward.
Year at a Glance: Similar to the month at a glance but more of an overview of the entire year. You will transfer monthly information onto this sheet so that you can see where you started and ended each month in checking as well as savings accounts.
Meals for this Month: Having a monthly meal plan will help cut down significantly on grocery expenses.
Groceries List: This is to help you have a plan when you go to the grocery store and to cut back on unnecessary extras.
If you are looking for the binder and supplies, here are some that I have used: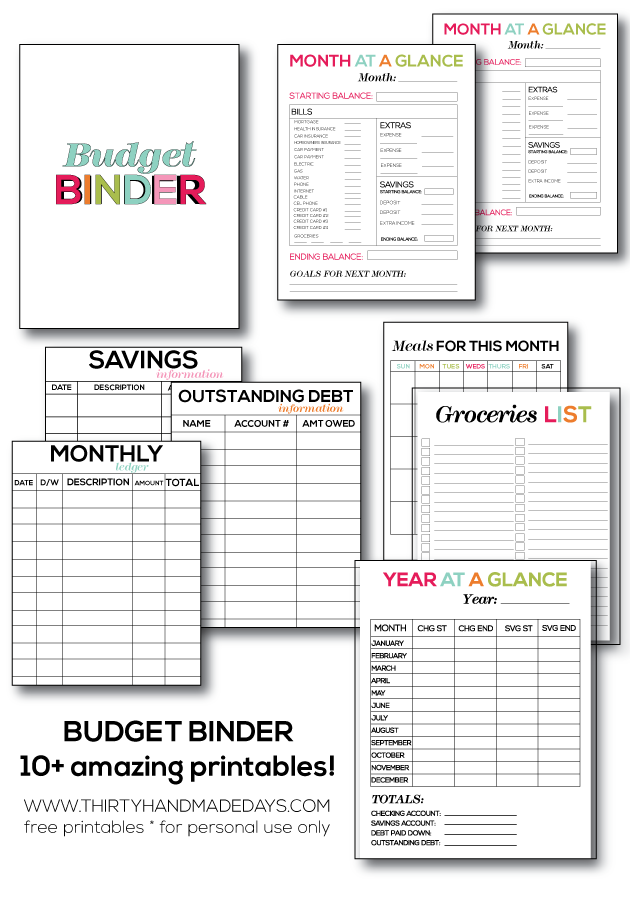 To download this Budget Binder, you need to be a subscriber of my newsletter. You can simply do that here and will receive the download right away.

As always, for personal use only. Thank you! These are not to be printed and resold under any circumstances. Copyright © Thirty Handmade Days. Please refer to my Printable FAQ's.

Click below for other binder posts. Full to brim with ideas on how to better organize your life.
(says the girl who could use a lesson or two on organization)
Do you love this idea but would prefer a mini sized budget binder? I now have it available for download in the smaller size with a few additions to it. Check it out: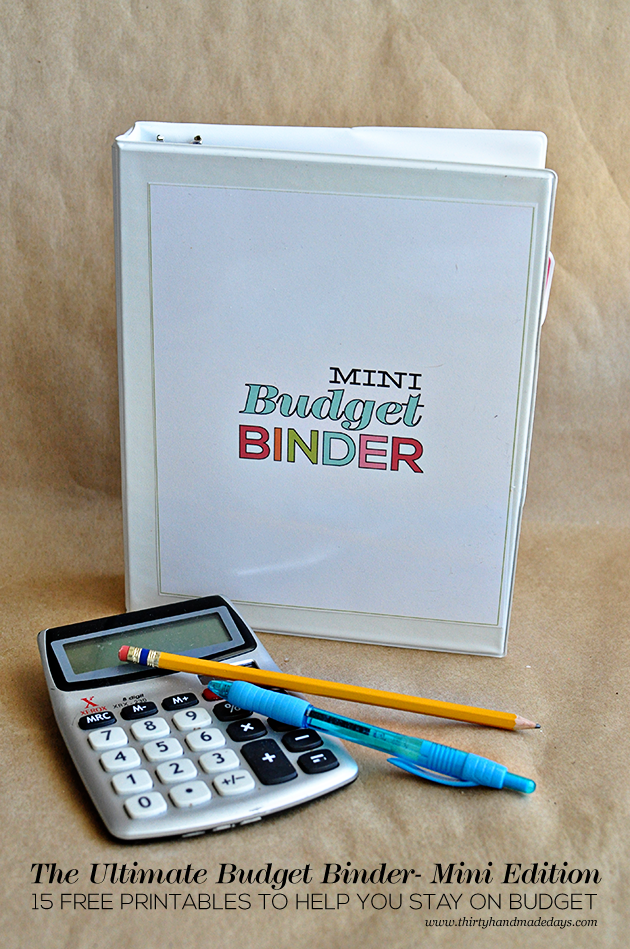 I'd love to hear your tips/tricks/ideas to setting and maintaining a budget. Leave a comment to let me know what works best for you.