You may have heard me mention that I'm a vanilla kinda girl. Chocolate just isn't my thing. I'd say that me loving vanilla fits my personality pretty well too- I'm simple, classic and traditional. With a touch of whimsy and a pinch of sass. Today I'm sharing a Strawberries and Cream Smoothie Kit with a printable.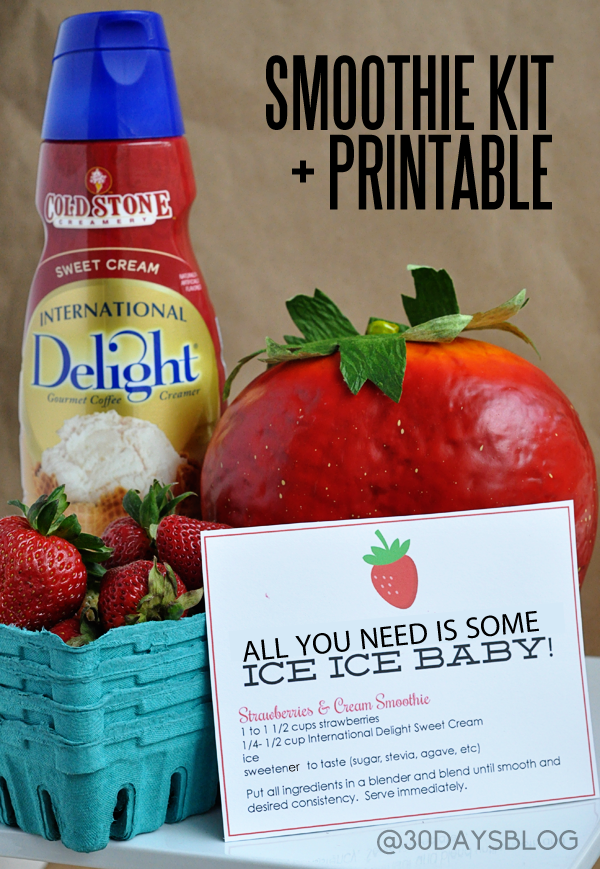 Over the last few months I've been swept away with International Delight. Because I don't drink coffee, it never occurred to me to use creamer to add flavors to recipes. I'm lame like that. But once I realized I could indeed add ID to recipes, I have been experimenting. This idea is meant to be delivered as a gift with the printable. But if you want to just try out the recipe for yourself I won't stop you. It's ridiculously simple. Who wouldn't love to get a little basket with these ingredients and this card: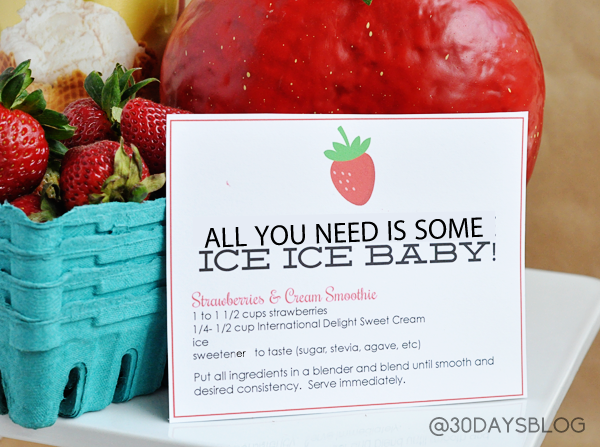 Forgive me if you weren't around in the early 90s. This card might seem silly to you. But those of you that lived through the Vanilla Ice stage (weird one, wasn't it?), you might appreciate it.
To make this into a gift: grab some strawberries, International Delight Sweet Cream(my personal favorite) and the Strawberries and Cream Smoothie printable tag. Wrap it up in some cellophane and you're good to go. It's a take on my Root Beer Float Kit and people seemed to like that one. So why not a smoothie kit? Let's start a trend, shall we?
What's Your ID? International Delight is looking for their most passionate flavor fans. Put your ID on the map to enter to win a Magical Trip, play games and discover more unexpected delight. Share your ID flavor at http://whatsyourid.com.
This is a sponsored conversation written by me on behalf of International Delight. The opinions and text are all mine.