Why not take a traditional caramel popcorn recipe and add some s'mores to it!? You'll love the take on this traditional caramel corn.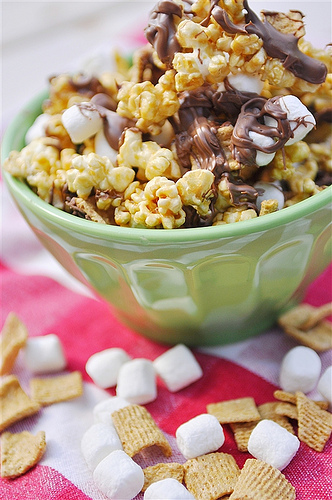 I have seen s'more recipes popping up all over the blogosphere. Every imaginable s'more flavored treat you can imagine. S'mores and summer do just seem to go together. One of our favorite summer time activities is making s'mores over the firepit in our backyard but now you don't need to wait for a fire to enjoy the yumminess of a s'more! I decided to turn one of my favorite treats – caramel corn into a s'more too. Let's just say the combo works! Very well!
Caramel Popcorn
What's not to love about caramel, chocolate, marshmallow and graham cracker combined together?? I started out with my trustworthy, easy to make, never fail me caramel corn recipe. So easy because it is made in a brown paper bag in the microwave. I spread the caramel corn out onto parchment paper on two large cookie sheets. Then topped it with some mini marshmallows and Golden Graham cerel.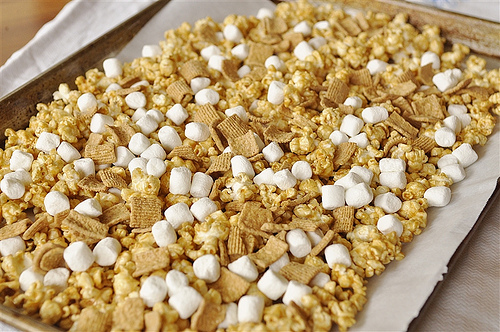 Then the best part -you drizzle it with chocolate, lots of chocolate.
The chocolate is the glue that holds it all together so don't skimp on this part!!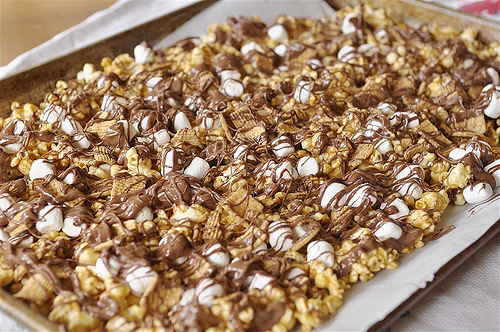 Then let the chocolate set up. I was going to put mine in the fridge in the garage but my husband had a stinky fresh crab in there and I was afraid the popcorn would end up tasting like crab – yuck!! After it is set up you can commence munching, you can do it before it sets up too, it is just a little messier.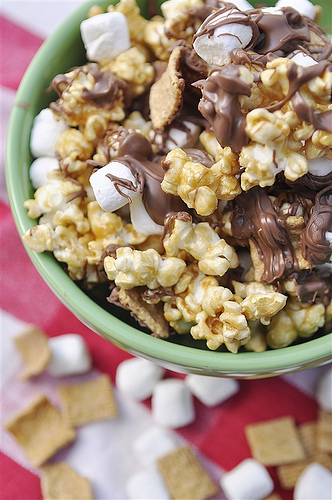 If you like this recipe, you'll love these too:
I decided to share so I packaged it up in some clear bags and added a fun little tag! Who wouldn't enjoy S'more Fun!!?? You can download the tag too and just print them off.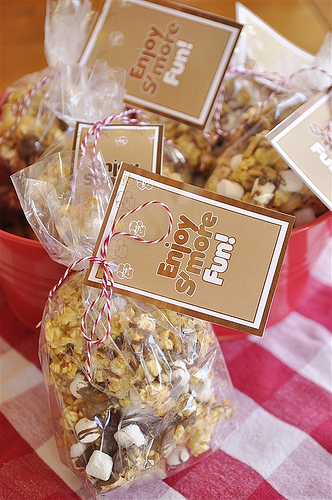 Download your own S'more tags.
For personal use only.
I love taking little bags of fun treats to friends when they least expect it!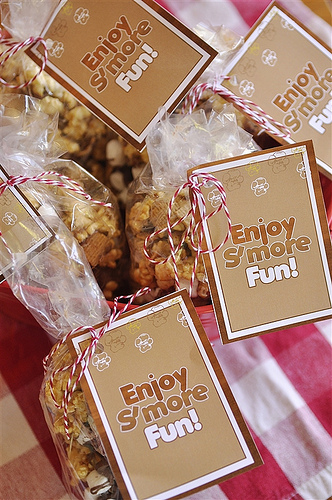 Caramel Popcorn Recipe
Follow these simple instructions and enjoy!

S'mores Caramel Popcorn
Ingredients
1 batch of caramel corn
2-3 C of miniature marshmallows
2-3 C of Golden Graham cereal
1 pkg. of chocolate chips (I used milk chocolate)
Instructions
Spread caramel corn onto two parchment lined cookie sheets to cool.
Sprinkle with marshmallows and cereal.
Melt chocolate chips and then drizzle chocolate over mixture.
Allow chocolate to set up.
Enjoy!