Easy, cheesy, tasty and perfect as an appetizer for your next party – this Artichoke Cheese Bread needs to be on your must try list!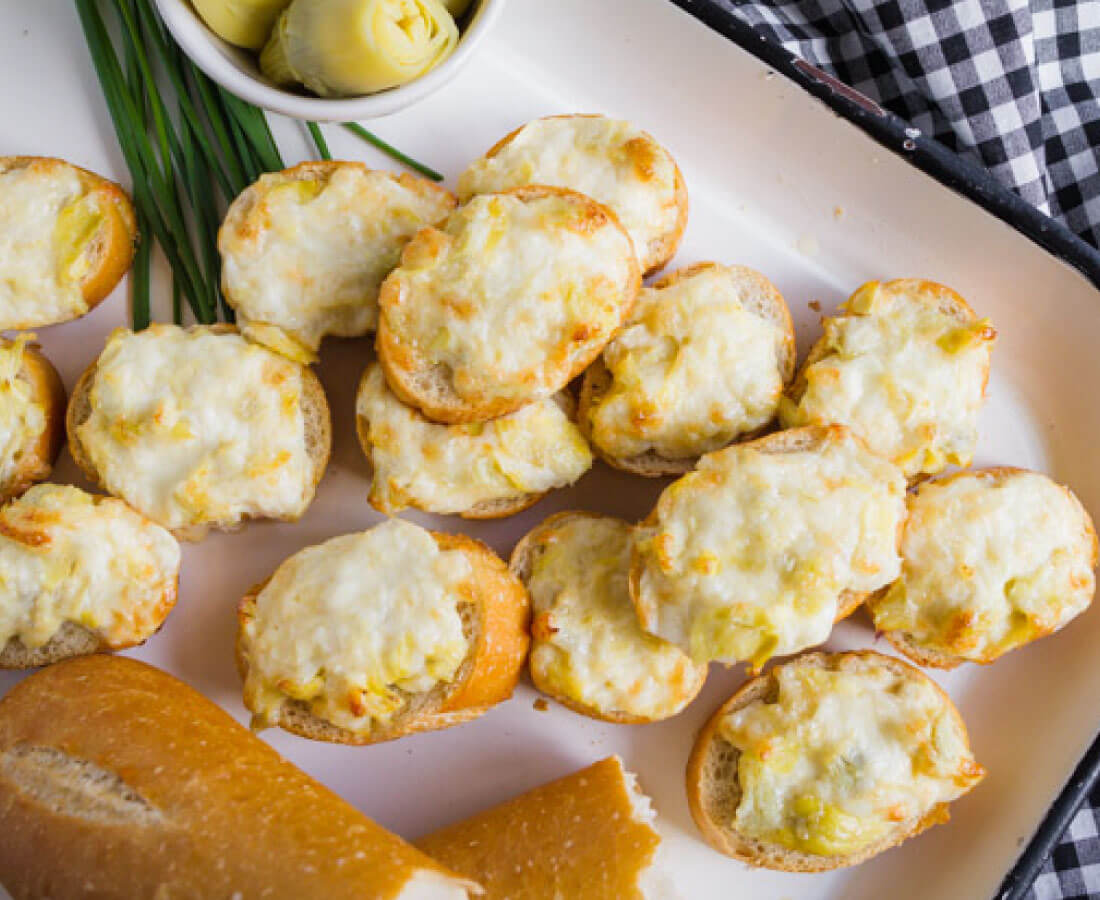 Cheese Bread
I tested out a new easy idea I had from combining a few different recipes and love how it turned out.  This literally takes 5 minutes to whip up and then it goes right into the oven.  And let me tell you, it's got just the right amount of cheese and crunch to make you want to eat it all up!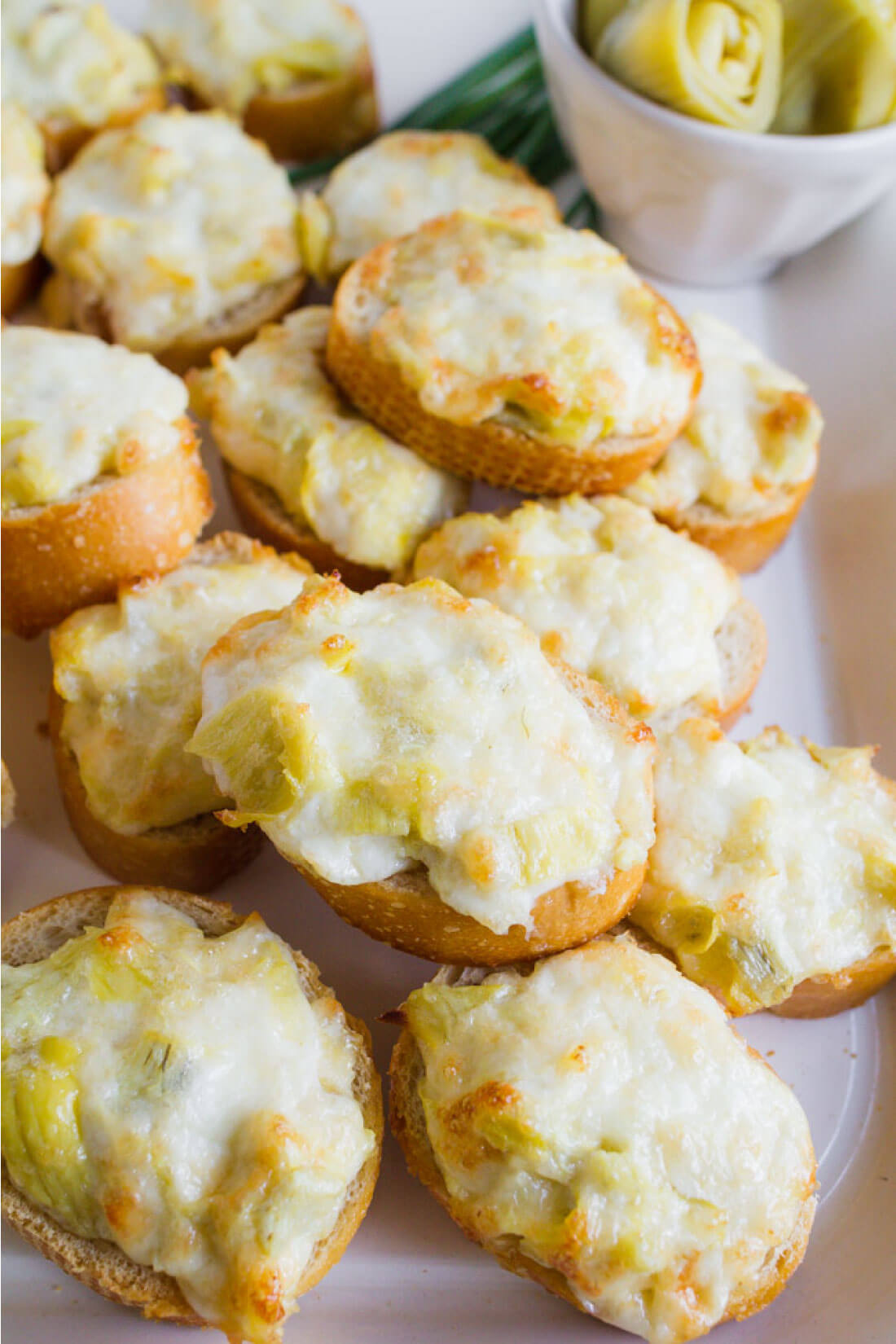 I can't resist a good bread or cheese.  So this combo is absolute dreamy.
If you like cheesy bread, you might like these recipes too:
Here's what you need and how to make it: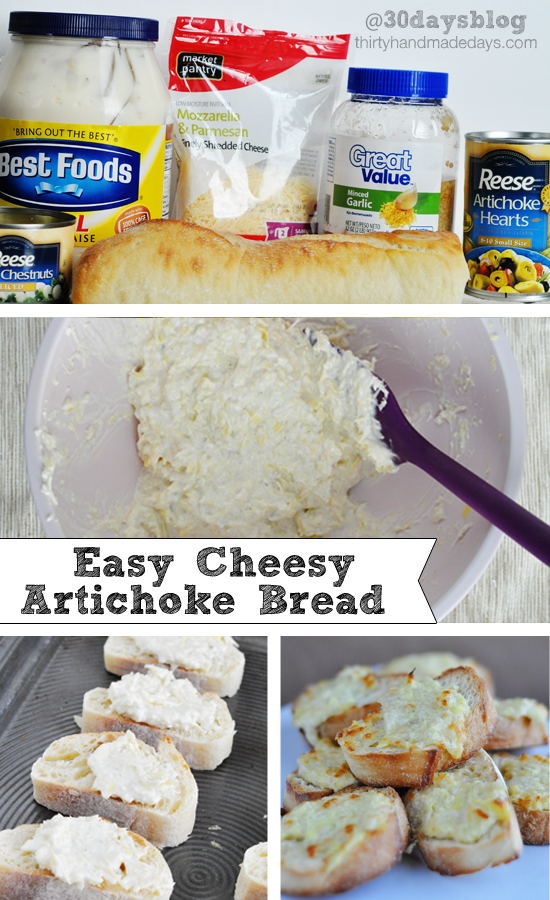 I have seen other recipes that call for shredded cheddar cheese too.  I like it this way – kind of a different take on traditional cheese bread.  And can we talk about artichokes for a second?  I always forget how good they are until I have them.  I need to make more with artichokes.  Yum!
Cheesy Bread Recipe
Piping hot out of the oven is the best way to serve this bread recipe:

Artichoke Cheese Bread
Ingredients
1 cup mayonnaise
1 clove garlic, minced
2 cups finely shredded mozzarella and parmesan cheese
1 can artichoke heart, drained &,chopped
1 small can of water chestnuts, drained and chopped
1 loaf French bread, sliced in half lengthwise
Instructions
Mix all ingredients together except for bread.
Spread on 2 halves of bread.
Bake at 375* for 20 minutes.
You can also turn your oven to high broil and watch it closely to get the cheesy topping crisp and more brown if you prefer it that way.  But make sure that you don't let it go too long because it burns fast!
If you make this cheese bread for a party, it'll be gone quickly.  And people will be asking for the recipe. Trust me.