The Super Bowl is this weekend! And while my Dad's (Bay Area) family will be cheering on the 49ers (go 9ers!), I will be hanging out by the food.  I tested out a new easy idea I had from combining a few different recipes and love how it turned out.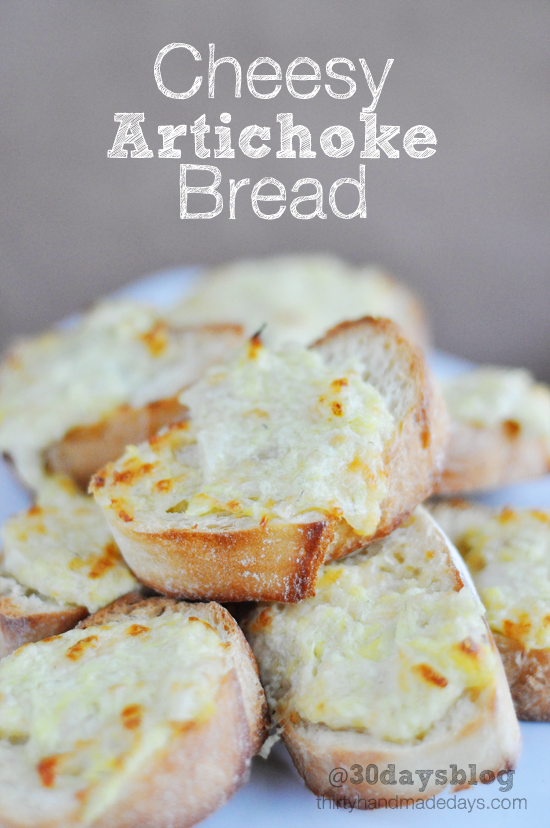 This literally takes 5 minutes to whip up and 10 minutes in the oven.  And let me tell you, it's got just the right amount of cheese and crunch to make you want to eat it all up! Don't believe how quick it is?  Here's what you need and how to make it: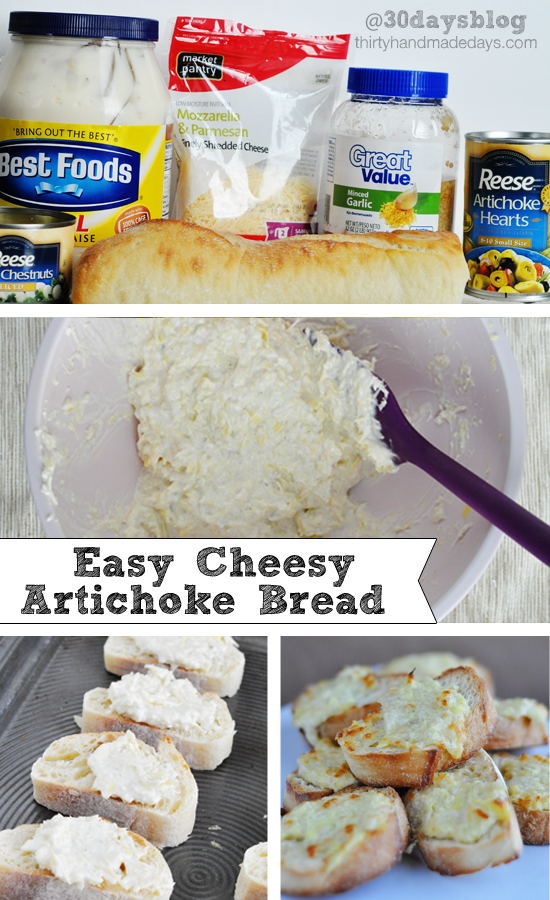 See? Soooo easy.  But sooo good.
Easy Cheesy Artichoke Bread
Simple and delicious appetizer!
Author:
Mique from 30daysblog
Ingredients
1 c. mayo
1 can or jar artichoke hearts, coarsely chopped
1 c of shredded Mozarella and Parmesan cheese (found at Target but you could just do ½ c. mozarella & ½ c. parmesan)
½ tsp minced (jarred) garlic or 1 fresh clove minced
½ can chopped water chestnuts
2 loaves of french bread
Instructions
Preheat oven to 400 degrees.
Chop artichoke hearts and water chestnuts.
Combine with mayo, garlic, and cheeses.
Spread over sliced french bread.
Bake for 10-12 minutes until bubbly.
Will you be watching the commercials and screaming at the tv during the Super Bowl?  Or hovered over by all the yummy food?  Who are you rooting for?
For some more football fun, check out this football party posted last year.