There are so many Christmas gift ideas out there but this one is meant to simplify.  Try it in your home!

Somehow every year Christmas sneaks up on me. Every year I say "I'm going to start in July so I'm ready to go by December." And every year I find myself a few weeks before scrambling.  This year I decided to bring back a gift idea to simplify Christmas.
Years ago when I was reading one of my favorite blogs I came across an awesome idea- want, need, wear, read.   It's pretty simple.  Instead of getting a stack of presents for each child, they all get one want, one need, one wear, and one read.  They will still each get a big gift from Santa and stocking stuffers but this will help cap things.  For some reason as Christmas gets closer, I start spending more and adding more to my cart.  It's so silly.  And wasteful.  And brings more clutter.  It gets way out of hand.  So I'm reeling it back in.
Something you WANT 
Something you NEED
Something you WEAR 
Something READ
Obviously this can be interpreted however you'd like – wear doesn't have to be clothes.  It can be jewelry or accessories or whatever.  Read could be a magazine subscription.  You get the idea?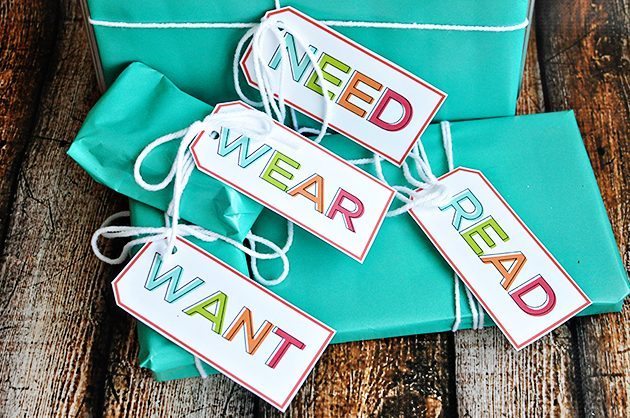 A long time ago I decided that each person would have their own wrapping paper.  It makes it easy to hand out and my family gets excited about their wrapping paper.  So I pulled out some paper and I designed cute gift tags to go with this idea.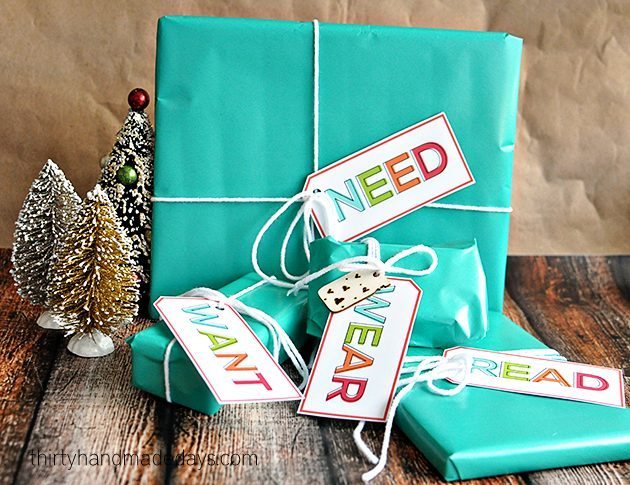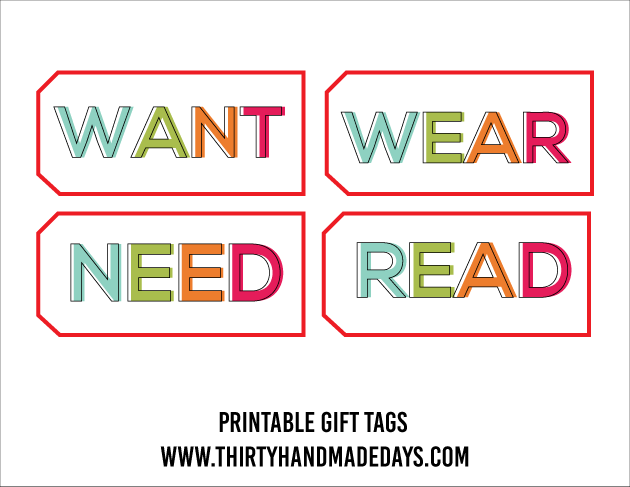 Download these printable gift tags.  For subscribers and personal use only.  Thanks! 
If you like this post, you'll like these as well: