Two years ago was one of the lowest points of my life. Our oldest son was having some major issues and I was frustrated, scared and felt helpless.  For the first time Josh and I knew that we needed to look into outside placement for our J.  It smashed our hearts into a million little pieces.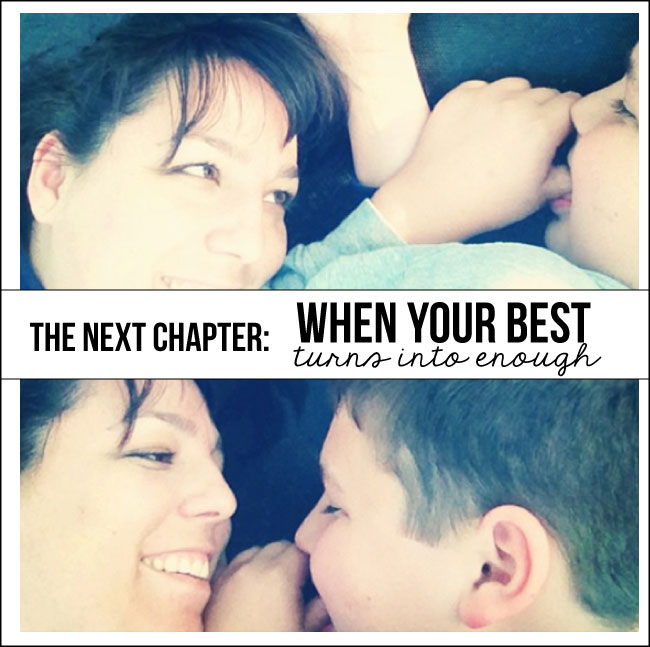 You see, all I ever really wanted was to be a mom.  It was to be my life's work.  And there I sat, failing miserably at it.  I'm sure you think I'm being over dramatic but that's exactly how I felt.  Josh and I had spent 15 years pouring everything into our son but it still wasn't enough.  He had every type of therapy we could find for years on end, we had fought the school district and our state, he had been on a special diet where I made every thing from scratch for over two years, I read every book I could get my hands on..and yet, he wasn't happy and it was very clear that something needed to change quickly.
Pouring my heart into a post when the time came was therapy for me.  I needed to get it all out and just let everyone know where my head and heart were.  But that was just the very beginning of this chapter of my story.  We knew that it was the right choice but we didn't know where it would lead us. It's amazing to look back on that time and know where we are now.
Things are good.  Better than I could've imagined.  That's not to say that this road has been easy, without heartache and pain.  Over the last two years we have had to revisit tough feelings and learn how to parent differently.  We have experienced new challenges that weren't on our radar.  But we have our old boy back.  Sadly he still isn't in our home.  I hate writing that. But he is happy, he is progressing and he is where he needs to be. I never would have ever thought that was possible.
When we originally looking into residential homes, we thought it was going to be a temporary thing but it became clear quickly that this was going to be more of a long term situation.  While it was gut wrenching to make the choice, it was the best choice for our whole family.  We were able to feel safe in our home.  We knew that J was getting round the clock care- what he so badly needed.
There is zero doubt in my mind that things fell into place as they should.  I wouldn't have been able to get through this without my faith in a loving Heavenly Father who I knew was watching over us in the hardest of times. That faith has sustained me in my darkest hours, always. Even, and especially, when I cried out and asked why.
Our other two kids have gone through their own ups and downs of having their brother gone.  Since it has now been almost two years, things have settled in as more normal for them.  But the first few months were strange and hard.  Because a lot of the focus had been on their brother for their whole lives, there were some things that came up when he left.  Things I didn't anticipate.
So what does it mean now?  It means we are communication with the group home dad a lot.  He sends pictures and texts us about things.  JJ visits once a month, a time that we all look forward to.  He will be eighteen in January.  We will have other challenges as he gets older.  Josh and I have discussed things and will continue to take one thing at a time, doing what's best for him.
I try to imagine that it's like J has gone to college early – that he is close enough to visit and see but not close enough (or beneficial for him) to see and talk to every day.  It's still hard and we all miss him, but I have no doubt that this is how things need to be.
I've talked about it before (even on my original post about this —> when your best isn't good enough), but thought it was important to bring up again.. there are some things that people have said/done that have been super helpful.  And there are some things that people have said/done that haven't been super helpful.
If you know someone who is going through a trial, here are my suggestions:
Don't say "IF YOU NEED ANYTHING GIVE ME A CALL."
That will not happen.  I don't know anyone that has actually called if they needed something in a crisis.  It feels weird and uncomfortable to reach out when everything around you is complete chaos.  It's so much better to say something specific – "When can I bring you dinner?"  "When can I pick up kids for you?" Sometimes people will still say they are fine.  That's totally ok.  But giving specifics usually lead to actual action.  They will be so grateful for offering of specific help.
Offer a listening ear.
I talked about this before – everyone deals with trials, struggles, challenges differently.  Some people want to talk about it a ton.  Others don't want to deal with it at all.  But having someone to turn to, that you know you can really talk to without judgment is huge.  I have a few friends that I know I can call that will never judge me, even at my worst, and who will always be there.  I cherish those friendships and hope that I am the same to them.
Don't offer advice/say "well at least….."
Unless you've been in the same situation, friendly advice usually does more harm then good.  "Have you done this?" (chances are – at least in our situation – YES!)  This goes along with offering a listening ear.  One of the hardest things about going through a struggle is feeling lonely and isolated.  It can feel like nobody on the planet understands.  By offering advice (while usually good intentioned) makes people feel even more lonely.  When people say things like "Well at least _______." My example of this is – "well at least you had 15 years of him in your home."
Ummmm…not helpful.  That kind of makes it sting more.
Drop by treats, send letters, etc –
This is my way of coping.  I love delivering things to people just to let them know that someone is thinking of them.  It doesn't have to be a huge production but something simple and sweet will help the receiver feel thought of.
All that to say.. I KNOW that if people knew better, they would do better.  I don't hold things against anyone for saying or doing silly things.  I'm convinced they just don't know any better.  BUT if you are looking for something helpful to say or do, that is my two cents.
I'd love to hear from you what has helped you in hard times.