Bedtime is one of those milestones in the day that can make or break a parent. This can either be a soothing and sweet moment when parents lovingly read a story and tuck their little ones in (ha ha!), or it can be a horrendous battle of the wills where the parent is left feeling like a war- torn officer on the battlefield.  Anyone else looking for ways to make bedtime easier?  This isn't my first time talking about bedtime and sleep guidelines.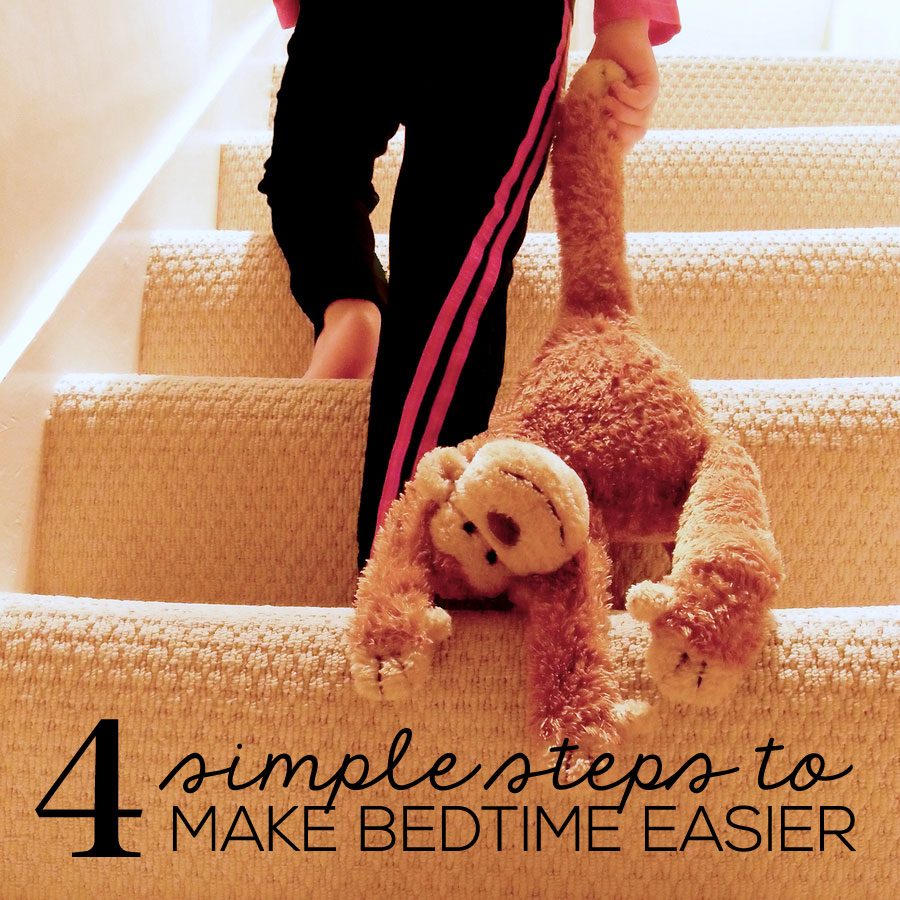 But each child is unique and has different needs but there are a few tips that can help ease the process so that it can be an easier transition to the end of the day.
STEP #1-Have a consistent bedtime that you don't vary by more than 20 minutes.
This needs to be clearly outlined up front. Children have been found to flourish with schedules as they clearly know what to expect. If your bedtimes are all over the map it can be a sounding board for problems each and every night. Make use of your clock, if they are too young for that, use a hands-on homemade paper plate clock that you can show them when the hands are in a certain location, it is bedtime.  You can help them learn how to manage their time efficiently this way too.
STEP#2: Eliminate digital media at least 1 hour before bedtime.
Studies have shown that the worse time for a little one to be indulging in a good cartoon vegetative session is right before bed. Our brains just don't transition to the quiet and relaxed state they need to be in quite as easily. Many parents have hit their proverbial wall and are worn down by the wee hours before bed, so often it is common to let children vegetate on a wholesome show or two, just nix it. Opt for some good old-fashioned imaginative play with toys, read alouds with books, a soothing bath, whatever it takes to avoid the digital monster.  Check out my guidelines for technology, related to this.  As well as internet safety.
STEP#3-Prepare for the following day.
Include your child, no matter how young, in planning for the following day. Take a moment to help lay out clothing that needs to be put on in the morning, perform a last minute tidy up of toys from the day, and discuss what the following day has planned for your child. Without realizing it you are forming a routine that your child is going to start recognizing as a step before bedtime, the routines we give our children actually help them understand the rhythms of life and our homes and allow them to predict what is coming next, this is an invaluable asset that helps our children feel safe and secure.  You can use my daily chore chart too to help with this.
STEP#4-Dim the lights and sit on the bed a moment.
Once your child is in bed you can read a story and then institute a tradition called the "daily recap." This is your child's moment to have a few uninterrupted moments with you (because often the seed of those crazy will battles are in attention seeking) when you intently listen. Encourage your child to recap the day in 5 minutes or less and to tell you 2 things that were good and 1 thing they wish was different. At the end of the recap (an hourglass timer is a good help here too) simply say goodnight.
Using some of these steps should enable your family to restore a bit of peace for the bedtime period of your day; these days can be so long, but the years so very short when you are raising children. Before you know it you will even wish you could return to the days of battling bedtimes because your home may be all too quiet one day.
What do you do to make bedtime easier?