It's officially summer- woohoo!  The time of year when people head out of town to explore and create memories with the family. Are you planning on going on summer vacation?  I'm here to share some staycation ideas for Southern California.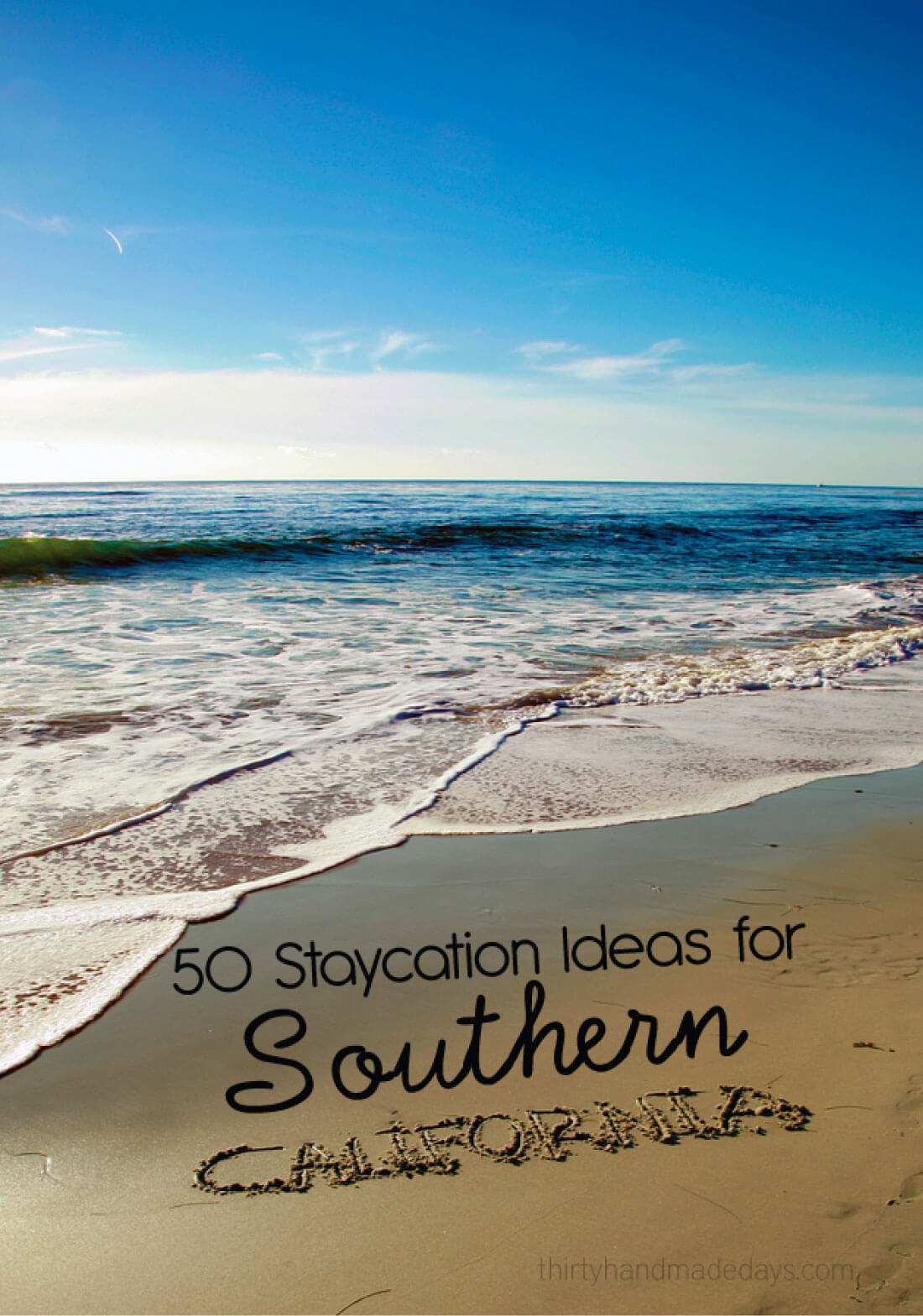 Our family is doing a lot of traveling in our area for baseball.   More and more people are doing "staycations" to take in sites locally instead of traveling far away.  It's a simple concept but an awesome way to experience things you wouldn't normally.
Because I live in the LA area, I wanted to share 50 Staycation Ideas for Southern California.  Southern California is huge.  You could probably do something different every day for an entire year and still have plenty more to do.  But these are things on our bucket list- things we've done or always wanted to do. I broke them down by area but even within each spot there is a LOT of miles between them.  As anyone who lives in SoCal knows, it all depends on traffic.  With no bumper to bumper action you could get from one end to the other in 2-3 hours.
If you're looking for some other travel information in Southern California, you'll like these too:
Staycation Ideas
Los Angeles Area
My family has lived in the LA area for over 15 years now.  It's home to us.  There are lots of things I love about it and a few I don't.  TRAFFIC.  The opportunities for exploring are endless here.  These are some places we've visited and some we hope to some day: 
Enjoy nature at the LA Arboretum.
Go to the Kidspace Children's Museum for an interactive adventure.
Explore the La Brea Tarpits.
Stop to smell the roses at Descanso Gardens.
Be entertained at Universal Studios.
Reach for the stars that the Griffith Park Observatory.
Visit Dodgers Stadium with a Dodgers Ballpark Tour.
Take a spin on the Griffith Park Carousel.
Hit the beach with these kid friendly beaches.
Go take a hike. (we like this one in our area)
Be amazed at Vasquez Rocks.
The Getty Center doesn't disappoint.
Take in the Ronald Reagan Presidential Library and Baseball Exhibit.
Ride the big roller coasters at Magic Mountain.
Cool off at a splash pad.
Orange County Area
What's not to love about Orange County?  Beautiful beaches and shopping galore, all of my friends who live there absolutely adore it.  We haven't had as much time here as I'd like to but always have a good time when we visit.

Take in the Orange County Fair.
Visit Mickey & Friends at Disneyland.
Tiptoe through the tulips at the Fullerton Arboretum.
Dude! Visit the Surfing Museum.
Play some games at the Balboa Fun Zone.
Explore, explore and explore some more at the Discovery Science Center.
Go choo choo at the Irvine Park Railroad.
Games, games and more games at Dave & Busters.
Give stand up paddleboarding a try.
Pick out some of the freshest food at a farmer's market.
Experience a military flight stimulation.
Go whale watching in Dana Point.
Beach it up at 15th Street in Newport Beach.
Board the Queen Mary.
Like vintage? Enjoy shopping at Old Towne Orange, the antique capital of Southern California.
Hit it out of the ballpark with an Angels Ballpark Tour.
Visit Orange Y BMX.
Choose your castle at Medieval Times.
Go shopping at Fashion Island.
San Diego Area
Even though I now live in the LA area (and love where we live), my heart will always belong to the San Diego area.  I grew up there and it really was a magical place for my childhood.   There is soooo much to do but here are a few things that are must do's. 
You could spend a month at the different museums and attractions of Balboa Park.
Eat some of the best Mexican food in Old Town.
Visit Hotel Del Coronado because it is breathtaking.
Hike Torrey Pines and you won't regret it.
Go to Old Poway Park for the train depot.
Take your kids to the best park evvver – Cottonwood Creek.
And then go to the best beach evvver- Moonlight (the one I happened to grow up on).
It wouldn't be the same without the World Famous San Diego Zoo.
Go to a laser show at the Laser Dome at the Pacific Science Center.
Check out the Children's Museum.
Visit the San Diego Botanic Gardens.
Walk along or skate along the Pacific Beach Boardwalk.
Because EVERYTHING IS AWESOME at Legoland.  (just ask my nephews)
Shop, explore or be entertained at Seaport Village.
Visit my favorite stadium with (yes another) Stadium Tour of the Padres at Petco Park.
Ride the Coaster all along the beach and avoid that darn traffic while enjoying the view.