Summer is for reading.  Whether on vacation, by the pool, or staying up late at night to read just one more chapter, something about the summer lends itself to having a long list of to-be-read books.  I wanted to give you another list for books to read this summer.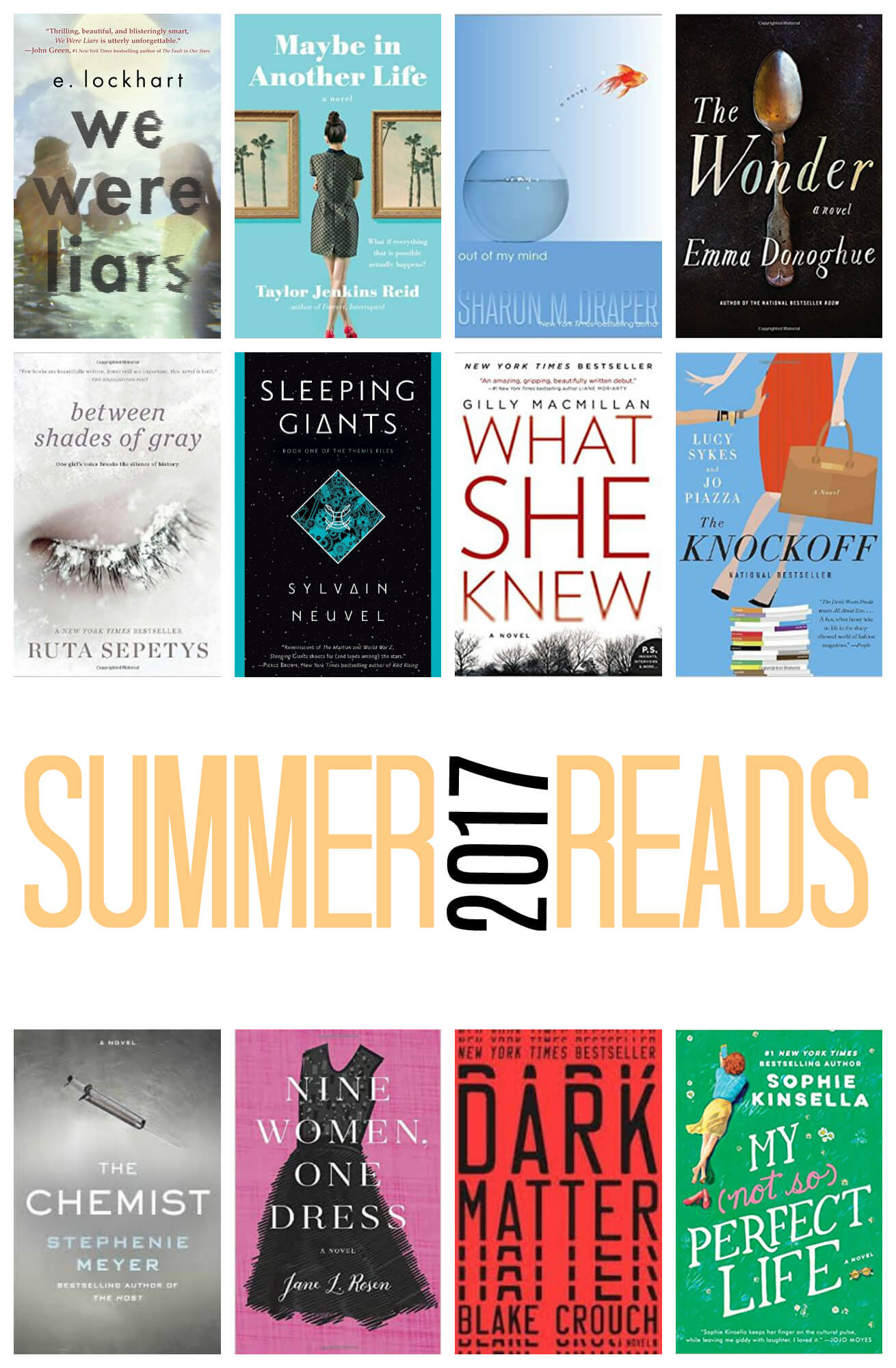 You can see my previous recommendations here (2015) and here (2016).  I've changed the list up a bit this year by dividing the books into three categories.  All of them won't be favorites for everyone, but I hope you can find one or two that you want to add to your beach bag.
If you want to read more about a particular book, just click on the link and it will take you to the Amazon synopsis.


Unputdownable
Sleeping Giants by Sylvain Neuvel

The synopsis on the dust jacket almost put me off, but don't let it deter you.  Written as a serious of files and interviews, it's a quick read and unique.  If a giant metal hand found deep in the ground doesn't intrigue you, I don't know what will.  I just picked up the sequel from the holds section at my library and can't wait to dive into it!  P.S. if sci-fi isn't your thing (that's me!), give this novel a try anyway.  I bet you won't be disappointed.
What She Knew by Gilly MacMillan
I've read several pyschological thrillers in the past year or so and most of them have completely unlikable characters with no redeeming qualities.  While the plot in What She Knew was still mysterious and had several unexpected twists, it didn't feel as dark as some others in the same genre.  I won't give away much, but be prepared for revealed secrets, plot turns, and a late night of reading!
I wasn't a huge fan of Donoghue's Room so I wasn't sure what to expect, but The Wonder was excellent.  Set in a small Irish village, a young girl's parents claim that she is living off of manna from heaven.  In other words, she eats and drinks nothing.  A nurse from London is hired to come and watch the young girl to determine if she is really a "wonder," as religious fanatics claim.  This would make a great book club pick.
All The Missing Girls by Megan Miranda
I wouldn't want to be alone in my house at night while reading All The Missing Girls.  It tells of the disappearance of a best friend years ago and the mystery that continues to plague the small town of Cooley Ridge.  Twisty and turny and fantastic. I'm anxiously awaiting my name to come up on the holds list at the library for Miranda's newest book, The Perfect Stranger.
The Chemist by Stephenie Meyer
I was pleasantly surprised by The Chemist.  Just enough love story and just enough twist to keep things interesting (and no one was glittering, which was an enormous relief).   An awesome strong female character surrounded by conspiracy, keeping one step ahead of her enemies, and doing it all better than the men.
I literally had a hard time putting this one down.   Jason is abducted only to wake up in an alternate universe where his life is not as he remembers.  Kind of mind blowing.


Kid Lit Adults Will Enjoy
True Confessions of Charlotte Doyle by Avi
I fell in love with Charlotte as I studied children's literature in college and the love affair hasn't ended.  I adore a strong female protagonist and Charlotte is right up there with Hermione and Anne.  The novel starts as she sets sail from England to Rhode Island to meet with her family, only everything goes wrong.  At one point on the ship, she is accused of murder, brought to trial, and is found guilty!  Written in first person—another one that you can enjoy and then hand over to your 4-6th grader.
Between Shades of Gray by Ruta Sepetys
Not to be confused with the OTHER books with a similar title, this is a YA historical fiction novel set during World War II in a work camp in Siberia.  I had never read anything about the people in Lithuania under Stalin's rule and felt this story was quite unique.  Though the book is considered fiction, the author traveled to the Soviet Union and Europe and received first hand accounts from those who lived through it.  Wonderful, heartbreaking, and moving.  Sepetys recently published another novel, Salt to the Sea, that I have heard is also excellent.
Out of My Mind by Sharon Draper
If you loved Wonder, then you'll adore Draper's Out of My Mind.  I have a soft spot for this book because I have a non-verbal child and I felt like this might be a small glimpse into her brain.  Written in first person by a tween girl with cerebral palsy who doesn't speak but has oh-so-much to say.  You need to read it and then hand to the nearest 5th grader and have him/her read it too.  It will make you think differently about those with disabilities.  Two enthusiastic thumbs up.
Code Named Verity by Elizabeth Wein
This is a YA novel, but will appeal to anyone who loves historical fiction.  Written from the perspective of two young women, a pilot and a spy, during World War II, it is a novel about friendship and war.  Very excellent.   Recently a prequel with the same characters was published, The Pearl Thief.  You can bet it's at the top of my TBR list!
The reviews on Goodreads are all over the place for We Were Liars.  Apparently it's very polarizing.  I, for one, loved it.  A suspense novel about four friends (the Liars) and how an accident and secrets change everything.  I also thoroughly enjoyed Lockhart's YA novel, The Disreputable History of Frankie Landau-Banks.


History Comes To Life
A Bridge Across the Ocean by Susan Meissner
Last years list included Secrets of a Charmed Life by Meissner, so it's no secret that I love her writing.  A Bridge Across the Ocean flips back and forth from the years following World War II to present and is a bit ghost story, a bit mystery, a bit romance, and a lot fantastic.  You may also like Meisser's Stars Over Sunset Boulevard.
Everyone Brave is Forgiven by Chris Cleave
If you haven't read Everyone Brave is Forgiven, head to your library now.  Although the hold list is probably 4,505,923 long…so put it on hold.  Then you can read it six months from now.  Or buy it.  Because this one is worth owning.  Set in London during World War II, it's a sweeping novel that follows a young socialite in a changing world (Mary) as she finds love and purpose and loss.  Amazing.    If you love this one, I also recommend All The Light We Cannot See by Anthony Doerr.
 The Ship of Brides by Jojo Moyes
I think Jojo Moyes is mostly known for her novel Me Before You, but once upon a time, she also wrote this historical fiction gem.  The novel mostly takes place aboard the Victoria, an aircraft carrier that has been "outfitted" for the transport of war brides from Sydney to London after World War II ends.   Fascinating.  Another moment in history I just did not know a lot about and Moyes does an excellent job of bringing it to life.
The Secrets of Mary Bowser by Lois Leveen
Mary Bowser, a freed slave, risks her own freedom to spy for the Union during the Civil War.  Based on a true story, this book was incredibly inspiring.  I loved that it was about a strong heroine from American history.  The book spans her years as a slave then a free woman in Philadelphia to the Civil War when she decides to serve with the Underground Railroad and later as a spy.  Wow!  Be sure to check out the non-fiction information at the back of the book (I'm a sucker for a good Author's Note).


In Your Beach Bag
Small Admissions by Amy Poeppel
After a difficult breakup, Kate lands at job in admissions where she sees the antics of parents who are determined to insure their children are enrolled in the prestigious and revered Hudson Day School.  A lighthearted, engaging read with fun characters you can root for (and a couple you just want to punch in the face).
Nine Women, One Dress by Jane L. Rosen

Written like a collection of short stories, this novel tells the story of nine unrelated women who are all effected in one way or another by the same little black dress.  If you love a good rom-com, then you'll love this quick read.
The Knockoff by Lucy Sykes & Jo Piazza

Totally indulgent, but I was sad when this one ended.  It felt a little like The Devil Wears Prada (which I thoroughly enjoyed as well).   After a six month hiatus, Imogen Tate returns to her position as editor of Glossy, a fashion magazine, only to find that it's been taken over by a younger, more tech-savvy set.   Funny and fun this is the ultimate beach read.  Another book by this author pair comes out this summer if you're looking for more: Fitness Junkie.
Maybe In Another Life by Taylor Jenkins Reid
My sophomore year in college I saw the movie Sliding Doors and then promptly cut all of my hair off like Gwyneth Paltrow.  Only I look nothing like her.  Not sure if that was the best decision I could have made, but reading this book will help you get your Sliding Doors fix without a drastic change involving scissors.  Two alternate realities based off of one night of decisions.   If you like this, then you may also want to try The Year We Turned Forty by Liz Fenton.
My Not So Perfect Life by Sophie Kinsella
Sophie Kinsella is pretty much the queen of chick-lit.  Totally a guilty pleasure read.  But it did make me want to travel to England and stay in the fictional glamping resort, Ansters Farm.  Or possibly start my own.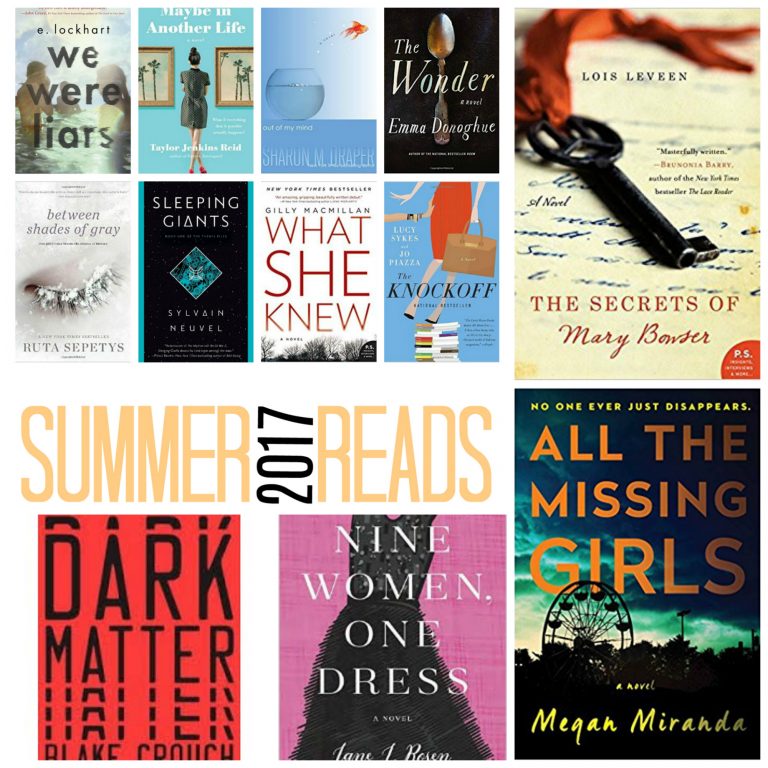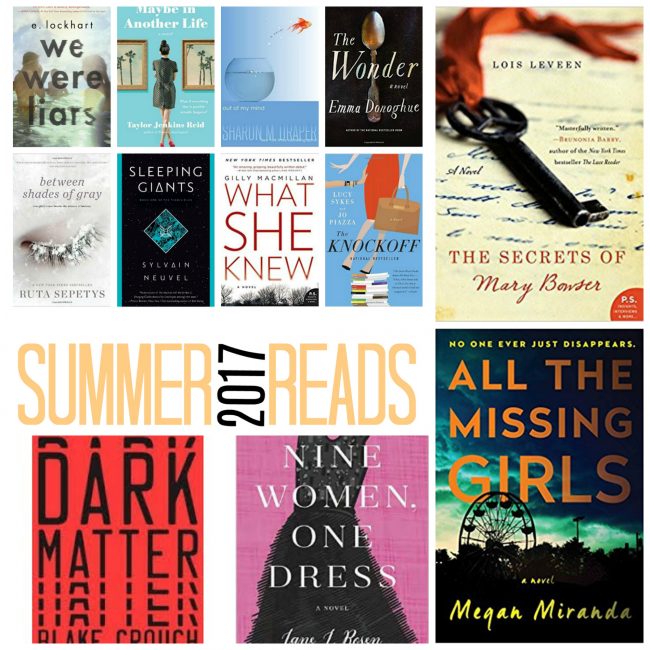 Check out my summer reading lists from 2015 and 2016.  Find out what I'm reading by following my bookstagram account here: BookWormBeth. 
If you want to overload your to-read list, subscribe to the awesome podcast What Should I Read Next!
Leave your summer read recommendations in the comments!  I love adding new books to my TBRs!