If you're looking for something good to watch and American tv just isn't cutting it (hello reality tv), you need to check out these British TV shows.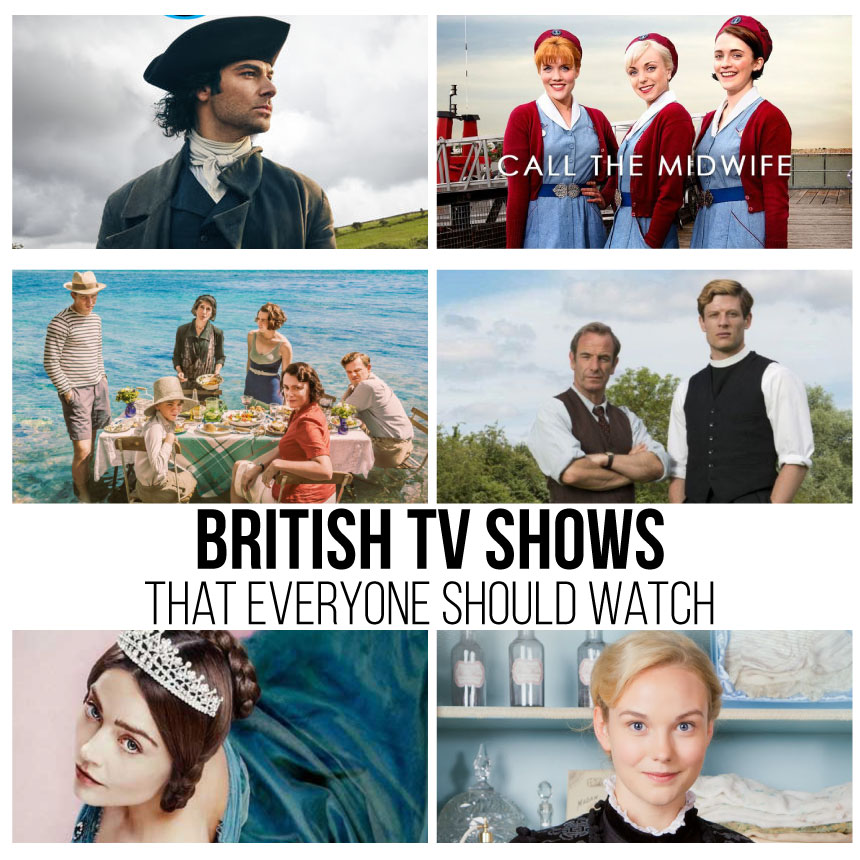 Before I dive into the best British TV Shows, I have something to admit.  I haven't watched Downton Abbey.  If you want to take away my British TV watching status and move on, I get it.  I just couldn't watch it when it first came out.  EVERYONE was watching it and sometimes I don't like jumping on the bandwagon (haven't read Harry Potter for that reason either…).  But now that it's died down, it's on my list to watch.  Just had to get that out of the way.  Moving on..
I know I normally post about recipes, printables, organization, etc but sometimes you just gotta kick back and enjoy some entertainment.  Truth be told, I have my tv on while I'm working as white noise.  But recently I have turned to Netflix and Amazon Prime as I couldn't take one more reality tv series.  And that's saying a lot for me.  Some family members and friends recommended most of these British TV shows.  Once you start one series, it feels like you are looking for more along the same lines.  All of these are different but they are clean and good entertainment.
Poldark – PBS & Amazon
In the late 18th century, Ross Poldark returns from the American War of Independence to his Cornish mineral lodes – tin, copper, zinc, lead and iron with some silver/copper mines after spending three years in the army to avoid charges of smuggling. When he gets home, he finds his father dead, his estate in ruins, and his old sweetheart Elizabeth engaged to his cousin Francis. He rescues a young woman, Demelza, from a beating, and takes her on as a kitchen maid while trying to help the people of the village and attempting to gain control of the mines sought after by his rival, the greedy and arrogant George Warleggan.
This is where my love for British TV shows began.  My mom and sister both told me that I had to watch it and I wasn't so sure I'd like it.  It took a few episodes but then I was all in.  The acting, sets (so beautiful!), the story, everything.  This is at the top of my list for a reason.
Call the Midwife – PBS & Netflix
The plot follows newly qualified midwife Jenny Lee, and the work of midwives and the nuns of Nonnatus House, a nursing convent, and part of an Anglican religious order, coping with the medical problems in the deprived Poplar district of London's desperately poor East End, in the 1950s. The Sisters and midwives carry out many nursing duties across the community. However, with between 80 and 100 babies being born each month in Poplar alone, the primary work is to help bring safe childbirth to women in the area and to look after their countless newborns.
I binge watched this series in a matter of a couple weeks.  It's 7 seasons.  It was a lot to watch at once.  But I fell in love with the cast, the story and everything in it.  It is clean and well done.  I'm excited for the next season to come out! I loved the first few seasons most, as the cast has changed over several times with a few that have stayed on the whole time.
Victoria – PBS & Amazon
The first series depicts the first few years of the reign of Queen Victoria from her accession to the throne at the age of eighteen, to her intense friendship and infatuation with Lord Melbourne, to her courtship and early marriage to Prince Albert and finally to the birth of their first child, Victoria. The second series follows Victoria's struggles on managing her role as Queen with that of her duties to her husband and children.
This series is pretty new but it is another beautiful, story rich series.  The newest season is just coming out right now and I can't wait to see what happens next.
Grantchester – PBS & Amazon
Anglican priest and former Scots Guards officer Sidney Chambers and the overworked Detective Inspector Geordie Keating forge an unlikely partnership in solving crimes. Keating's gruff, methodical approach to policing complements Chambers' more intuitive techniques of coaxing information from witnesses and suspects.
I wasn't so sure about this one at first but definitely got into it.  An Anglican priest who randomly turns into a detective's side kick?  Seems pretty far fetched.  But it is well done and has great acting with more pretty scenery.
The Paradise – originally PBS/BBC  & now only Netflix/Amazon
I'm bummed that this series only lasted for 2 seasons.  It was fun, pretty light hearted and well written with a cool cast.
Doctor Thorne – Amazon
From the creator of Downton Abbey. Dr. Thorne lives a quiet life with niece Mary in Greshambury, home of the wealthy Gresham family. Unbeknownst to others, the Greshams have lost their fortune and matriarch Lady Arabella has a scheme to regain it via an arranged marriage with her son and an American heiress. However, her son plans to elope with Mary, which complicates Lady Arabella's plans.
This series is like a soap opera – there are lots of moving parts but the cast is great, awesome costumes, etc.  One of the main characters is someone that was in Poldark too that I really liked so that was fun.  I don't really love that there is an intro and ending from the creator of Downtown Abbey for every episode.  But again, I didn't watch DA.. so maybe that's why.
The Durrells in Corfu – Amazon
The series begins in 1935, when Louisa Durrell suddenly announces that she and her four children will move from Bournemouth to the Greek island of Corfu. Her husband has died some years earlier and the family is experiencing financial problems. A Homeric battle ensues as the family adapts to life on the island which, despite a lack of electricity, is cheap and an earthly paradise.
This series was one of the recommended ones from Amazon video while I was looking for another British TV show to watch.  It's different from the other series in this list and I liked that.  It's made me want to visit Greece ASAP.
The Crown – Netflix
The Crown traces the life of Queen Elizabeth II from her wedding in 1947 to the present day. The first season depicts events up to 1955, with Claire Foy portraying the Queen in the early part of her reign. The second season covers from the Suez Crisis in 1956 through the retirement of the Queen's third Prime Minister, Harold Macmillan, in 1963 following the Profumo affair political scandal.
I watched the first season of the Crown and loved it.  I thought the acting was great, the costumes and sets were incredible and I liked learning about British royalty.  BUT I didn't like the second season.  It was more racy and I had to fast forward some of the scenes.  I'm bummed that it went there but have also read up on the accuracy of the show.
Some shows that I keep hearing about but haven't personally watched so I can't vouch for them:
Brooklyn
Sherlock
The Duchess
The Great British Bake Off – I know, I know.. this is definitely on my list!
Peaky Blinders
If you're looking for more entertainment, you might like these: