It seems crazy to me that the 90's were 20+ years ago. I still feel like they were just a few years ago (I guess I'm showing my age here, right?). There were some amazing things in the 90's like Doc Marten's, platform shoes, thrift store jeans. We also had our fair share of fabulous 90s movies. There were some doozies in there too. But I made a list of the best of the best that you should definitely be watching with your kids!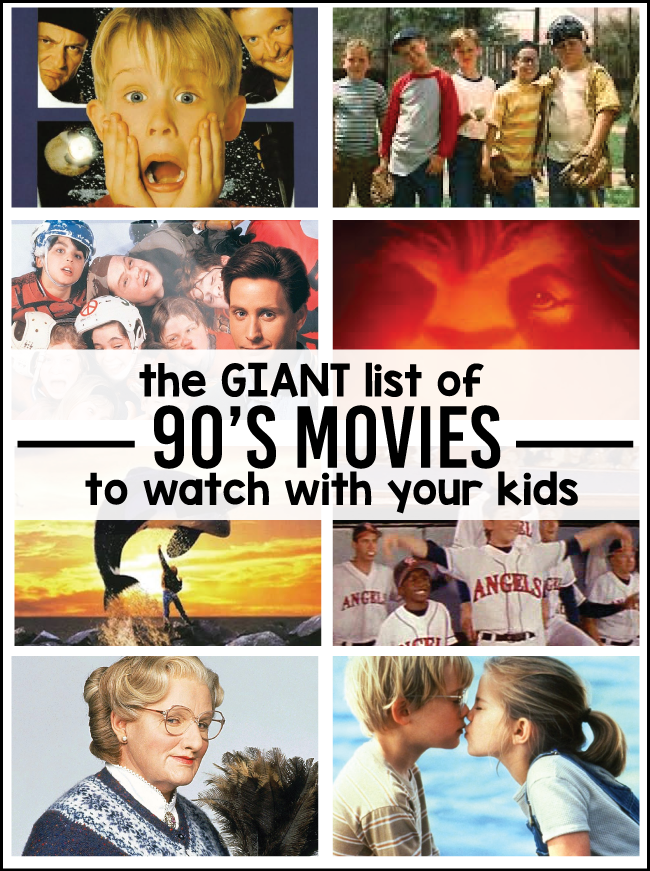 I shared my Giant List of 80's movies last year and we've had a lot of fun going through them one by one. Now we'll have to tackle this list of movies from when I was teen. It still blows my mind that it's been so long since they came out but definitely brings back a lot of memories. It seems like Robin Williams and Macaulay Culkin headlined most of the big movies. I also loved a bunch that Brendan Fraser was in (I had a serious crush on him in 9th grade- ha!).
If you're looking for other lists of movies, I have several:
90s Kids Movies
I've noted the rating of each movie. They are from G- PG-13.
Did I miss any of your favorites?
A League of Their Own (PG)
Tom Hanks and Geena Davis star in this big-league comedy based on the real-life exploits of the All-American Girls Baseball League.
Angels in the Outfield (PG)
When a boy prays for a chance to have a family if the California Angels win the pennant, angels are assigned to make that possible.
Big Daddy (PG-13)
Fatherhood is brought to another level as Adam Sandler employs his unique brand of humor to face the challenges of parenthood.
Clueless (PG-13)
Cher's tidy world starts to unravel with the sudden appearance of two total Baldwins (hunks): a sexy and stylish new classmate, and Cher's square but cute "ex-stepbrother". Now Cher is about to learn that when it comes to love, she's …well, Clueless.
Drop Dead Fred (PG-13)
When a young woman returns to her mother's home after her marriage breaks up, she recreates her imaginary childhood friend to escape from recent traumas.
Dumb & Dumber (PG-13)
Jim Carrey and Jeff Daniels star as two good-natured but incredibly stupid friends who drive across the United States to return a clients briefcase in this comedy blockbuster.
Free Willy (PG)
Two worlds separated by water and land come together in this heartwarming adventure about the friendship between a troubled young boy and a orca whale.
George of the Jungle (PG)
The sole survivor of a plane crash is raised by gorillas.
Hocus Pocus (PG)
You're in for a devil of a time when three outlandishly wild witches return from 17th-century Salem after they're accidentally conjured up by some unsuspecting pranksters!
Home Alone (PG)
When little Kevin McCallister is accidentally left behind when his family dashes off on a Christmas trip, he is left to defend his family's home from two bumbling burglars until the relatives return.
Hook (PG)
Superstars Robin Williams, Dustin Hoffman and Julia Roberts star in award-winning director Steve Spielberg's updating of PETER PAN.
Jack (PG-13)
Robin Williams stars as a 10-year-old in a grown-up's body.
Jurassic Park (PG-13)
Genetically engineered dinosaurs run amok at a tycoon's island amusement park. Based on Michael Crichton's novel.
Kindergarten Cop (PG-13)
Arnold Schwarzenegger stars as a policeman who takes on the toughest assignment of his career when he poses as a kindergarten teacher in order to catch a criminal.
Matilda (PG)
Danny De Vito, Rhea Perlman and Mara Wilson star in this modern fairytale that mixes hilarious humor with a magical message of love.
the Mighty Ducks (PG)
A tough trial lawyer gets a unique community service assignment: coaching a hapless group of pee wee hockey players. Can he turn the ragtag team into champs?
Mrs. Doubtfire (PG-13)
The eccentric dad (Robin Williams) of three children dresses as a British nanny so he can care for his children at the home of their mother (Sally Field) in this touching comedy.
My Girl (PG-13)
A touching coming-of-age comedy about an eleven-year old tomboy (Anna Chlumsky) and her best friendThomas (Macaulay Culkin).
Now & Then(PG-13)
A poignant look at girlhood friendships and how one summer set in motion the adult lives of four remarkable women.
The Parent Trap (PG)
Identical twins switch places and reunite their parents.
RobinHood: the Prince of Thieves (PG-13)
With a renewed desire to cleanse the land of evil, Robin vows to avenge his father's death by leading a band of exiled villagers against the Sheriff of Nottingham.
Rookie of the Year (PG)
When the cast comes off his once broken arm, a 12-year-old boy can throw a 100-mile-an-hour speedball, and the Chicago Cubs want him as their new pitcher!
The Sandlot (PG)
During a summer of friendship and adventure, one boy becomes a part of the gang, nine boys become a team and their leader becomes a legend by confronting the terrifying mystery beyond the right field wall.
Sister Act (PG)
Whoopi is a singer forced to hide out from the mob in a convent.
Stuart Little (PG)
E.B. White's family classic about the mouse who came to supper…and stayed.
Animated:
Aladdin (G)
In a mythical city, street-smart Aladdin and Princess Jasmine join forces to save the kingdom from the evil sorcerer Jafar! Along the way, Aladdin learns to believe in himself with help from a hilarious Genie and three wishes that change everything!
Beauty and the Beast (G)
Embark on an epic adventure with Belle, Beast, all the characters you love and the music you'll never forget.
The Lion King (G)
Embark on an extraordinary coming of age adventure as Simba, a lion cub who cannot wait to be king, searches for his destiny in the great "Circle of Life".
Mulan (G)
A girl pretends to be a man and takes her father's place in the army.
Tarzan (G)
A boy is adopted by apes and eventually becomes Lord of the Jungle.
For Older Kids:
10 Things I Hate About You (PG-13)
A family rule forbids a teenager from dating until her unpopular, rebellious, older sister gets a suitor of her own. Modern remake of Shakespeare's "Taming of the Shrew."
Fools Rush In (PG-13) — this was one of my favorites when I was in high school :)
Sparks fly and cultures collide in this romantic comedy about a casual night of passion that turns into the love of a lifetime. Matthew Perry and Salma Hayek star.
Forrest Gump (PG-13)
Tom Hanks gives an astonishing performance as Forrest, an everyman whose simple innocence comes to embody a generation.
Titanic (PG-13) — this one was Josh and my first date!
Leonardo DiCaprio and Kate Winslet shine in this unforgettable, epic love story. See why critics declare Titanic "a magnificent motion picture that remains spellbinding.
The Mummy (PG-13)
Deep in the Egyptian desert, a handful of people searching for a long-lost treasure have just unearthed a 3,000 year old legacy of terror.
If you like this post, you'll love these too: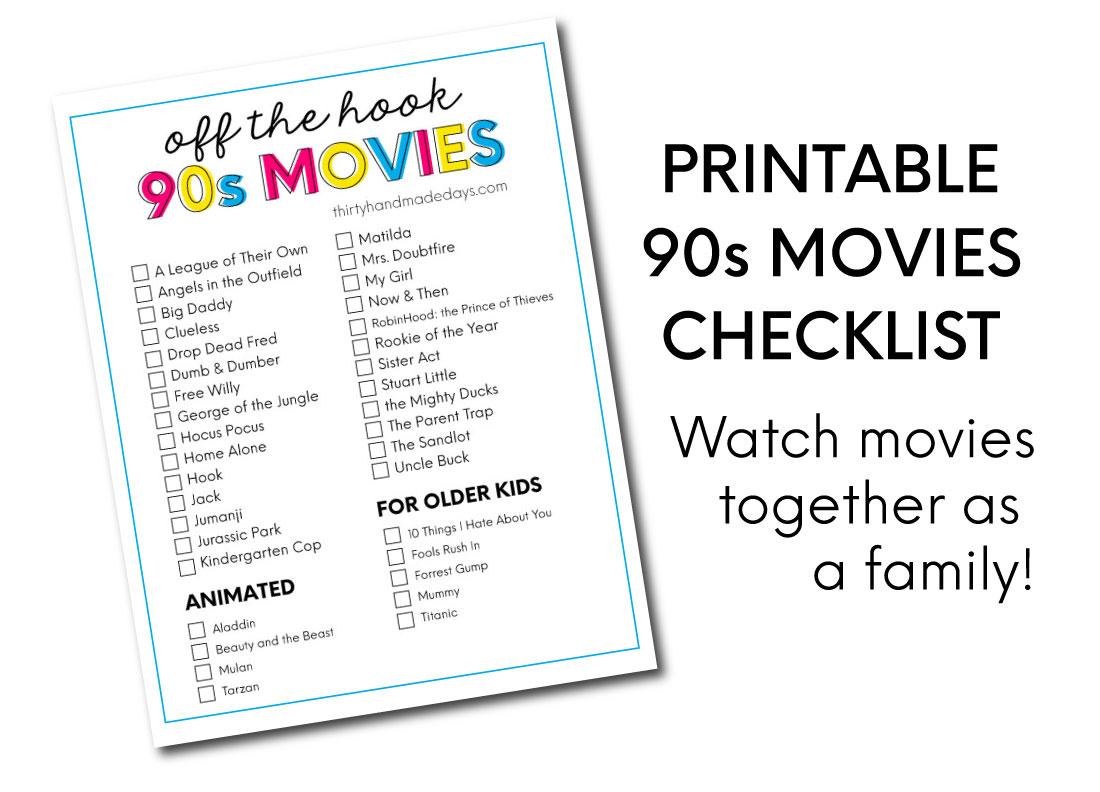 Download this printable 90s movie checklist. For personal use only.