Looking for something to do with your family? Check out these 80s movies and check them off your list!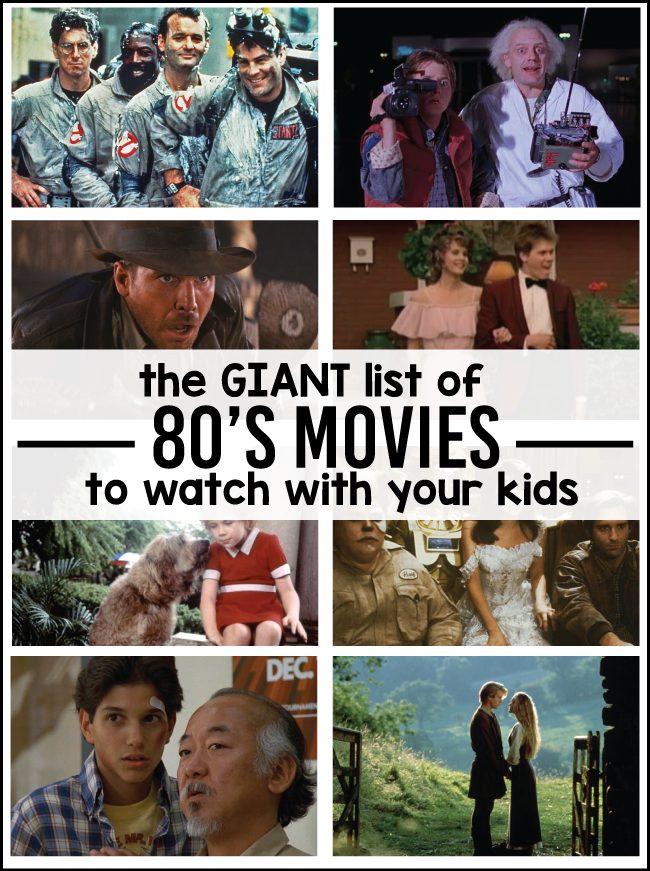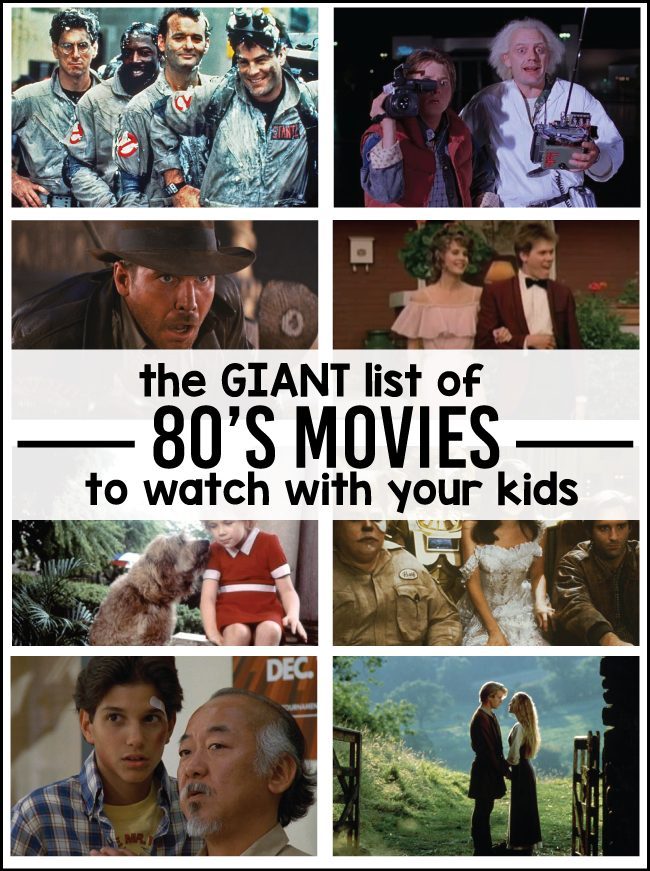 At the start of the new year, Josh and I wanted to make sure that we have family night on Monday night. We have a lesson, eat, talk and just spend time together. Sometimes we play games and we started watching old movies together. We talked about all the movies we watched growing up and realized there are a ton of movies that our kids have never seen or even heard of. What a shame! We're going to fix that. We started making a list of movies that we want to watch with our kids and I wanted to share it with you. The cream of the crop, here's our list of great 80's movies!
If you're looking for more movie lists, here you go:
80s Movies
Looking at this list, the 80's were a weird time! But I think of a movie and immediately flash back to my childhood. These aren't in a particular order – just what came to mind and how I looked them up. They are all PG because some of the PG-13 movies have some questionable subject matter. I'd love to know what your favorite 80's movie is!
(affiliate links are used)
Ghostbusters: PG
Three former parapsychology professors set up shop as a unique ghost removal service.
The Karate Kid: PG
A handyman/martial arts master agrees to teach a bullied boy karate and shows him that there is more to the martial art than fighting.
The Money Pit: PG
A young couple struggles to repair a hopelessly dilapidated house.
BIG: PG
When a boy wishes to be big at a magic wish machine, he wakes up the next morning and finds himself in an adult body.
Short Circuit: PG
Number 5 of a group of experimental robots in a lab is electrocuted, suddenly becomes intelligent, and escapes.
Three Amigos: PG
Three actors accept an invitation to a Mexican village to perform their onscreen bandit fighter roles, unaware that it is the real thing.
The Princess Bride: PG
While home sick in bed, a young boy's grandfather reads him a story called The Princess Bride.
Beetlejuice: PG
A couple of recently deceased ghosts contract the services of a "bio-exorcist" in order to remove the obnoxious new owners of their house.
Steel Magnolias: PG
A young beautician, newly arrived in a small Louisiana town, finds work at the local salon, where a small group of women share a close bond of friendship and welcome her into the fold.
Raiders of the Lost Ark: PG
Archaeologist and adventurer Indiana Jones is hired by the US government to find the Ark of the Covenant before the Nazis.
The Never Ending Story: PG
A troubled boy dives into a wonderous fantasy world through the pages of a mysterious book.
Sixteen Candles: PG
A young girl's "sweet sixteenth" birthday becomes anything but special as she suffers from every embarrassment possible.
Twins: PG
A physically perfect but innocent man goes in search of his long-lost twin brother, who is a short small-time crook.
Spaceballs: PG
Planet Spaceballs' President Skroob sends Lord Dark Helmet to steal planet Druidia's abundant supply of air to replenish their own, and only Lone Starr can stop them.
Bill & Ted's Excellent Adventure: PG
Two seemingly dumb teens struggle to prepare a historical presentation with the help of a time machine.
Ernest Goes to Camp: PG
A group of juvenile criminals is sent for vacation to Kamp Kikakee. The clumsy Ernest has to care for them, although he doesn't even know how to take care of himself.
Footloose: PG
A city teenager moves to a small town where rock music and dancing have been banned, and his rebellious spirit shakes up the populace.
Field of Dreams: PG
An Iowa corn farmer, hearing voices, interprets them as a command to build a baseball diamond in his fields; he does, and the Chicago White Sox come.
Annie: PG
A young orphan girl's adventures in finding a family that will take her.
Uncle Buck: PG
Bachelor and all round slob, Buck, babysits his brother's rebellious teenage daughter and her cute younger brother and sister.
Honey I Shrunk the Kids: PG
The scientist father of a teenage girl and boy accidentally shrinks his and two other neighborhood teens to the size of insects. Now the teens must fight diminutive dangers as the father searches for them.
Crocodile Dundee: PG
An American reporter goes to the Australian outback to meet an eccentric crocodile poacher and invites him to New York City.
Teen Wolf: PG
A struggling high school student with problems discovers that his family has an unusual pedigree when he finds himself turning into a werewolf.
ET: PG
A troubled child summons the courage to help a friendly alien escape Earth and return to his home-world.
Back to the Future: PG
A young man is accidentally sent thirty years into the past in a time-traveling DeLorean invented by his friend, Dr. Emmett Brown, and must make sure his high-school-age parents unite in order to save his own existence.
Parenthood: PG-13
The Buckman family is a midwestern family all dealing with their lives: estranged relatives, raising children, pressures of the job, and learning to be a good parent and spouse.
Hoosiers: PG
A coach with a checkered past and a local drunk train a small town high school basketball team to become a top contender for the championship.
Harry and the Hendersons: PG
The Henderson family adopt a friendly Sasquatch after accidentally running him over on a hunting trip, but have a hard time trying to keep him away from the authorities and an eccentric hunter who's determined to catch "Bigfoot".
Flight of the Navigator: PG
In 1978, a boy is moved 8 years into the future and has an adventure with the alien ship that is responsible for that.
Inner Space: PG
A hapless store clerk must foil criminals to save the life of the man who, miniaturized in a secret experiment, was accidentally injected into him.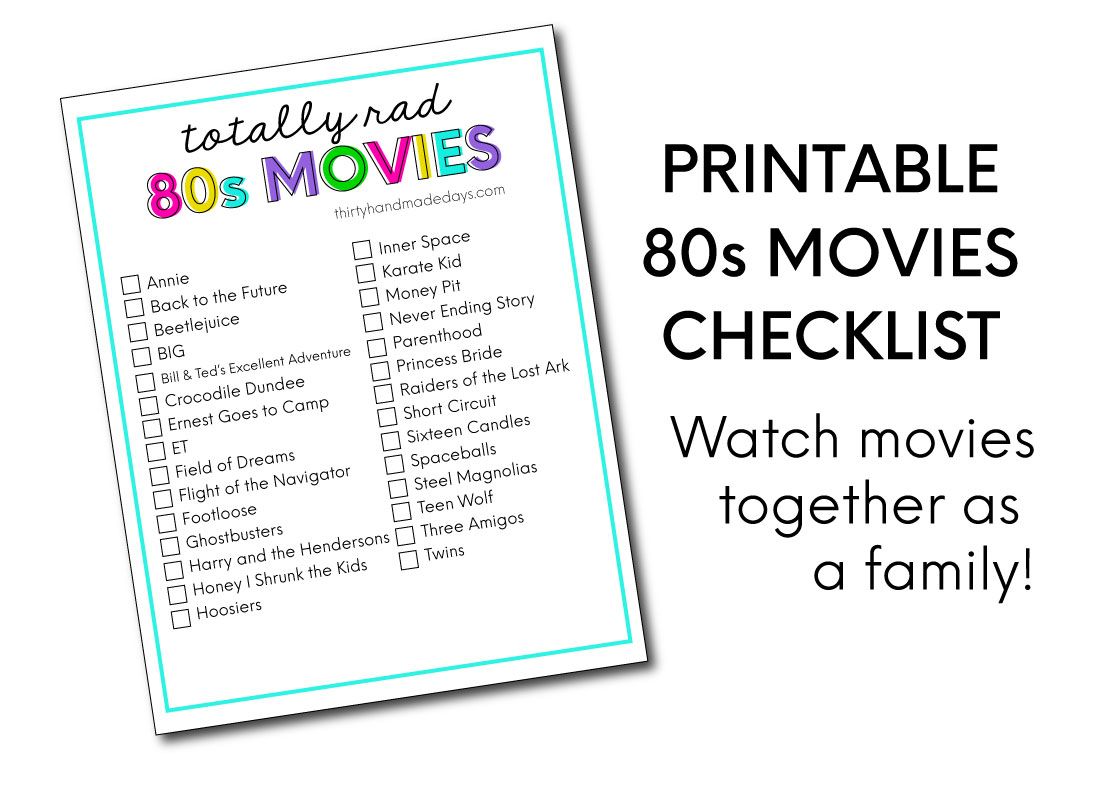 Download this printable checklist to check them off, one at a time! For personal use only.