Host an outdoor movie night with an Italian Cream Soda Bar – I'll show you how with some simple tips!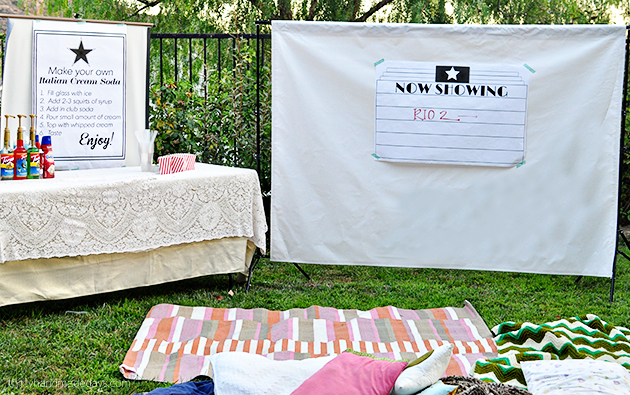 We had a blast gathering around for one more night of fun before my kids went back to school. It was a warm summer night and the perfect setting for something like this. You could do an outdoor movie and soda bar for a birthday party, neighborhood get together or just for fun.
Outdoor Movie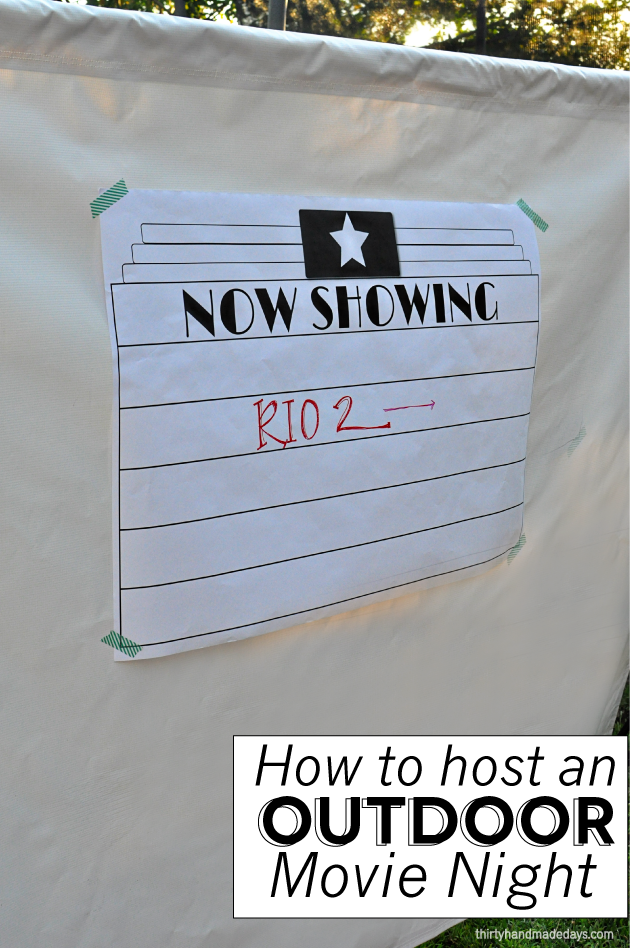 To make the outdoor movie happen we needed a few key ingredients:
a screen
a projector
a dvd player
**Note: You can easily connect your phone to projectors too.
I found the projector online and had the screen and stand that I bought within the last year for other projects. I've seen other ideas for sewing sheets together – that would be cool to do too. Since I already had things on hand though, I went with it. Each projector will be different, so make sure to follow your projector's instructions. We laid down blankets and pillows to get comfortable. Chairs could be used or even bails of hay for a "homier" feel. We are in the middle of the suburbs with a small backyard so we did what worked best for us.
I also designed a "Now Showing" sign to add to the movie screen. I had it printed at a local office supply store as an "engineer print" for only a few dollars. Each office supply store is different but with mine, I was able to email the 36″x24″ file over and they called to let me know when it was available for pick up.
Download the "Now Showing" printable here. For personal use only. Thanks!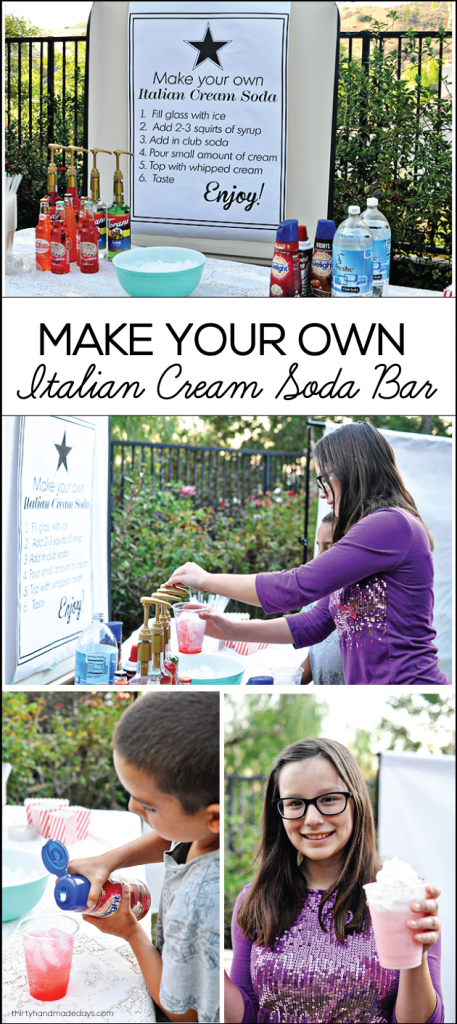 The hardest part of the night was waiting for the sun to go down so that we could watch our movie! My family munched on popcorn and made Italian Cream Sodas while we waited. Yum!
Italian Soda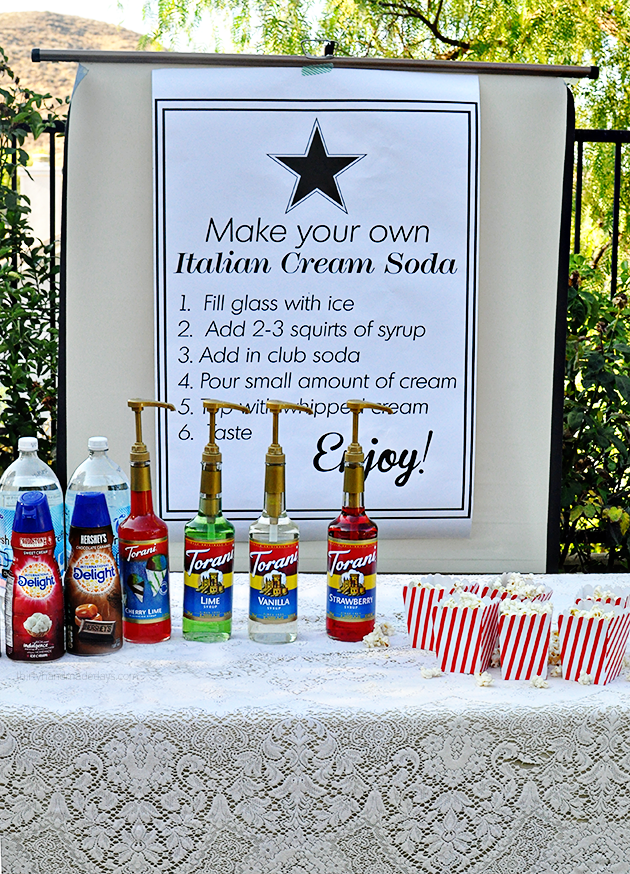 Italian Cream Sodas taste SO good. My family was in heaven with this. They especially loved being able to make their own concoctions. The directions were all up for them and it made it super easy.
How to Make Italian Soda
Here is what you need to make them:
Ice
Club Soda
Flavored Syrup
Cream
Whipped Cream for the top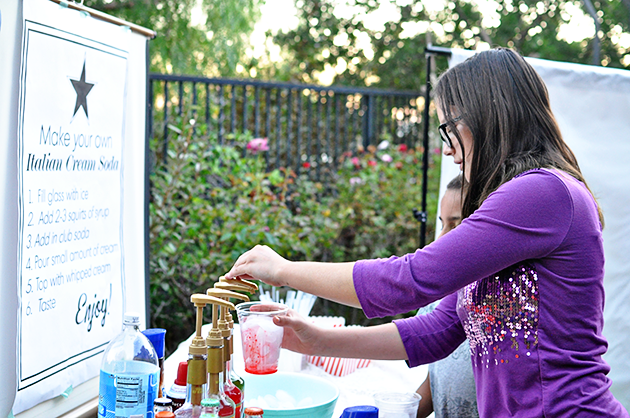 I also bought cups and straws. My 12 year old said "Mom it's like we have our own to go cups!" Yep, that's what I was trying to do. They loved being able to do their own thing. Some flavors worked well together and some, not so much. But that was part of the fun!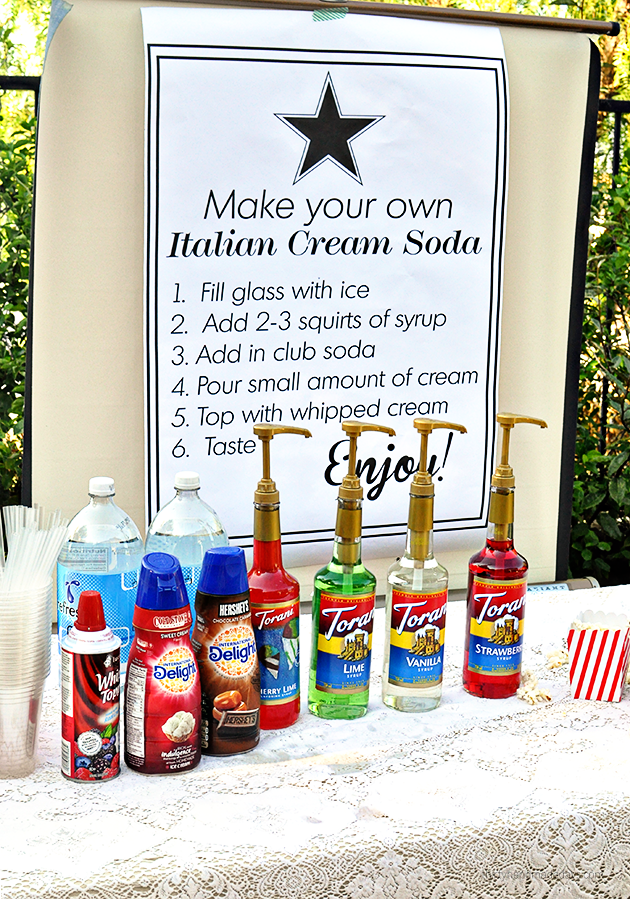 You can download the Italian Cream Soda Bar printable. For personal use only. Thanks!
Just like with the "Now Showing" sign, I printed this at the office supply store. I've done this A LOT for parties and celebrations over the years and am always happy with the result.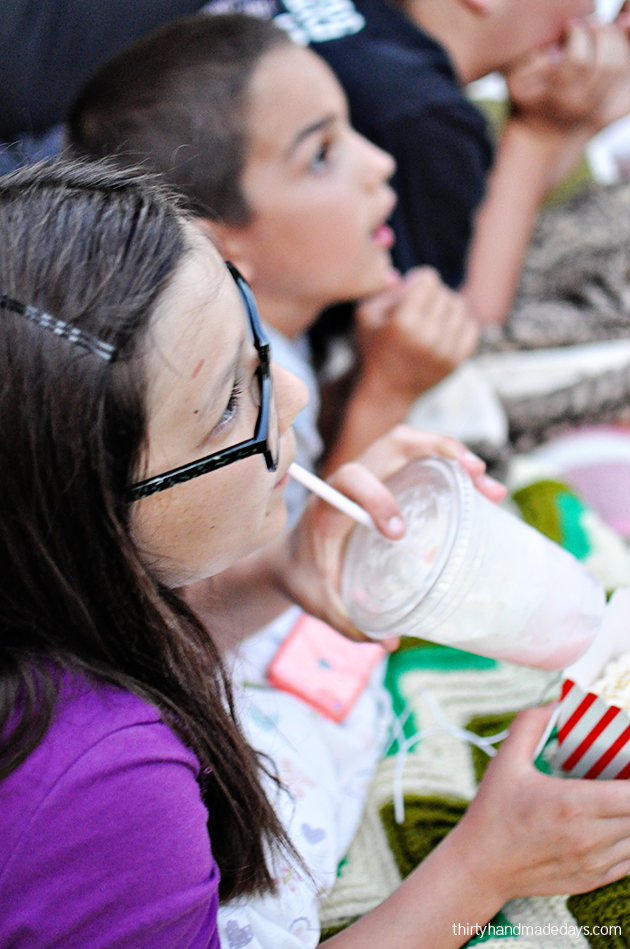 The "to go" cups with Italian Cream Sodas during the movie = win!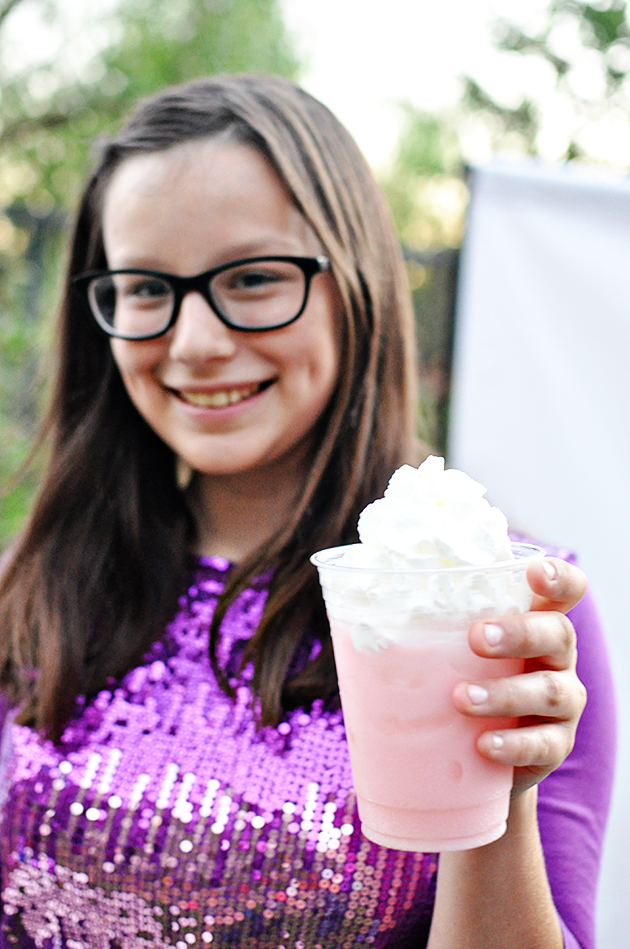 My kids have asked to pull out the ingredients for the sodas a couple times since we had our outdoor night. I'd say the night was a success!
Other Summer Activities
If you like this idea, you'll love these too: