Whip up a batch of Kool Aid Slurpees. They are super easy, super yummy, and your kiddos can help you make them.
Drinking water is good, but these are WAY better.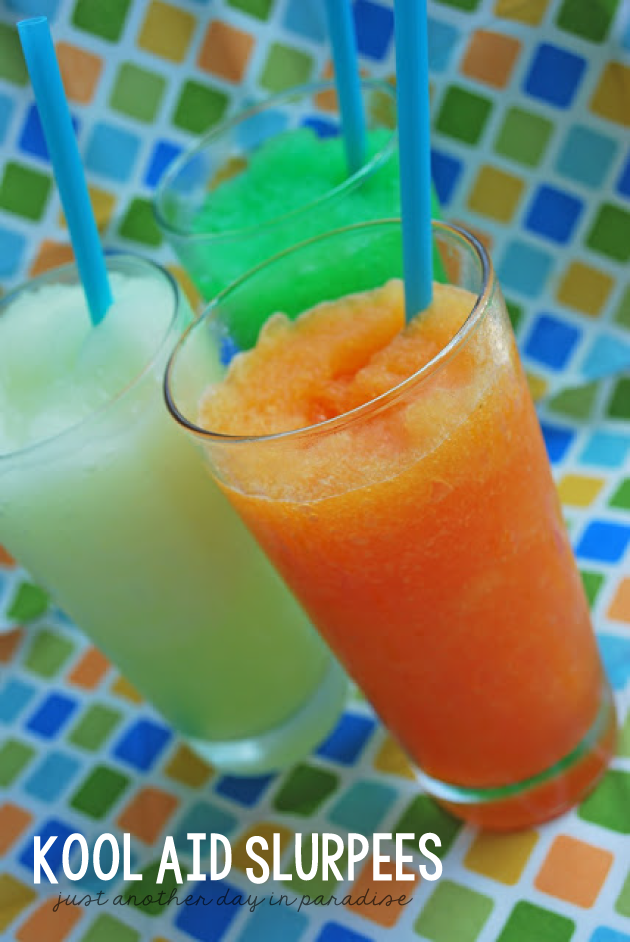 Hey there 30 days readers. I am Larissa from Just Another Day in Paradise. Where we live summers are HOT and muggy. Eww. My 3 little men LOVE being outside…this momma doesn't unless there is a pool and a cool beverage involved. Since we don't have a pool a cool beverage will have to suffice.
You will need:
1 packet of Kool-Aid, your choice
2 cups club soda
1/2 cup sugar
2 1/2 cups crushed ice
blender
To make this sweet summer drink–
1. Pour Kool-Aid, sugar, and 1 cup of club soda into a blender and blend on high until sugar is dissolved.
2. Add all of the crushed ice and blend until smooth.
3. Add last cup of club soda, blend.
4. Stare longingly at your soon to be drink.
5. HARDEST PART- put it in the freezer for 30 minutes for perfect consistency. If you are making 1 batch, just keep it in the blender to freeze.
Stir slightly, pour into a cup, and add a straw. Now it is time to serve it up to your kiddos.
Okay, so go ahead and make one for yourself. Picture courtesy of my 6 year old…I do actually have eyes and a forehead.
Can you say "Ahhhh, refreshing"?
Um yes please!? Where I live it's 90+ all summer.
Those look sooooo good Larissa.
Thanks for sharing!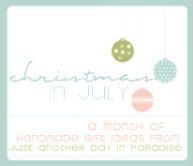 Larissa is spending all of July on her blog
Just Another Day in Paradise
hosting Christmas in July. She even let little ol' me participate. ;) You have to check it out- there are tutorials, giveaways and recipes, oh my. In real life she's a stay at home mommy to three boys! And she documents it all (with a lot of crafts mixed in) at Just Another Day in Paradise.