Hello again, 30 Days readers!
It's so lovely to be here again, and around the holidays! I am sure that everyone is getting in the holiday spirit and enjoying all the posts about Christmas ideas & recipes — oh my gosh, the wealth of information that's out there!
Well, it would be silly for me to try to pretend I'm good at any of those things – so I'm gonna stick to what I know best – hairstyles! And with the holidays here, I am sure you all have some holiday parties to attend, and I know you want to look fabulous, don't you? So the look I have for you today is easy, less than 10 minutes, and beautiful. Hope you enjoy!
Easy Chignon with Poof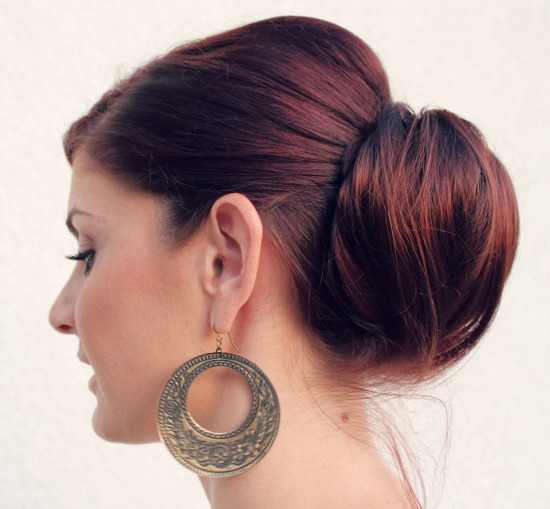 If this looks at all intimidating, just wait, it's not. Trust me. I am a mother of two very active boys (who at this moment are being very mischievous — not sure I want to know what they're doing…) and I don't have a ton of time to spend on my hair. Here is the breakdown for you with instructions below.

Part your hair where you'd like it. I chose to have mine to the side.
Tease from the crown of your head all the way back to just above the nape of your neck. If you don't know how to tease — here is a tutorial.
Pull it half up and secure with bobby pins. If you need a tutorial on how to do an easy half-up style — here is a tutorial.
Tease the rest of your hair at the base & all the way out for texture.
Pull all that hair up and roll it inward – toward your neck.
Once all rolled in, secure the top with bobby pins. Then fan it out and secure the sides.
And there you go! I hope that makes enough sense for you to give it a try!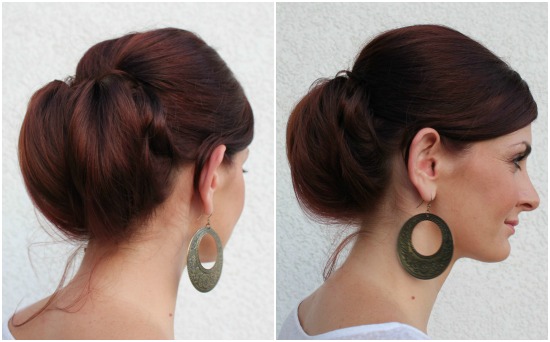 I hope that you enjoyed this tutorial! I have a bunch of holiday hairstyles over at my place this week if you'd like to check them out.
I hope you have a happy holiday season!
If you like this tutorial, you'll love these too: