Learn how to do an easy sock bun with this tutorial!  It takes no time at all to make the perfect bun.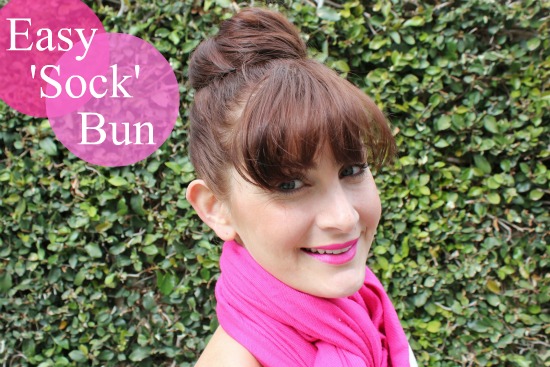 Today I have something fun to share with you. I don't know if any of you have heard of the show House Hunter's International?  Many of your probably have and watch it on occasion.  Well, my husband, boys and I were on that show!  Last Wednesday night if you tuned in you would have seen a tall American/Bahamian family searching for a home in France.  That's us!  If you didn't catch it, they replay that show all the time, (which I am not too sure I'm happy about…) so I am sure you will able to catch it at some point!
So today I am going to share with you how I did my hair for the majority of the show- a sock bun.  I wore my hair like this the first day and was unaware that I would have to wear it like that for the rest of filming.  Kind of a bummer for a hair girl like me, but oh well, it was a fun experience!  Let's get started!
So probably the best thing about this hairstyle is how easy it is.  You can start with any kind of hair.  As a matter of fact, this is a go-to hairstyle for me when my hair is dirty and I just haven't gotten around to washing it.  Which doesn't happen much… hehe, I wish.  Here's a little picture explanation to make it easy.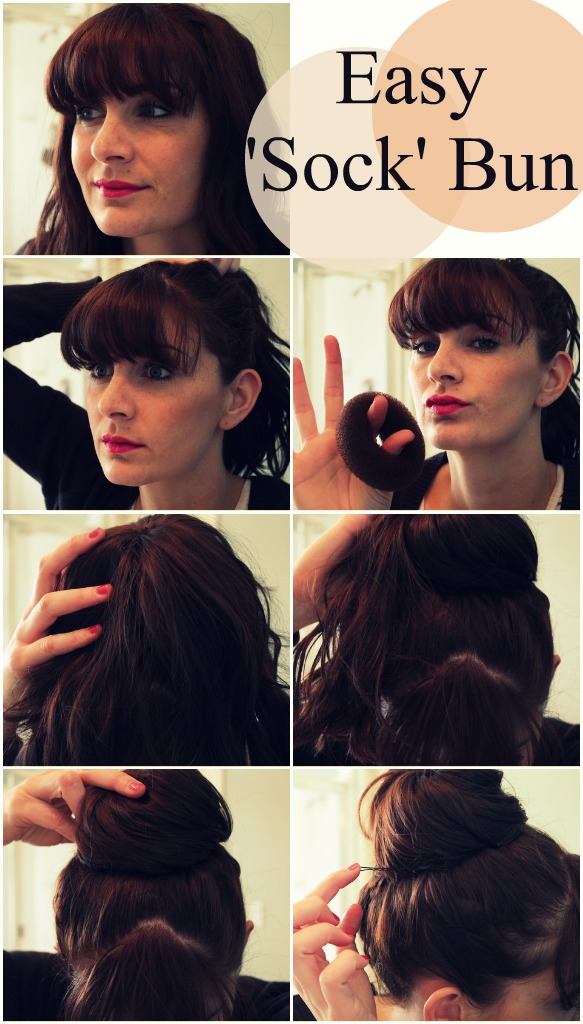 Start with a high pony tail, trying to get the hair relatively smooth because this is more of a sleek look.  Pull your hair through the hair scrunchie.  Twist your hair all the way around making sure that your hair is covering the scrunchie.  If you have long hair like I do, keep twisting until it is all around and under the scrunchie.  If you have shorter hair, just pin it as you go into the scrunchie.
You can find the scrunchie that I am holding in picture number 3 at your local beauty supply store.  It is really helpful because you can pin your bobby pins into the hair piece which helps it stay in place all day.  Or in my case, all three days!  Just kidding, I redid it in between filming days, promise.
And that is about it! Don't you love it?  This can be done with bangs and without, fancy and simple, pretty much a go to hairstyle if you ask me!  b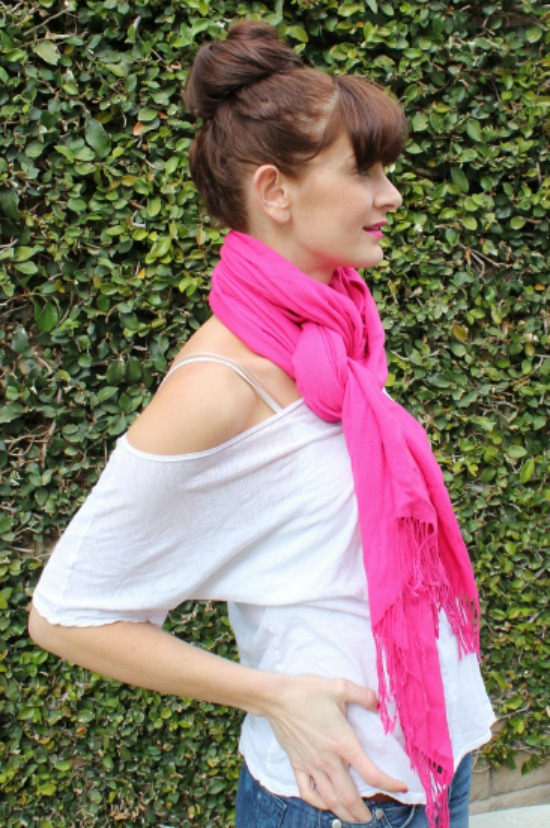 I put together a simple little video for you to show a different way to way this hairstyle.  It's not your typical hair tutorial kinda video but cute nonetheless.  I hope you enjoy it!
And if you got a chance to catch the House Hunter's International episode, I would love to hear your thoughts!  If not, keep your eyes open for "A Family Living Together in France," that's us!   Although, not to call HGTV out or anything, but we have lived in France for 3 1/2 years.  Oh well!  Have a great day!
If you like this tutorial, you'll love these too: