We've been in school for almost a month now and slowly have gotten back into a routine.  Somehow I thought once my kids got bigger, things would get easier.  Ha!! (all you with big kids are laughing and shaking your head right now)  In an effort to improve the after school madness, I've come up with a plan.  Since it's the 10th of the month, I've joined with 9 other fun friends for a "for the kids" theme.  10 great ideas, all about kids. I'm talking, recipes, crafts, and all-around great ways to bring the family together. Read my idea and then hop along to see what they came up with: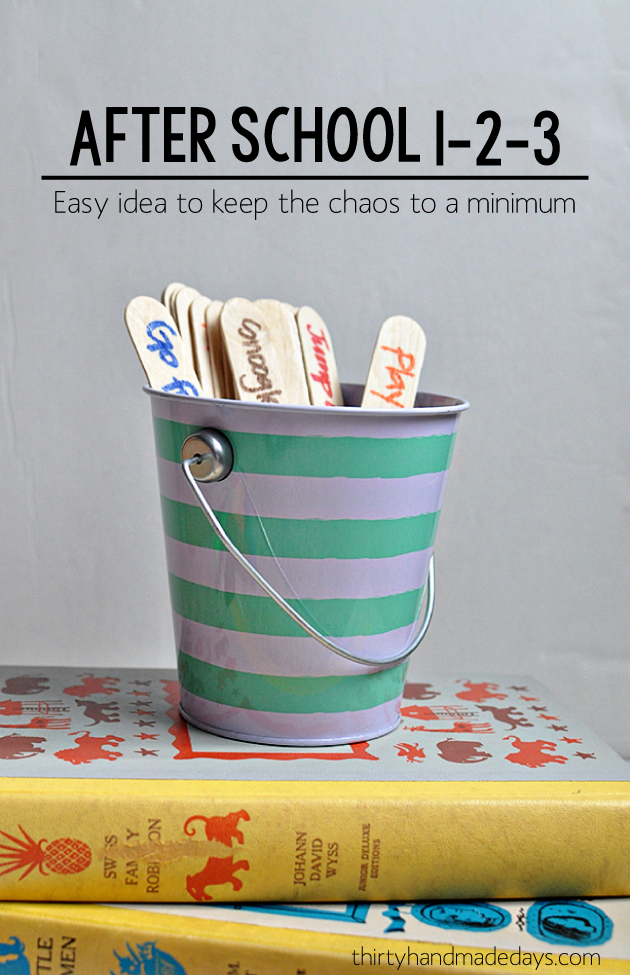 Like I said, after school is madness.  My idea is for After school 1-2-3.  These are 3 things to do with your kids every day to stay connected.   They are really simple and don't take much time.  But hear me out because they could make a world of difference with the after school crazies.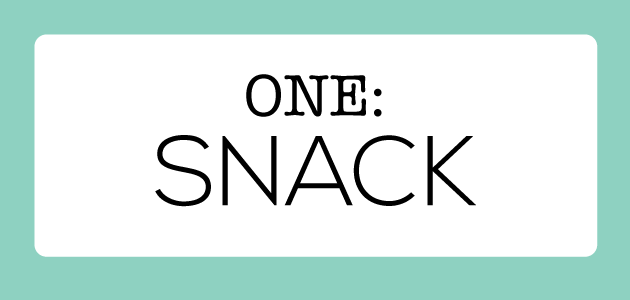 One: Let them eat a snack!
I don't know about you but my kids come home famished every day.   The first thing they want to do is eat something.  And I've realized how important that is.  My siblings and I all have memories of my mom having cut up fruit after school for us.  I've started cutting up fruit and letting my kids pick out one snack when they get home.
Check out my post for some easy and yummy after school snack ideas: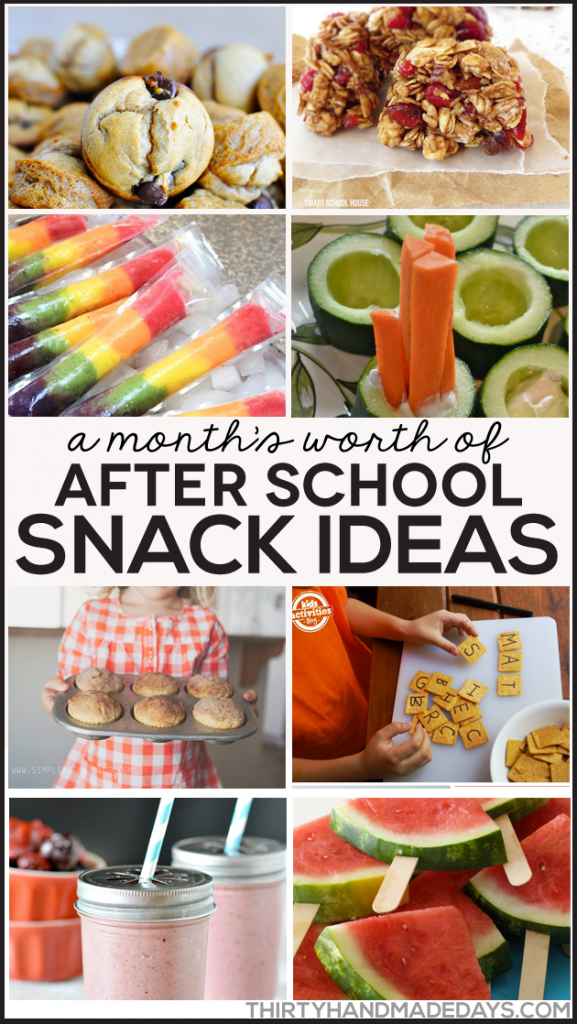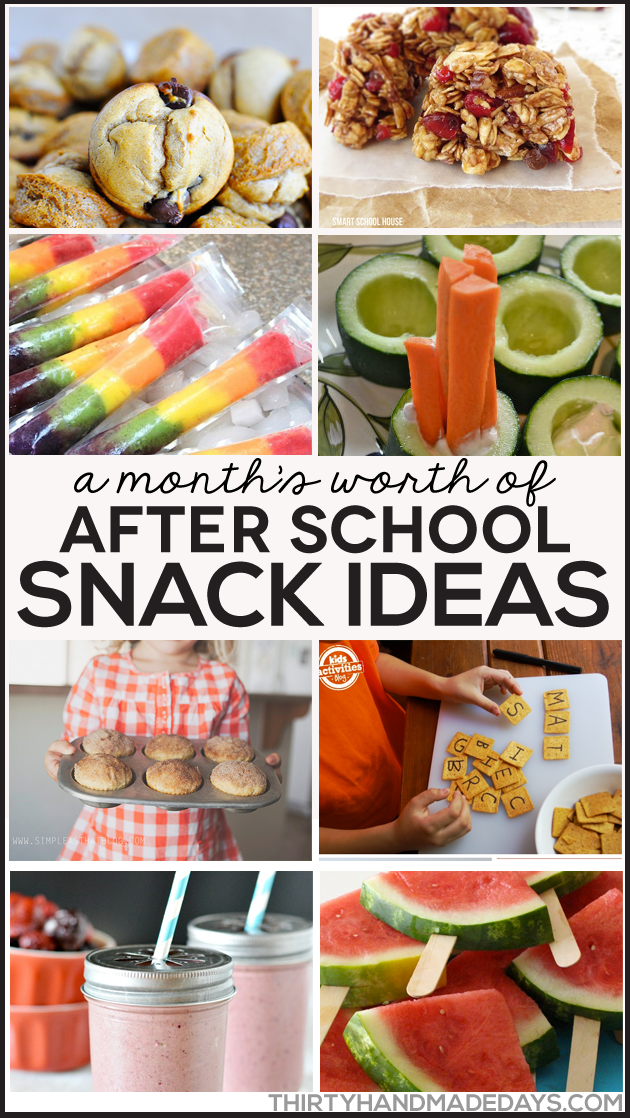 Two:  positive interactions
This could be anything you want.  Just keep it positive.  But the idea is to spend some time doing two different things – homework and reading.  A craft and snuggling on the couch.  A walk and jumping on the trampoline.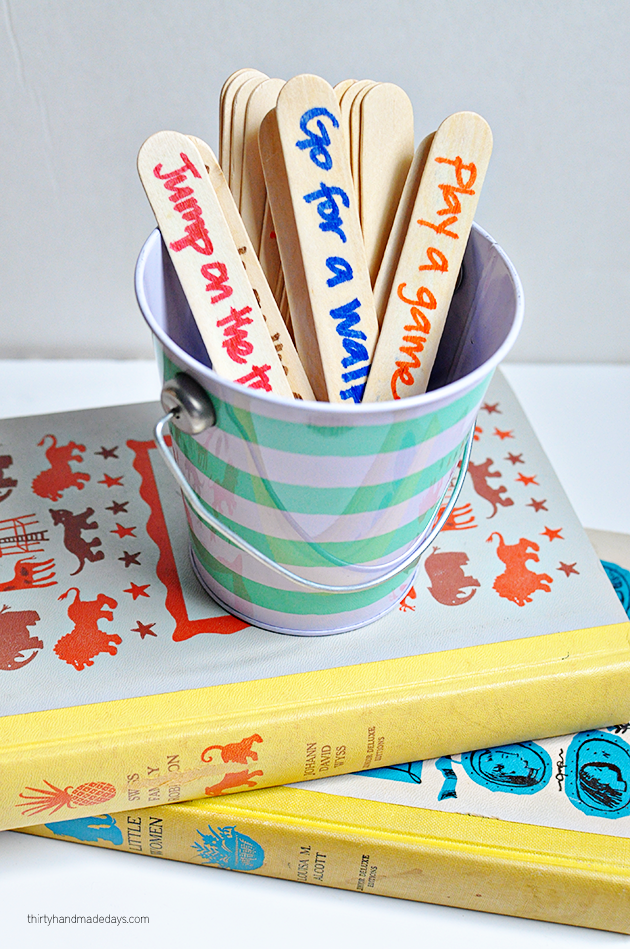 One idea that I came up with is to have a interactions bucket.  Take some popsicle sticks and use sharpie or marker to write some activities that you could do with your kids.  Suggestions:  go for a walk, jump on the trampoline, read books, watch a favorite show, "kids pick", play a game.  You get the idea… You could have them write on the sticks and then they get to choose 2 a day.  Or you can have each of your kids pick one.
I also have a whole section devoted to kids activities.  So pick something from there and go with it!

THREE – 2 favorite things and 1 thing to improve on from the day
We have done this at dinner in the past and will now be using it for after school.  It's a way to keep up with your child's day without asking "how was school?"  With 3 things, they tell you 2 of their favorite things about the day and one that they could improve on or didn't like so much.  This is usually a conversation launching point.  It should help them look for the positives in their day and one area that they could improve on.
And there you have it —-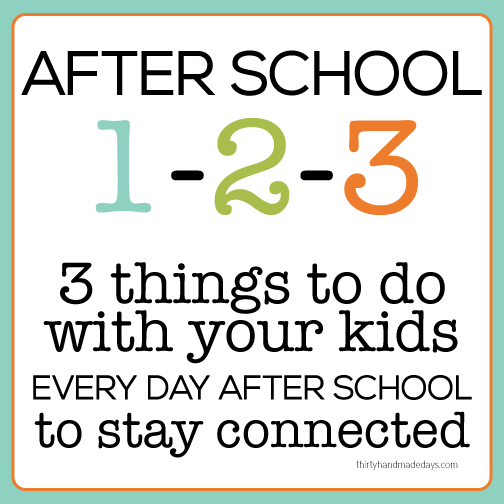 Be sure to check out (and pin!) the posts from my fellow blog friends. Have so much fun!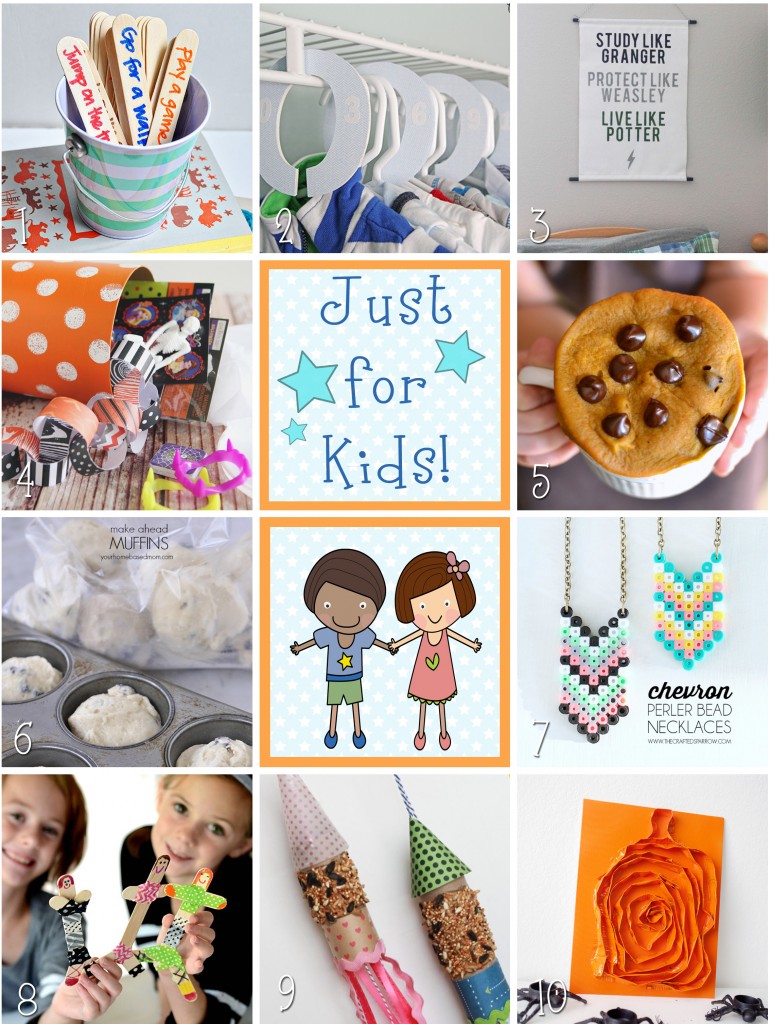 1. After School 1-2-3 ~ Thirty Handmade Days
2. Baby Closet Dividers ~ Two Twenty One
3. DIY Harry Potter Wall Art ~ Landeelu
4. Halloween Happy Mail – Eighteen 25
5. Pumpkin Chocolate Chip Mug Cake ~ Or so she says…
6. Make Ahead Muffins – Kids Can Cook! ~ Your Homebased Mom
7. Chevron Perler Bead Necklaces ~ The Crafted Sparrow
8. Craft Stick Dolls ~ Simply Kierste
9. DIY Rocket Bird Feeder ~ Lolly Jane
10. Duct Tape Pumpkin Decoration ~ Capturing Joy