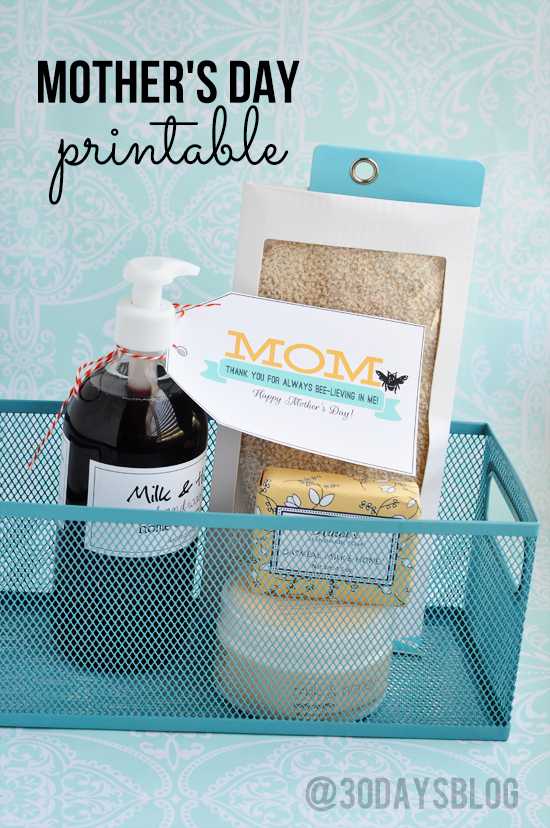 Running the Queen Bee Market has made me gravitate towards any and all things bee.  When I saw some honey bath products I thought of a simple idea for my mom.  She has always loved baths.  She used to escape to her bathroom for a bubble bath almost every night (I'm sure to get away from us noisy kids).   So I put them together in a little basket and attached a card.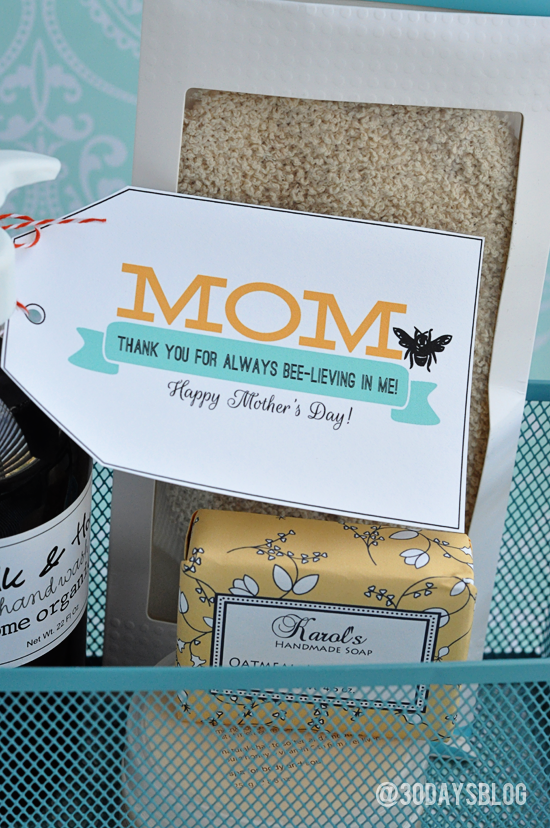 Included in my basket is Oatmeal and Honey soap, Milk and Honey body butter and wash, and a bath mitt.  I couldn't resist the bee pun: "Mom, thanks for always 'bee-lieving' in me!"  You could attach this card to anything you want but isn't it cute with all the subtle bee things?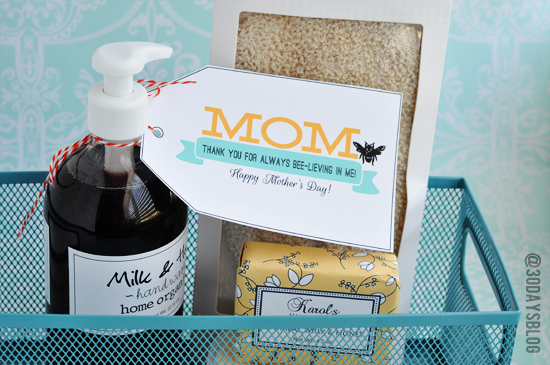 Download this Mother's Day tag.
Need another card for Mother's Day?  I've got you covered: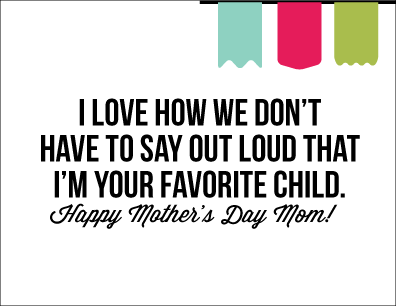 Download this fun printable card.
The Mother's Day-themed Year of Celebrations Pinterest party will be held this Sunday, May 4th, and you're all cordially invited to join in!
Hosted by…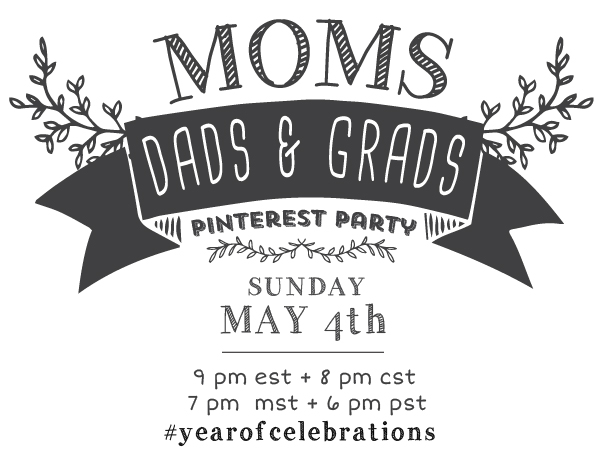 The monthly Year of Celebrations Pinterest Party is the place to find THE most comprehensive, inspiring Pinterest board on the block. Each and every month, we'll be focusing on a different holiday or celebration, and this month is all about Easter!
Here are all of the details for how YOU can participate:
What: A Pinterest Party to celebrate all things Moms, Dads and Grads!
When: THIS Sunday, May 4th at 9 p.m. EST/ 8 p.m. Central/ 7 p.m. MST/ 6 p.m. PST
How you can participate:
Round up YOUR favorite Mother's Day, Father's Day and Graduation projects and recipes. Anything goes: crafts, decor, sweet treats, and more!
When the party kicks off, tweet YOUR favorite Mother's Day, Father's Day and Graduation project and/or link using the hashtag #yearofcelebrations.
Helpful hint: We highly recommend putting the hashtag at the beginning of your tweet to ensure it doesn't get cut off.
On Sunday, May 4th, tune in at the appointed time and watch as we build a board full of amazing ideas – including yours! 
Be sure to follow along during the party to repin and comment on the board's posts using the hashtag #yearofcelebrations.