Use this simple parenting idea to cut down on tattling in your home – a Tattle Jar!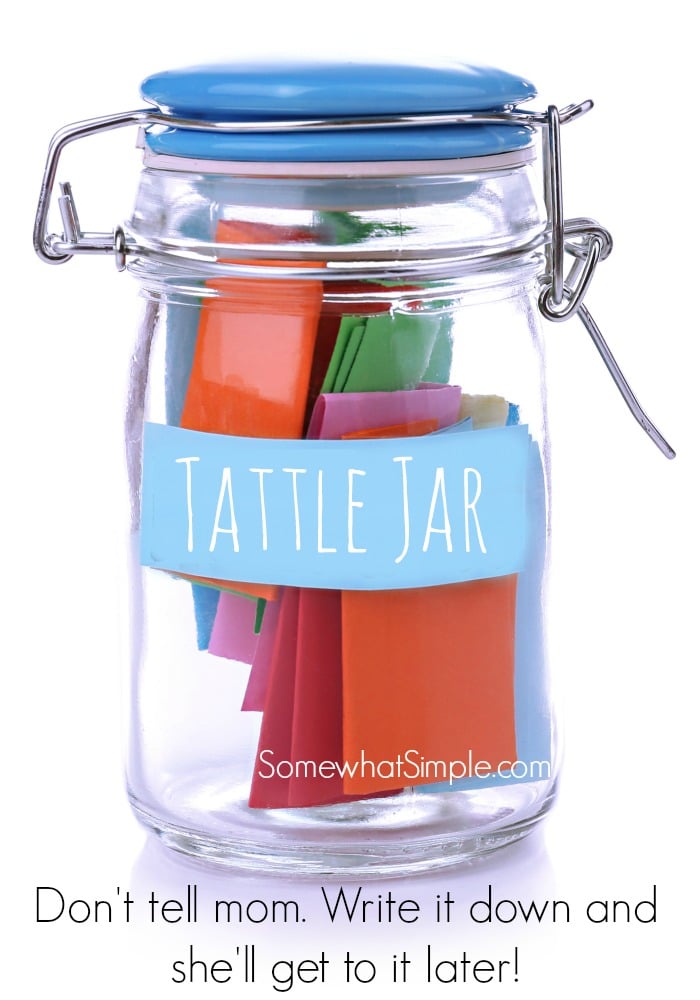 This post was originally shared by Stephanie from Somewhat Simple for my Funner in the Summer series. 
The idea I am sharing today is for all you parents out there who need a summer sanity saver. Here is a little background on how this idea came about:
Last month I happened to be talking to a friend and she mentioned a BRILLIANT idea that her daughter's 2nd grade teacher had been using all year- a tattle jar. This idea has been on my mind since that conversation and by the second day of summer, I knew I HAD to make one for my family! If your kids are anything like mine, you are going to want one too- here is the basic concept:
Kids like to tattle. They like to whine and they like to see their siblings get punished. Moms hate tattling. They often want to punish the one whining about something because it is far more annoying than the act they are reporting.
(Are you still with me on this?)
So, like any mom does, this (awesome!) teacher was sick of her 30 second-graders interrupting valuable lesson time to make it known to the entire class that Johnny wasn't coloring in the lines. (And I thought 5 kids was hard!)
She designated a small glass jar as "The Tattle Jar" and she told her students that any time they feel like they needed her to be aware of a classmate's poor behavior choices, they should write it down on a piece of paper and put it in the jar. No raising their hands to tell her, and certainly no yelling it out. All tattles needed to be put in the jar if they wanted it to be taken care of.
Sometime that day, the teacher would read the slips of paper and if she felt like an issue needed to be addressed, she would address it directly with the child(ren) involved.
….can you say, "FANTASTIC"!?!?!?!?
Not only did this save class time, it also discouraged tattling at all. (What 2nd grader wants to write over and over and over again all the things they once loved to tattle on? That is a lot of writing!)
As soon as a child would start to verbally report something, all she would have to do is say, "If you'd like to tell about it, please write it down and put it in the jar." … and that was that! And as soon as the novelty of the jar wore off, the jar became used less and less and the tattling was no longer an issue in the classroom!
As I mentioned above, by the second day of summer, I was so sick of the fighting and tattling in my home, so I made my own tattle jar and it has been WONDERFUL!!!
AND HERE IS AN AWESOME TWIST-
I told my kids that every time they put a slip of paper into the jar to report a negative behavior, they also have to report a positive behavior of something they witnessed from one of their siblings. So my 7 year old can't tattle on my 3 year old without telling me something positive he saw his 8 year old sister do! They can, of course, report positive behaviors all day long without ever tattling negatively. But ALL negative reports must have a positive report with it.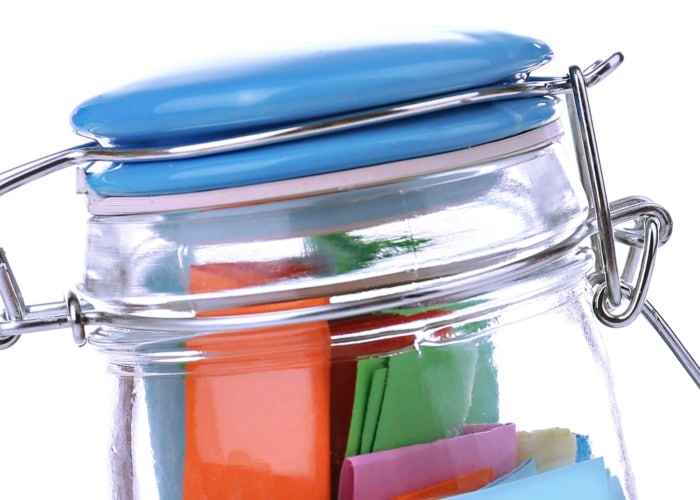 And THAT is where the real fun comes in. I LOVE being able to discuss these positive acts at the dinner table. Often times my kids aren't even aware that they were being reported for something kind they were caught doing that day. Talk about a big boost of confidence and happiness all around!
If you like this post, you'll like these too: