This Slow Cooker Chicken Tortilla Soup is so easy to put together and tastes amazing!  You'll want to make tortilla soup over and over again.  Mmmm…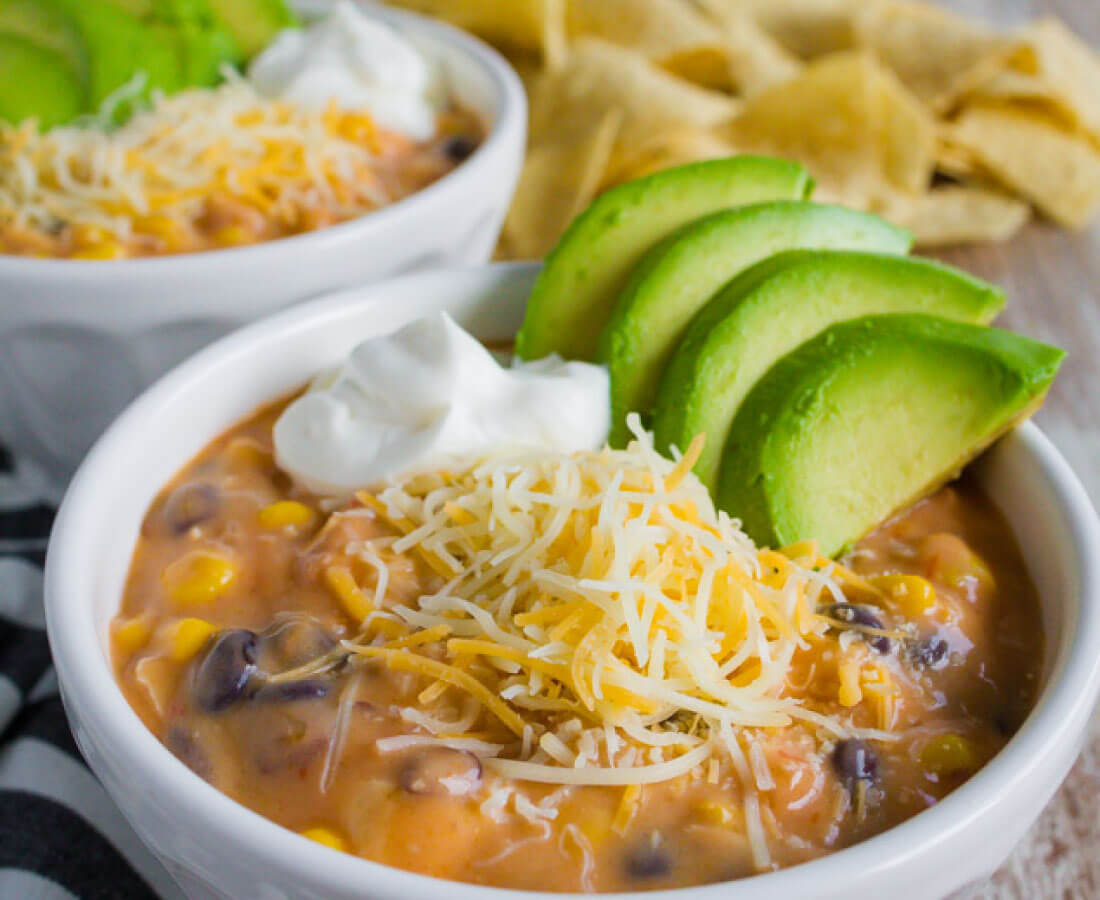 It's been craaaazy around here lately with so many activities every afternoon and evening.  It's hard to keep up.  I know I'm not the only one with a busy family.  But I'm curious how everyone juggles things…?!  My answer lately has been my slow cooker.  I've been using it like crazy and it's been a life saver.
Chicken Tortilla Soup Recipe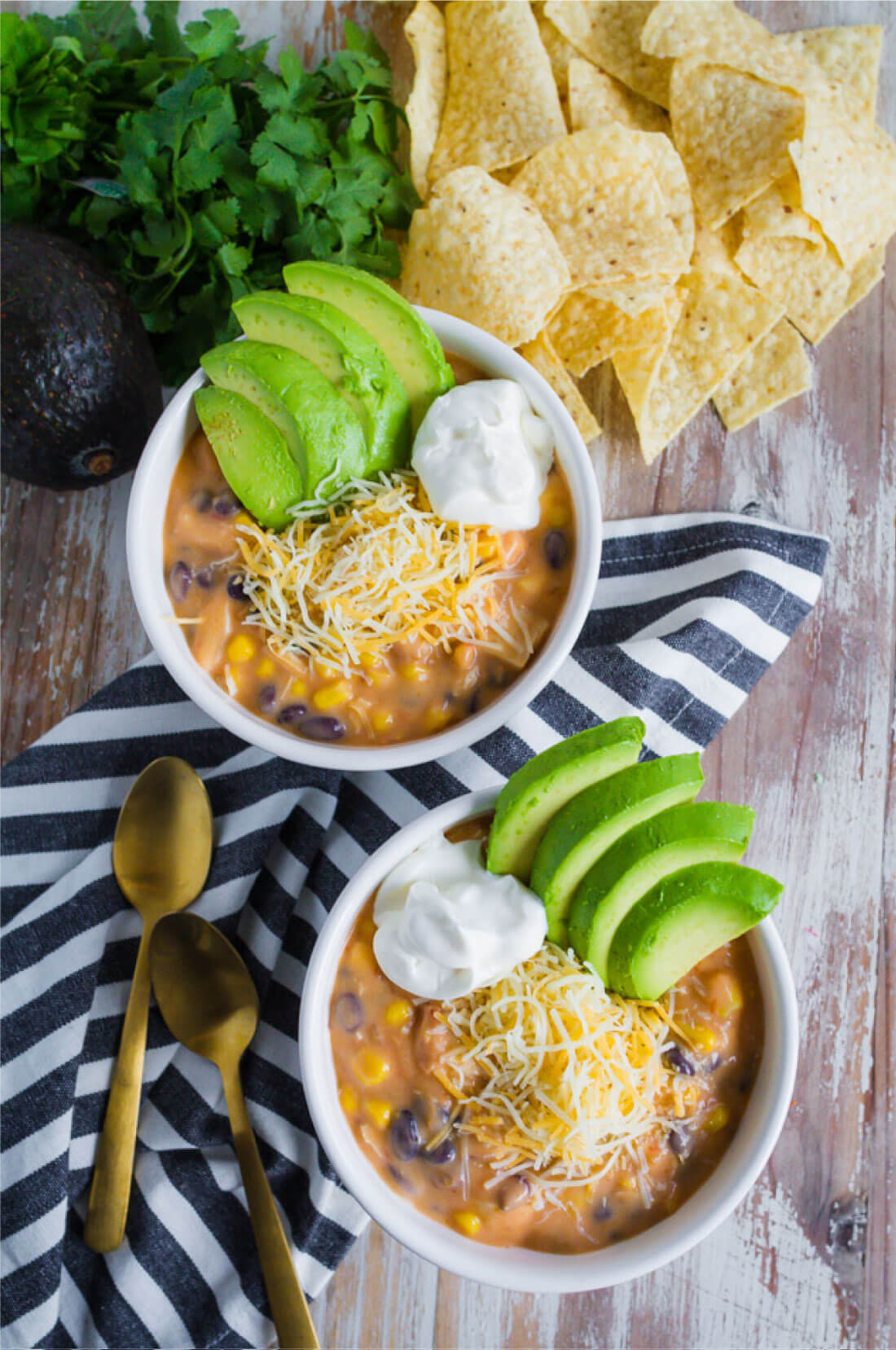 The great thing is that you just throw everything into a crockpot and let it go.  By the end of the day, dinner is ready to go and you don't have to wait around for the oven to be ready or stand over a stove.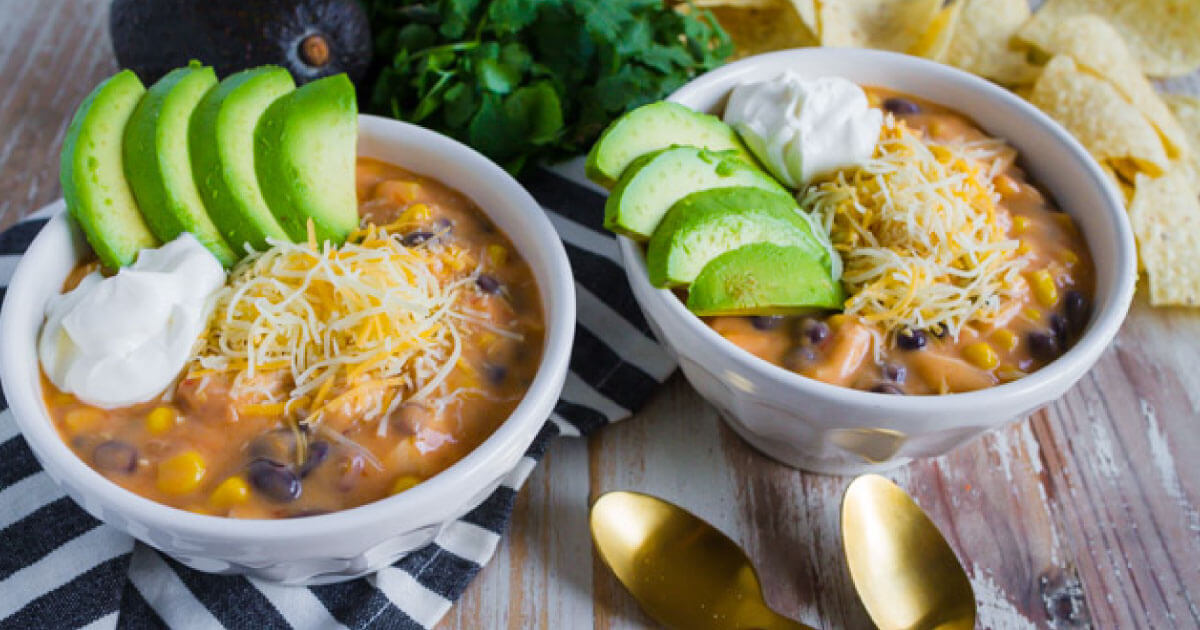 My family thought it tasted similar to Southwest Chicken Bake only in a soup instead of a casserole.  My family loves that one too so this was a winner all the way!
If you're looking for other yummy recipes, you might like these too:
Slow Cooker Chicken Tortilla Soup
Slow Cooker Chicken Tortilla Soup
Ingredients
1 cup salsa
2 cans Cream of Chicken Soup
1 lb. boneless chicken breast, cut into chunks
2 cups frozen whole kernel corn
1 can (15 oz) canned black beans, rinsed and drained
1⅓ cups water
1 tsp ground cumin
4 small corn tortillas, cut into strips
1 cup shredded cheddar (or Mexican) cheese
Tortilla chips, crushed (optional)
sour cream (optional)
avocados (optional)
Instructions
Stir salsa, soup, chicken, corn, beans, water and cumin in a slow cooker.
Cover and cook on low for 4-5 hours.
Stir in tortillas and cheese to slow cooker.
Cover again and cook for 15 minutes.
Serve with crushed tortilla chips, dollop of sour cream, cut up avocado pieces and additional cheese if desired.
Recipe slightly adapted from Campbell's.
You can add all kinds of toppings – sour cream, crushed chips, avocado, more cheese, olives, etc.  Whatever you like, go for it!  The ooey gooey stringy cheese gets me every time.  So I usually add some on top!  Pair it with my very favorite Mexican Corn Brunch Bread and you are all set.