This post is in partnership with Yoplait.  I am beyond thrilled to work with a company I absolutely love!
With Spring Break right around the corner, the annual road trip is bound to happen.  To get ready, I made cute road trip games printables and have some snack hacks too!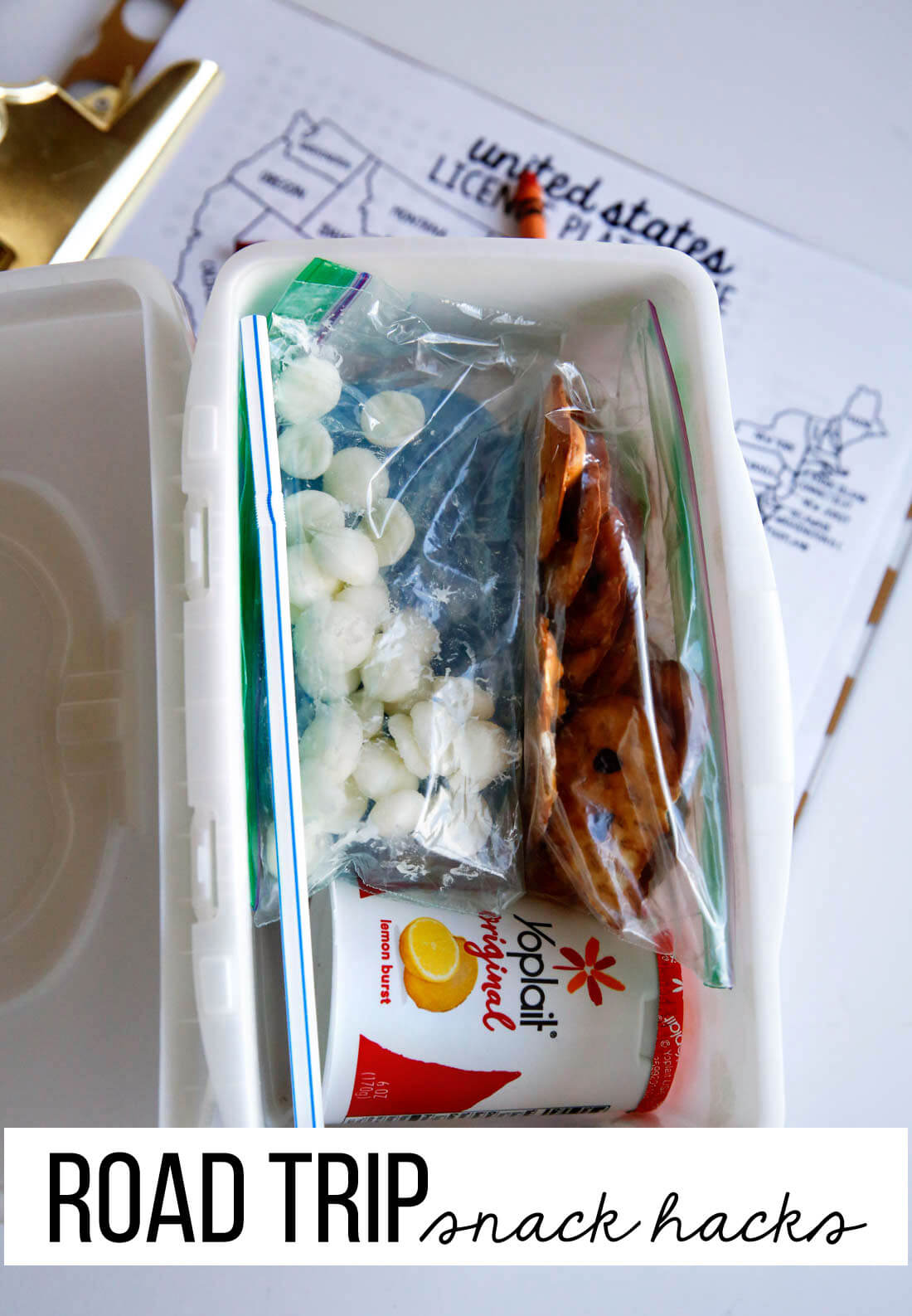 We've done a lot of road trips over the years.  Most of our trips haven't taken us too far away.  But far enough (like 10 hours+) that we would need to plan ahead.  It was a lot harder when my kids were little.  There was a lot of "are we there yet?" going on.  I tried my hardest to have patience and anticipate all of the questions, bickering, asking for stops but sometimes it was just straight up hard.
It was especially hard when I had three little kids.  My oldest loved being in the car and it calmed him down.  My youngest hated every second of being in the car and screamed pretty much from the minute we got in until the minute we got out.  I remember one particular time when we were on a long drive and I ended up crying right along with Drew because I just didn't know what to do.  Sometimes all it takes is a good cry to let it all out and move on.  Anyone with me on that?
There are a few ideas here on 30days to make your next trip successful:  make a DIY Car Caddie, Audiobooks for Kids (this is perfect for long car trips) and even how to make travel with kids organized.  But I wanted to address one of the biggest issues of going on a road trip – the food! How about some snack hacks?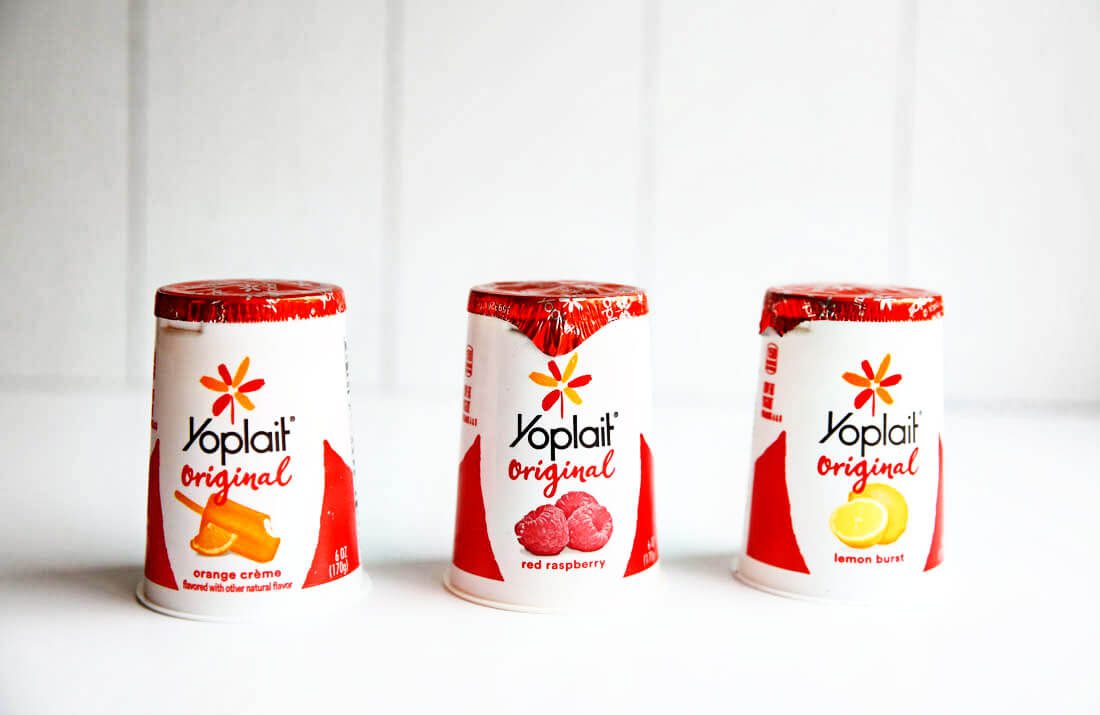 One of our favorite snacks is Yoplait yogurt.  We like all different varieties – from Yoplait Mix-Ins to Yoplait Original, Whips, Go-GURT, and we even recently tried some Girl Scout variations.  There's pretty much something for everyone.  A full list can be found at Yoplait.com/products. And Yoplait has the perfect snacks for moms who play by their own rules.
While yogurt is pretty easy to travel with, have you ever tried it like this?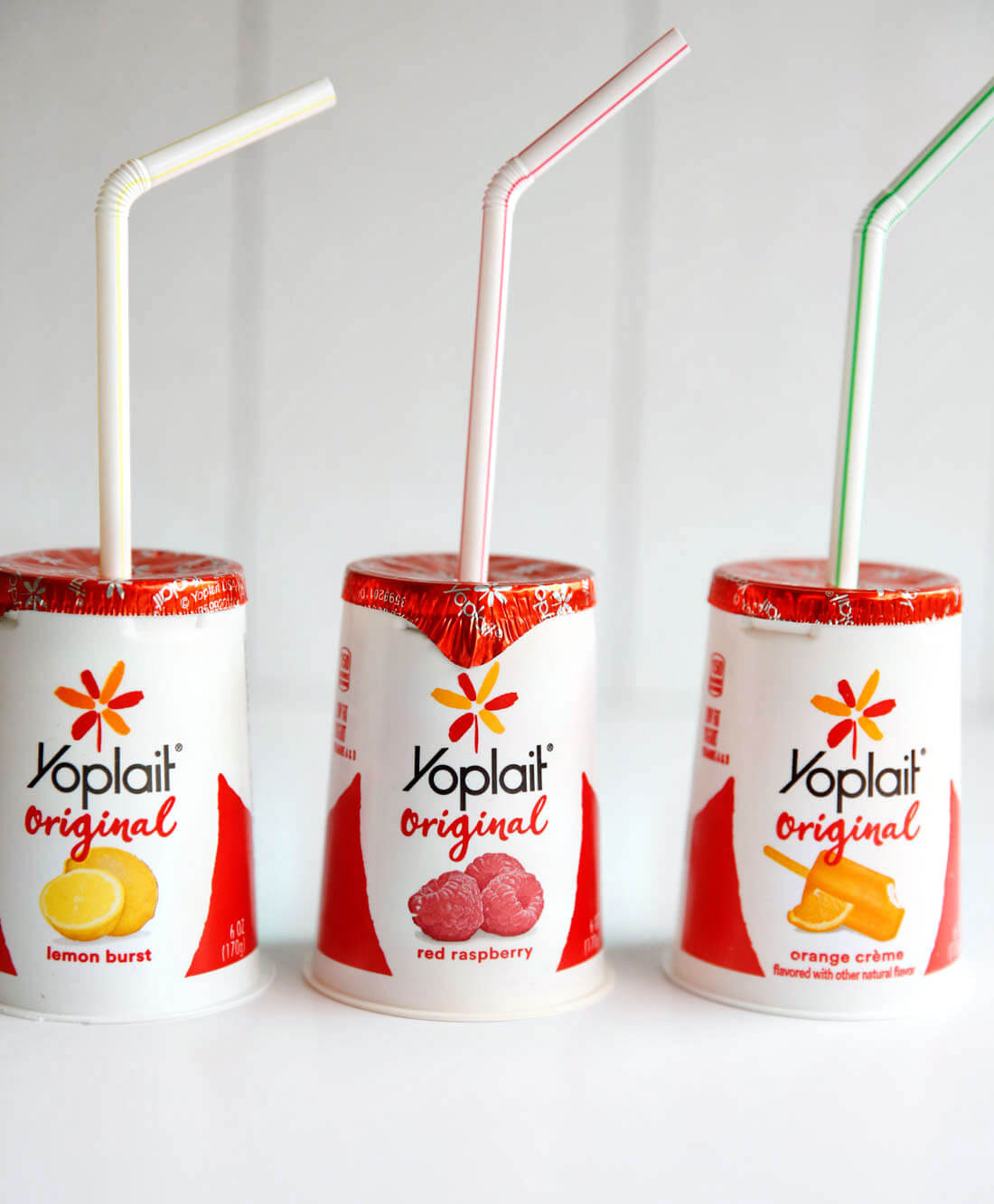 Simply bring straws and poke it through the top of your favorite Yoplait flavors for less mess.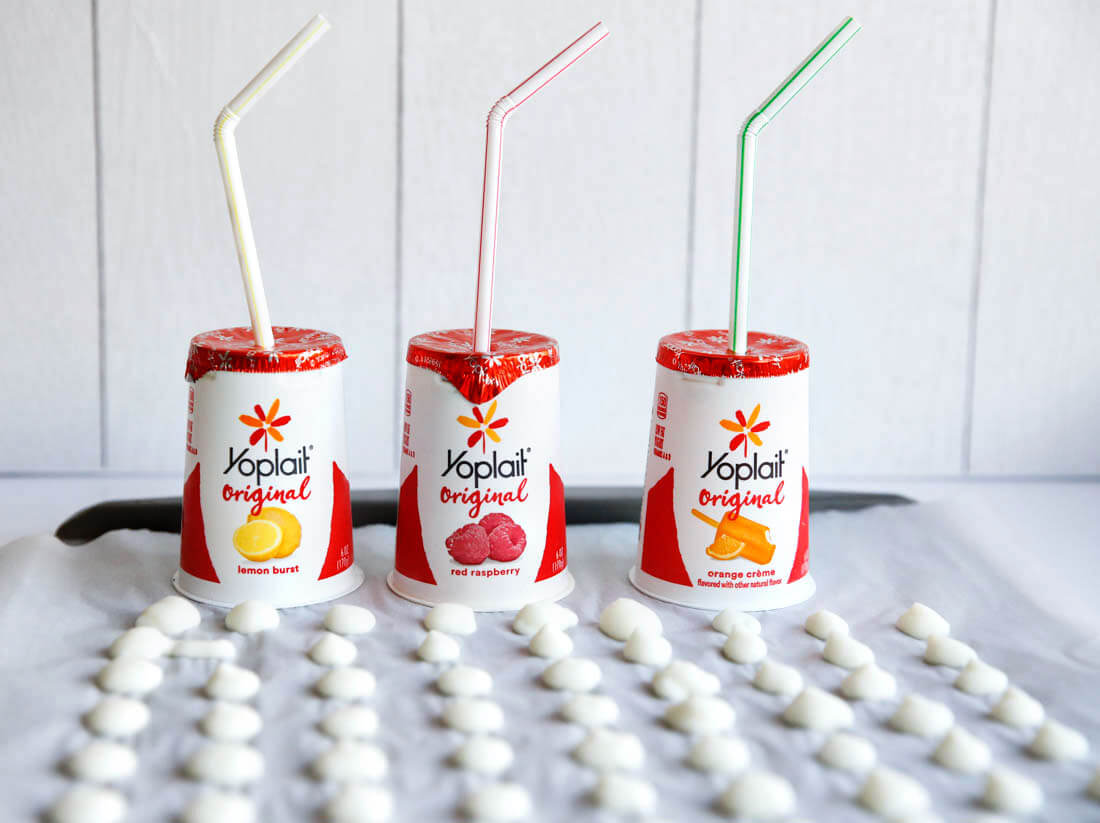 Another option is to make yogurt bites.  They are so easy but will feel like a treat to your kids.  You simply fill up a sandwich bag with your favorite flavor, snip the end with a pair of scissors and squeeze out nickel size circles onto parchment paper.  Let freeze and then package up before your trip.  These do melt, so make sure to have an ice pack with them.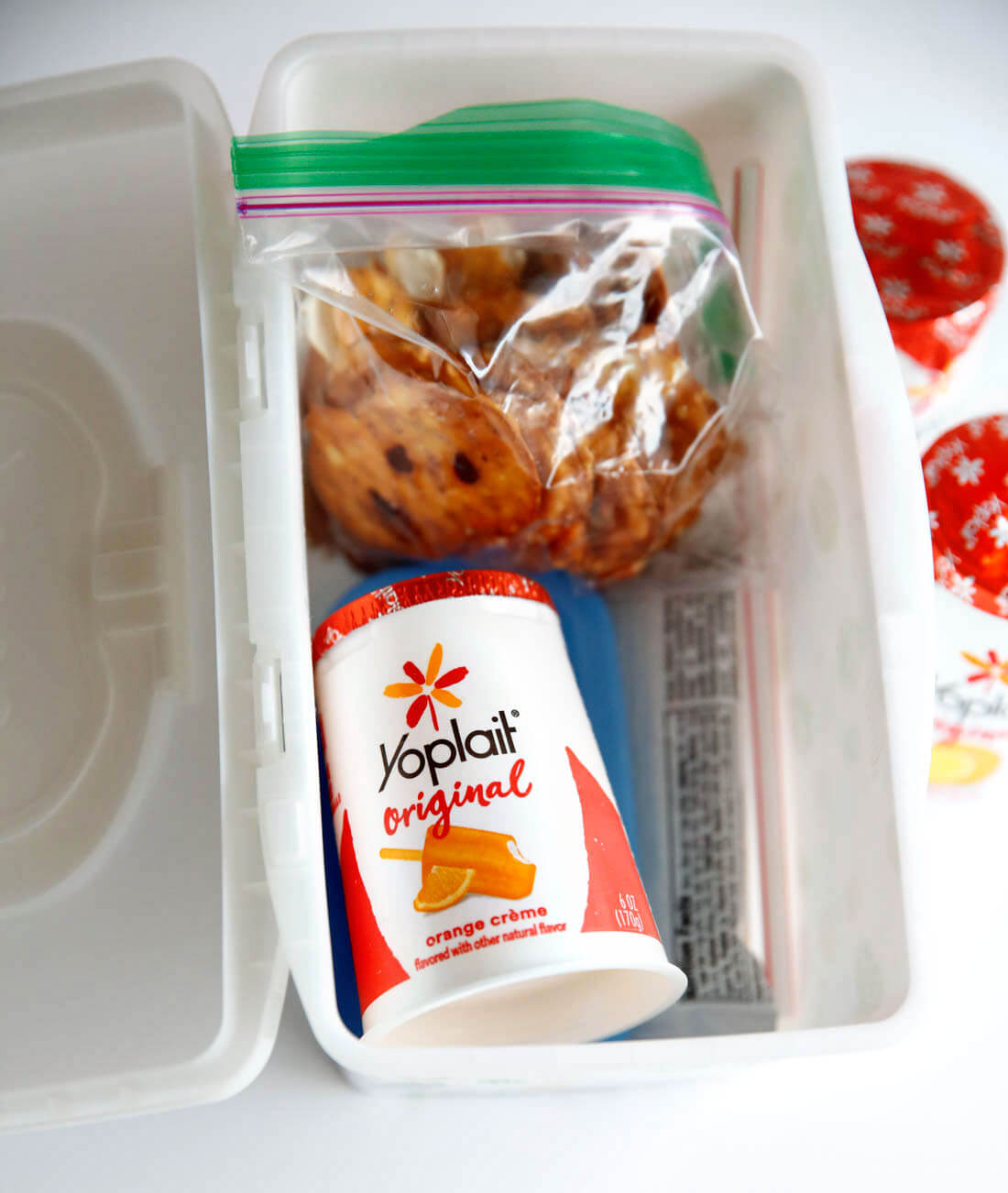 If you're thinking – that's great and all but how do I store the snacks?  If you don't want to use a regular lunch box for each kid, save your old wipe cases.  They are the perfect size to put snacks in.  You can add an ice pack at the bottom and fill it up with all kinds of snacks.  Some of our favorites:
Yoplait yogurt
Pretzels
Carrots
graham crackers
granola bars
fruit snacks
apple slices – pre cut and you can soak in lemon juice or ginger ale to prevent browning.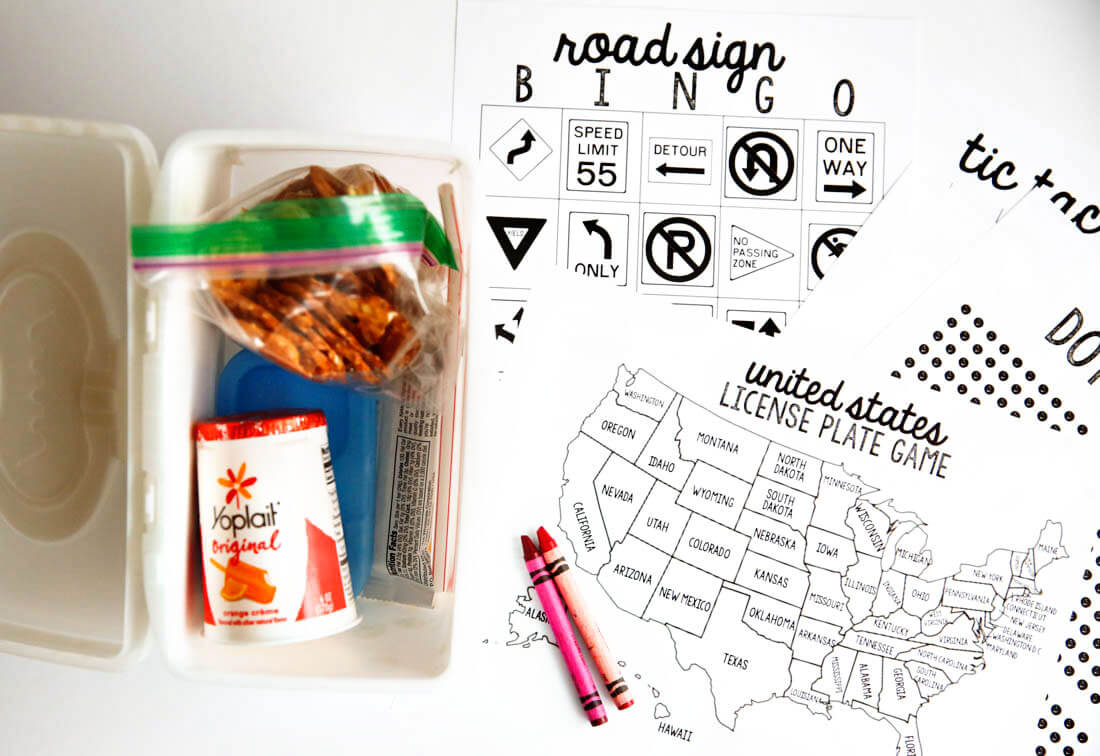 To make your trip extra fun, I created some printables to use in the car.  You can bring along a clipboard or cookie sheet with magnets for a flat surface for your child.  I've included 5 pages to use! Download these fun road trip printables.  For personal use only.