How to clean bathroom – teach your kids how with this step by step, colorful printable.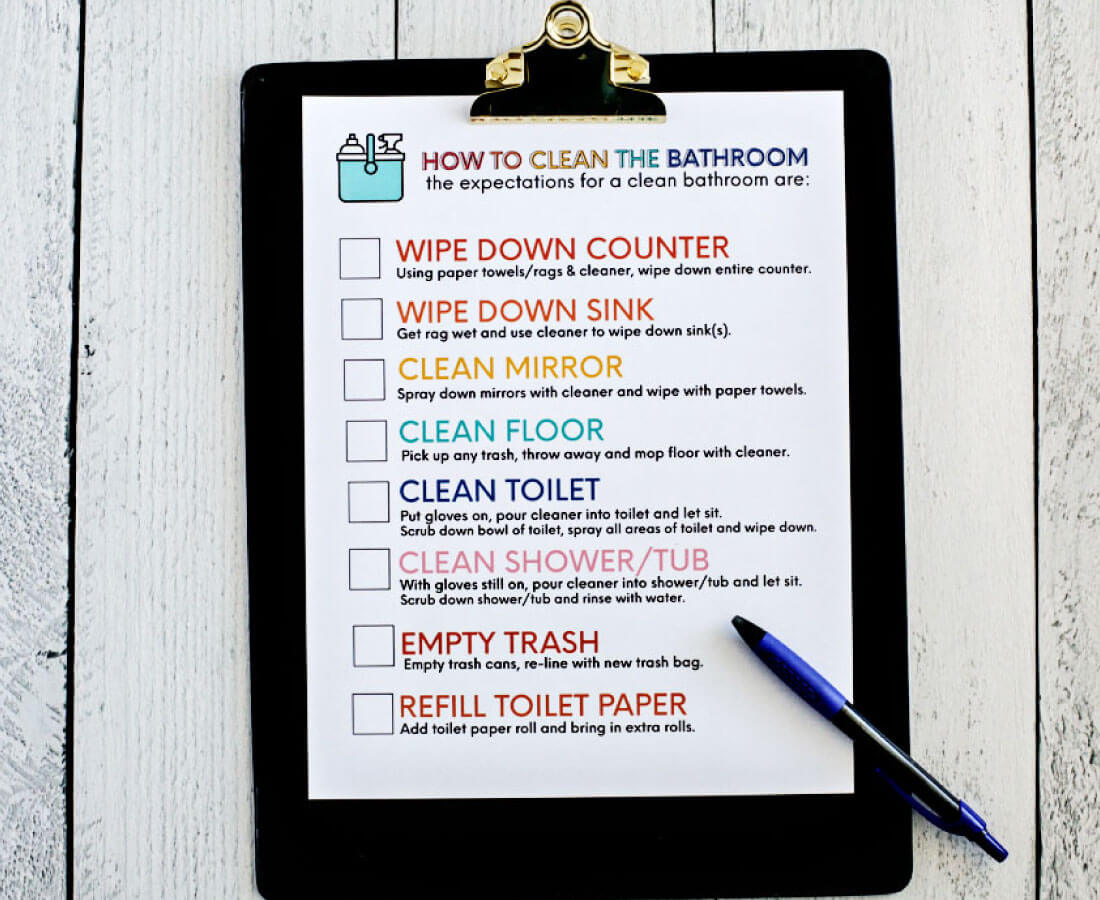 How to Clean Bathroom
While this post will contain useful tips for you, I definitely want to help get your kids on board.  As I've mentioned before, you need to get your kids involved in cleaning!   There are so many reasons but when it comes to the bathroom, they might be a little more apt to cleaning up after themselves, aiming better and staying on top of their messes.  Right?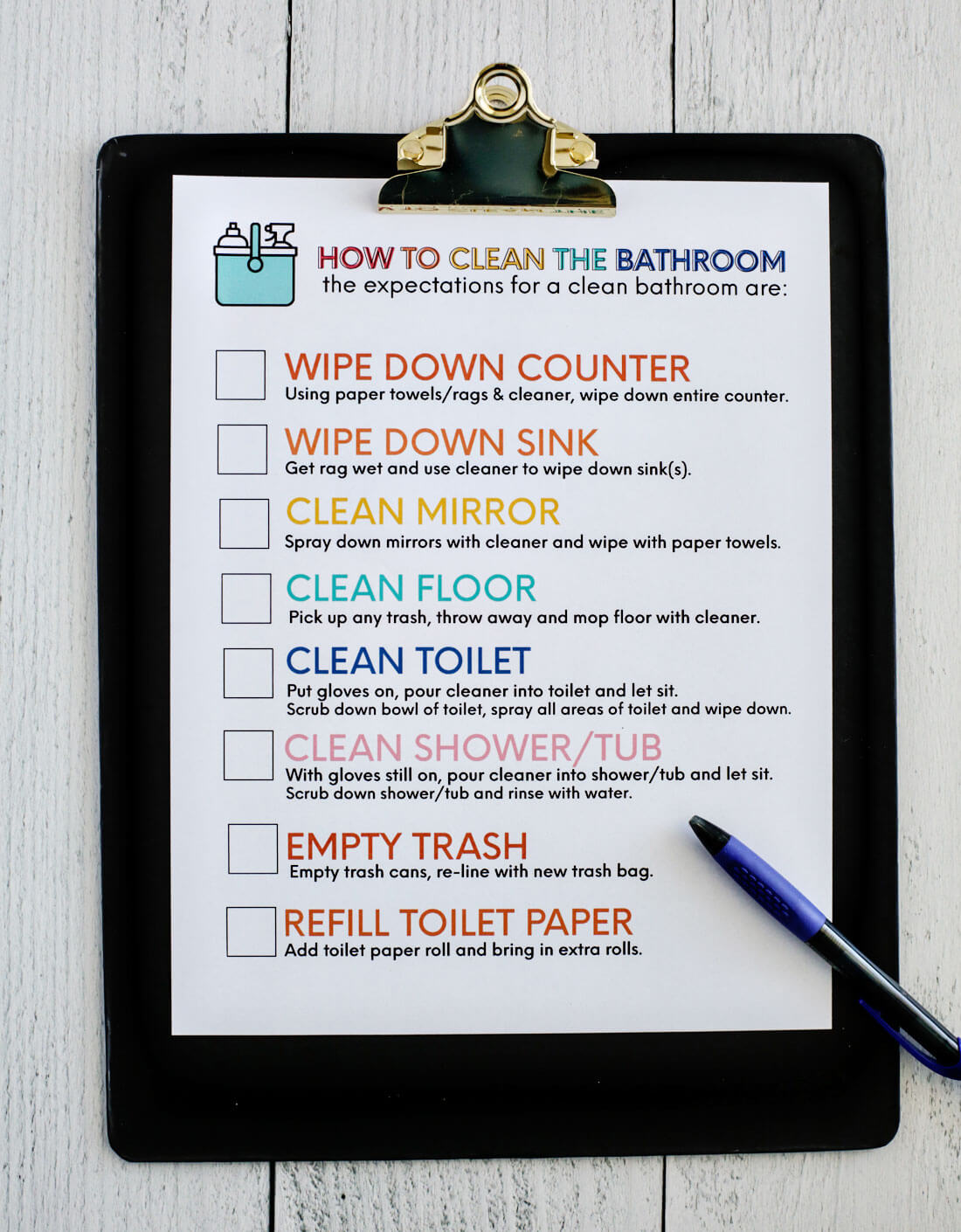 Bathroom Cleaning Supplies
To get kids to help with this not-so-fun task, I've put together a container with all of the vital products.  Here's what you need:
Container – there are so many to choose from but this one is just the right size and can easily be slid in and out of a bathroom cabinet to keep out of sight when it's not being used.
paper towels
washcloths
trash bags
toilet paper
Clorox Toilet Wand – can be found at Walmart in the mop and broom aisle
Printable checklist (more info on that below)
Teach Kids How to Clean Bathroom
Gather all of your stuff and show your kids where it will be housed from here on out.  Take the time to go through all of the products and what each of them will be used for.  Show them how to do each task.  You can use the printable checklist as a guideline – that makes it so easy.  People tend to retain info better if they can see it all written down.
On my checklist is:
Wipe down the counter – can use paper towels or washcloths to do this
Wipe down the sink – washcloth with cleaning agent
Clean the mirror – use streak free spray to clean the mirror.  Show them how to use an 'S pattern' to work top to bottom.  Some people use newspaper to clean their mirrors.  (though newspapers might be hard to find these days)
Clean the floor – sweep + scrub – this depends on the type of flooring that you have.  We have tile in our bathrooms so they need to be swept and then washed with a mop or by hand.
Clean the toilet- we're using Clorox Toilet Wand because not only is it easy to use, but it has a disposable cleaning head preloaded with Clorox toilet bowl cleaner.  It kills germs and is super easy to switch out.  You click, swish and toss with this one.  There is nothing grosser than an old toilet bowl brush.  Yuck! 
Clean the shower/tub – this can take awhile to do.  Show them the right products to use and the best way to get it sparkling clean.
Empty trash
Re-line the trash can
Refill toilet paper
Some thing to keep in mind when you teach the kids to clean the bathroom (and how to clean in general really):
They most likely won't get it right on the first time.  Know that going in.  Be ok with it.  It takes practice – just like it did for you to learn.  (wink)  But keep at it.  It is so good for them to learn this skill and will help you as well.
Other cleaning posts
Bathroom Cleaning Checklist
Download these original Printable Bathroom Checklists.  Or an updated version.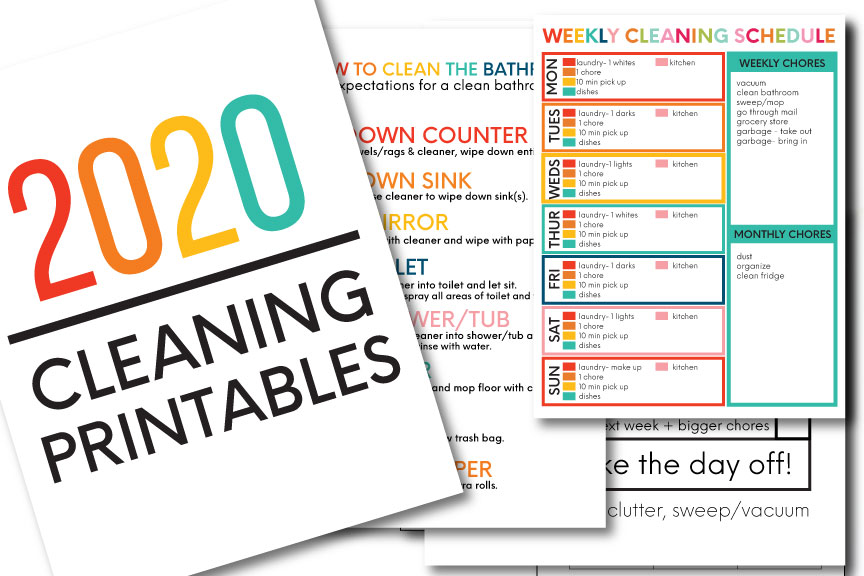 OR get the whole cleaning bundle!   GET AN EDITABLE VERSION HERE.
Of course I used my laminator for my checklist.  It's my favorite thing to do with checklists.  It makes so that it can be used over and over again.  All you have to do is get a dry erase marker and you are all set.  I added it to a mini clipboard and stuck it in the basket.