Learn how to clean washing machine with a few simple steps. Not only will your machine smell cleaner, but your clothes will too!

This post is in partnership with Carbona. I am thrilled to work with a company I believe in.
How to Clean Washing Machine
If I have a hard time doing the laundry, guess how often I actually clean my washing machine?  Ummmm… not much.  Last month I had a whole load of whites come out with ink spots. I couldn't for the life of me find the culprit.  And then I found it – in the seal of the gasket was a pen.  I knew it was time to clean the washing machine.  But how do you do it?  The process isn't hard at all and the results are so worth it! Here's what you need:
White cloth
bucket to soak detergent dispenser in
Old toothbrush
Read below for further instructions.
Washing Machine Tips:
Before I explain how to clean your washing machine, I want to point out a few tips.  Because properly caring for your washing machine will help it last longer.  Use these tips to prolong it:
If you use your washing machine regularly (several times a week), you should be cleaning it at least once a month, or bi-weekly.
Leave the washing machine door cracked in between washes so that it can air out and not build up mold and grime.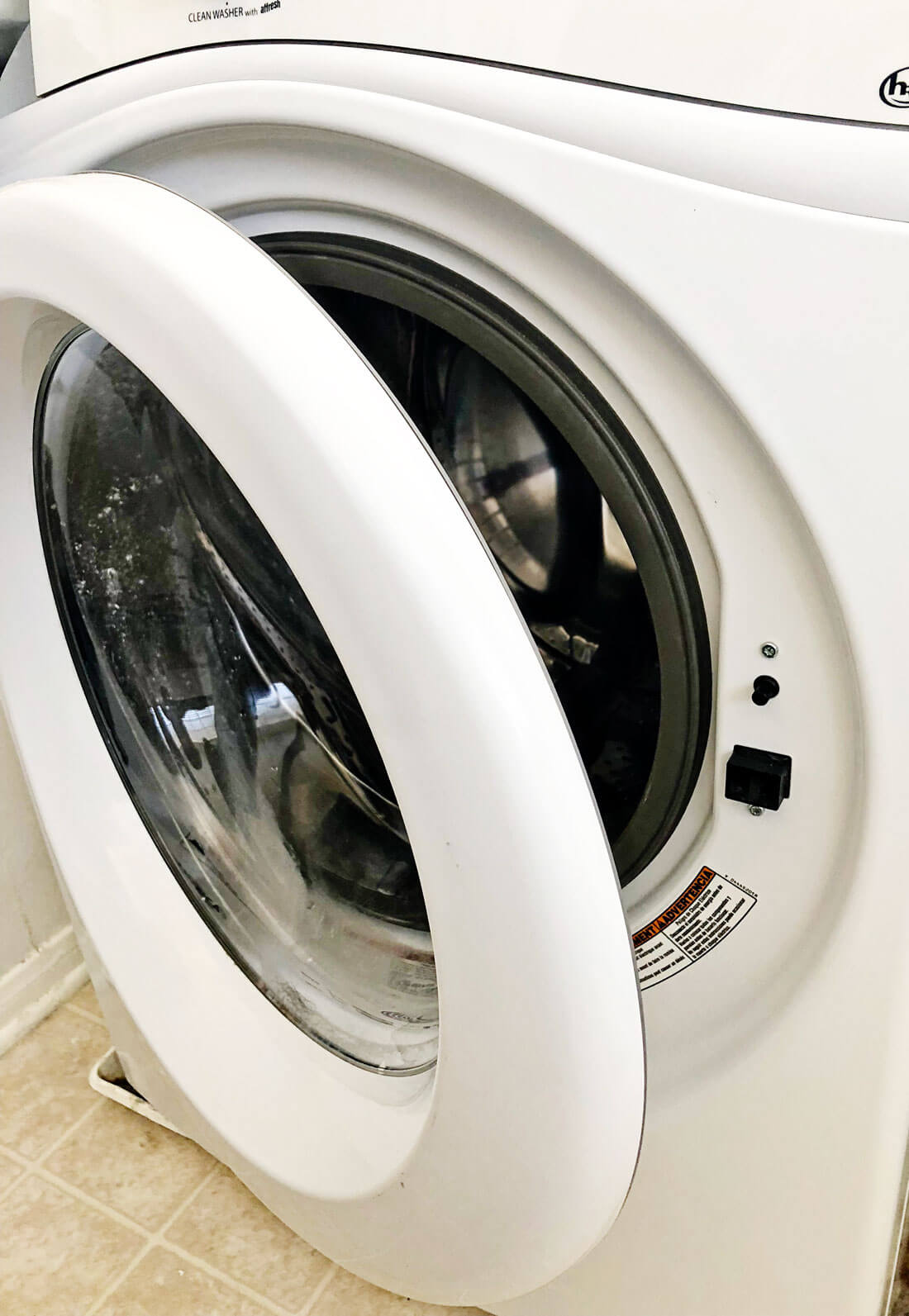 Washing Machine Cleaner
There are a few washing machine cleaners on the market.  But this brand new Carbona Washing Machine Cleaner is the first of it's kind to use activated charcoal. Don't worry if you don't know what activated charcoal does.. I didn't either.  The main thing you need to know is that it attracts and binds odor-causing residues, dirt, and limescale – like a "sponge-magnet" – for a complete machine clean.  And if you look at my before and after pictures below, you will see how well it does its job.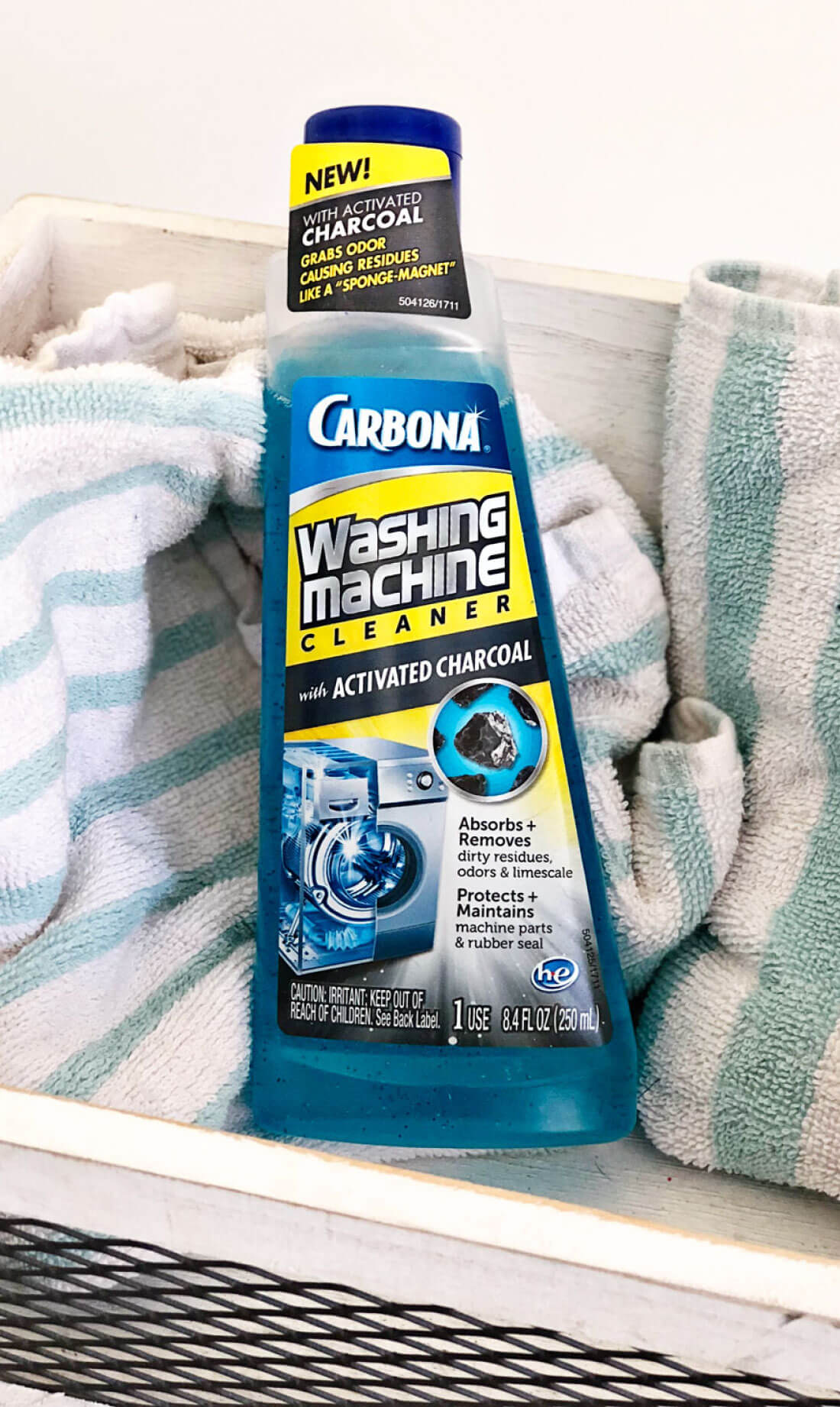 How to Clean Front Load Washing Machine
Since there are different types of washing machines, there are different ways to clean them.  If you have a top loading washing machine, you will have slightly different ways to wash.  This his how to clean a front load washing machine:
Take out the detergent dispenser to clean it well.  
Soak detergent drawer with a solution of 1 oz. of Washing Machine Cleaner with 1 gallon of warm water.  Then rinse off any residue and slide it back in place.
Wipe down the inside of the door.
Pour a small amount of Washing Machine Cleaner onto a clean cloth and wipe the rubber seal around the door, rinse thoroughly with a damp cloth.
Using remaining Washing Machine Cleaner to rinse the machine down with a cycle.
Pour the remaining amount leftover in the bottle into the detergent dispenser and run a normal cycle on hot to rinse everything down.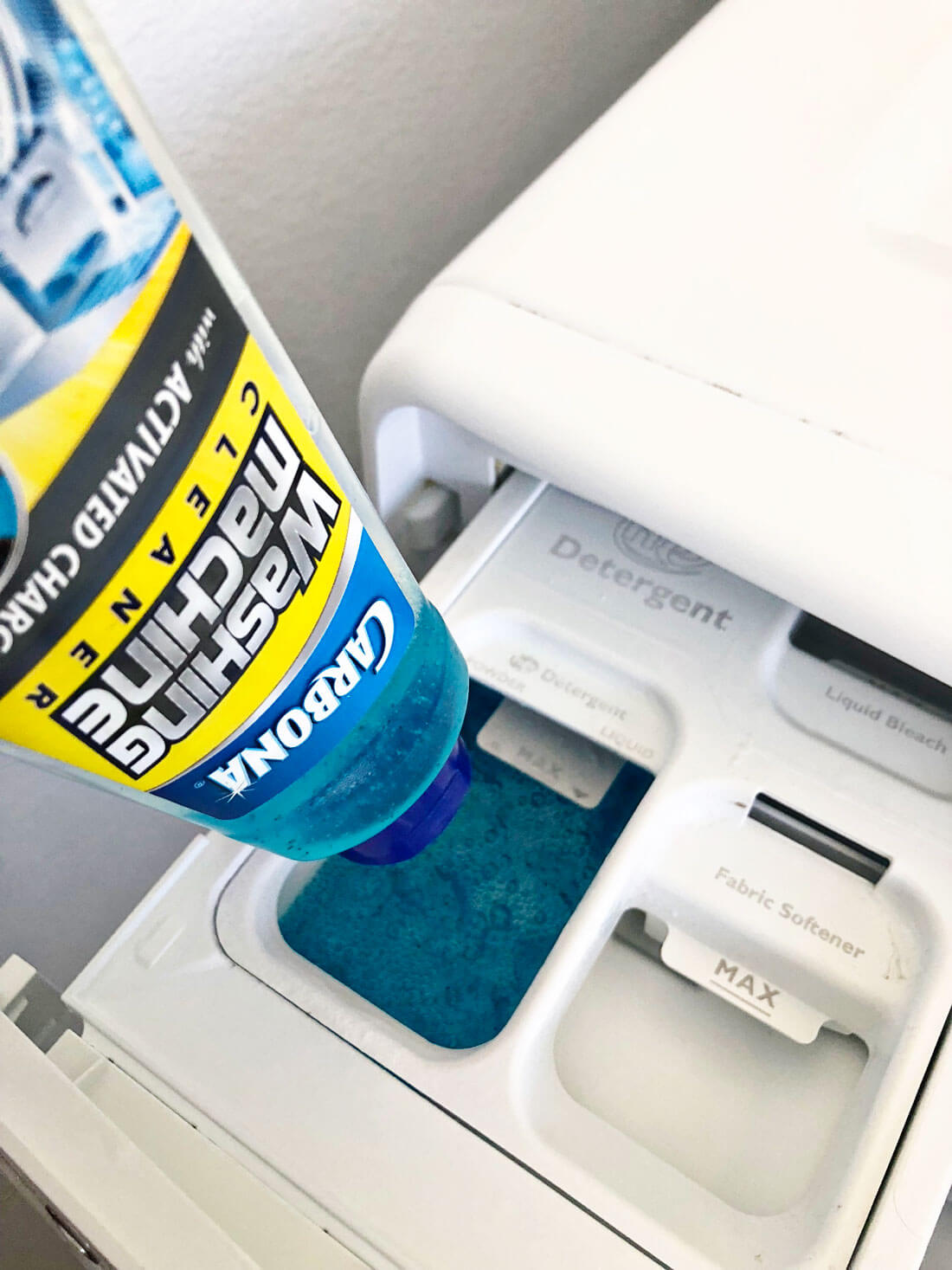 To show you just how drastic the difference is between the before and after (and at the risk of embarrassment..), here are some pictures I took during the process of washing my machine: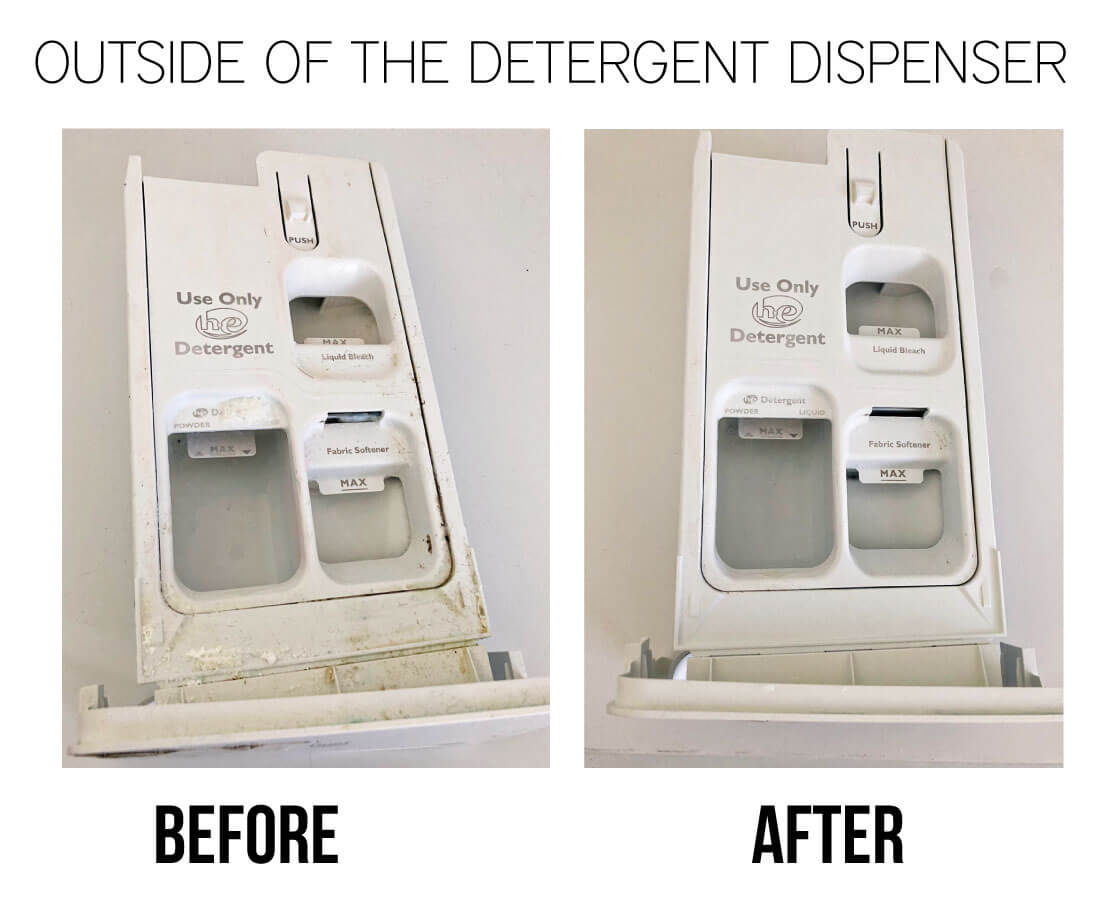 I knew that my detergent dispenser was bad but I had no idea HOW bad it was until I pulled it out and started cleaning it.  Yuck!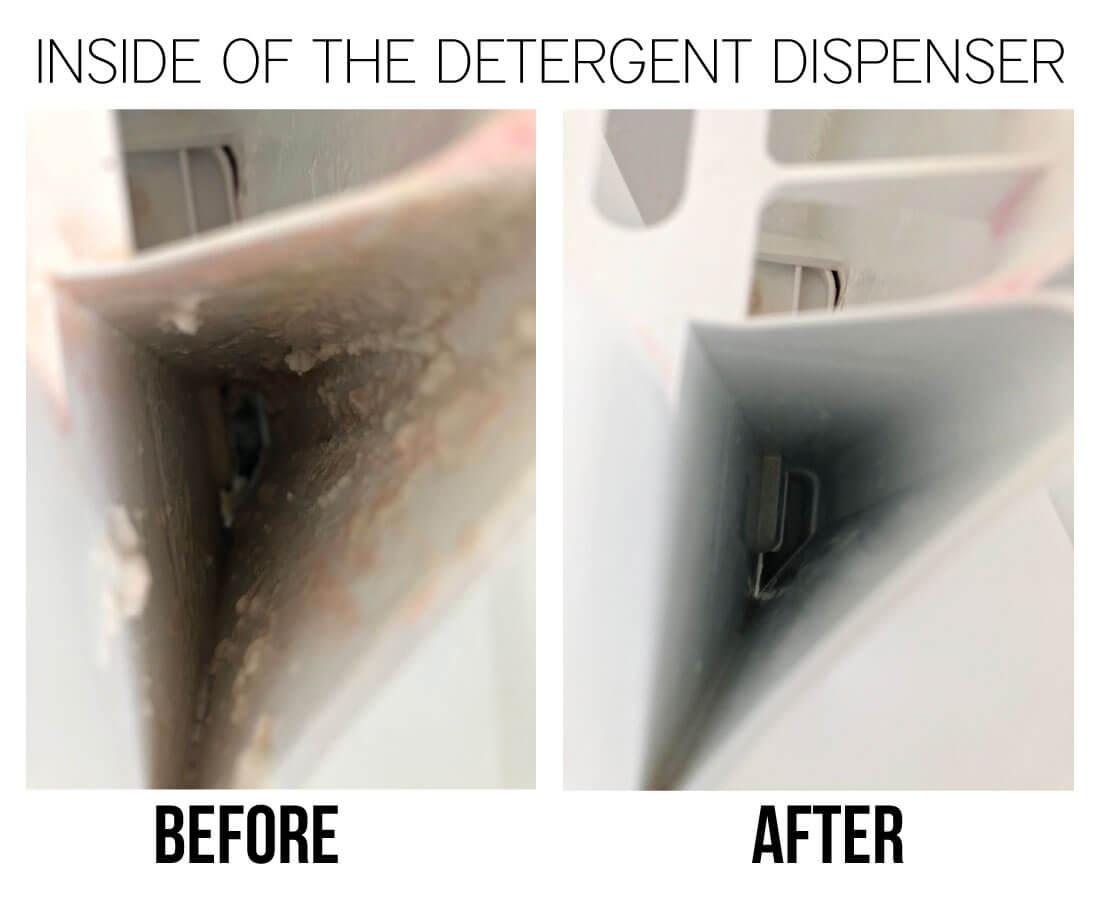 This is quite possibly the sickest gunk I've seen in a long time.  No wonder why the drawer would clog and fill up with water after each use!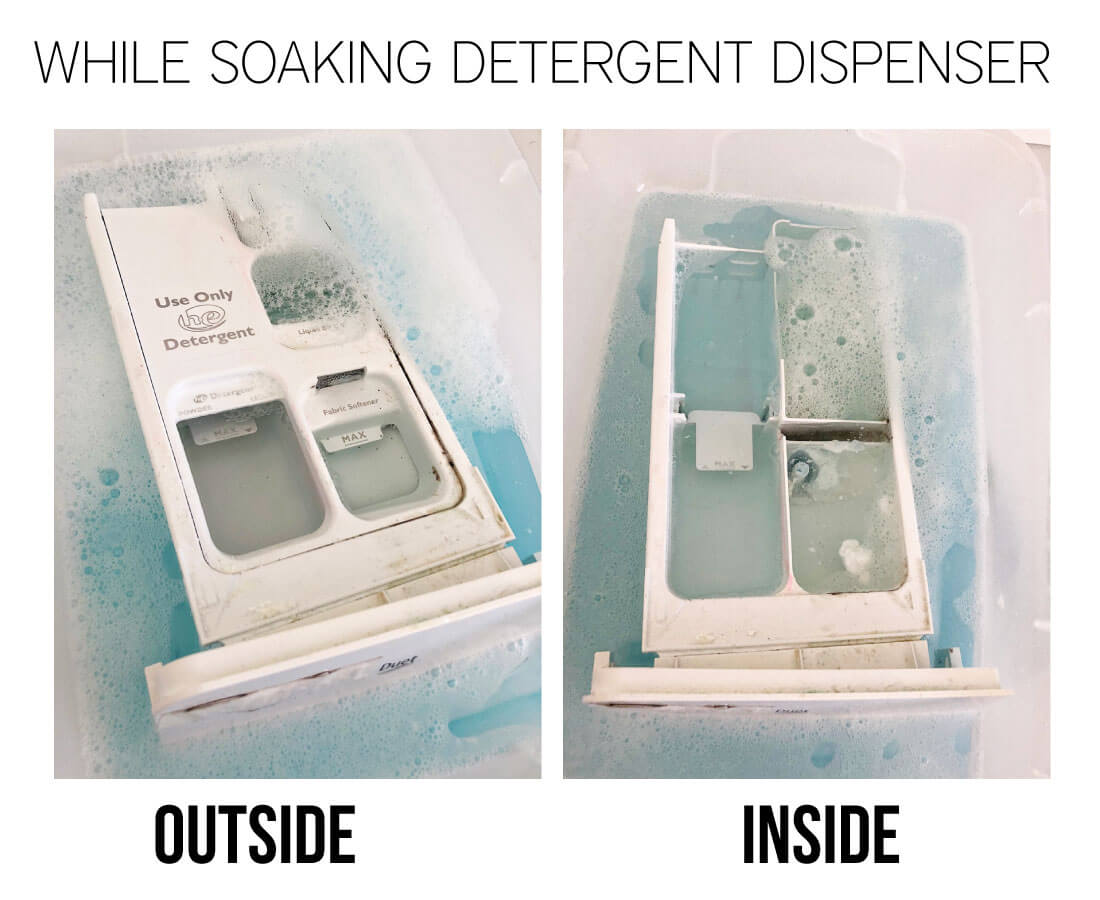 I set a timer for 30 minutes to let Carbona Washing Machine Cleaner do the work.  After the timer went off, I was amazed at how much grime and sludge came out of the drawer.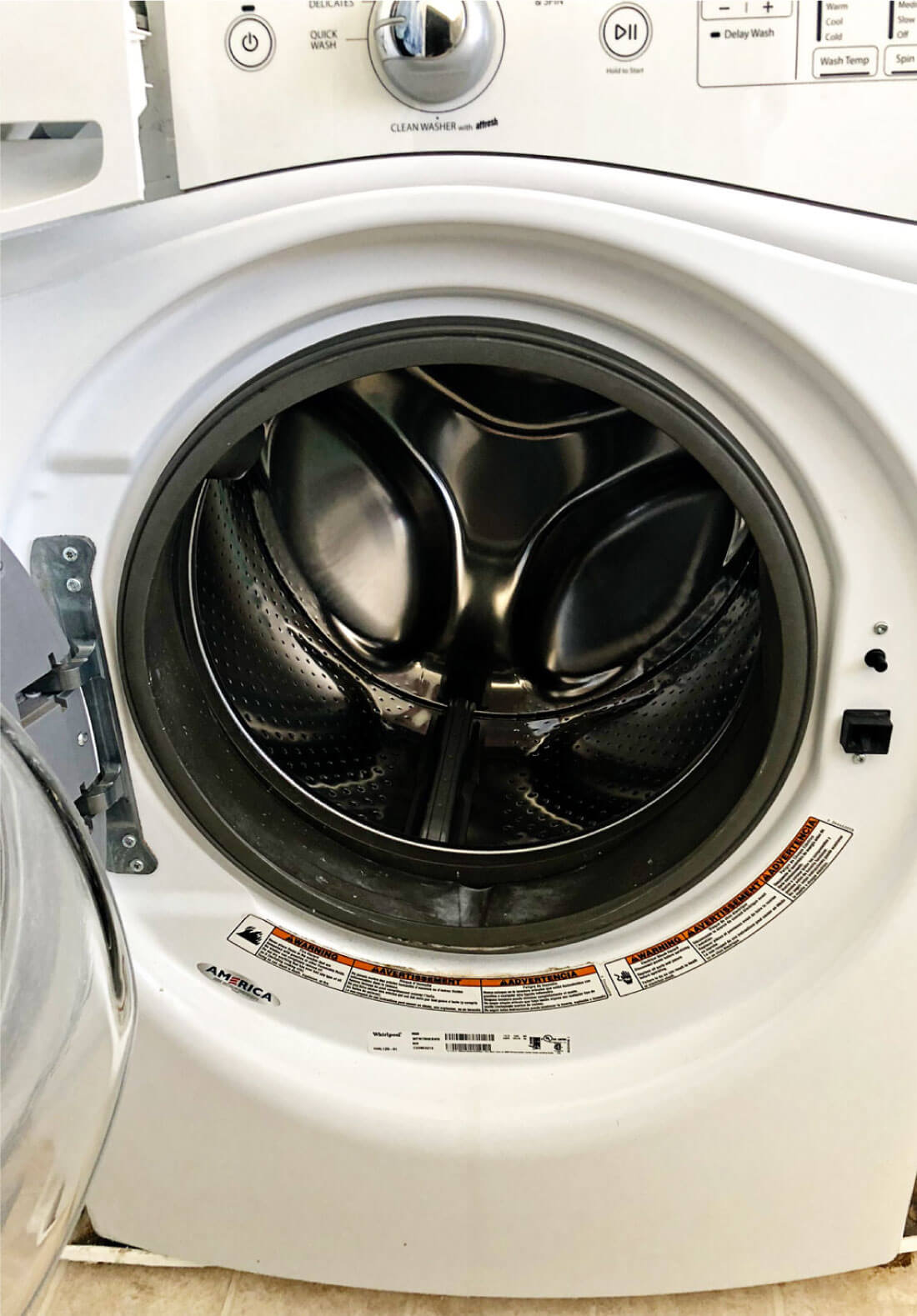 And now you have a sparkly clean, fresh smelling washing machine!
Other Laundry Posts:
If you love this how to clean your washing machine post, you're going to love these other laundry posts. Please click each link below to find the information: