My garden is showing signs of spring and so is my kitchen! Lemon season is here and today's recipe for Swedish Lemon Pancakes is the perfect for a spring breakfast or Easter brunch.
I've been stocking up on lemon curd lately and I just can't seem to get enough of it.  Today's recipe for Swedish Lemon Pancakes is the perfect way to put some of that lemon curd to use.  Lemon Curd is also a crucial ingredient in this Lemon Foldover Coffee Cake which is amazing!  Be sure and save some lemon curd for my favorite springtime/Easter pie too –Lemon Curd Ice Cream Pie.
Easter is close at hand and I'm already planning my Easter brunch menu.  Do you prefer Easter Brunch or Easter Dinner?  I love any excuse for brunch.  Lemon always has a starring role in my Easter brunch menu and this year we'll be serving today's recipe for Swedish Lemon Pancakes.  These pancakes are very similar to a crepe, a nice thin pancake.  They are perfect for brunch because you can serve them warm or room temperature.
It is a thin batter and some lemon zest gives it a nice subtle lemon flavor.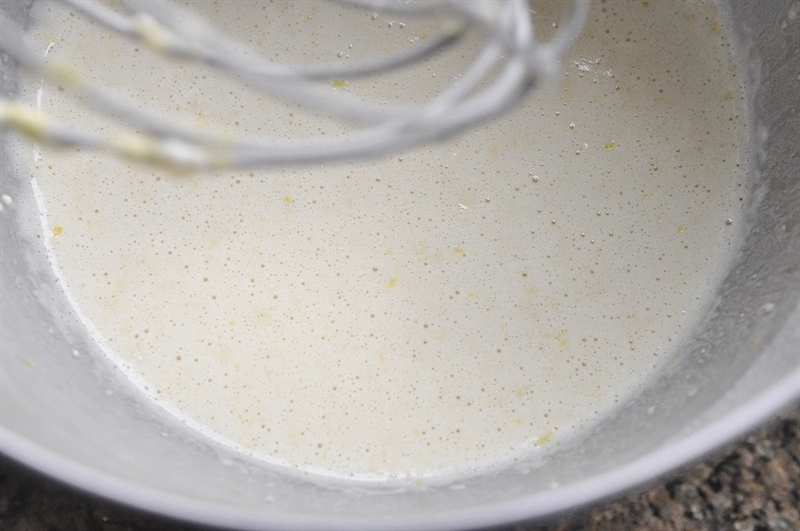 The pancakes are made in a frying pan or a crepe pan, just like a crepe is made.  After they are all cooked comes the fun part – you get to cover them with lemon curd.  You can purchase lemon curd at the grocery store in the jam/jelly aisle or you can make your own.  Homemade lemon curd is amazing!  Just fold your pancake in half and spread half of the half with about 1 Tbsp of lemon curd.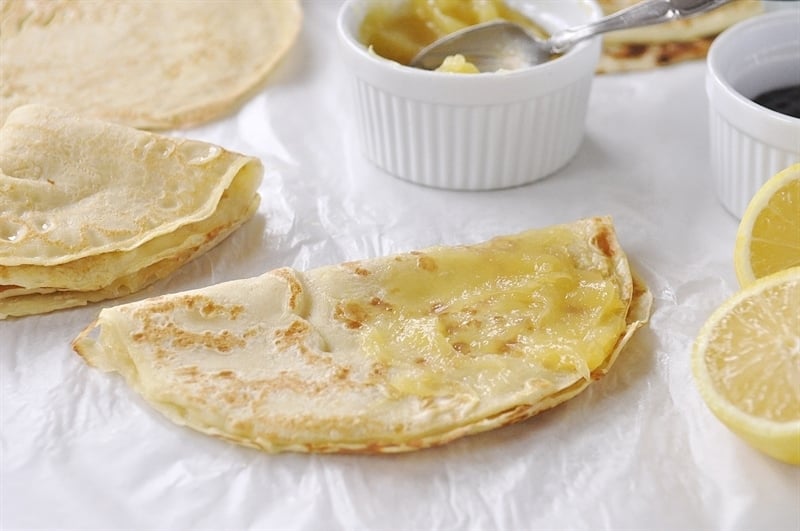 Fold the pancake over again, in half.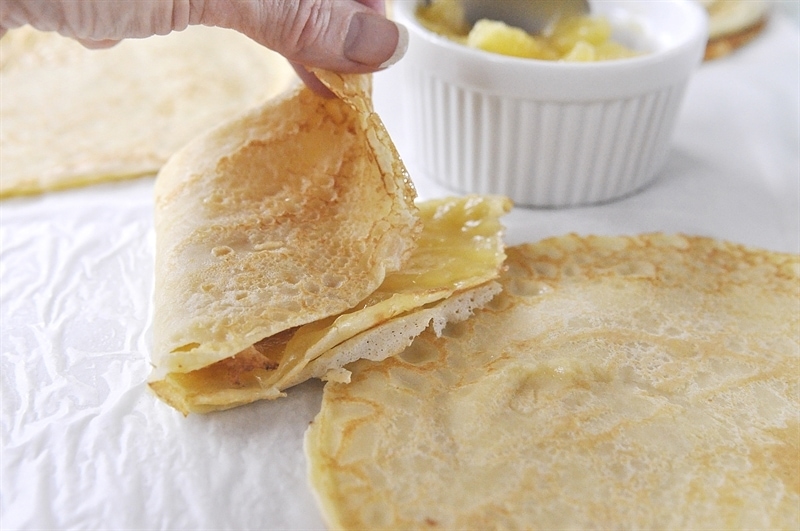 After your pancakes are all filled with lemon curd give them a dusting of powdered sugar and top them with some sweetened sour cream and fresh raspberries.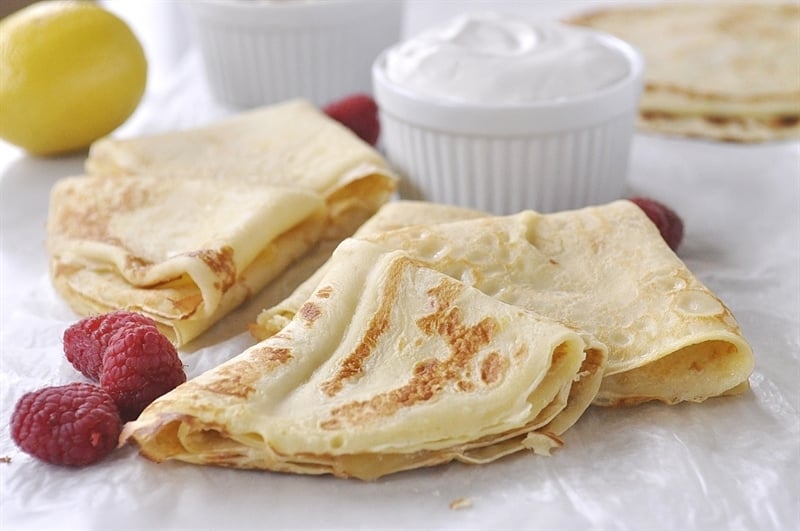 The slight sourness of the sweetened sour cream balances out the sweetness of the lemon curd.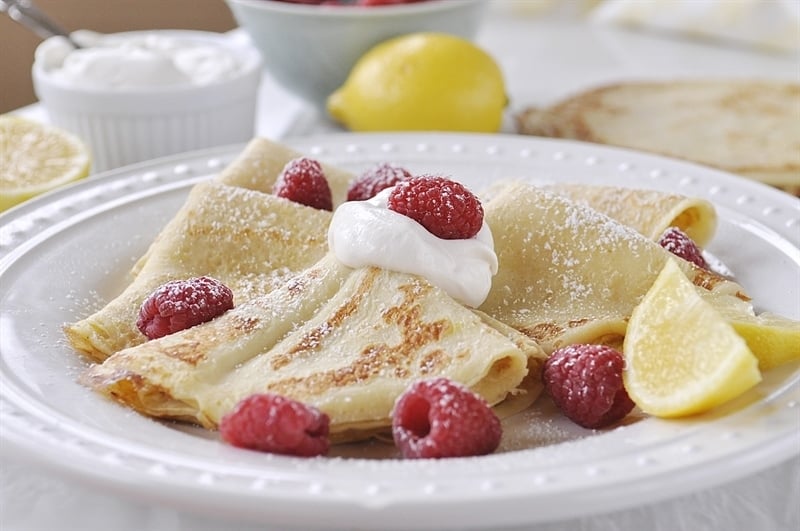 Not only are these Swedish Lemon Pancakes delicious but they are oh so pretty too!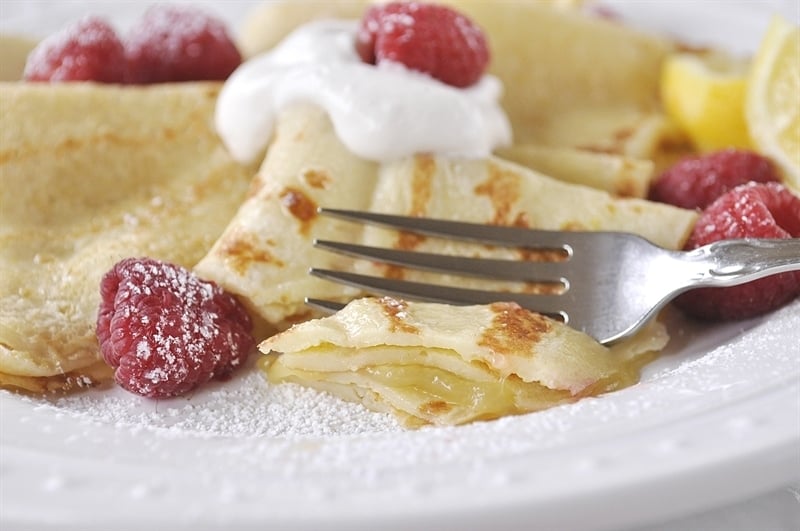 Swedish Lemon Pancakes
Author:
Leigh Anne Wilkes
Ingredients
1½ C all purpose flour
3 Tbsp granulated sugar
2 tsp lemon zest
½ tsp salt
3 eggs
2½ C milk
1 tsp vanilla
butter, melted
1 C lemon curd
Sweetened Sour Cream
1 C whipping cream
½ C sour cream
2 Tbsp brown sugar
fresh raspberries
powdered sugar
Instructions
In a bowl combine flour, sugar, lemon peel and salt.
In mixer beat eggs on medium speed until thick and lemon colored.
Add milk and vanilla, beat to combine
Add in flour mixture and beat until smooth(batter will be thin)
Heat a 10 inch non stick skillet, brush with melted butter.
Pour ⅓ C of pancake batter into pan and tilt so that batter covers bottom of pan.
Cook until golden brown and flip, cook until other side is golden brown. About 1 minute each side.
Invert onto paper towels.
Repeat with remaining batter.
To serve, fold pancake in half, spread with 1 Tbsp lemon curd and fold in half again.
Dust with powdered sugar and serve with fresh raspberries and sweetened sour cream.