Remember how a few months ago I shared 5 Ingredient Blender Muffins? They were healthy and delicious.  I'm excited to share a new recipe with you today that is both healthy and delicious as well but only FOUR ingredients: Blender Pancakes.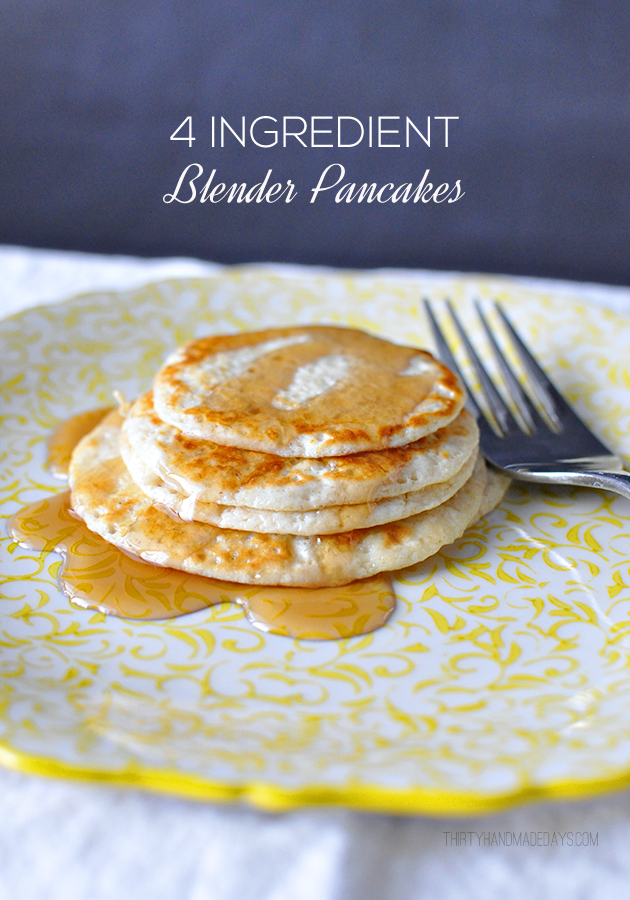 Now the ingredients look a little scary.  I wasn't sure we'd be able to really appreciate the end result.  But I'm happy to report that I made them with Drew, my trusty kitchen side kick, and both he and Julia loved them.  Jules made mention that they taste similar to German Pancakes (my favorite! I need to post it here).  I think it has to do with the amount of eggs involved.  The more you blend them, the fluffier they will be.  I blended it up a few times.   The first time I hit the mix button I had my doubts that they'd turn into batter.  But after a few clicks, it turned into batter like form.
Note: these are not traditional pancakes.  They taste different but they are good.   They are an awesome alternative to the norm.
When I found the recipe, it noted that you could make it without the extract.  But we love love love almond extract in our home.  So there was no way I was sacrificing that ingredient.  You could make these with only 3 ingredients if you want.
4 Ingredients Blender Pancakes
Ingredients
1 cup oats
1 cup cottage cheese
8 egg whites
¼ tsp almond or vanilla extract
Instructions
Place cottage cheese, oats, egg whites and extract (vanilla or almond) in the blender.
Blend until smooth.
Pour batter onto a hot, greased griddle.
When bubbles form and pop on the top side, they are ready to flip.
Cook on the second side just until brown. Serve warm with butter, fruit or syrup.
Notes
Because there is no flour, these pancakes take awhile to brown. Don't worry if they aren't browning quickly, they will get there!
Recipe slightly adapted from Chef Mommy.
Josh gave me a Griddler for Christmas that I've been so excited to try out.  He even said something about using it for blogging.  Sweet guy.  Anyway, I knew I wanted to try it out with this recipe.  Because it's a healthier pancake, it was the perfect choice to try out with I Can't Believe It's Not Butter!® Deliciously Simple™ Spread.  I first used it on the griddle and then we spread it on the finished pancakes.  I took it to two of my taste testers and wasn't sure if they would approve.  They gave it two thumbs up.  It has no artificial preservatives and I'm all over that!  JJ loves spreading a big dollop on his toast – so I see this is an easy replacement.  We could enjoy every day with bread, rolls, and more (and not feel guilty about it).  Now the syrup…. that's another story.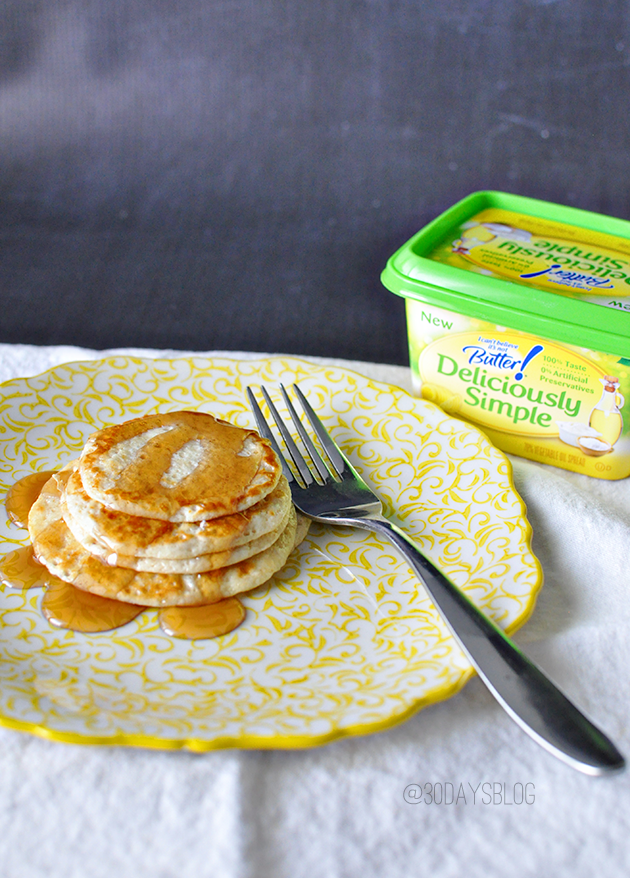 Have you made anything out of the ordinary with your blender?  Are you trying to eat a little healthier at the start of the new year?

Disclosure: This post was sponsored by  I Can't Believe It's Not Butter® through their partnership with POPSUGAR. While I was compensated to write a post about I Can't Believe It's Not Butter® Deliciously Simple™, all opinions are 1 million percent my own.  I love working with companies I believe in.