Chances are, if you have a tween or teen, you have heard about the series Thirteen Reasons Why.  Did you know that it started out as a book?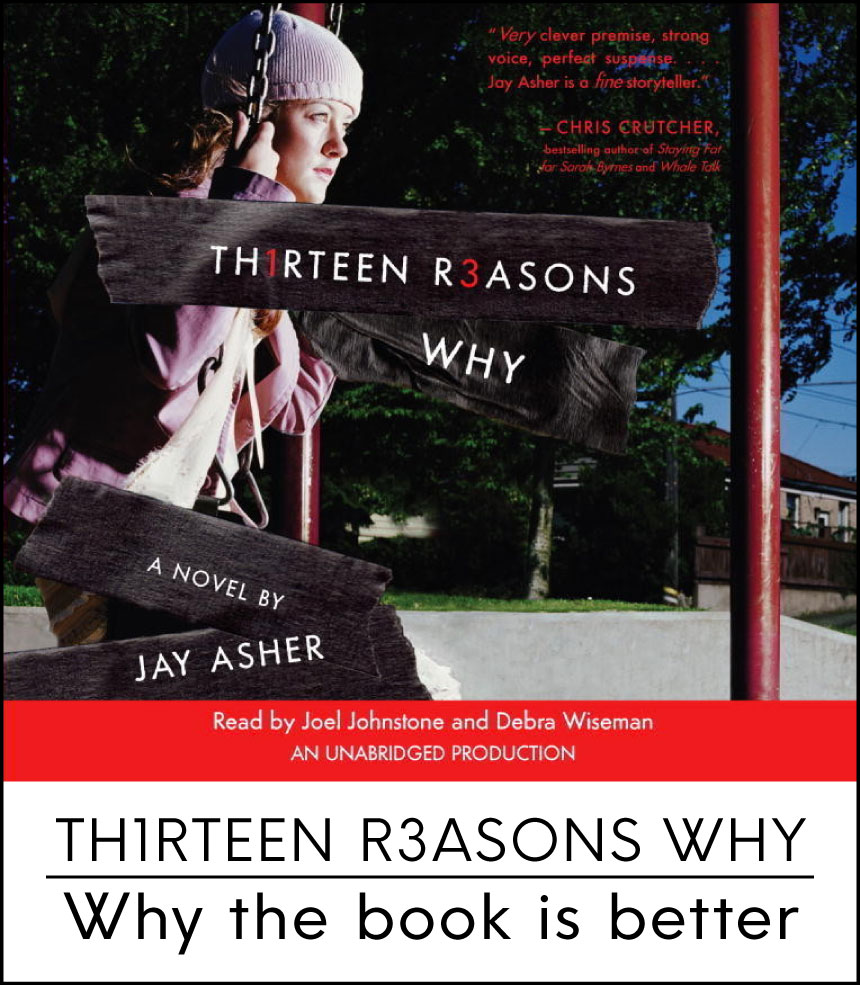 The honest truth is that I will almost always say that the book is better.  I love reading.  I love being swept away into a story and imagining things myself.  I love stepping away from my day to day grind and focusing on the regular stuff.  But this time, I have specific reasons for why I think the book is better.
There has been a lot of hype about the Netflix series, Thirteen Reasons Why.  I had heard that it talked about some pretty serious subjects.  Subjects that weren't talked about when I was a teenager.  Things like bullying were just shaken off.  Not that it was right to do.  It just wasn't brought to light like it is now.  We didn't have to deal with social media, the internet or text messaging.   Suicide wasn't talked about.  This series brings all of those topics front and center.  I don't take any of these subjects lightly – as I have had very close family members and friends deal with all of them.  Every single one.  Unfortunately.  I know how incredibly important it is to be aware, discuss, and not turn a blind eye.  But in this case, the book is better.  Here's why:
The story line in the book is better-   I know that every book turned to movie will be slightly different.  They have to make adaptations so that a movie or series will flow.  But the adaptations they made from book to series, I didn't like.  They might be more "current" since the book was written 10 years ago, but I just didn't appreciate the alterations.  Some of them seemed hokey or misplaced to me.
The series is way too graphic- I had been warned about this.  I don't watch rated R movies and/or MA shows.  There was a lot of bad language (so much so that I felt like covering my ears), some sex scenes, drugs, rape and suicide.  In the book things were implied but did NOT go into graphic detail.  The points were easily made without going over the top.  It seemed like most of the graphic scenes in the series were added for drama/shock value.  Which I realize is common with most entertainment, but definitely not necessary.
I fast forwarded through the parts that I felt were inappropriate.  I needed to watch the series so that I knew what I would be confronted with, but didn't feel like I needed to subject myself to the awful parts to know that they were truly awful.
Hannah (the main character) is made to be a hero- this is one of the hardest things about this series for me.  Hannah is charming, funny, really likeable.  She's relatable.  I know the point is that all kinds of people make the choice of suicide for varying reasons.  But in my opinion, it makes it seem almost like it's a good option.
Thirteen Reasons Why Book
So why am I even addressing this book? This is where I get real honest.  I post all about having the hard talk with kids and how to parent.  I've never claimed to be an expert.  Far from it, in fact.  I usually come here as a way to open the conversation.  I had no idea that my teenager had seen 2 episodes of this series.  We had the security set on our Netflix account, things were blocked but since her phone was logged into my account, she had access.  Since a lot of my friends were talking about it and mentioned that their kids had either read or seen the series, I asked my daughter just to make sure.  Sure enough, she said she had read the book and seen two episodes.  I was shocked.   I immediately got the book so that I could read it and address any serious topics with her.  While some parents might not agree with that choice of mine to read it and watch it, I felt in our circumstances, it was vital to read and watch and follow up.
I share this so that you can talk to your teenagers about it.  Make sure that you know what they are reading, watching, looking into.  Sure, you can't control everything.  Nor should you.  They need to be able to make choices on their own and learn and grow.  But you should be involved.
The bottom line is – the book is definitely better.  Consider listening to the Audible version.

Another book that has been turned into a series is the Handmade's Tail.  Claire Danes is one of the narrators for the Audible version.
Have I mentioned before how tough it is being a parent?  It's the best/hardest job there is.  I'd love to hear your thoughts.
If you're looking for appropriate teen books, these posts have a good lists:
This is a sponsored conversation written by me on behalf of Audible. The opinions and text are all mine.