Why does my Instant Pot say BURN? What it means, how you can fix it and are there ways to prevent it from happening?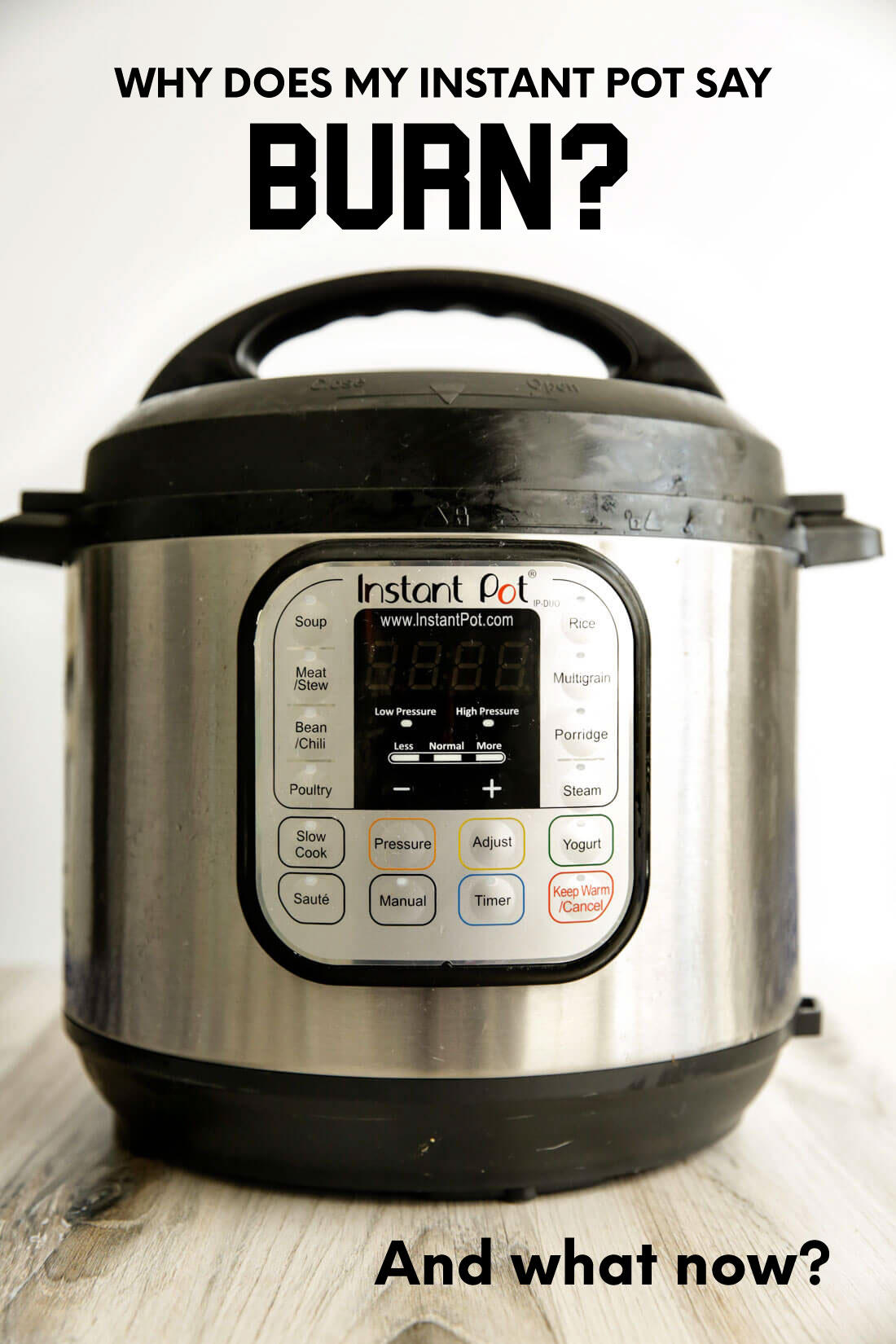 What does BURN mean on Instant Pot?
The perfect Instant Pot recipe is in your pressure cooker. Your family is waiting for dinner to be ready. And then it happens. The Instant Pot says BURN and shuts down. Why is it happening and is the recipe ruined? Have no fear, all is not lost. There are a few reasons that this happens and ways to fix it.
Why does it say burn?
First, the Instant Pot will flash "burn" if the the temperature is too high at the bottom of the pot. It is a safety feature to turn off the pressure cooker. This means that it is no longer cooking though so you will need to follow some steps to get it back running (see below).
What cause the burn message?
Now you know "why" it says burn, but what causes it? There are some recipes that are prone to this message.
Any recipe with thick sauce (thin liquids do best in the pressure cooker)
Pasta dishes
Chili
Tomato based dishes
It is caused because the liquid is too thick or there are pieces that are actually burning. What should you do next? Don't freak out, follow a few simple steps.
Steps to fix the burn message
Push the off/cancel button.
Move the valve to the venting position so that you can do a quick release.
Pull the lid off (there will be steam so don't put your face over it).
Access the situation – is there food stuck to the bottom? Scrape it out.
Add thin liquid to make sure that there is enough in there before proceeding.
Cool down – let the IP cool before you start it again.
Make sure to account the time that you have already had the Instant Pot on when starting it up again. If it was cooking for 5 minutes before and then you start it up, subtract those five minutes from the time.
Avoid the burn message
There are things you can do to avoid the "burn" message.
If you use the saute function, scrape food at the bottom before moving to the next step.
Always check to see if there are food bits at the bottom – this is a major issue for causing the "burn" message.
When making recipes with thick sauce, add them after food is cooked using the saute function.
If you want to make something that contains tomatoes, don't add them until the end and put them in the middle of the pot.
Other Instant Pot Posts
Some basic pressure cooker posts to refer to:
Instant Pot Recipes
And if you want to try out some easy and good recipes, try these: