The perfect binge worthy television- the best and most popular 80s tv shows that you have to watch with your family!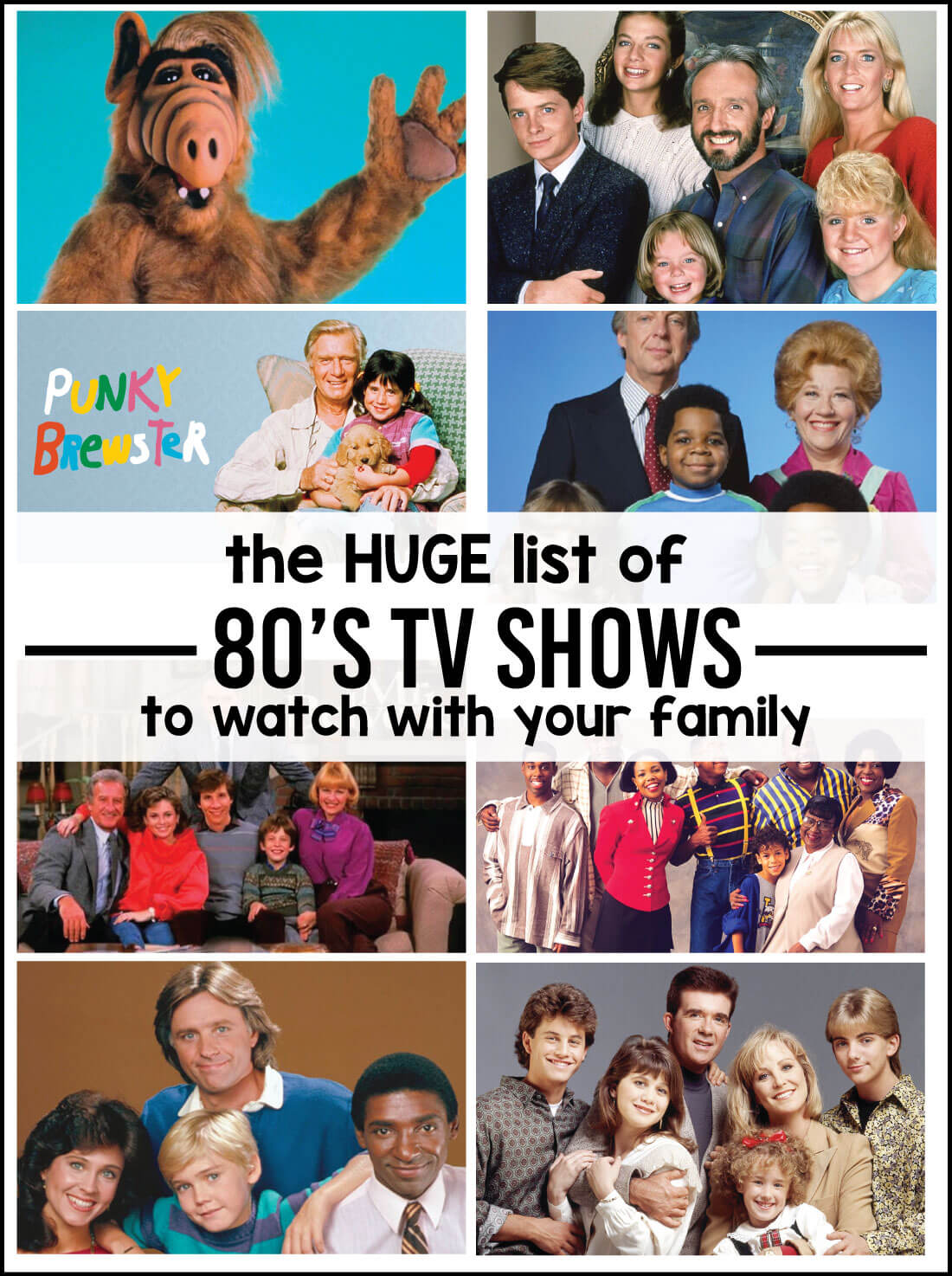 Looking for something good to watch that will bring back some good memories? These 80s tv shows will do just that! The styles, the hair, the words everyone used, oh my. It took awhile to track down where to watch each show – I've included shows that are available on Netflix, Amazon, and Hulu.
If you're looking for other lists to watch:
80s TV Show List
This list is based off of some of our favorites and lists found online. There might be some that you remember from the 80s that were left off – sadly, I was unable to find a way to watch them! My personal favorites were: Punky Brewster, Full House, Family Ties, and Who's the Boss.
Here's the full list:
A Different World
A group of students at a historically Black university struggle to make it through college. Spinoff of the Cosby Show.
ALF
ALF is a science fiction sitcom with Gordon Shumway, a friendly extraterrestrial nicknamed ALF (an acronym for Alien Life Form), who crash lands in the garage of the suburban middle-class Tanner family.
The A Team
The A-Team is an action adventure series about a fictional group of ex-United States Army Special Forces personnel who work as soldiers of fortune, while on the run from the Army after being branded as war criminals for a "crime they didn't commit."
Bosom Buddies
Bosom Buddies was a sitcom that followed the misadventures of two single men, working in creative advertising, struggling in their industry while disguising themselves as women in order to live in the one apartment they could afford.
Charles in Charge
Charles, a college student, moves in with the Powell family as the housekeeper, baby-sitter, and friend to the children. Along with his best friend, Buddy, Charles attempts to manage his life, especially college and girls, as well as tend to the family.
Cheers * for teenagers+
Cheers is a sitcom that is set in the Cheers bar (named for the toast "Cheers") in Boston, Massachusetts, where a group of locals meet to drink, relax, chat and have fun.
Different Strokes
Two brothers from Harlem are adopted by wealthy Philip Drummond, and move to a penthouse apartment as a family.
Doogie Howser
Douglas Howser is a doctor. He is also a 16-year-old genius, he graduated college at age 10 and finished medical school at age 14. But he is still a teenager, with normal teenage friends and problems.
Facts of Life
A spin-off of the sitcom Diff'rent Strokes, The Facts of Life is a sitcom that focused on Edna Garrett (Charlotte Rae) as she becomes housemother at the fictional Eastland School, an all-female boarding school in Peekskill, New York.
Family Matters
Family Matters is a sitcom about a middle-class African-American family living in Chicago, Illinois. The series was a spin-off of Perfect Strangers, but revolves around the Winslow family.
Family Ties
Family Ties is an sitcom that reflected the move in the United States from the cultural liberalism of the 1960s and 1970s to the conservatism of the 1980s.
Full House
Comedian Bob Saget stars in this heartfelt comedy series as Danny, a widowed father raising three young daughters with the help of his rebel brother-in-law (John Stamos) and offbeat best bud (Dave Coulier). Living under one roof, these friends experience the trials of parenthood along with their fair share of laughs and life lessons.
The Golden Girls
The Golden Girls is a sitcom that centers on four older women sharing a home in Miami, Florida.
Greatest American Hero
The Greatest American Hero is a comedy-drama series about flying crime fighter.
Growing Pains
Growing Pains is sitcom about an upper middle class family, residing in Huntington, New York, with a working mother and a stay-at-home psychiatrist father raising three children together.
Happy Days
Happy Days is a sitcom that showcased an idealized vision of life in mid-1950s to mid-1960s America.
The Jeffersons
A spin-off of All in the Family, The Jeffersons is about a nouveau riche, African-American family who move into a luxury apartment building on the East Side of Manhattan.
Laverne & Shirley
Laverne & Shirley is a sitcom that was about roommates who worked in a fictitious Milwaukee brewery called "Shotz Brewery".
Mork & Mindy
Mork & Mindy is a science fiction sitcom that starred Robin Williams as Mork, an alien who comes to Earth from the planet Ork in a small, one-man egg-shaped spaceship. Pam Dawber co-starred as Mindy McConnell, his human friend and roommate.
Mr. Belvedere
Mr. Belvedere is a sitcom that is based on the 1947 novel Belvedere, which was later adapted into the 1948 film Sitting Pretty. The sitcom stars Christopher Hewett in the title role, who takes a job with an American family headed by George Owens.
My Two Dads
My Two Dads is a sitcom about a two men who could have been the father of the main character Nicole.
Perfect Strangers
Bronson Pinchot and Mark Linn-Baker star in this hilarious comedy series that showcases the fact that family is often stranger than, well, strangers! When Balki, who hails from the distant country of Mypos, arrives unexpectedly at his cousin Larry's Chicago apartment, cultures clash … with perfect comedic timing.
Punky Brewster
This s a show about a girl named Penelope "Punky" Brewster. She is abandoned with her dog, Brandon, in a supermarket by her mother. She doesn't want to stay in an orphanage, and finally befriends Henry Warnimont who adopts her.
Quantum Leap
Quantum Leap is a drama series about a physicist from six years in the future who becomes lost in time following a time travel experiment, temporarily taking the places of other people to "put right what once went wrong".
Saved By the Bell
Saved by the Bell is a popular sitcom that followed the exploits of several students along with their principal at fictional Bayside High School.
Silver Spoons
Silver Spoons is a sitcom about an extremely wealthy Stratton family.
Small Wonder
Small Wonder is a sci-fi sitcom that chronicles the family of a robotics engineer who, after he secretly creates a robot modeled after a real human girl, tries to pass it off as their daughter, Vikki.
Square Pegs
Patty Greene and Lauren Hutchinson, two awkward teenage girls, are desperate to fit in at Weemawee High School.
Webster
The post-retirement season is suddenly disrupted for football player George Papadapolis and his wife Katherine when Webster, the orphaned son of a former teammate, moves in.
Who's the Boss
Who's the Boss? is a sitcom that starred Tony Danza as a retired major league baseball player who relocates to Fairfield, Connecticut to work as a live-in housekeeper for a divorced advertising executive.
Wonder Years
Set in the extraordinary years of the late 60's, "The Wonder Years" looks back through the eyes of Kevin, the youngest of three children in the Arnold family, on the joys and tribulations of growing up in a typical suburban household.