After scouring the lists, I've come up with the Best Kids Movies that you can watch as a family!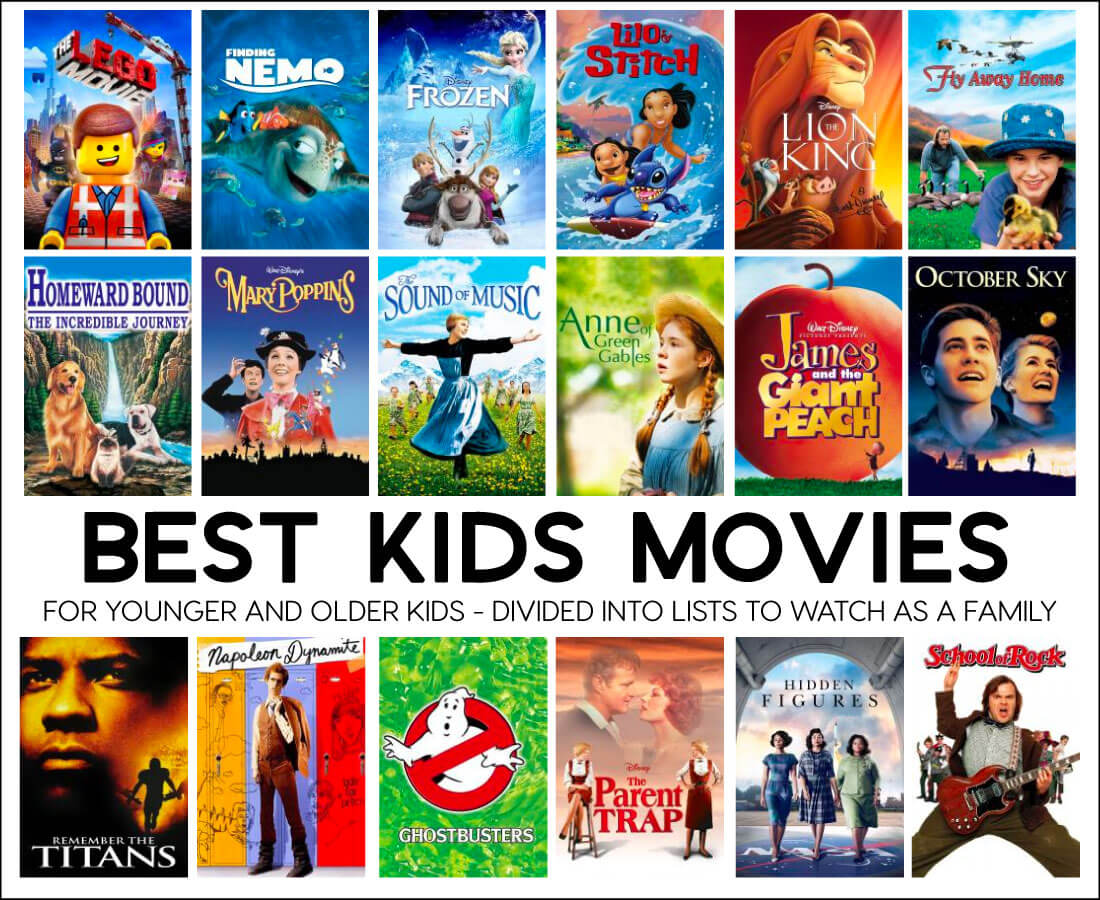 Best Kids Movies
We've talked about the best 80s movies and 90s movies but I haven't done an all time best kids movies list.  I love researching and have spent some time going over different lists to put this post together, BUT it's still subjective.  So keep that in mind and do a little bit of homework to make sure that they are appropriate for your kids.
Kids Movies
We recently saw Incredibles 2 and loved it.  But I have seen reviews from people who were not thrilled about it – too much unnecessary swearing, scary and some alcohol too.  I have big kids (now 18, 16 and 12 yrs old) and didn't even realize that it might not be appropriate for younger kids.  Just another reminder that my kids have grown up and how important it is to research things before taking your kids to see movies.  Or to watch on Netflix or Amazon, etc.
I like to use Common Sense Media to read reviews and to know what is included in the movies, why they have been rated the way they are and etc.
Over the next couple months, there are $1 movies where you can watch  Summer Movies, several on this list! Make sure to check that out.
YOUNGER KIDS MOVIES
These are movies that are appropriate for 7 years and younger (although big kids can watch them too!).
A Bug's Life
Aladdin

Anne of Green Gables 

Beauty and the Beast
Charlotte's Web
Coco
Despicable Me
Finding Nemo
Frozen
Homeward Bound
James and the Giant Peach
Lilo and Stitch
Mary Poppins
My Fair Lady
Moana
Shrek
Singin' in the Rain
Star Wars
The Adventures of Milo and Otis
The Incredibles
The Indian in the Cupboard
The Lego Movie
The Lion King
The Parent Trap
The Sound of Music
The Wizard of Oz
Toy Story
Up
TWEEN/TEEN KIDS MOVIES
These movies are appropriate for kids ages 10 and up.  Some younger kids might be able to handle them but, in general, the material is better suited for older kids.
A League of Their Own
Back to the Future
Fiddler on the Roof
Fly Away Home
Ghostbusters
Hidden Figures
Holes
Hoosiers
Incredibles 2
Indiana Jones
Little Women
Mrs. Doubtfire
Napoleon Dynamite
Newsies
October Sky
Pete's Dragon
Remember the Titans
Rudy
School of Rock
The Karate Kid
The Princess Bride
The Sandlot
Zootopia
Summer is the perfect time to dive into some movies with your kids but here are some other ideas for activities: