This year there are so many good books that are set to hit the big screen.  This is my list of Audible audiobooks to listen to before you watch the movie—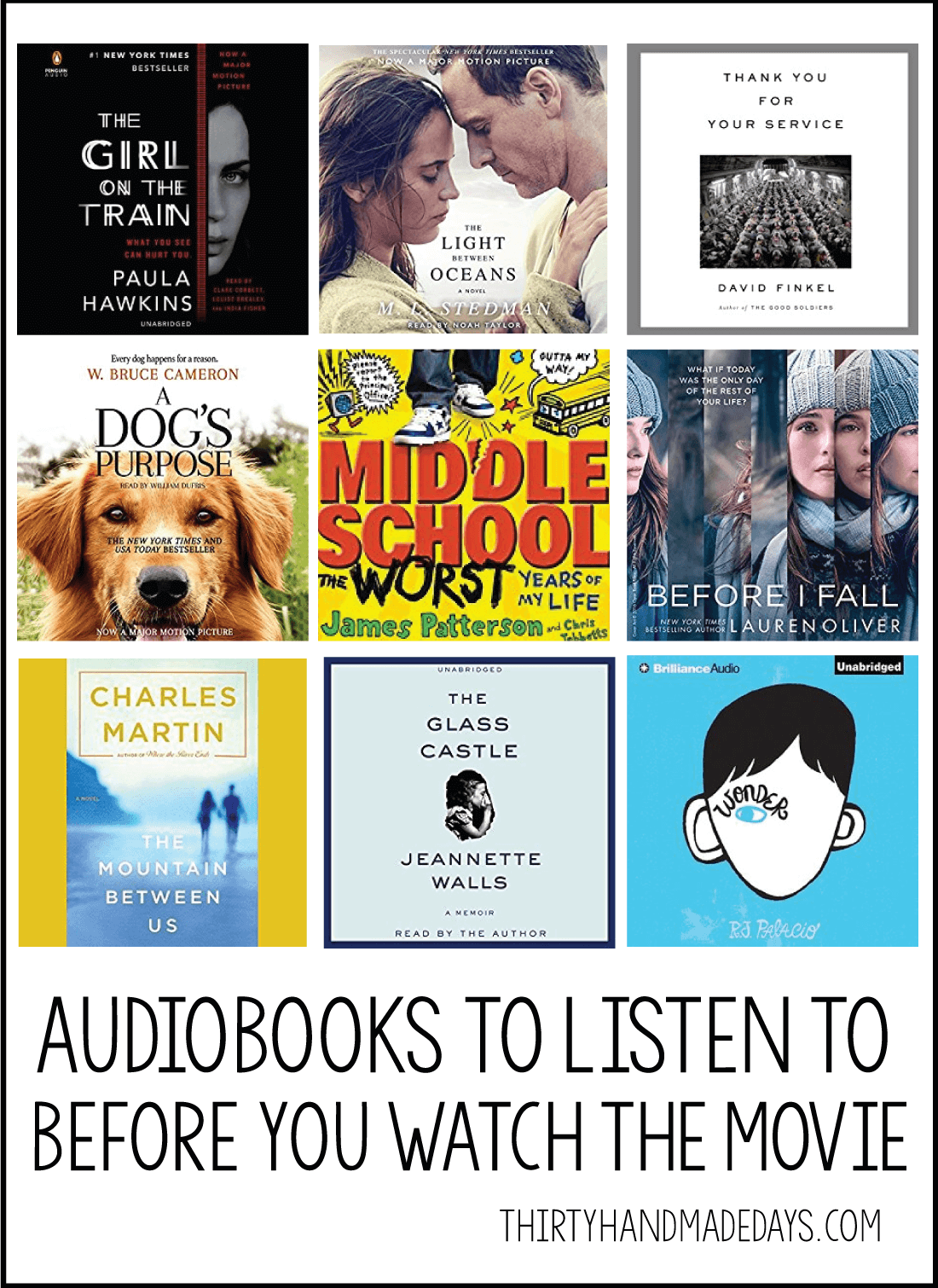 There's just something about reading a book before it hits the big screen.  Josh and I were talking recently about how the movie will never be as good as any book.  He said that while you read a book you imagine everything to be one way so when you see the movie you are disappointed because it can't possibly be just like what you made up.  Clear as mud?

Either way, I feel like it's always better to read or listen to the book before seeing any movie adaptation.  This list of books that are awesome as audiobooks via Audible, are set to release on the big screen this year.  A couple have already come out but most are set to debut later this year.  Each book makes you feel something different.  Some have love stories, some are hard and real, true stories.  Others are uplifting and make you think.
Rachel takes the same commuter train every morning. Every day she rattles down the track, flashes past a stretch of cozy suburban homes, and stops at the signal that allows her to daily watch the same couple breakfasting on their deck. She's even started to feel like she knows them. "Jess and Jason," she calls them. Their life—as she sees it—is perfect. Not unlike the life she recently lost.
And then she sees something shocking. It's only a minute until the train moves on, but it's enough. Now everything's changed. Unable to keep it to herself, Rachel offers what she knows to the police, and becomes inextricably entwined in what happens next, as well as in the lives of everyone involved. Has she done more harm than good?
In 1918, after four harrowing years on the Western Front, Tom Sherbourne returns to Australia to take a job as the lighthouse keeper on remote Janus Rock. To this isolated island, where the supply boat comes only four times a year and shore leaves are granted every other year at best, Tom brings a young, bold, and loving wife, Isabel. Three years later, after two miscarriages and one stillbirth, the grieving Isabel is tending the grave of her newly lost infant when she hears a baby's cries on the wind. A boat has washed up on shore carrying a dead man and a living baby. Tom, whose records as a lighthouse keeper are meticulous and whose moral principles have withstood a horrific war, wants to report the dead man and the infant immediately. But Isabel has taken the tiny baby to her breast. Against Tom's judgment, they claim the child as their own and name her Lucy, but a rift begins to grow between them. When Lucy is two, Tom and Isabel return to the mainland and are reminded that there are other people in the world…and one of them is desperate to find her lost baby.
August (Auggie) Pullman was born with a facial deformity that prevented him from going to a mainstream school – until now. He's about to enter fifth grade at Beecher Prep, and if you've ever been the new kid, then you know how hard that can be. The thing is Auggie's just an ordinary kid, with an extraordinary face. But can he convince his new classmates that he's just like them, despite appearances? R. J. Palacio has crafted an uplifting novel full of wonderfully realistic family interactions, lively school scenes, and writing that shines with spare emotional power.
Rafe Khatchadorian has enough problems at home without throwing his first year of middle school into the mix. Luckily, he's got an ace plan for the best year ever, if only he can pull it off: With his best friend Leonardo the Silent awarding him points, Rafe tries to break every rule in his school's oppressive Code of Conduct. Chewing gum in class – 5,000 points! Running in the hallway = 10,000 points! Pulling the fire alarm – 50,000 points! But when Rafe's game starts to catch up with him, he'll have to decide if winning is all that matters, or if he's finally ready to face the rules, bullies, and truths he's been avoiding.
Heartwarming, insightful, and often laugh-out-loud funny, A Dog's Purpose is not only the emotional and hilarious story of a dog's many lives, but also a dog's-eye commentary on human relationships and the unbreakable bonds between man and man's best friend. This moving and beautifully crafted story teaches us that love never dies, that our true friends are always with us, and that every creature on earth is born with a purpose.
Samantha Kingston has it all: the world's most crush-worthy boyfriend, three amazing best friends, and first pick of everything at Thomas Jefferson High—from the best table in the cafeteria to the choicest parking spot. Friday, February 12, should be just another day in her charmed life. Instead, it turns out to be her last. Then she gets a second chance. Seven chances, in fact. Reliving her last day during one miraculous week, she will untangle the mystery surrounding her death – and discover the true value of everything she is in danger of losing.
On a stormy winter night, two strangers wait for a flight at the Salt Lake City airport. Ashley Knox is an attractive, successful writer, who is flying East for her much anticipated wedding. Dr. Ben Payne has just wrapped up a medical conference and is also eager to get back East for a slate of surgeries he has scheduled for the following day. When the last outgoing flight is cancelled due to a broken de-icer and a forthcoming storm, Ben finds a charter plane that can take him around the storm and drop him in Denver to catch a connection. And when the pilot says the single engine prop plane can fit one more, if barely, Ben offers the seat to Ashley, knowing that she needs to get back just as urgently. And then the unthinkable happens. The pilot has a heart attack mid-flight, and the plane crashes into the High Uintas Wilderness – one of the largest stretches of harsh and remote land in the United States.
Jeannette Walls grew up with parents whose ideals and stubborn nonconformity were both their curse and their salvation. Rex and Rose Mary Walls had four children. In the beginning, they lived like nomads, moving among Southwest desert towns, camping in the mountains. Rex was a charismatic, brilliant man who, when sober, captured his children's imagination, teaching them physics, geology, and above all, how to embrace life fearlessly……
In the ironically named Thank You for Your Service, Finkel writes with tremendous compassion not just about the soldiers but about their wives and children. Where do soldiers belong after their homecoming? Is it possible, or even reasonable, to expect them to rejoin their communities as if nothing has happened? And in moments of hardship, who are soldiers expected to turn to if they feel alienated by the world they once lived in? These are the questions Finkel faces as he revisits the brave but shaken men of the 2-16.
—->> What book have you listened to or read recently that made you feel all the feelings?
If you like reading, check out some of my other reading related posts:
This is a sponsored conversation written by me on behalf of Audible. The opinions and text are all mine.