The hype is worth it! I'm LOVING my air fryer.  There's a lot of air fryer recipes out there and I wanted to gather some of the best to share with you!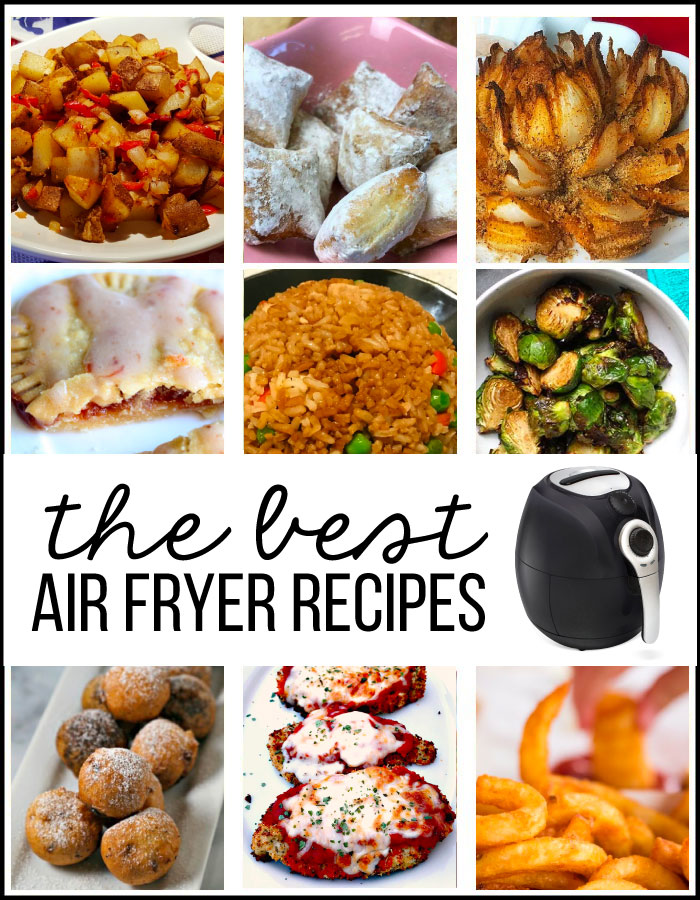 You might have seen me post about my new love on Instagram.  I've shared it a few times in my stories – the recipes I've made and why I love it so.   And hopefully you've seen my cheat sheet for air fryers too.
As a quick recap – an air fryer is kitchen appliance that sits on your countertop.  You use it to quickly cook things and "fry" them without all of the fat.  I love that I can make things super fast and without effort.  I throw in some asparagus for 4 minutes and voila – perfect! I can toss in the 2 ingredient dough bagels and they are cooked to perfection.  Without all of the extra fat that a typical fryer would give me.  It's a healthier option and it's working so well with my new Weight Watchers journey.
Lots of people have asked if it's worth it to get one.  Here's the thing – if you won't use it or don't have the space or money.. probably not for you.  Don't get it just because everyone else is (said in the nicest way possible).  BUT if you think you'll use it and have the space and money, I can't recommend it enough.

Ok here we go— the air fryer recipes:
Air Fryer Breakfasts
I used to be horrible about eating breakfast.  Now I look forward to it! Here are some fun recipes that taste like treats using the air fryer:
Air Fryer Vegetables
You cannot beat how quick it is to make vegetables in an air fryer.  I'm obsessed!
Air Fryer Main Dishes
Main dishes are usually where I am most confident (I struggle more with side dishes for sure).  But these are worth a try:
Air Fryer Desserts
And don't forget dessert! You can whip up these air fryer recipes so fast and they are delicious.  Mmmmm…..
Other Air Fryer Posts
If you love air fryer post, you're going to love these other air fryer posts. Please click each link below to find the information:
Have I convinced you to try out an air fryer yet?