Don't let your car get out of control! Use these simple ideas for a car organizer for your console to have everything in one spot.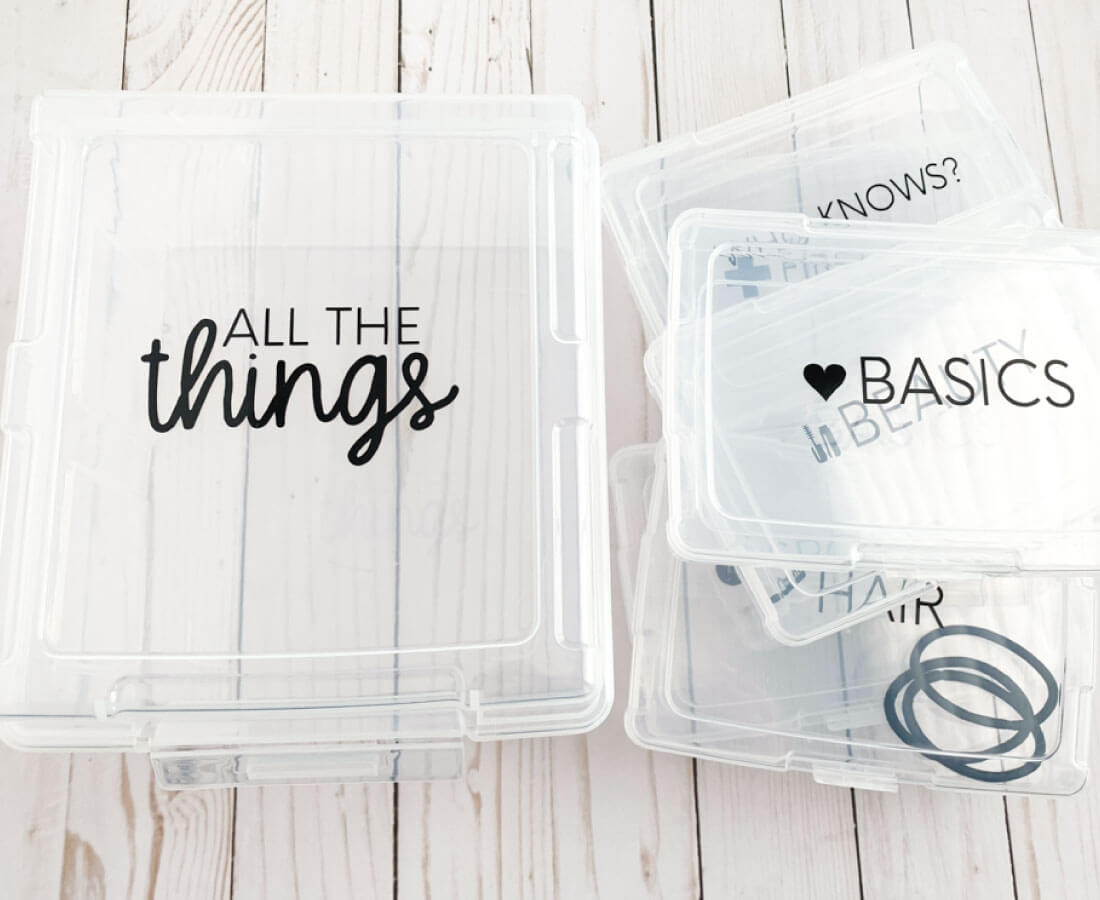 Car Organizer
It's time to admit that my car has been unorganized for about 25 years. Just ask my sister and brother. When I started driving, I was in my car so much that I'd throw things in there and they'd pile up without realizing. Once I got married and had kids, that became even worse. Now that my kids are older, I have finally started coming out of my crazy disorganization. This car organizer for the console is the perfect launching point to conquer the car madness!
How to organize your car
Much like organizing other parts of your life, organizing your car takes some time at first but more than anything, consistency is key. Here are some steps to get started and then maintain that organization:
Take everything out of your car. I mean everything.
Make 2 stacks for things – throw away and keep (usually you won't find things to donate from your car like you would when organizing your house)
Clean your car – you can do this yourself or take it somewhere to get professionally cleaned.
Designate a spot for everything. You can do this by using organizers for your trunk, having important papers put somewhere (normally the glove compartment), add a trash container of some kind.
To make this car organizer, here's what you need: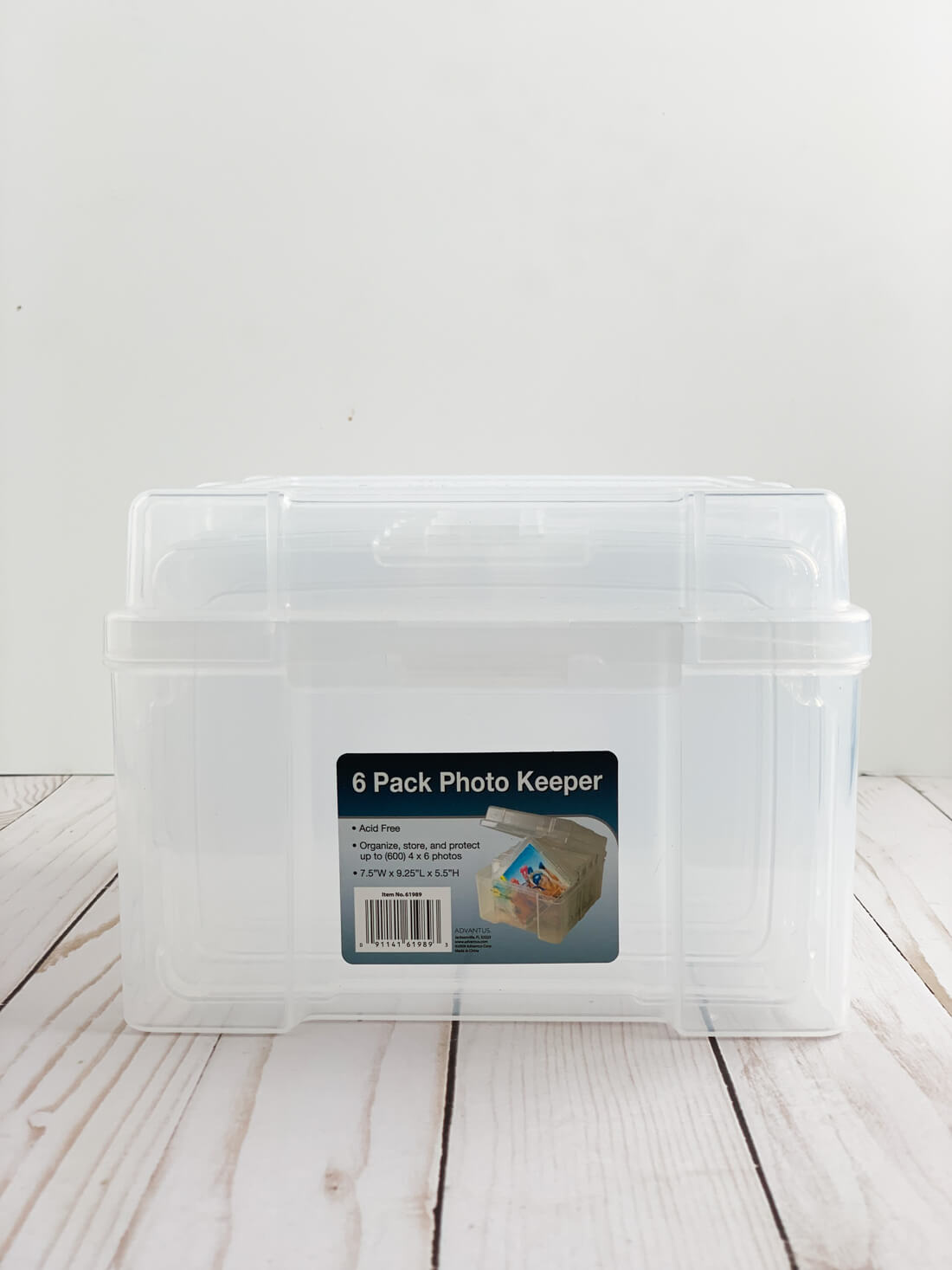 This photo keeper is the best. It is meant to hold photos – which is does well. However, it can be used to organize alllll kinds of things. Not just photos and not just the car console. It's perfect as a car organizer though. These pictures show what it is like before you add anything to them: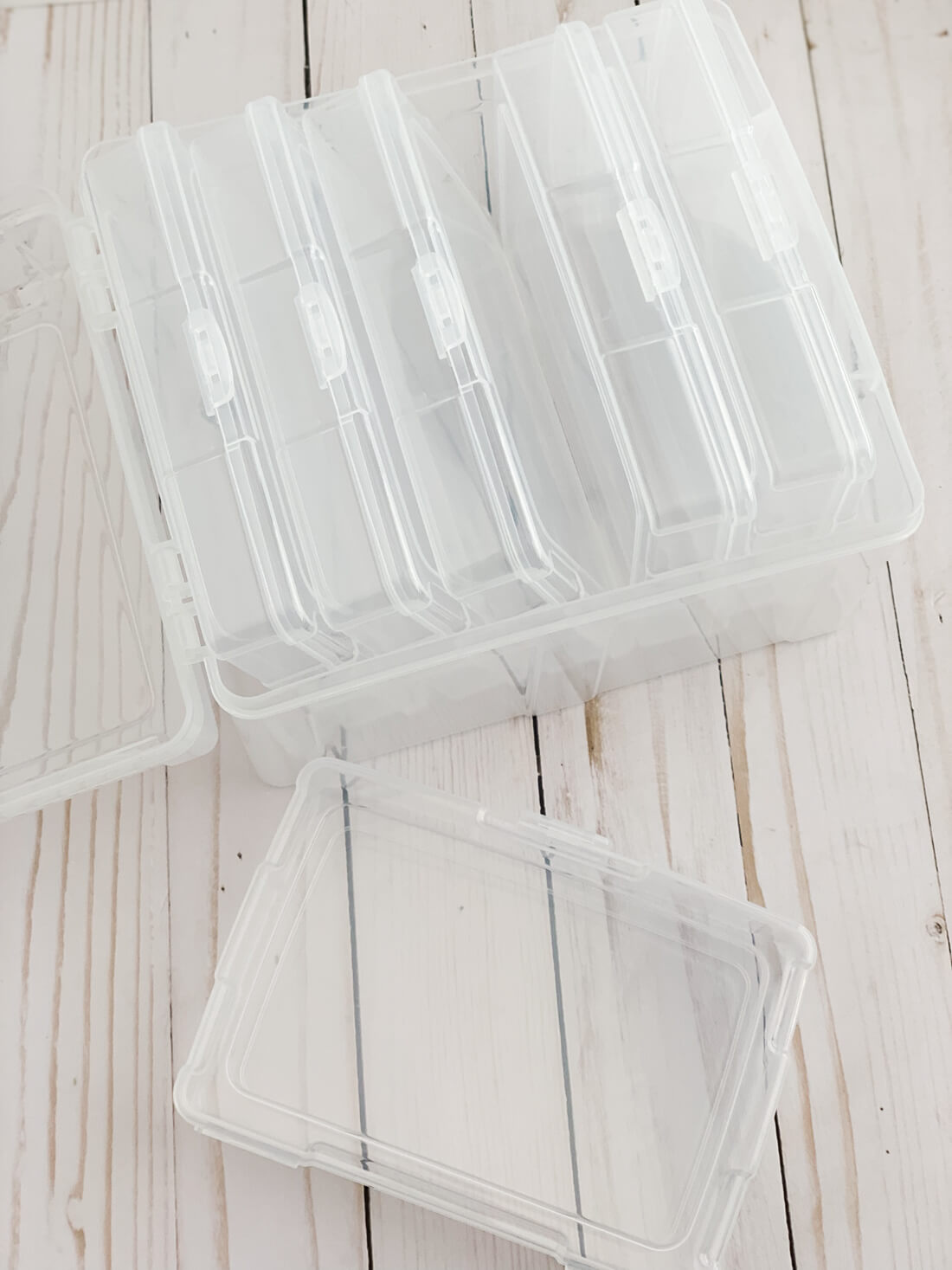 To make the car organizer using vinyl:
Buy the container
Get the car container labels
Adhere with transfer tape and scraper
IF you'd rather make your own:
I used my Cricut Explore Air, Expressions Vinyl and my Adobe Illustrator program. Cori from Hey Let's Make Stuff has an awesome tutorial on how to create SVG files in Illustrator. Make your own in Illustrator, then upload in Design Space and cut them out. Adhere with a scraper or credit card. Finally, fill your car organizer with all of the stuff that used to make a mess in your car!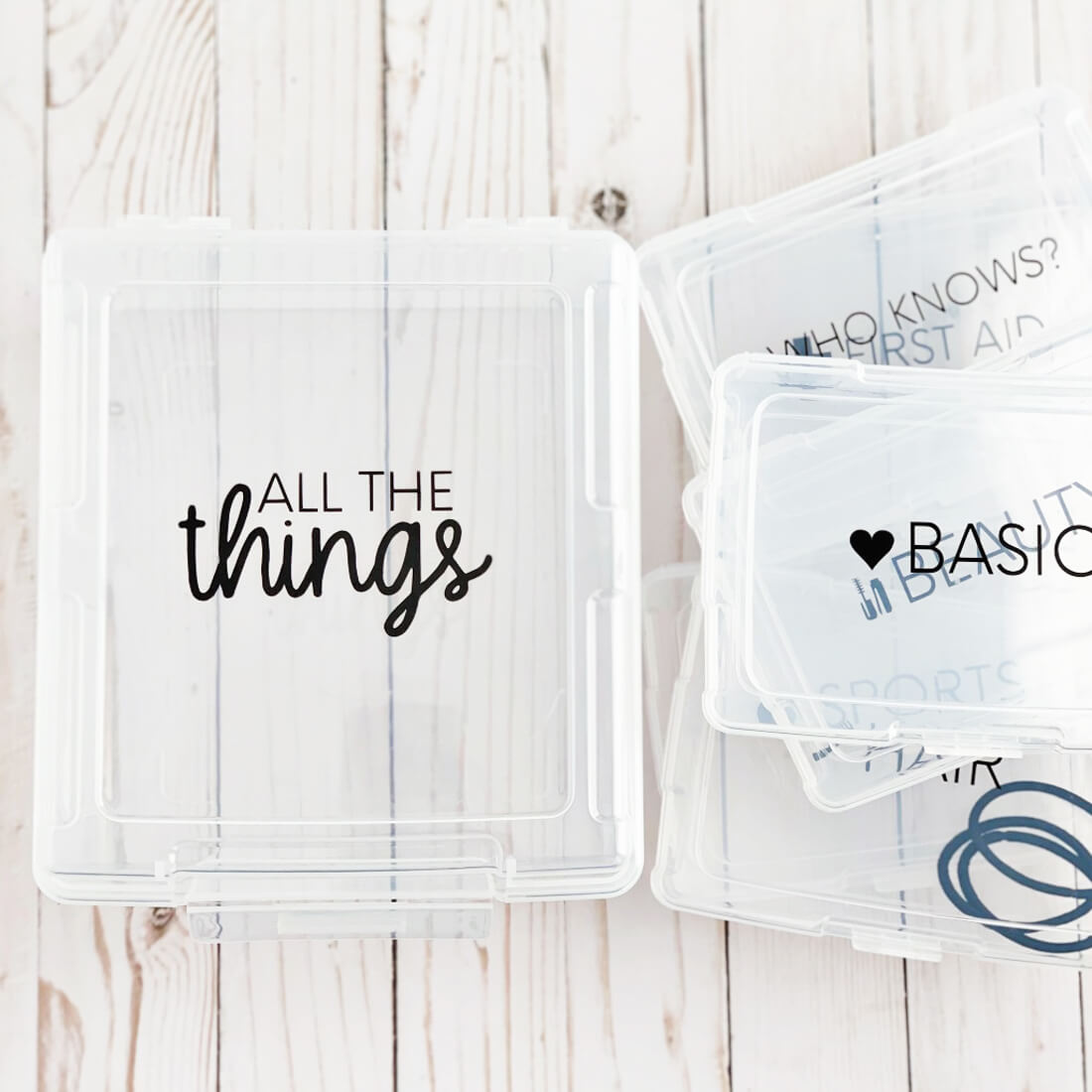 Here are the labels I made for my organizer:
all the things – this goes on the top of the organizer
basics – I put feminine products,
beauty – an extra lipstick, eyelash curler, mascara, tweezers
hair – brush, bobby pins, rubber bands
first aid – bandaids, tape, Neosporin
sports – little papers, extra socks, etc
who knows? – you can put in here whatever you need but I recently added some cash to this one. One of my friends suggested it after seeing the idea because you never know when you need cash for a kid's lunch, a toll road, etc.
I took pictures before placing it in my car console. I have a Chevy Tahoe and it fits perfectly into the space. Now I don't have to go look for anything – I know exactly where it is.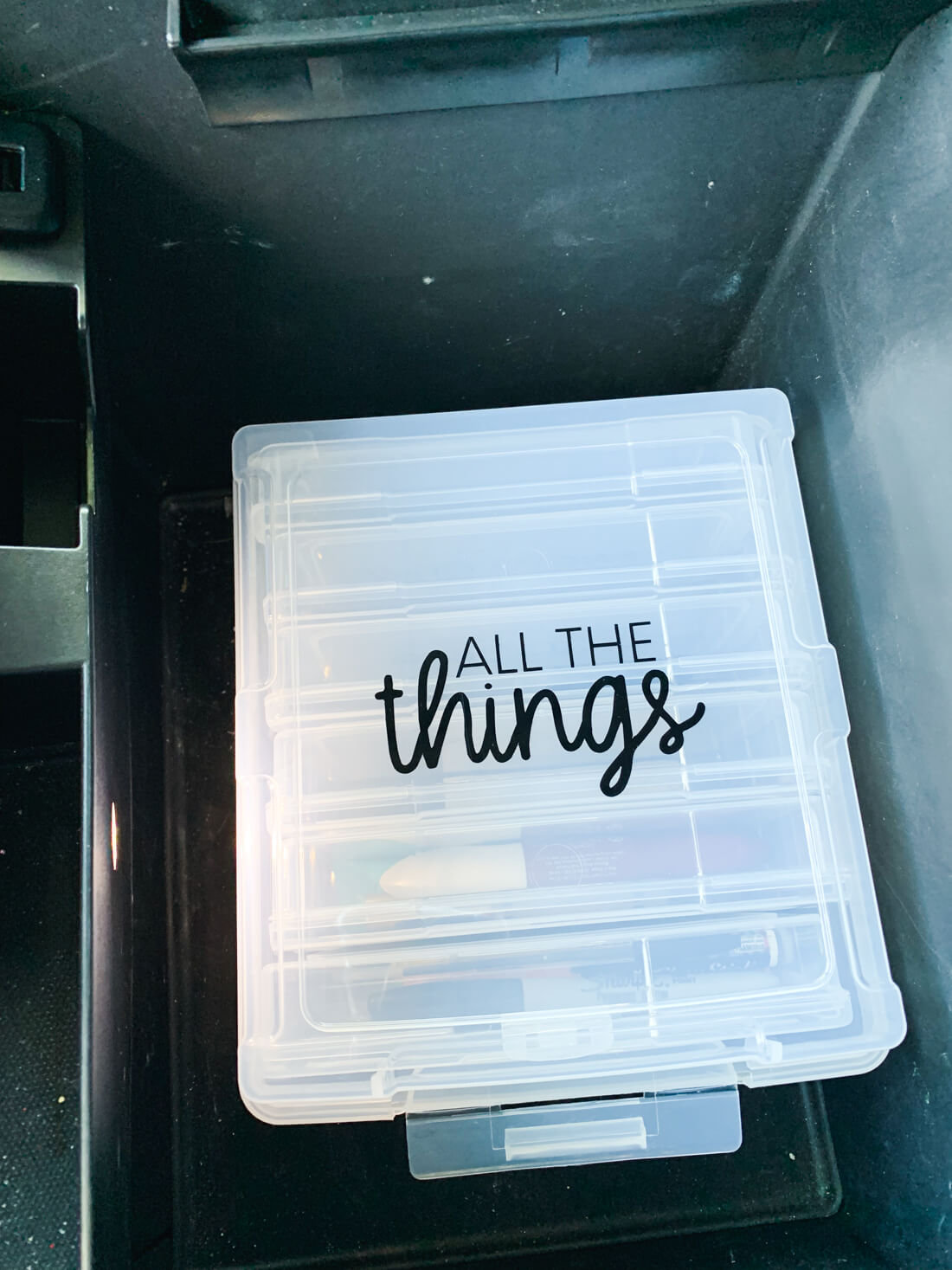 Other organizing posts to check out: