Overflowing drawers and cabinets in your kitchen? Learn the basics of how to organize kitchen cabinets in a few simple steps!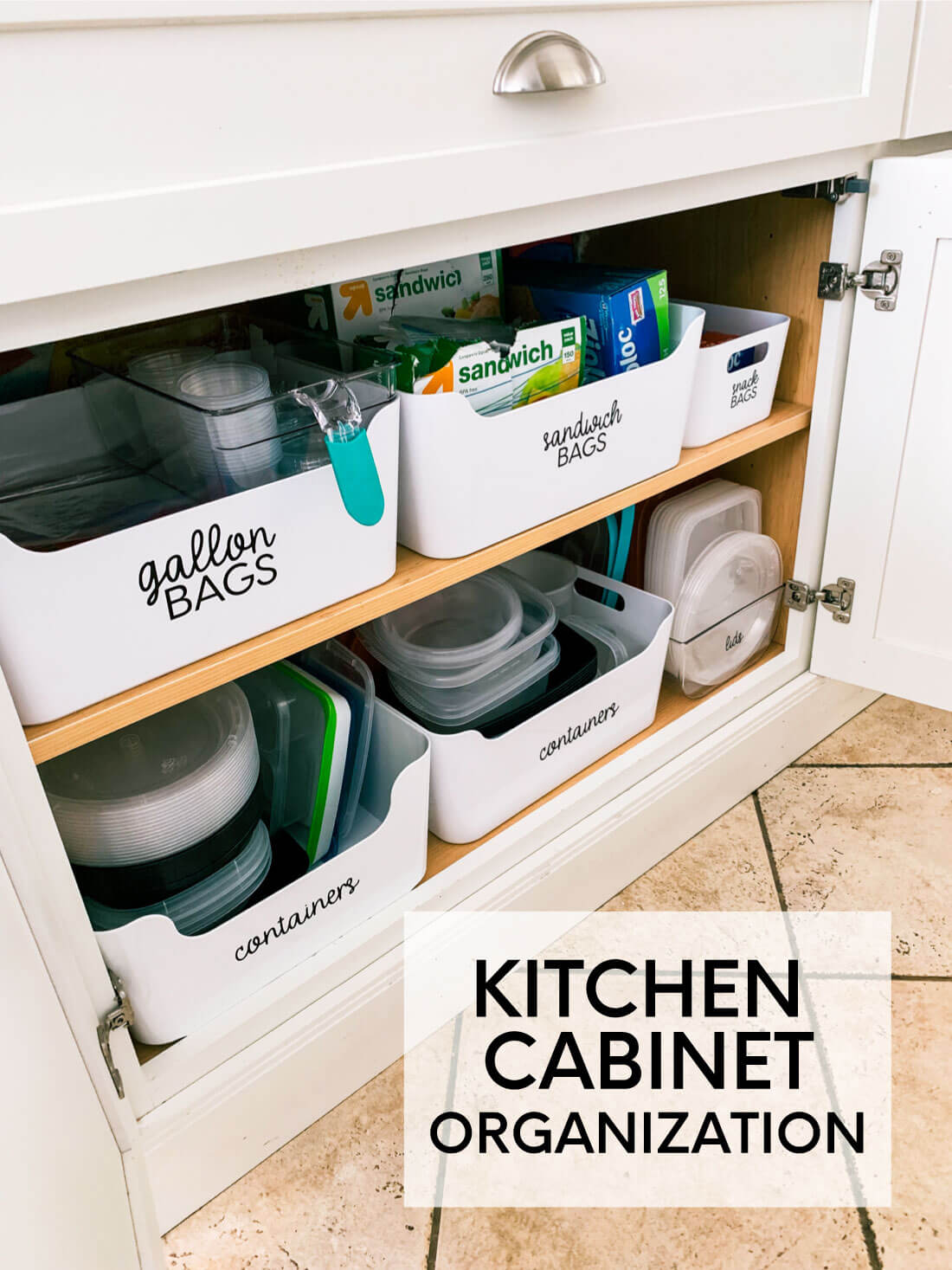 Kitchen Organization
Years ago we did a kitchen renovation and I still love the way it turned out. Over time, our drawers and cabinets have gotten messier and messier. Getting something organized is one thing, but keeping it organized is a whole different ballgame. Let me walk you through what I did to clear up some of our mess: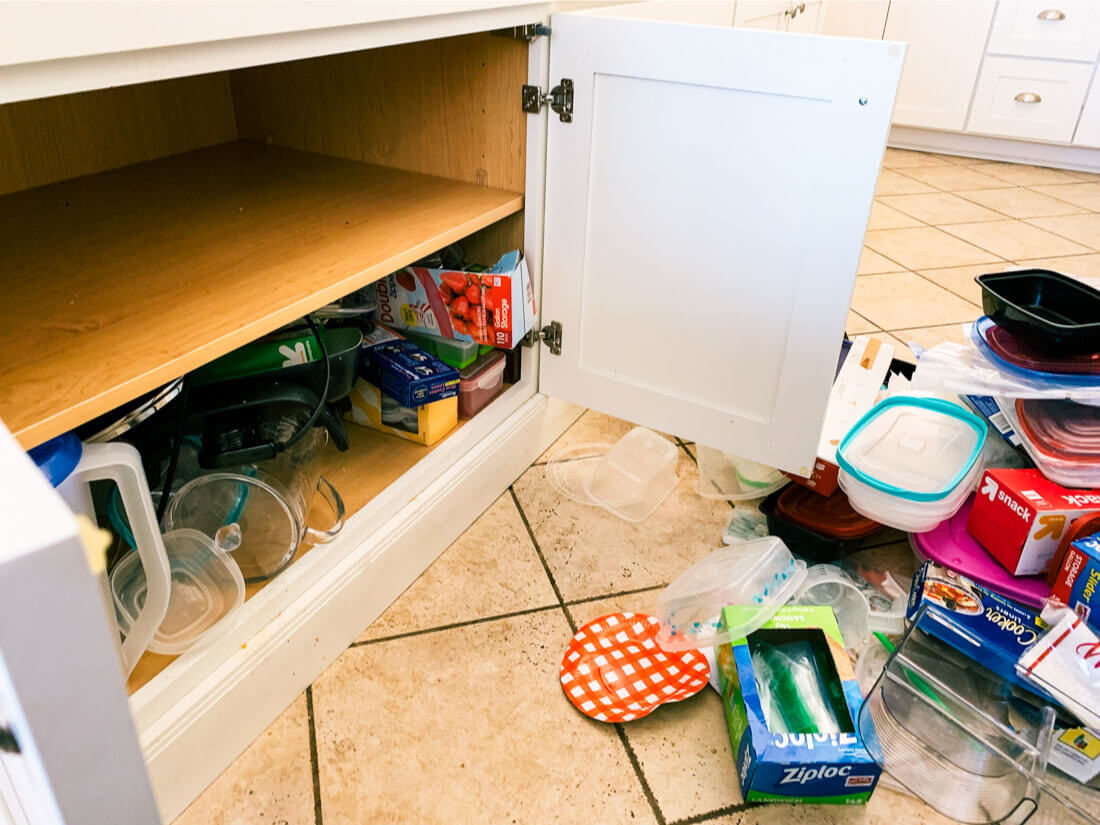 One of my favorite parts of the kitchen is a giant island in the middle of it. It has drawers and cabinets for lots of storage. But it often times turns into a big mess with stuff just shoved in. As you can see above, we let it get crazy full! Here's how it looks after about an hour of organizing: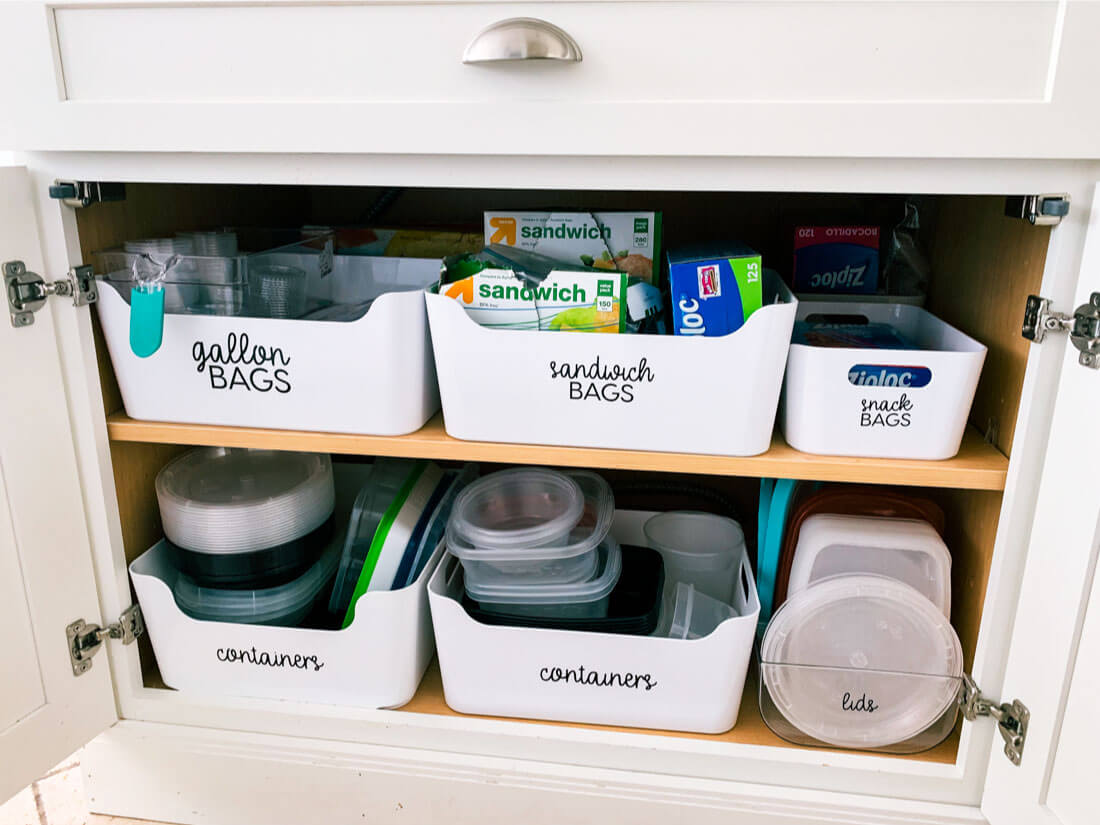 How to organize kitchen cabinets
Pull EVERYTHING out. All of it.
When I did this, I couldn't believe what I found and what had been stuck in our cabinets.
Wipe down the cabinet.
Take a soapy washcloth and wipe down the surface. Starting over with a clean space makes it even better!
Sort items into 3 piles: Keep, donate, throw away
In my situation I had A LOT that needed to be thrown away. But I also made a box to donate and then a small pile to keep that we use regularly.
Group like items together
To make it easy to find items, put thing that go together. For this cabinet in particular, it stores my containers/baggies. I can clearly see and use these items because they are all together. It is great for meal prep and making lunches.
Add in organizers (see below for specifics in my space)
Place items into organizers and tweak as you go along.
I added my organizers and labeled them with my label maker at first. I wanted to make sure that we would use them the way I put them in there for a bit before adding vinyl onto the containers. Luckily for me, the way I organized them works well. But if after a few days you realize that it's not working, rework it a bit.
Label
There are a number of ways to label organizers. I've tried just about all of them. You can start with sticky notes or use a label maker. As you find what works for you, go to something more permanent like vinyl stickers. If you want to make your own labels, check out this post to figure out which machine is for you – Cricut Maker vs. Explore Air.

Kitchen Cabinet Organizers
There are tons of organizers, bins and things to use for your kitchen. I have found some really great products at Home Goods, Marshalls and on Amazon. My go to for all types of organizing is these Ikea white bins. They come in different sizes and are inexpensive. Plus they look nice and bright white. I love them! Here are some other products that look nice:
Other Organization Posts
If you like this post, you'll like these too: