I have dropped the ball on cooking lately.  I got my kitchen redone – all pretty and sparkly white- and haven't spent nearly enough time in there.  With activities every single night it makes it a challenge to stay on top of dinner.  The slow cooker is the one thing that saved me.  But I'm trying to get into a better routine.  Ugh.  Anyone else been there before?  Anyway– I need quick, simple and delicious meals that my family will love.  This Chicken Black Bean Enchilada Stack is so simple to make and got 2 thumbs up from my fam.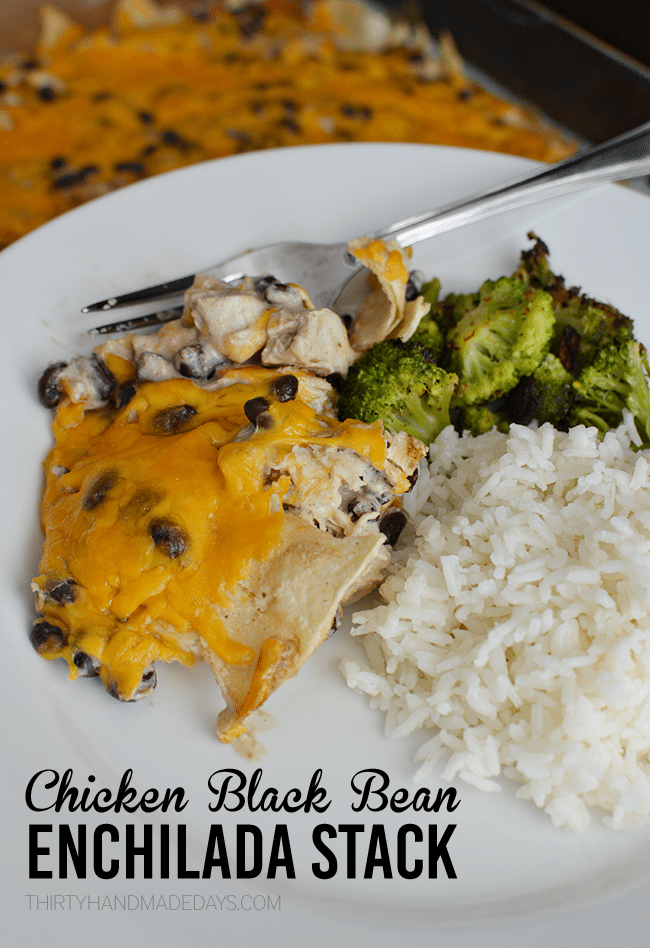 To make it even easier I used pre-made chicken.  If you do any sort of meal prep, that can majorly cut down on the time spent making dinner every night. If not, this is still easy to prepare, you just have to calculate the time it takes to bake or broil the chicken.
Chicken Black Bean Enchilada Stack
Ingredients
2 lbs. boneless, skinless chicken breast, cooked and cut into approx. 1 inch pieces
1 (30 oz) can black beans, rinsed and drained
1½ c. sour cream
2 c. shredded cheddar cheese
1 (4 oz) can green chiles, chopped
2 tsp cumin
½ tsp black pepper
12 corn tortillas, cut into 2 in strips
Instructions
Preheat the oven to 350 degrees.
Spray 9x13 pan with cooking spray.
Mix cooked chicken, beans, sour cream, 1 c. shredded cheese, chiles, cumin and pepper.
Set aside.
Arrange half of the tortilla strips in the bottom of the pan, overlapping to cover the surface.
Top with half of the chicken mix.
Layer with remaining tortillas and then top with chicken mix.
Sprinkle with the remaining cup of cheese.
Bake until bubbly and cheese is melted, approximately 30 minutes.
Let stand for 5 minutes before serving.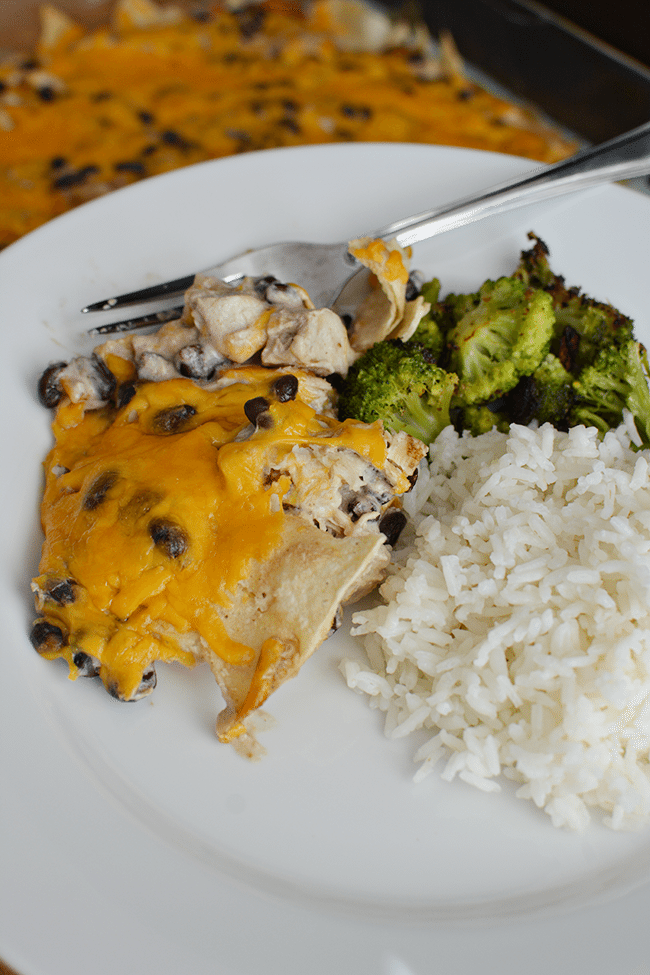 I served it with a side of rice and our favorite roasted broccoli.  Kind of random for a Mexican like dish but it went fine and we got in our vegetables.  So all was good!
If you like this one, you might like these other simple, delicious main dishes: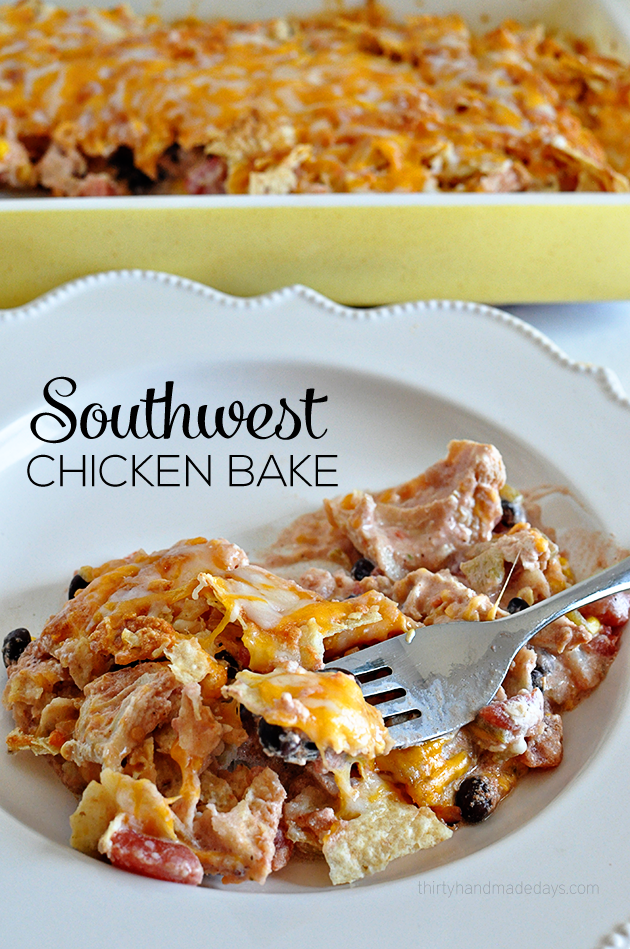 Southwest Chicken Bake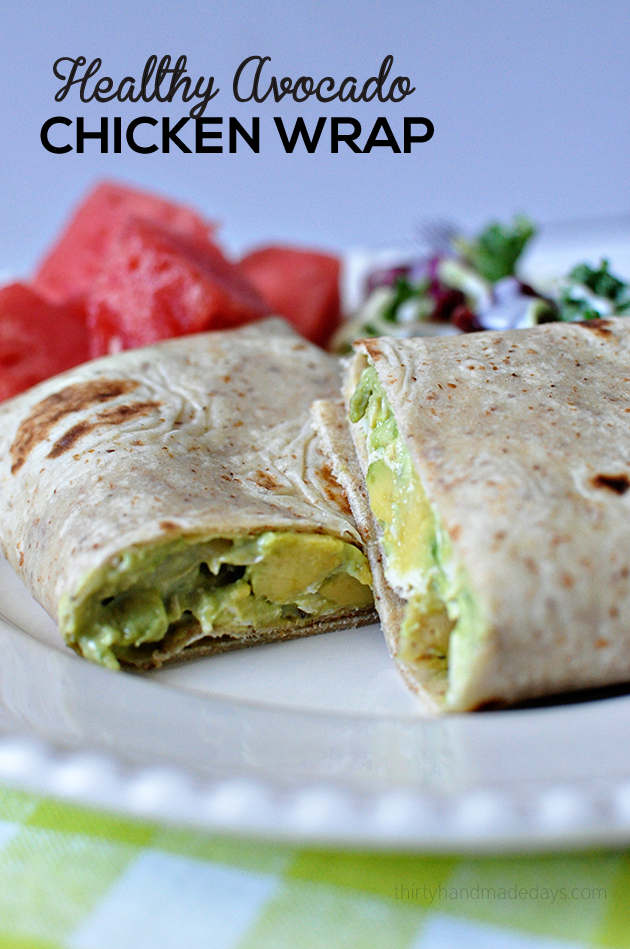 Healthy Avocado Chicken Wrap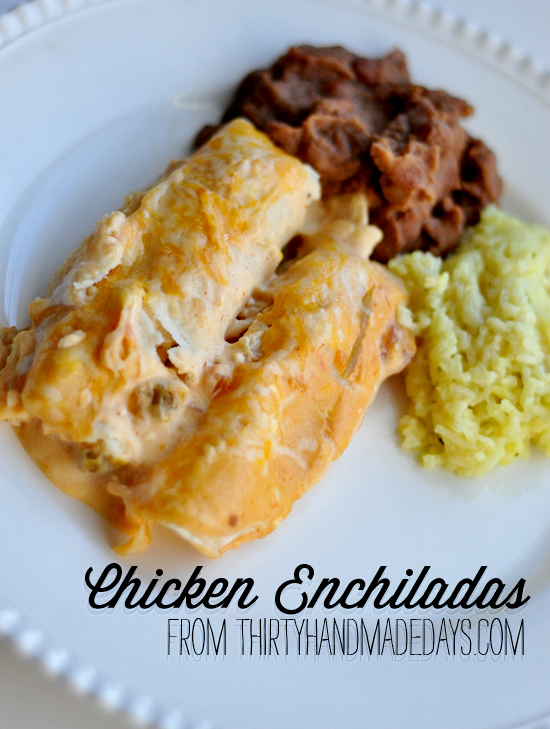 Chicken Enchiladas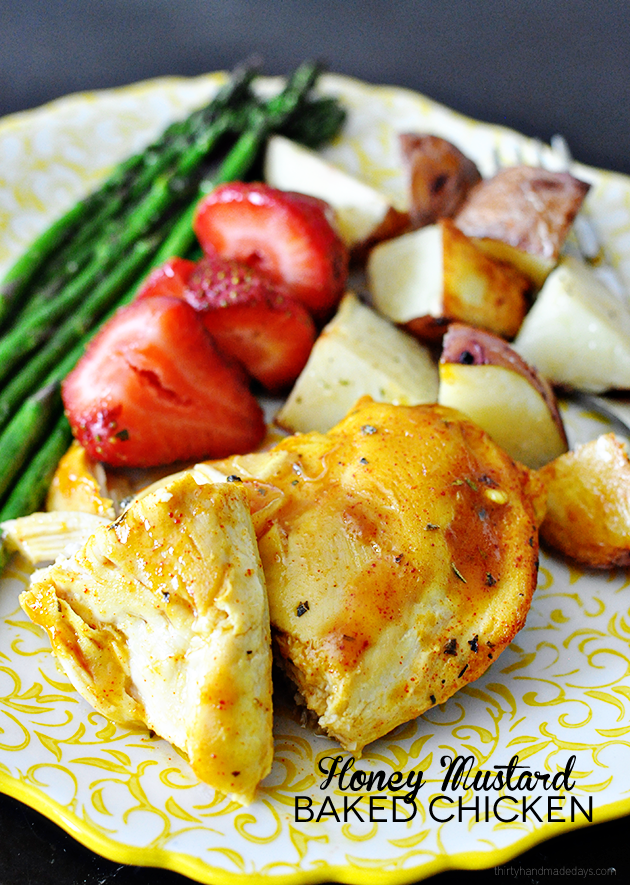 Honey Mustard  Baked Chicken