Have fun making these Christmas signs – they are double sided and can stay up through the winter!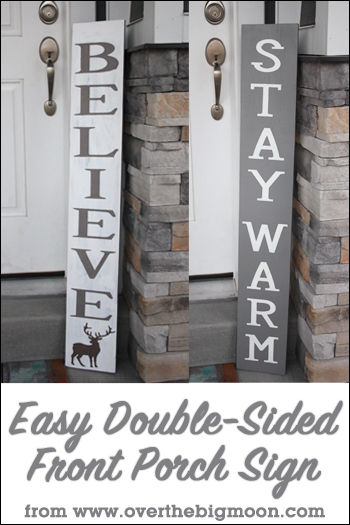 Hey 30 Days readers!  I'm Pam from Over the Big Moon and I'm excited to be here with you guys to share this fun and easy Double-Sided Front Porch Sign!  With Winter near, I decided it was time to start thinking about my front porch!  We've only lived in our house since the first of the summer and one of my favorite parts is the front porch!  
I knew I wanted to start with a fun vertical sign for next to my door, so that is what I am sharing with you today!  It is super easy and such a statement piece!  It is the main thing your guests will see as they come to my door, so I didn't want anything red or too loud.  Just something simple and clean!
I started with a 1×8 and I cut it down to 4 ft tall!  I wanted one side of the board for me to use for Christmas and the other to last me into January for Winter.  So, I painted one side gray and one side white.
For the white side, I wanted it to look a little rustic.  So, before painting the coat of white, I painted a real rough coat of brown paint.  When I applied the white coat, I applied it in different thicknesses and with the brush strokes pretty apparent.  You can see in the picture below the brown barely showing through and the rough brush strokes!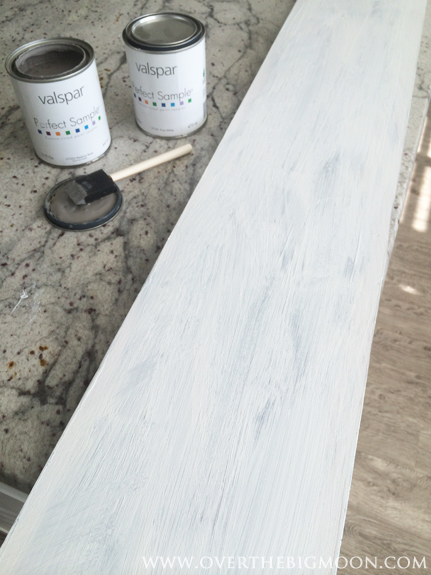 For the Winter side, I painted it with a clean gray coat!  I also took the gray onto the edges of the board to help give it a framed look.
Then, I cut some vinyl stencils using my Cricut Explore to say the words STAY WARM for my Winter side and BELIEVE for my Christmas side.  I kept the letters approx 6″ wide and just chose a font size that made my words approx 40″-42″ in length.  The word Believe was a little short, so I also grabbed a Reindeer Silhouette cutout from the Cricut Design Space Studio to put at the bottom!  Super simple huh?!?  For all you artsy people – I also think it would be really cool to free hand the words!  I've always wished I had better handwriting for projects like this!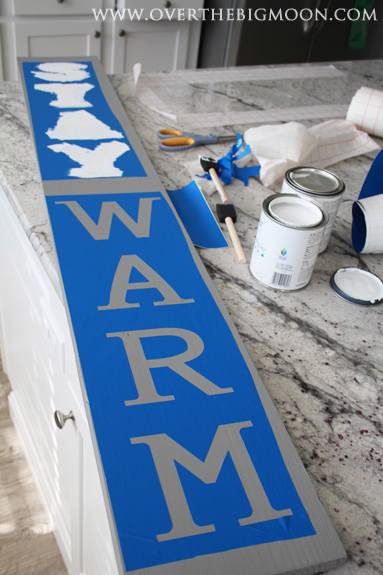 I absolutely love how it turned out!  And now I am even more excited to finish designing and decorating my Winter Front Porch!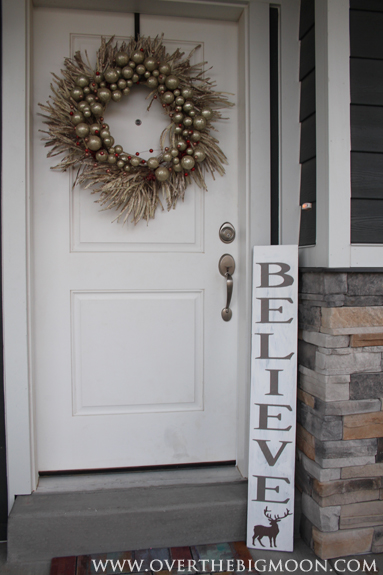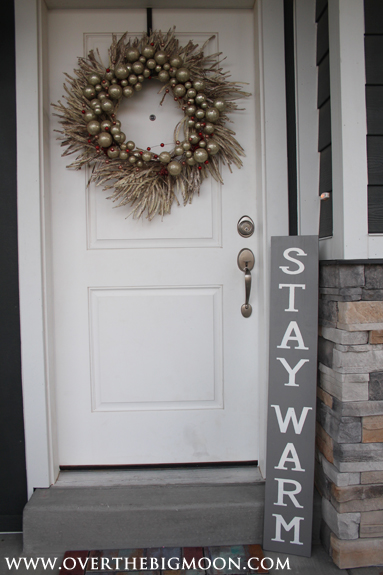 Next, I'll be designing a bunting for the table on my porch, so be sure and follow Over the Big Moon to see how the porch turns out!  We also share lots of other fun DIY tutorials, TONS of Free Printables, Recipes, Pre-K Packs and more!
This post was originally shared for the Bake, Craft, Sew Series.
If you like this post, you'll like these too: