With only 4 ingredients (plus optional sour cream) it is fool proof.  Cheater Beef Enchiladas for the win!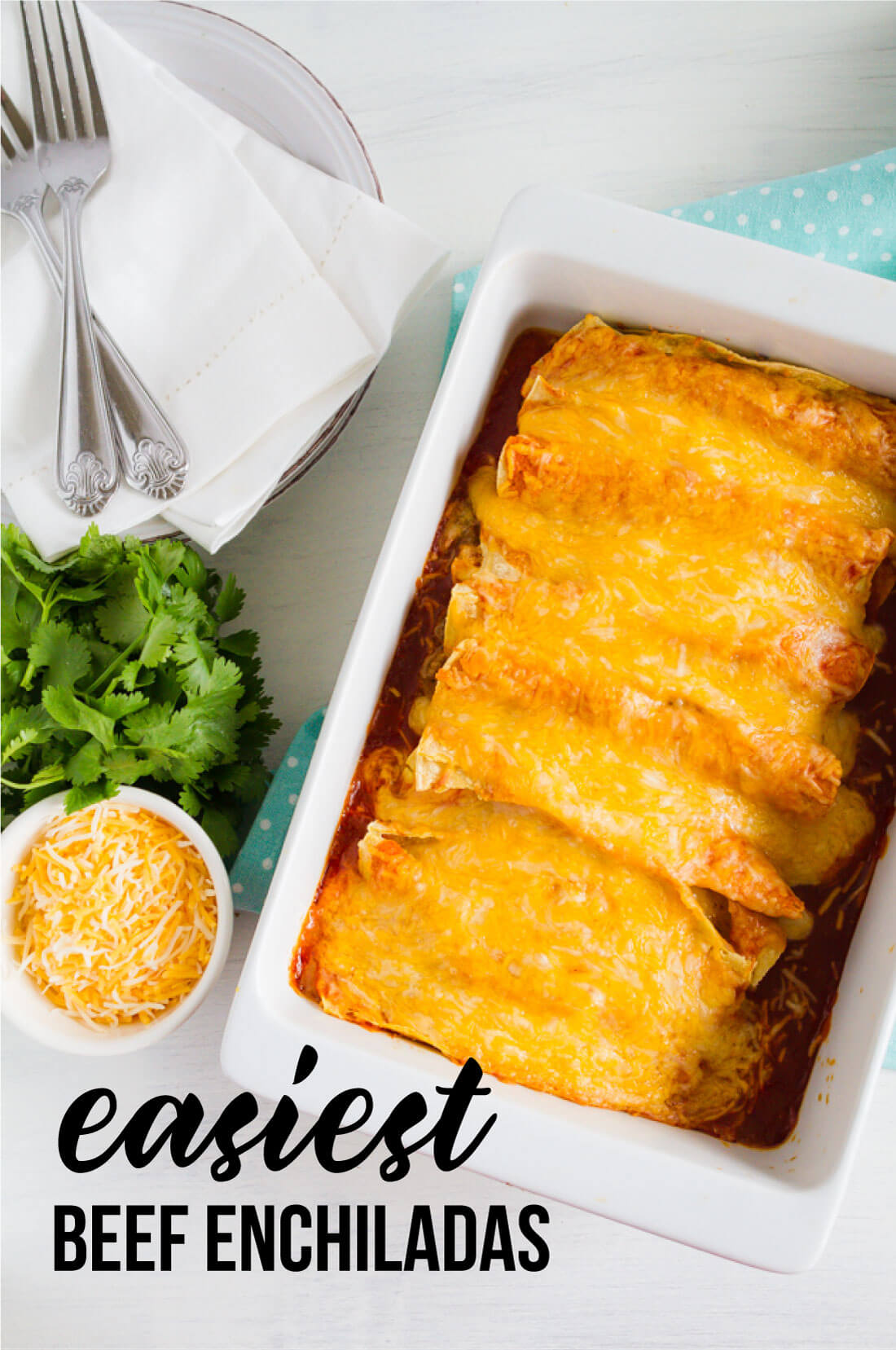 This is one of my cheater meals. I don't cook like this every night, but when I am limited on time, this one is so easy to make and my family loves it.  I've tried different kinds of enchilada sauces and haven't noticed a difference.  You can also add a 2nd can if you like it more "saucy."  We tend to like things more on the cheesy side.
If you like this recipe, you'll like these:
Beef Enchiladas Recipe
Beef Enchilada Recipe
Ingredients
1 lb ground beef, cooked
1 can(10 oz) red enchilada sauce
2 c. shredded cheese
12 corn tortillas (flour can be used instead)
Instructions
Heat oven to 375 degrees.
Spray a 9x13 baking dish with cooking spray.
Mix cooked ground beef with ¾ c. enchilada sauce and 1 c. of cheese.
Spoon approx ¼ c. filling into each tortilla, roll up and place seam side down into baking dish.
Pour remaining sauce over rolled tortillas.
Sprinkle with remaining cheese.
Bake for 25-30 mins or until cheese is melted.
* can cover with foil for more moist enchiladas. Remain in final 5 minutes of baking.
Notes
Favorite trick with corn tortillas-
wrap a damp paper towel (run quickly under water) with 5 corn tortillas and microwave for 1 minute at a time. They will be hot! Be careful.
The tortillas will then bend easily and will not crack like they do without heating them.
When you're in a time crunch, this beef enchiladas recipe is perfect for you!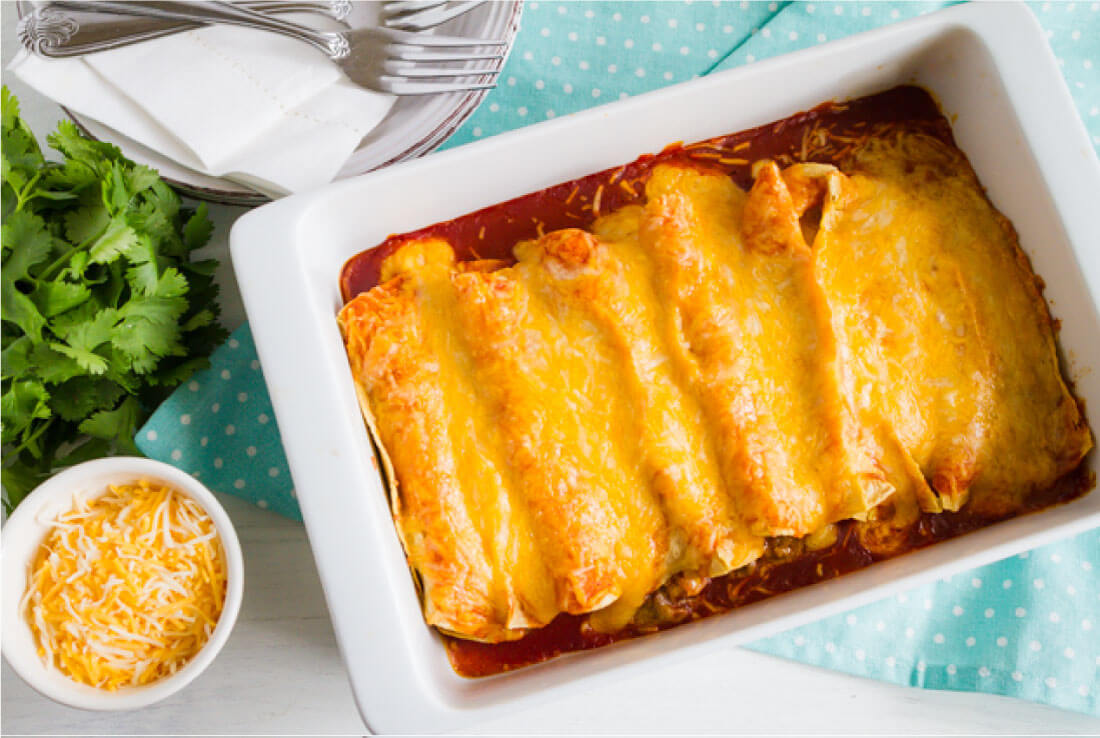 Putting this together is so so so easy to do.  And ya know what? Nobody will know the difference.  As I've mentioned before, some of my family's favorite meals and desserts are the ones that take the least time to make.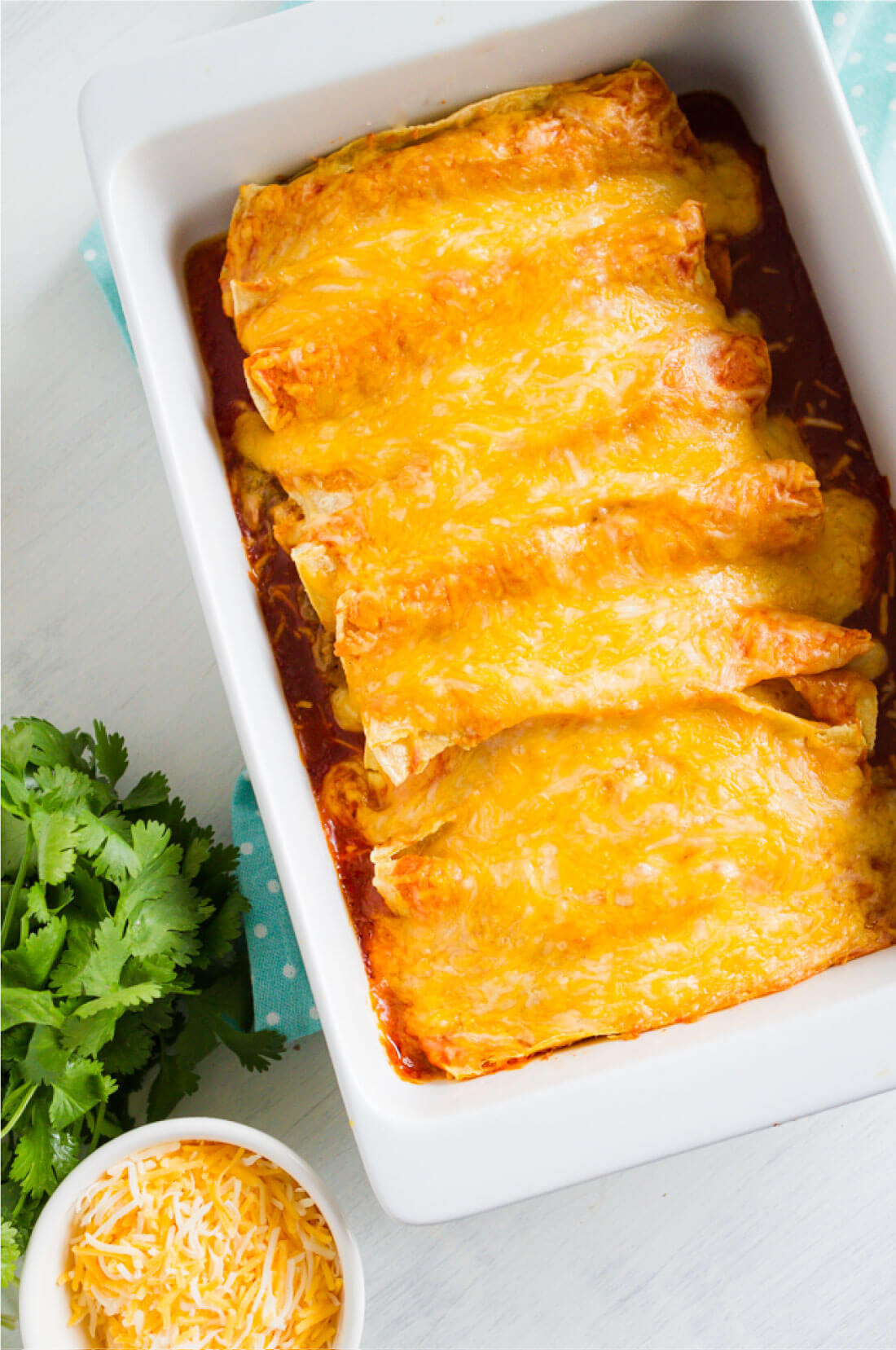 Here's where you can choose- with or without sour cream.   I have some in my family who love it and others who won't touch it with a 10 foot pole.  I actually like it to cut the spice sometimes.  But it's your call!
Our family likes beef rice for a side.  And sometimes I add beans too.  One of the easiest dinners EVER!